Search Engine Optimization for Book Blogs
This post is part 2 in my SEO series. Check out part 1 to read about DA and Yoast and why you want to optimize your blog for Google.
While part 1 was mostly interesting for self-hosted bloggers or those with a paid WordPress.com plan, this part is for everyone. We'll take a look at the connection between blog posts and search engine traffic.
How can I tweak my blog post headlines so more people will find me? And how can I get inspiration for posts that might do well on Google?
For both of these questions, we can use some pretty simple, but genius, free tools.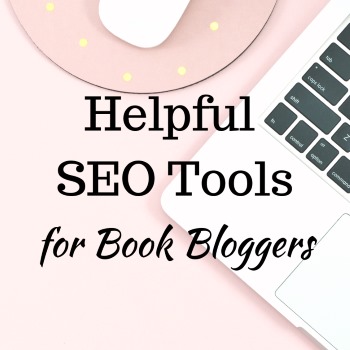 What do people even search for?
We all know that book blogging – for most of us – isn't only about writing book reviews. But sometimes I find it tricky to come up with something I like to write about and that people would want to read. Or I have a general idea for a post but am not sure about the angle.
Maybe you've been there, too: Sometimes, I sit with my cursor blinking in the Google search bar, wondering how I best put in words what I'm searching for.
When we're writing blog posts, it's basically the same problem but from the other side. What would people search for who'd be thrilled to read my post? Which words would they use to describe this thing (whether it's an issue I as a blogger want to help with, or pure entertainment and fun)? And which headline would make them click my post?

First, we'll look at Ubersuggest which helps to find the most used search terms. Then we'll check out Buzzsumo, which shows the most shared posts on certain topics. And lastly, we'll go back to SEOreviewtools which I already mentioned in part 1. This time, it's about their Content Idea Generator which helps to get the best book blog ideas.

Everything I know about SEO, I learned from Neil Patel. No, really. I have read other guides, but it always comes down to what I read on his blog. He offers awesome, easily understandable guides and a bunch of free tools that help you grow your audience.
I'm not always happy with his very competitive angle, but he's still so damned likable.
Now, Ubersuggest does exactly what the very nerdy name promises. It helps you find search terms and posts on specific keywords that get a lot of visitors. That way, you can tailor your post to fit a popular search term.
For example, you planned to write a post called "5 books I enjoyed this month". When you search around in Ubersuggest, you see that a lot of people look for the best self-care books. Three of the books from your list have self-care topics. So you can instead call your post "My 3 favorite books on self-care" which is likely to get more search engine traffic because you're using an important keyword.
How to use it to find the best keywords
You type in a very broad keyword you want to write about. Then you can browse through search terms including your keyword. You can see how much search volume they have (in the image, that would be 1300 searches for the first 3 terms). And you can decide if you want to give your post a specific angle (like "best" or "2018"). On one hand, that makes it easier to rank, on the other hand, the search volume is lower.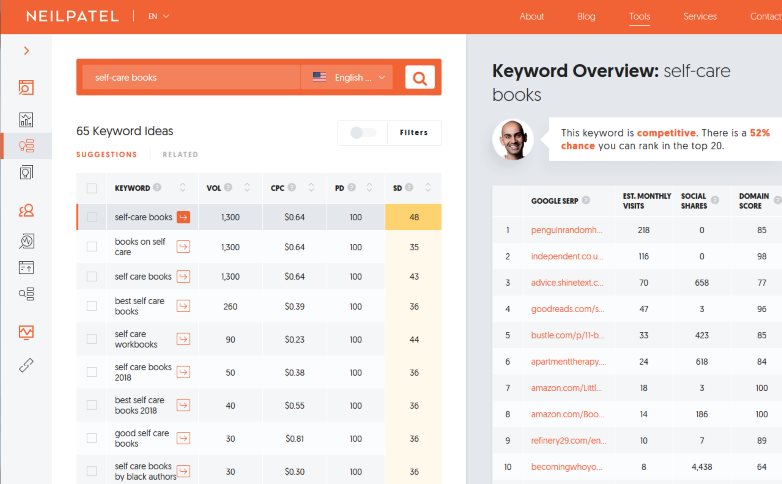 The thing is, ranking on Google isn't only based on the number of backlinks. It's actually ridiculously complicated, but Social Media shares are one aspect of it. So, apart from the obvious direct traffic from having your post shared a lot, it also improves your post's search ranking, making it a longer lasting hit.

How to use it to create headlines that get shared
Just like with Ubersuggest, you type in your broad keyword. Then you will see a list of websites using that keyword, sorted by the overall Social Media shares they received. You can then make adjustments to your keyword and think up a post angle and/or a headline that people want to engage with, like "The 3 Self-Care Books to read this Spring", or "The 3 Self-Care Books to teach you Mindfulness".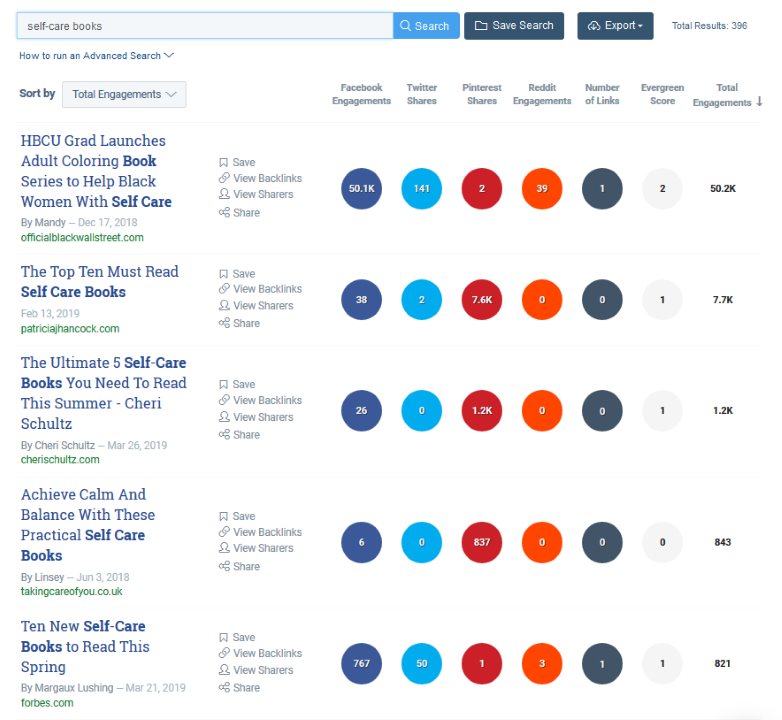 This tool made it onto the list because the headlines are so friggin good. I'm always tempted to click every single one of them.
The beauty of Content Idea Generator is that it doesn't only give you posts using your exact keyword, like the other two. It also shows you other popular posts that come up for your search term, even though they don't have the keyword in the headline.
That's why this is probably the best tool in this list to give you inspiration when you aren't sure what to write about.

How to use it to get book blog ideas
Type in your keyword and you'll receive a list of related posts. You can then use the buttons on the right to further research the topic. If you toggle headlines, they're saved in the "Selected content ideas" box on the left and you can easily copy them out. But be aware that these headlines come from actual, existing, popular websites. They can inspire you, but, just as with Buzzsumo, you don't want to directly copy them.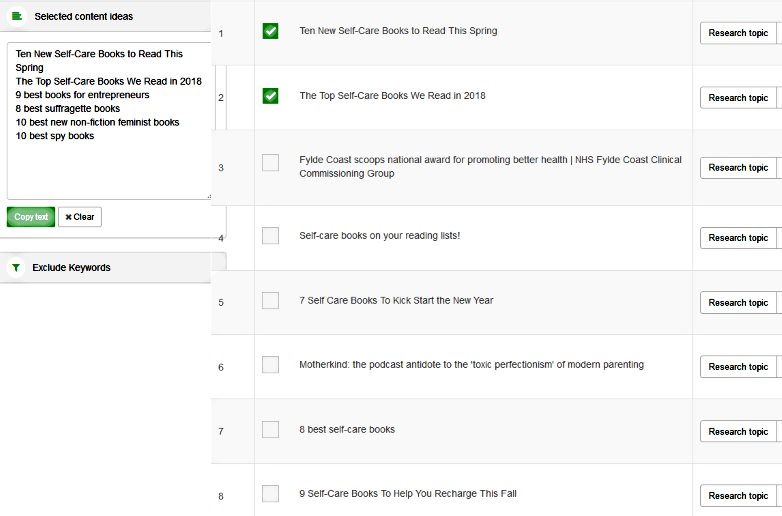 I hope this post helps you to get great book blog ideas and write more engaging headlines that will draw in the audience your posts deserve 🙂
If you are on a free blogging plan, using these tools makes sense simply to increase your reach, but also to have your content in the best possible place in case you decide to go self-hosted later on. Hosting plans are actually a lot cheaper than you might think. Take a look at my post about blog hosting (no affiliate links).