Contemporary Romance with Unknown or Mistaken Identity
Meeting your significant other online is pretty common in real life. Yet, in the world of Romance books, online love is very uncommon.
Between athletes, rock stars, and billionaires, there's not a lot of room for online dating heroes. But Online Romance is one of my favorite tropes. That special feeling when you're falling in love with someone while wondering if it can be real at all since you've never even met…
Developing this huge crush on someone's personality, having real feelings, hopes and dreams for the future, and at the same time being so scared that it will all turn out to be an illusion when you meet for real…
It's so exciting. And I wish this was a more popular trope. You see, I met my husband online. So, books about online romance are near and dear to my heart. And I just can't get enough of them!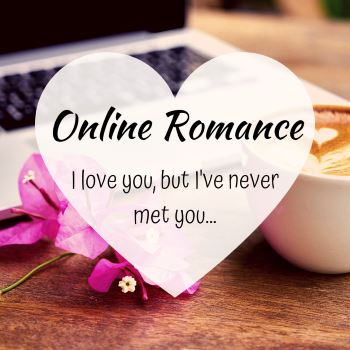 Today I will share with you the Online Romance books I've found and fallen in love with.

Hold Me by Courtney Milan
What if you actually know your online love in real life… but he's a total jerk to you?
This story has a special twist. While the protagonists are falling in love online, they're hating each other in real life.
Hold Me is one of my favorite contemporary romance novels and the audiobook is fantastically brought to life by Xe Sands and Sean Crisden.
For those of you interested in diverse representation, this is an absolute must-read anyway!
Listen for free with the Romance Package**
Let's get Textual by Teagan Hunter
He sounds so nice, like your perfect match, but you've never even seen his face! How can this work out?
This one is cheating a tiny bit, I know. Technically, it isn't internet love, but "wrong phone number" love. However, this romance fits so incredibly well into this collection, let's just call it chatting!
Let's Get Textual is ridiculously cute and sexy. If you can appreciate a hot nerdy hero, you will absolutely love Zach. He is so funny, and it melted my heart how much he adored Delia.
The narration by Emma Wilder is absolutely fantastic. She has all the voices and totally captivated me!
Related article: How to get Audible audiobooks cheaper on Amazon
Lucky Suit by Lauren Blakely
Who is really hiding behind that screen name? And can you give a real guy a chance when you've met the perfect fantasy online?
Getting to know someone online and developing feelings for them, can really stand in the way of developing a relationship in real life. And in this super entertaining novella, there are even more twists and turns to this problem.
The two absolutely amazing narrators Andi Arndt and Zachary Webber make this audiobook a real treat. I loved every second of it!
Pick it up for a steal** or listen for free with the Audible Romance Package
Punk 57 by Penelope Douglas
What if you think you know each other so well just through writing, but your worst fear comes true and, in real life, it's all different?
Another one that's kind of cheating, since we're dealing with actual letters in this book. But it fits in so well and it might as well be email.
This book deals with the worst possible scenario of getting to know someone from afar. You develop feelings, but when you meet for real, the person isn't at all what you expected.
This book is epically narrated by Laurie Catherine Winkel and Matthew Holland. And it's on my "You absolutely HAVE TO listen to this one"-list!
Pick it up on a deal** or listen for free with the Audible Romance Package
Telling Lies Online by Miranda MacLeod
It's so easy to pretty things up online. But what if you just stumble from one lie into the next and it carries over into real life?
You know how people make themselves taller, sexier, smarter on dating sites? It's so easy to pretend you're the perfect partner, but an entirely different thing how you explain that away during a real first date. With no fault of her own (initially), lesbian Jamie falls in love online with a woman who thinks she's talking to Jay, the man.
This story is absolutely adorable and I was wonderfully entertained. This is also a pretty good choice if you want to try out lesbian Romance for the first time.
And I'm in love with the narrator Stephanie Murphy. The way she brought Jamie to life made me all weak in the knees. I could have her in my ear for many more hours.
Listen for free with the Romance Package**

Cinder & Ella by Kelly Oram
What if the person you talk to online and love to bits is actually a fantasy in real life?
I don't read a lot of Young Adult, but this story is just so wonderful. If you're craving something that makes you go all "awww" and warms your heart, read this modern fairytale.
Kirsten Leigh did a fantastic narration that will absolutely captivate you!
This audiobook is also on my list of recommended reads with disabled protagonists.
Listen for free with the Romance Package**
Hooker and the Hermit by L.H. Cosway & Penny Reid
The internet is a special place for us folks who are socially awkward, but does it work out to anonymously flirt with someone online that you know in real life?
From two of my very favorite authors comes this tale of online entanglement. I could very much empathize with Annie who felt she could only be herself with Ronan when they exchanged emails, but not when they met in real life. But deception always means you're just one step away from disaster.
Ronan's Irish accent is done by George Allen and Annie is narrated by the extremely adorable Lucy Rivers.
Listen for free with the Romance Package**
I hope you found some great new Online Romance books in this reading list. If you want to know how you can sign up to the Audible Romance Package outside the USA, check out my guide here.