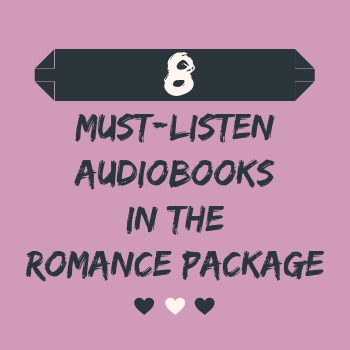 It's Valentine's Day soon, the perfect time to talk about not just any old romance audiobooks, but the very best that you can listen to for free with the Audible Romance Package.
The definitive must-read romance audiobooks!
The following are my absolute favorite romance novels. The ones that make me swoon and make me happy and even a little bit proud to be a romance reader. They are all very different stories, but they're all insanely romantic in their own way. These are the books I always recommend first when someone asks because they are outstanding and unforgettable.
All of them are in Audible's Romance Package. That means you can listen to each one for free if you already have a subscription or if you sign up for a free test month. And you can add them to your Audible library with just 2 clicks.
**The marked book links and covers on this page are Amazon affiliate links. If you use them to purchase something, I receive a small fee at no additional cost for you. Thank you for supporting my blog! **
If you're not from the US and want to get the Romance Package, click here to read my quick guide on how to do that.
Neanderthal seeks Human
written by Penny Reid, narrated by Jennifer Grace

This was one of my first ever romance novels and it completely blew me away. Before that, I admit, I did not have the best assumptions regarding romance. And I didn't think I'd like it. Well… look at me, writing a romance audiobook blog now 😀 This story is so romantic, funny and interesting! It's really a classic of self-published contemporary romance.

Repeat
written by Kylie Scott, narrated by Andi Arndt
This one was a total surprise for me. I thought with all the 80's movies on amnesia, this couldn't be particularly interesting. Boy, was I wrong! This story was so insanely awesome and I finished the book with the warmest and fuzziest feelings. The story is really as amazing as the cover. It's an absolute must-read romance!
The Wall of Winnipeg and Me
written by Mariana Zapata, narrated by Callie Dalton
Love doesn't always have to come easily or instantly to be real and deep. There's a reason why this book is considered the very definition of a slow-burn romance. And even if slow-burn isn't your favorite, there's no way the story of Aiden and Vanessa won't get to you and leave you feeling all warm and fuzzy inside.
Trade Me
written by Courtney Milan, narrated by Xe Sands and Sean Crisden
This book completely gripped me. I loved how raw and gritty it felt, even though it wasn't dark at all. This is a romance that is simply outstanding, and not only because so many of the conventional concepts – like the unapproachable hero or the heroine who can't accept any help – are overthrown here in a really compelling, thoughtful way.
Mister Bodyguard
written by Lauren Rowe, narrated by Lauren Rowe and John Lane
It was hard to pick just one Morgan Brother. The entire series is so, so good! It's funny, real, warm and ridiculously hot. One thing about Lauren Rowe's writing that I particularly love is her ability to write decent, non-screwed-up men who are still insanely interesting and sexy. Zander is very honest about his feelings and open to finding love, and yet, he's at least as sexy as any brooding, mysterious hero I've ever read.
Punk 57
written by Penelope Douglas, narrated by Laurie Catherine Winkel and Matthew Holland
Let's move on to the opposite: Extremely screwed up main characters! Punk 57 is for me the very definition of what I look for in New Adult. It has the most delicious thick angst while being insanely romantic and steamingly hot. Even if you always stay away from YA/NA, this one is a must-read for any romance fan. Trust me!
Painted Faces
written by L.H. Cosway, narrated by Ali Coffey
This story is so unique! There is this insane chemistry between the two main characters and L.H. Cosway can seriously write the hottest sex scenes. The narration isn't everything it could have been, but honestly, that doesn't matter all that much. This romance is a must, whether you read it or listen to it. Also, if you at all trust me and like my taste, give yourself a treat and don't read the blurb. Let yourself be surprised! You won't regret it.
Black Swan Affair
written by K.L. Kreig, narrated by Ava Erickson and Tad Branson
This is everything you want in a love triangle, with tons of delicious angst on top of it. I don't think it gets much better when you want high stakes and burning emotion. This book totally blew me away! The blurb might make you think that it's overdone. But it isn't. The drama works perfectly without ever feeling silly.
So, if you haven't listened to all of these yet, get started! Each and every one of them is an absolute must-read romance audiobook.
Happy listening!