Review: Attraction (Elements of Chemistry, Book 1)
by Penny Reid
narrated by Cris Dukeheart
Jerkface alpha billionaire manwhore meets shy virgin
And yet the trope feels unfair and unfitting.
Kaitlyn is an outspoken feminist chemistry student. She just doesn't want to talk to most people. Especially not to Martin Sandeke, who she secretly lusts after. When she sees him reduce girl after girl to tears, she decides to keep her distance. It's just that he won't quite let her because he wants much more than talk.
Oh, New Adult… what a wonderful genre. When your heroine is only 19 she can still go through fundamental personal development that makes sense and is realistic for an age at which you have to make some of the most influential life decisions. You can't really do this kind of character development with adult (adult-adult… you know) characters in a believable way. At least not in one book or a short series like "Elements of Chemistry". Now, it's not just a wonderful genre, this is a particularly awesome series and a good example of Romance done right. Penny Reid has a fantastically witty sense of humor and I laughed out lout during the dialogue between Martin and Kaitlyn about whether being a possessive caveman is something women really like.
Cris Dukeheart did a great job with her sexy-cute voice (yes, that's a thing, just listen to it!). She doesn't have the most manliest man voices I've ever heard, but they are very good. The characters are easily distinguishable and I particularly liked her intonations which made the story even more interesting and captivating. Also, she really knows how to moan 😉
Be warned though, this is really one longer story divided into three parts. So book 1 ends on a major cliffhanger. If you want to listen to this, you have to get all three parts otherwise you will be so heartbroken! Come to think of it, I wonder if this series would have gotten more attention in a different format – something other than being a trilogy with each part being fairly short yet originally sold at "full price". However, now that the entire series is in the Audible Romance package you should go grab it right away and enjoy!
Publisher's summary
One week.
Private beach.
Invisible girl.
Jerk-faced bully.

What's the worst that could happen?

Kaitlyn Parker has no problem being the invisible girl, which is why she finds herself hiding in various cabinets and closets all over her college campus. Despite her best efforts, she can't escape the notice of Martin Sandeke—bad boy, jerkface bully, and the universe's hottest, wealthiest, and most unobtainable bachelor—who also happens to be Kaitlyn's chemistry lab partner.

Kaitlyn might be the only girl who isn't interested in exploiting his stunning rower's build, chiseled features, and family's billionaire fortune. Kaitlyn wants Martin for his brain, specifically to tabulate findings of trace elements in surface water.

When Kaitlyn saves Martin from a nefarious plot, Martin uses the opportunity to push Kaitlyn out of her comfort zone: spring break, one week, house parties, bathing suits, and suntan lotion. Can she overcome her aversion to being noticed? Will he be able grow beyond his self-centered nature? Or, despite their obvious chemistry, will Martin be the one to drive Kaitlyn into the science cabinet of obscurity for good?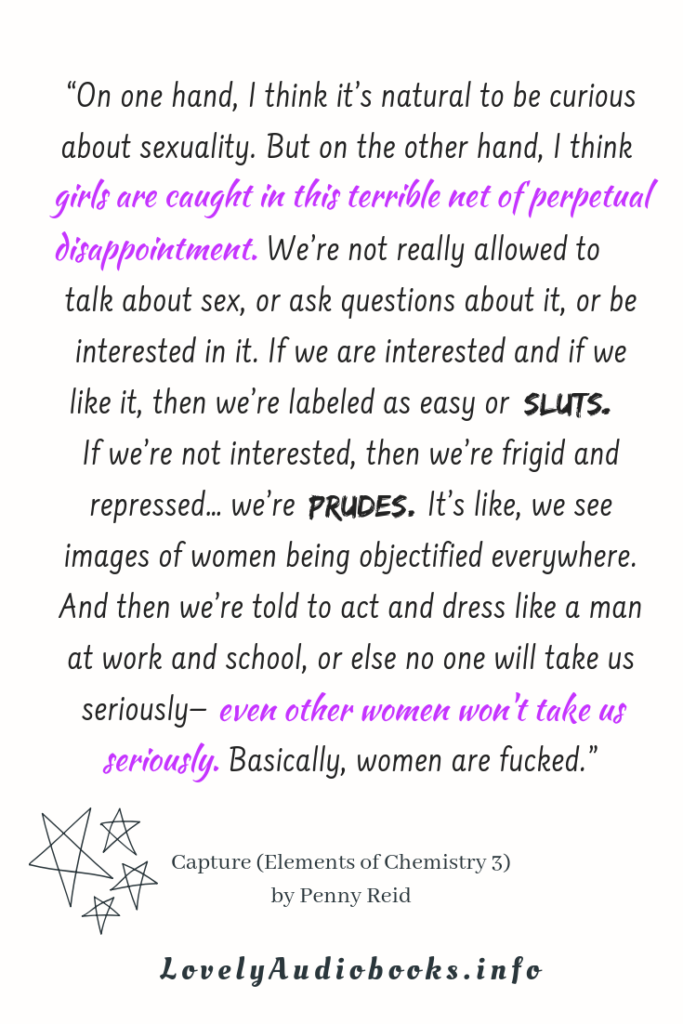 Oooh-Factor:
5 out of 5 hot stars
It's wonderfully sexy!
Audio-Factor:
Audiobook > Book
I had a great time with the book, too. But Cris Dukeheart is so entertaining to listen to!
Pick it up here:
Find the audiobook "Attraction (Elements of Chemistry 1)"** on Amazon or go directly to the Audible Romance Package** so you don't  have to fear the ginormous cliffhanger and can just binge 😉