An Audible membership is a must for audiobook fans and the starting point for many new audiobook listeners. These days, Audible offers much more than just 1 free audiobook per month. Find out below how to get the most out of your Audible membership!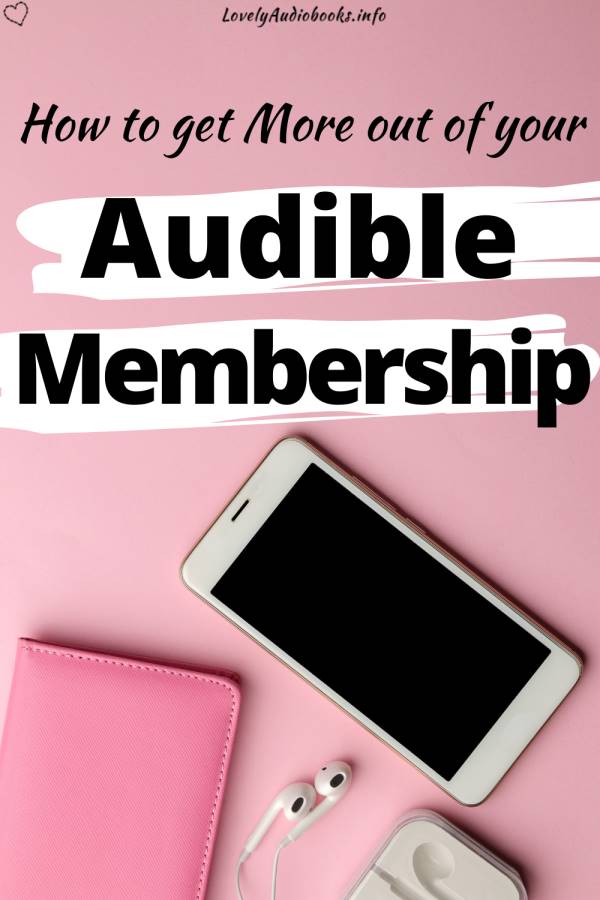 **The marked links and book covers on this page are affiliate links. If you use them to purchase something, I earn a fee at no additional cost for you. Disclosure**
How does an Audible Membership work?
An Audible membership is a monthly subscription service that provides access to audiobooks and other audio content. The service is available in the Audible app which you can download for free from the App Store or Google Play.
In the standard plan, in return for a flat monthly fee of $14.95, you receive one token, an Audible credit, that you can exchange for any audiobook from the entire Audible catalog.
You have the option to buy more Audible credits, but you can also buy audiobooks for money. Audible members get a baseline discount of 30% on all audiobooks in the store. In addition to the audiobooks you buy, you can also borrow an unlimited number of titles from a special catalog called Audible Plus. This works like Netflix or your local library. The Plus catalog includes only a fraction of the entire Audible catalog though.
You can try it all out in a free 30 day trial**
Which Audible Plan has the most bang for the buck?
Audible Membership Cost
Audible US offers five membership plans. Other international marketplaces have fewer options.
Audible Plus is the cheapest plan at $7.95 per month. It gives you access to the Audible Plus catalog of around 10,000 titles and you can borrow as many audiobooks from it as you like.
Audible Premium Plus is $14.95 per month or $149.50 per year. It includes unlimited access to the Audible Plus catalog and one Audible credit per month (or 12 per year) for an audiobook of your choice from the entire Audible catalog. While you can only listen to Audible Plus books while your Audible membership is active, any books you buy for a credit are yours to keep and you can listen to them whenever you like, even after canceling or pausing your subscription!
Audible Premium Plus 2 credits is $22.95 per month or $229.50 per year. In addition to the Audible Plus catalog, you get two Audible credits per month (or 24 per year) to buy any books you want from the entire Audible catalog.
A bit of napkin math shows that Audible Premium Plus 2 credits yearly is a really, really good deal for anyone who can afford the steep upfront price. In the end, you only pay $9.56 per credit, instead of the standard $14.95!
If you find you regularly buy additional Audible credits, you should consider switching to that plan!
Can you get Audible Membership Deals?
Audible US very rarely offers deals on their standard membership plans. Audible UK and other marketplaces usually have a special offer for Black Friday and you can sign up for these from anywhere. Audible UK even includes the Plus catalog! So, becoming an international listener can be a pretty smart choice. Audible offers mostly the same audiobooks worldwide apart from any books that have a regional restriction. These are based on your location though, not on the Audible marketplace (meaning: a listener from the UK will see UK audiobook version on Audible US and vice versa)
A popular strategy to get an Audible membership deal is canceling your subscription! When you click through the cancelation process, Audible asks several times if you are sure and also asks for your reasons. If you choose "it's too expensive" (and you haven't used this offer recently), they will likely offer you a 50% discount for 3 months of Audible Premium Plus!
Related article: Audible Plus vs Premium Plus
The Ins and Outs of Audible Credits
Do Audible Credits expire?
Yes, beware of this! Every credit is worth a lot of money (usually $14.95), so take good care of them! When you cancel your Audible membership, any unused credits will disappear.
Generally, unused credits roll over to the next month. However, Audible credits expire after 1 year! You will get a notification when credits are about to expire so you can still spend them.
Also, a little tip, if you didn't use your credits because you couldn't find anything interesting, just use it for a pre-order! Audible credits work for pre-orders like for any other book and the title will be delivered to your Audible library once the book has been released. This even works when you cancel your membership! (As in: buy pre-orders for left-over credits, cancel membership, get audiobooks delivered once they are released).
Can you Pause an Audible Membership?
If you have more credits than audiobook listening time (who are you though?!?!? Haha), you can choose to pause your Audible membership. This works once per year for up to 3 months. During this time you won't be billed and won't get additional Audible credits. You also won't have access to the Audible Plus catalog!! So, you can make your way through that without paying. But you do have normal access to your library of Audible books you own and you can spend your remaining Audible credits and listen to those books.
How often can you exchange an Audible book?
A very popular strategy to get more out of your Audible membership used to be exchanging Audible books over and over as often as possible to get many extra hours of listening out of one Audible credit.
I will be the party pooper now and tell you, please don't do that!
For two reasons: Firstly, Audible is much quicker these days with blocking the ability entirely for your account. They monitor exchanges more closely now and if they view behavior as "unusual", they will limit your account.
Secondly, when you exchange an Audible book, you are not cheating Audible and Amazon out of that money, but the audiobook creators! Say what?? Yep, this feature that Audible promotes absolutely everywhere ("just return it for a full refund") doesn't cost them anything. They simply don't pay the publishers, authors, and narrators!
This only came out recently and led to a huge outcry among audiobook creators. As a result, Audible has slightly adjusted its policy. When you return an audiobook in the first 7 days after purchase, Audible assumes it's a quality issue and will not pay the audiobook publisher. If you return an audiobook later than 1 week after purchase, Audible will pay out royalties.
But you might see where I'm going here. Obviously, Audible doesn't like paying for things. Amazon is a huge company. You don't become a huge company by paying people more than they earned you. So, again, Audible is very serious these days with taking the exchange feature away from customers.
Of course, you can and should absolutely return audiobooks that you can't finish because you don't enjoy them or because the quality is bad. It's great that Audible's returns policy makes it so much easier for us customers to take chances on new authors and narrators!
But if you finish an audiobook and had a halfway decent time with it, do think carefully whether or not you want to return it, both for the sake of your Audible account as well as the audiobook creators who deserve to be paid.
Not every Audiobook is worth an Audible credit!
This sounds harsh. But what I mean is that an Audible credit has a specific worth ($14.95) and often, you can buy Audible books cheaper with Amazon Whispersync.
When an audiobook is Whispersynced, you can seamlessly switch between the Kindle ebook and the Audible book. However, these deals are so good, that oftentimes, it's cheaper to buy the ebook and the audiobook, even when you only want the audiobook!
Whispersync also works for $0.00 ebooks as well as ebooks downloaded through Kindle Unlimited!
On Audible, you can filter audiobooks that are Whispersynced.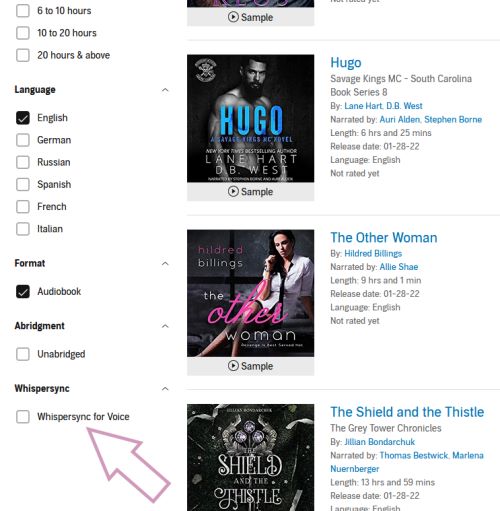 If a book is Whispersynced, Audible will include the Whispersync price on the audiobook's page together with a link to click through to Amazon where you can buy the package deal. When they are $7.49 or even only $1.99, it's usually worth it to buy the Whispersync deal with the ebook, instead of spending an Audible credit.
If you own many Kindle ebooks, you can use the Amazon Audible Matchmaker** to check for Whispersync deals to add the Audible book for a cheap price.
Audible Membership Perks
Audible Plus
The most important benefit you get as an Audible member, as opposed to e.g. an Audiobooks.com member, is access to the Audible Plus catalog. With an Audible membership, you can really listen to as many audiobooks as you want, not only to the one you buy for your monthly credit!
Audible Sales and Deals
Most of Audible's sales events are members-only and they are a really nice perk. You have the Daily Deal with a new audiobook being offered for just a few dollars every day. Audible also runs $5 sales regularly, as well as 2-for-1 sales during which you can buy 2 audiobooks from a special catalog for 1 Audible credit. These events are always worth a look!
They also make Audible's wishlist a worthwhile feature. Whenever you see a book you find interesting but don't want to buy right away, add it to your wishlist. When that book is available in a sales event, Audible will notify you and you can grab it for a steal!
Audible Originals
Audible is not only an audiobook store but also a pretty big audiobook publisher! Audible Originals are exclusive audiobooks that are created by Audible. The scripts for these are often written specifically for Audible's production and the title will be released as "audio-first" or even exclusively as audiobook. They can be anything from fiction to nonfiction, biographies to business books. You won't find these audiobooks anywhere else but on Audible. And often, they are either included in the Plus catalog or have a Whispersync deal for $1.99. These are always outstanding productions though! Audible knows what audiobook listeners like. So they will often use a full cast of voice actors or make it in other ways a special listening experience.
Get the Most out of your Audible Membership!
Use your credits wisely! Use them for long and expensive audiobooks or maybe even audiobook box sets. Double-check that the audiobook you want doesn't have a cheap Whispersync deal.
Use the Audible Plus catalog! Some people, especially former Audible Escape subscribers, have been sceptical about it. But there are many great titles in there and, hey, if it's not good, just stop listening and start something else! After all, Audible Plus books are free to listen. You can use it to try out different genres, mix things up with short audiobooks, or even podcasts. It's really a great service and Audible adds new books all the time.
Between unlimited listening in the Audible Plus catalog and all the many deals and sales, in addition, of course, to the credits, Audible makes it very comfortable for audiobook fans to use the service exclusively. All in all, you can really make an Audible membership worth it and listen to audiobooks every day without paying much more than $14.95 per month.
If you aren't a member yet, try it out now with a 30 day free trial**. You get all the perks and you can keep the audiobook you buy with your first Audible credit, even if you cancel right away.
However, if you have landed here because you aren't entirely happy with your Audible subscription, despite all the perks, and it doesn't quite fit your listening habits, check out my list of great Audible alternatives!
All about Audiobooks
/