Whether you heard about Audible Plus and want in on that unlimited audiobook goodness or want to use Audible promo codes for free audiobooks, it can be really handy to have an Audible.com account even if you don't live in the US. So in this post, I want to show you how to sign up to Audible.com from the UK, EU, Canada, Australia, or anywhere else in the world!
Originally, this post was a guide to signing up for Audible Escape as an international listener. Unfortunately, Audible has discontinued Audible Escape and you can't sign up for it anymore. But some of the audiobooks were moved into Audible Plus instead, Audible's new unlimited audiobook subscription!
Related article: What is Audible Plus?
With an Audible Plus or Premium Plus subscription, you get a lot of value for your money. And it is great that Plus is now available on Audible UK, AUS, and CA as well. But people living in the EU or elsewhere often assume they can't sign up for Audible.com and are limited to their local Audible marketplace. Fortunately, it's easy to subscribe to it no matter where you live. The only obstacle is that you need a credit card (for Audible, not for the guide, haha) if you want to sign up for a membership. A Visa debit card works, too.
You won't need that if you just want an Audible.com account to use with Audible promo codes though!
**The marked links and book covers on this page are affiliate links. If you use them to purchase something, I earn a fee at no additional cost for you. Disclosure**
Audible.com for International Listeners
For convenience, this guide walks you through signing up to Audible Plus on a desktop computer. Later I will also show you how you can get to your new audiobooks in the Android app.
Don't worry, it might seem like a lot of steps but they're all tiny and you'll be done in 3 minutes!
Step 1
Follow this link to start signing up for Audible Plus**
You'll arrive on a page looking like this: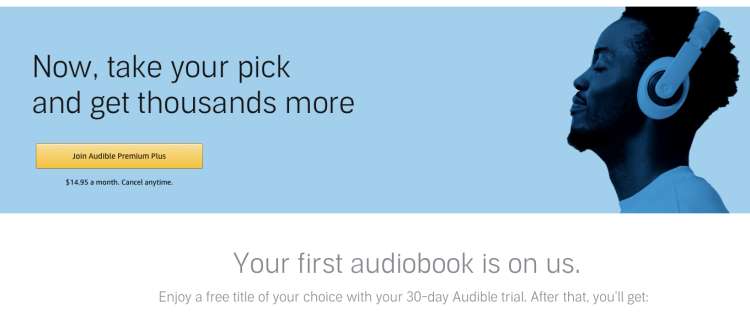 Step 2
Click on "Join Audible Premium Plus" and Amazon will prompt you to log in.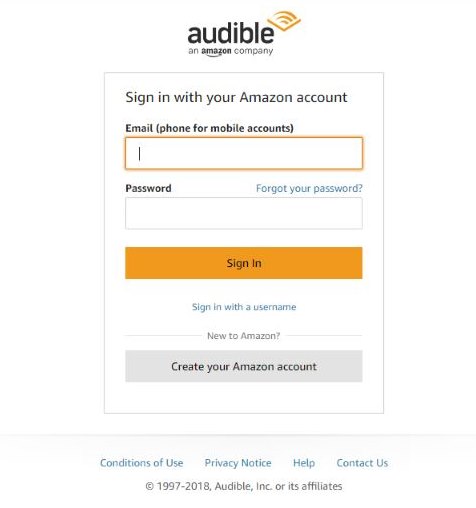 Step 3
Amazon and Audible have a global login. That means you can log in to Audible.com with the exact same email and password that you used yesterday to order a new toothbrush and cat food on your local Amazon!
Don't make a new account! Just use the one you always use to log into Amazon.
Step 4
Here we get to the bit where, sadly, not everyone can sign up for Audible Plus. You need a credit card. You don't actually have to pay anything at this point. But you need to fill it in. Debit cards only work if it's a Visa. If you already use a credit card for Amazon, you are done now and can skip on to the next point.
If you only want an Audible.com account to request free Audible promo codes for reviews you can also skip this step. You don't need to provide a payment method. Simply follow the link that's provided with an Audible.com review copy and you're all set. Skip this one and the next step and continue setting up your Audible phone app.
If you have a credit card but don't use it for your Amazon account, you will see this screen and need to fill in your information on Audible.com: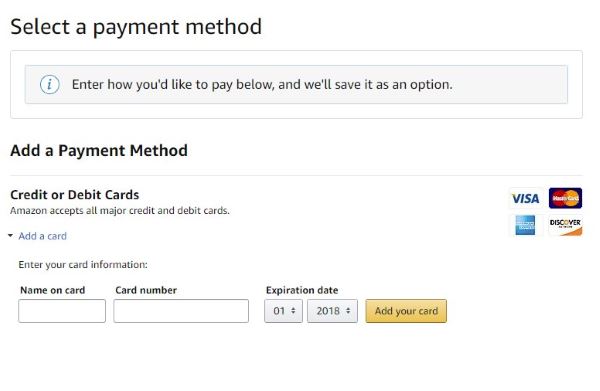 Step 5
Once you've added a card to your account, you are done and can start your Audible Premium Plus test month. Whoo!!
You can browse around and listen to as many audiobooks from the Audible Plus catalog as you like during the trial month.
Keep in mind, this works just like Kindle Unlimited "Read and Listen for free". You borrow the audiobooks and once your subscription runs out, they will be returned. You don't own them! But you will get to keep any audiobooks you bought for Audible credits or money.
You're signing up for a free test month and, even though you need your credit card, this is completely free! You can cancel anytime, right away if you wish, and still enjoy a full month of unlimited audiobook bliss.
How to listen to Audible.com Audiobooks in your Android app
In this second part of the guide, I want to show you how to change the marketplace in the Android app. You will only be able to listen to Audible.com audiobooks on your phone when you're logged into the US marketplace.
Please be aware that this only works in the standard Android Audible app! The Amazon Fire tablet has a special Audible version installed and won't let you log out or change the marketplace. There is currently no workaround for this. So, if you want to use different Audible marketplaces, you will need an Android device with the normal Audible app that you can get on the Android Playstore.
Step 1
Open the app and go to the menu: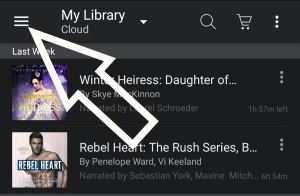 Step 2
Open the menu by clicking the three stripes and scroll down to Settings: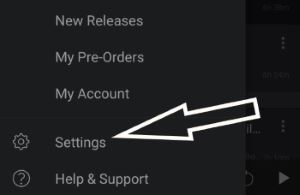 Step 3
Click on settings and then log out of Audible: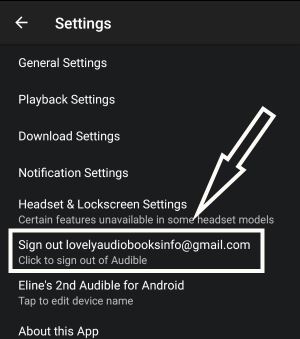 Step 4
Don't erase your downloaded content! Just click okay and don't toggle Erase.
Step 5
Now you are outside on the login screen. At the bottom, you can see which Audible you were logged into previously. For me, it was .co.uk.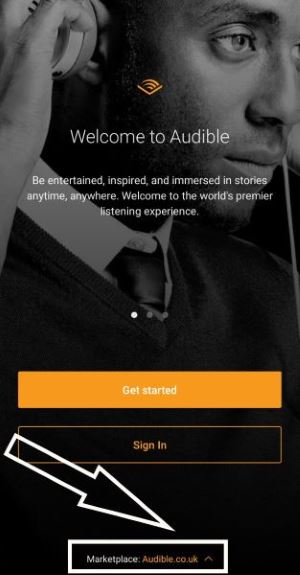 Step 6
Click on the marketplace and select .com: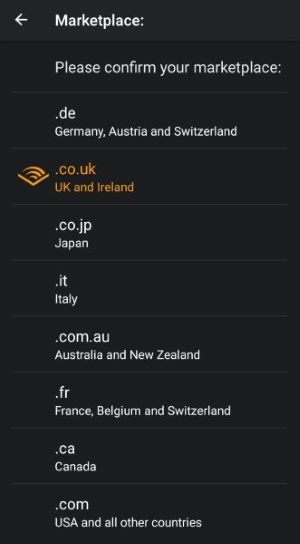 Step 7
Now you're back on the login screen, but at the bottom, it should say Audible.com. If that is so, use your usual Amazon email and password (the one you used before to sign up to Audible.com).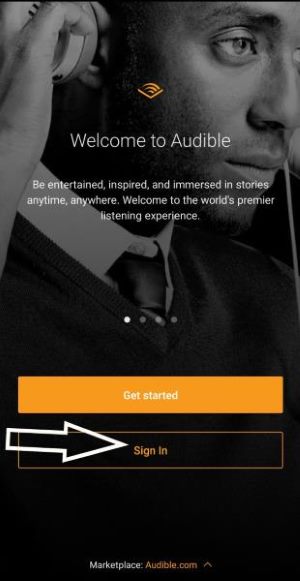 Done! You can now use your app as usual. You can download Audible Plus audiobooks that you can either choose in the app or on the computer.
To log back into your local Audible, just follow the same steps. But you can only listen to Plus audiobooks while logged into Audible.com.
Once your test month runs out, the borrowed audiobooks will disappear.
I hope I could show you that signing up to Audible.com from the UK, EU, Canada, Australia, or anywhere else in the world is really easy. And it's of course also perfectly fine with Audible!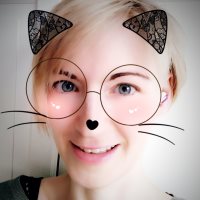 Eline Blackman (pronouns: she/they) fell in love with books as a child – with being read to and reading herself. 10 years ago, she bought her first Audible book. It was love at first listen! An average of 250 audiobooks per year has become the new normal and you will rarely see Eline without a wireless earbud. Romance and Fantasy are the go-to genres for this audiobook fan.
All About Audible
/