No worries, these wonderful new audiobooks are no April's Fools jokes, they are Easter eggs! Sweet, gooey goodness 😉
This month, I have a nice mix for you with all kinds of Romance flavors and a non-fiction that I think you'll love, too. And I'm looking forward to your book reviews and recommendations!
You can read the audiobook recommendations below or listen to them here:
**The marked links and book covers on this page are affiliate links. If you use them to purchase something, I earn a fee at no additional cost for you. Disclosure**
Audiobook Recommendations for April 2021
Demons Do It Better (Hidden Species Series, Book 1)
Louisa Masters (Author), Joel Leslie (Narrator)
Get the Audible book in a deal**
Listening to Joel Leslie is, of course, always a pleasure. But Louisa Masters' Paranormal Romance is particularly fun with a witty setting and an absolutely adorable main character. Demons Do It Better is all around super entertaining! I'm not much of a Paranormal Romance reader because many books in this genre seem to take themselves very seriously. This book reads more like Urban Fantasy a la Debra Dunbar with a great sense of humor and a thrilling adventure. My top audiobook recommendation for April!
Broken (in the Best Possible Way)
Jenny Lawson (Author, Narrator)
Get the Audible book** (Release date: 04/06/21)
I've been a fan of Jenny Lawson for many, many years and used to read her blog religiously (and read it out loud to my husband who was… thrilled, obviously!). Her newest book is the kind of fun and warm experience I think we can all use at the moment. She is probably the only person I will forgive for making a very silly joke about audiobooks! (And now you're warned that it's in there.) But that aside, this book made me feel better in a year that hasn't been easy so far. It's just… good… to listen to someone take on life with such a sense of humor.
Hana Khan Carries On
Uzma Jalaluddin (Author), Ulka Simone Mohanty (Narrator)
Get the Audible book** (Release date: 04/13/21)
Hana Khan Carries On is a novel in this grey area between Women's Fiction and Romance. Even though this book deals with racism and racist attacks, I still want to call it a feel-good story, because Hana is such a wonderful main character and I loved her family and community. The story is so very captivating, warm, and light-hearted. And I felt like I was actually in Three Sisters Biryani Poutine, the family's restaurant. Of course, it also helped that this book has an internet love story which is really one of my most favorite tropes! This is worth a pre-order, seriously.
To Kill The Dead (Hollowcliff Detectives Series, Book 3)
C.S. Wilde (Author), Cris Dukehart (Narrator), Tim Paige (Narrator),
Get the Audible book in a deal**
I'm having a great time with the Hollowcliff Detectives series and book 3 might well be the best one so far. It's a romance-ish Urban Fantasy with a bit of a Police Procedural flavor. The stories are very fast-paced with interesting mythology and world-building. There are fae, there are water people, and there are cops. It's the perfect mix! Also, Cris Dukehart is my voice crush and was the reason why I first started with this series. Such a fantastic narration!
Life's Too short
Abby Jimenez (Author), Christine Lakin (Narrator), Zachary Webber (Narrator)
Get the Audible book**
I so enjoyed The Friend Zone and The Happy Ever After Playlist, and I'm very much looking forward to the newest Abby Jimenez book! I have high hopes for Life's Too Short. The previous two books were extremely well written and had very complex and lovable main characters. I have a pre-order for this one!
Related article: My favorite Single Parent Romance books on Audible
Audiobooks I've listened to in March 2021
The Dating Plan by Sara Desai, which was on my list of anticipated audiobooks last month, was everything I had hoped for! It's a very moving, romantic story about two absolutely lovable people. It was one of the rare 5-star listens for me!
I also finally picked up The Duchess Deal by Tessa Dare this month. And OMG! I'm at the same time annoyed that I didn't listen to this earlier, and elated that I could enjoy it for the first time now! This is definitely a must-read.
The same goes for Can't Escape Love by Alyssa Cole. It was…. oh man… so, so good! I have no words. I only vaguely had this book on my radar but I should have listened to it long ago because it definitely needs to go on my Romance books about disability list! If you love diverse Romance, this one is a must. It's a really, really fun novella about finding love online.
Also, ACOTAR… that finally happened too! I listened to the first three A Court of Thorns and Roses audiobooks on Scribd before the big TV series announcement. And I have to say that I enjoyed them very much. They're insanely captivating with really good world-building.
Another highlight in March was The Lady's Guide to Celestial Mechanics by Olivia Waite. It was so lovely! It's a great audiobook that I can only recommend to all my fellow LGBTQ+ Historical Romance fans. If you haven't listened to it yet, do grab it. I spent an Audible credit on both this and The Care and Feeding of Waspish Widows and I have no regrets!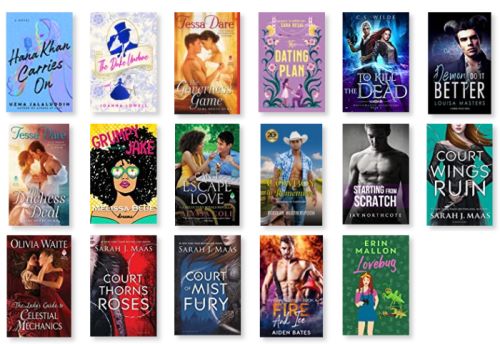 The April 2021 Book Review Linky
The monthly book review link-up is a place for book bloggers to share recent reviews. Be they negative or positive, for print books, ebooks, or audiobooks, a list of mini-reviews for several books, or a discussion of one book, with spoilers or without, Romance, Horror, Non-Fiction, or anything in-between! If it's a book review, you can add your link to the tool below to get more visitors and shares.
Please don't forget to add a backlink at the end of your blog post so more people will find the link-up. And you could give this post a share on Pinterest, Facebook, and/or Twitter. If you have a few extra minutes, pop by some of your fellow linker-uppers, and maybe even share or comment on their posts. Everyone loves engagement 🙂
Have fun!
New Audiobooks
/