Well well well, it's April already! After a beautiful, sunny week we are getting snowfalls again in these here parts, and I am absolutely not okay with that. Gimme Spring! I'm ready to not use the heating anymore. I want sunshine and being outside without getting all frozen stiff.
I feel like I listened to so many audiobooks in March! It was actually only 2 or 3 more than my average. So, I don't even know why it felt like so many. But there was a lot of variety and several shorter books, which might have added to the feeling. Either way, I'm excited about the audiobooks I have for you this month!
**The marked links and book covers on this page are affiliate links. If you use them to purchase something, I earn a fee at no additional cost for you. Disclosure**
The Verifiers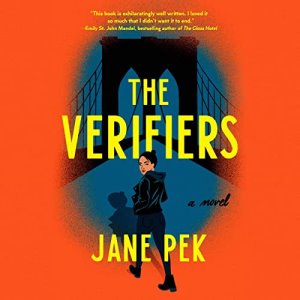 Jane Pek (Author), Eunice Wong (Narrator)
Get the Audible book**
Or get it on Libro.fm**
The Verifiers is a mystery novel about a crime-fiction-loving woman who gets hired by an agency investigating matches for online daters. (Is the match really not married, do they cheat, is that their real job, those kinds of things…) I love me an amateur sleuth and I adored Claudia, especially voiced by Eunice Wong who is so amazing! This was my first audiobook by her and it will most definitely not be the last. I will keep an eye out for her releases for sure! The story itself is funny, witty, and full of intrigue and conspiracy. I had an absolute blast with this audiobook!
Related article: Why LibroFM is my favorite Audible Alternative
Four Aunties and a Wedding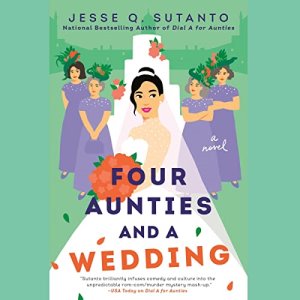 Jesse Q. Sutanto (Author), Risa Mei (Narrator)
Get the Audible book**
Or get it on Libro.fm**
I loved the first book in the Aunties series and Four Aunties and a Wedding is just as wildly entertaining! Aunties doesn't really fit into any genre and still feels very comfortably familiar, if that makes sense. I would most recommend it to fans of Cozy Mysteries even though it doesn't follow any of the usual tropes and patterns of the genre, but it has a similar light yet slightly suspenseful atmosphere. This book had me laughing out loud many times and that was quite a feat with me at that particular time. I love how this series is both utterly ridiculous and so, so warm in its celebration of family. Whenever Meddy feels embarrassed by her family, she also explores why they do this – and most often, they do something seemingly silly out of love for Meddy, to help her and support her as best they can. It's so heartwarming and beautiful! Risa Mei brought it all to life wonderfully and did an amazing job with the many accents. This book would probably work as a stand-alone, but it doesn't really make sense not to start with Dial A for Aunties.
One For All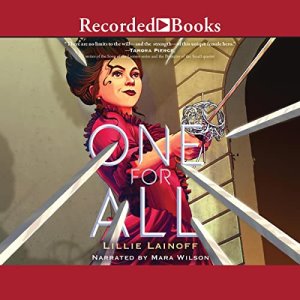 Lillie Lainoff (Author), Mara Wilson (Narrator)
Get the Audible book**
Or get it on Libro.fm**
One For All was one of my most anticipated books of the year and it indeed turned out so fantastic! This is a musketeers retelling with four girls taking up arms, being spies, and saving France. Tania has learned to fence from her father who always believed in her and helped her find ways to fight despite her POTS. The audiobook is narrated by Mara Wilson who was so great to listen to! An all-around fun, entertaining, fast-paced YA Historical that I can wholeheartedly recommend!
A Walk in the Park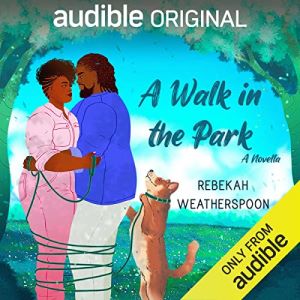 Rebekah Weatherspoon (Author), Marissa Hampton (Narrator), Chinua Hawk (Narrator)
Listen with Audible Plus**
A Walk in the Park is an Audible Original by Rebekah Weatherspoon and part of Audible Plus. This is such a fun, feel-good novella! If you have Audible, you absolutely need to give this a listen! I have a weak spot for Romance with dogs and this story did it so wonderfully with a shelter having a mix-up and promising the same dog to two people. They decide to "co-parent" and it turns into more. It's such a wholesome love story and Marissa Hampton and Chinua Hawk did a fantastic narration! Chinua Hawk has this super warm voice and you can really hear the smile in it. I hope he will narrate more Romance audiobooks in the future!
Related article: Audible Plus vs Premium Plus
The League of Gentlewomen Witches
India Holton (Author), Elizabeth Knowelden (Narrator)
Get the Audible book**
Or get it on Libro.fm**
The second book in the Dangerous Damsels series by India Holton is just as funny, charming, and wild as the first one! I love this weird world with its flying houses, pirates, witches, and feminist commentary. Elizabeth Knowelden did once again a fantastic job with the narration! Charlotte and Alex are both likable characters, but the book is more plot-driven than your usual Historical or Fantasy Romance, and the action, societies, heists, and chasing scenes get as much attention in the story as the romance between Charlotte and Alex. Elizabeth Knowelden really brought out the humor perfectly. This can be read as a stand-alone!
Dating Dr. Dil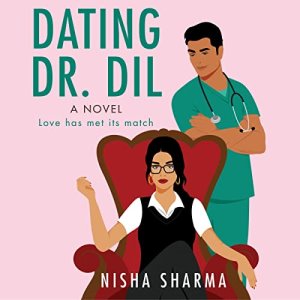 Nisha Sharma (Author), Soneela Nankani (Narrator), Sunil Malhotra (Narrator), Vikas Adam (Narrator)
Get the Audible book**
Or get it on Libro.fm**
Dating Dr. Dil is such an all-around great romantic comedy audiobook! Vikas Adam and Soneela Nankani are, as always, absolutely amazing. And the story is super funny, emotional, and super steamy! Kareena needs to get engaged quickly so she can buy her family's house. Prem needs to get engaged quickly so he can keep his investors happy and open a community clinic. Sounds like a match made in marriage-of-convenience heaven! But wait, Prem does not at all believe in love. While Kareena wants to find her soulmate and saying yes to Prem would destroy her chances for good. She is not ready for that. She basically wants a marriage of convenience with someone she can fall in love with. So, the two have quite some differences to work out. And I had such a great time accompanying them on this journey!
A Thousand Steps into Night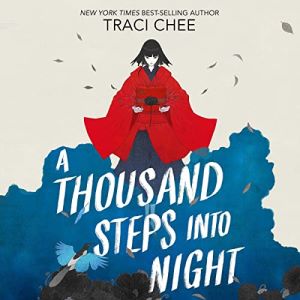 Traci Chee (Author), Grace Rolek (Narrator)
Get the Audible book**
Or get it on Libro.fm**
Demons, you say? I cannot move past a book that has demons in it. What can I say, they are my favorites. The ones in A Thousand Steps into Night are based on Japanese mythology and the story is absolutely compelling! This is a deeply feminist book about a girl from a small village who could never do anything because society would frown upon it. Then she catches a demonic curse and turns into a demon who can kill by touch. That's where her adventures start! Grace Rolek did a great narration for Miuko who always thinks that she is too loud and too much, as well as for all the many fantastic creatures and people she meets!
Dragon Ever After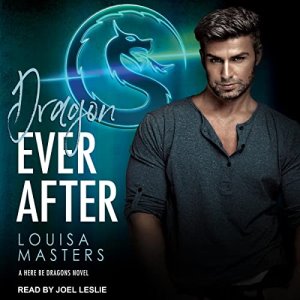 Louisa Masters (Author), Joel Leslie (Narrator)
Get the Audible book in a deal**
Starting a new Joel Leslie audiobook is for me like putting on my favorite wool cardigan. I instantly feel relaxed, comfy, and hot, haha! Dragon Ever After is the first book in the Here Be Dragons series, a spin-off to the Hidden Species series. We meet all our favorite guys from the original series. But it's also a great place for new listeners to get into this fun Urban Fantasy-ish world. In Dragon Ever After, it's finally Percy's turn! After having been very lonely while holding the position of the Lucifer, he now has time to focus on himself again and to find out what he wants to do with the rest of his long life. Enter Wing leader Brandt! This book is hilarious, charming, and steamy hot. Louisa Masters and Joel Leslie are a fantastic team and make such insanely entertaining audiobooks!
Sadie on a Plate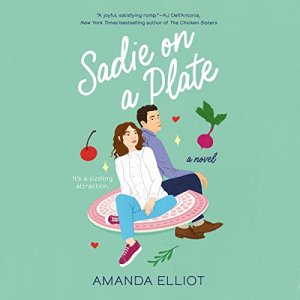 Amanda Elliot (Author), Emily Lawrence (Narrator)
Get the Audible book**
Or get it on Libro.fm**
Sadie on a Plate is a fun Women's Fiction with some Romance. Sadie is a cook and right after her career tanked in a horrible, hurtful way, she gets invited to her favorite cooking show. The book is very focused on the food and the show which is really entertaining if you like cooking competitions like this! To make matters more complicated, on her flight to start filming, Sadie flirts with and kisses this adorable, sweet, super handsome guy – who then turns out to be a judge on the show! He handles that in a not particularly elegant way. But Sadie (and I) could forgive him. The audiobook is narrated by Emily Lawrence who brings the diverse cast of characters to life wonderfully!
Meet Cute Club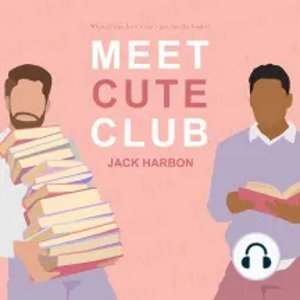 Jack Harbon (Author), Brent Billings (Narrator)
Listen on Scribd**
I'm becoming more and more of a fan of Scribd lately. We've had a bumpy ride, but lately, the service has been very reliable for me and I very much appreciate that they have started to bring out Scribd exclusive audiobooks. Now, of course, there are good arguments against exclusive books, but in this case, I am absolutely for it, because Scribd produces audio versions of books that have been out for a while and wouldn't have gotten an audio version otherwise. Meet Cute Club is a Contemporary M/M Romance about two very different bookworms. I wanted to read it ever since I first saw it announced on Twitter, but it hasn't had an audiobook until now. It's such a great novella! And the narration is fantastic. I didn't recognize the name, Brent Billings, but the narration sounds great and very professional!
Seatmate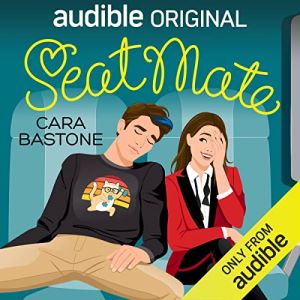 Cara Bastone (Author), Amanda Ronconi (Narrator), Zachary Webber (Narrator) and a full cast
Listen with Audible Plus**
Cara Bastone writes romantic comedies like few others! And I love how Audible turns them into these fantastic audiobook productions. Seatmate is the newest in the Love Lines series and it's RomCom perfection! The characters are so lovable and fun and adorable. The heroine is this very cool yet approachable woman. The hero is a total cinnamon roll. And I love the flow of the story, accompanying them almost in real-time while they get to know each other, become friends, and find out things about the other person few people knew. It's insanely romantic and Zachary Webber and Amanda Ronconi did such a wonderful narration. They're supported by a full cast. I loved this book so much!
Audiobooks I listened to in March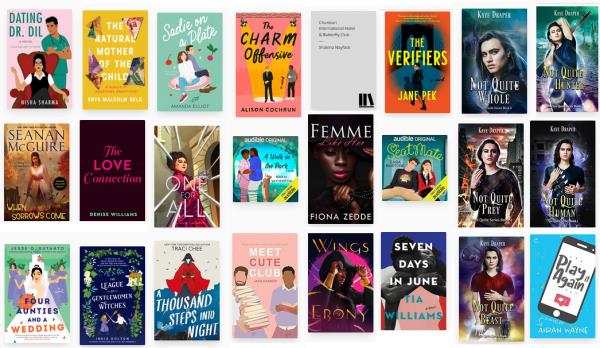 I listened to 24 audiobooks in March, which is a bit above my average. However, several of these books were on the short-ish side. I had an absolute blast with the Not Quite series by Kaye Draper. I can highly recommend that! You can borrow the entire completed series with 6 books on Scribd**. It's a very cool Urban Fantasy with an intersex main character and a polyamorous relationship. Kaye Draper also reads the audiobooks and did a fantastic job! Sam is such a wonderful main character.
I also finally listened to Seven Days in June by Tia Williams! It has a chronically ill heroine and the push and pull between the two main characters makes this a breathtakingly beautiful romance. It will definitely be included in the next update of my list of Romance books with disabled characters.
Which books do you recommend this month?
Feel free to leave a comment below with the books you have recently read or are looking forward to! If you have a book blog you can add a link to your recent book reviews directly in the InLinkz tool and share with us which books and audiobooks you've enjoyed (or didn't) lately!
The book blogger link-up is not limited to audiobooks! You can share any type of book review, be it negative or positive, for print books, ebooks, or audiobooks, a list of mini-reviews for several books, or a discussion of one book, with spoilers or without, Romance, Horror, Non-Fiction, or anything in-between! If it's a book review, you can share your link with us through the tool so we can all visit your blog.
You can also check out this Introduction to the Monthly Link-Up.
Book Review Link-Up April
New Audiobooks
/