For some audiobook listeners it's back to school, while others might use the wonderful summer weather in August to go on vacation. Either way, with my audiobook recommendations for August 2022, you will have something fun to listen to, no matter what you're doing!
I heard so many good things about this book when it first came out in ebook format. So, I was delighted that D'Vaughn and Kris Plan a Wedding by Chencia C. Higgins finally got an audio version, too. And I was even more delighted when I listened to it because this book is FANTASTIC! It's probably the best F/F Romance I've listened to so far in 2022. D'Vaughn and Kris take part in a reality show. They don't know each other but should make their families and friends believe they are getting married. If they succeed with the ruse and end up in front of the altar, they will win a lot of money. And their mutual attraction can only be helpful to make this plan work. This is a wonderful fake dating story with insane chemistry and I enjoyed Rebecca Lee's narration so much!
Related article: The Best Audiobook Apps in 2022
Oh yes, gimme all the anti-heroines! Violet Made of Thorns by Gina Chen is shelved as a YA Fantasy Romance, but the protagonists felt older and I think this will work for listeners who prefer New Adult or Adult books. But anyway, let's talk about Violet! She's a seer and she's very glad to have her place in the palace, that she has a job and a home. She doesn't have many scruples when it comes to making sure she stays in the good graces of the old king. However, she most certainly doesn't hold back when it comes to the crown prince. They HATE each other! (Guess where that's going, haha.) This is such an utterly captivating book and I absolutely adored this enemies to lovers! I haven't encountered many heroines like Violet and I absolutely love her! Emily Woo Zeller did such a fantastic narration and I couldn't put my headphones down!
Man o' War by Cory McCarthy is such a moving book! (Plus, you learn a lot about sea animals.) River is a white-passing Arab-American teen who is navigating their sexuality and gender identity. River has grown up in an extremely homophobic and transphobic environment which they internalized. In this book, River comes such a long way from living only for their image at school to actually figuring out who they really are. I felt this book so, so deeply. And the narration by E.R. Fightmaster blew me away!
Honey & Spice by Bolu Babalola is the College Romance I've been waiting for! Kiki is such a lovable heroine and I rooted so hard for her! She's navigating college life and I found her so relatable. Socially, she tries to stay somewhat on the outside while still being in good standing with everyone. She is worried of messing up any friendships and she doesn't want a relationship. Kiki hosts a radio show for her fellow Black college girls in which she talks about guys who are abusive or take advantage. But then super swoon-worthy Malakai enters the scene! Kiki feels drawn to him even though she's sure he must be a player. This is such a fantastic book that takes you through all the emotions, making you laugh, cry, and fan yourself, haha. Weruche Opia did an absolutely outstanding narration, with the radio show parts and some of the inner monologue sounding like Spoken Word, and I loved the different English accents! This is a beautiful audiobook and for me one of the best of 2022!
Oh Lucie… This book has two of my favorite themes: Planned Pregnancy and Love Triangle! Nevertheless, Lucie Yi is Not a Romantic by Lauren Ho reads a bit more like Women's Fiction than Romance with the tone and the way both love interests aren't super perfect guys. I loved Lucie though! She has broken up with her fiance and now sets out to become a mom on her own. She meets someone on a co-parenting app. They get along very well and Lucie quickly gets pregnant. Then her ex-fiance pops back up. I had a great time with this book and what it did with these two themes. The narration by Cindy Kay was wonderful, too! She has such a pleasant voice and really brought out Lucie's emotions and inner conflict. And her guy voices are fantastic.
I adored Roni Loren's new book For You & No One Else and I loved, loved, loved the ending! Eliza is a therapist with a well-running practice and very successful Social Media channels. She comes to befriend Beck, an internet security expert who challenges her to spend more time offline and look for a partner in real life instead of dating apps. And while Beck doesn't make a secret of his attraction to Eliza, he's also very clear about being interested only in a friends-with-benefits arrangement. While Eliza is looking for a husband and "the whole package". Roni Loren writes such wonderful, relatable, warm characters with insane chemistry. I can recommend the entire Say Everything series! These books are so romantic and sexy and emotional and funny and wonderful! And Desiree Ketchum did a wonderful narration!
The Romance Recipe by Ruby Barrett is not so much sweet, as super spicy! This is a very hot and slightly angsty F/F love story. Amy is a restaurant owner but her business is in trouble. She also has to deal with her extreme attraction to her chef Sophie who Amy believes is straight. Sophie has recently broken up with her fiance after coming out to him as bisexual. So, both of them have a lot of issues to navigate. But once they find their way to one another… phew! Fireworks! Chelsea Stephens and Natalie Naudus brought this emotional book to life perfectly.
Can't Resist Her by Kianna Alexander has such a fantastic Enemies to Lovers setup! Summer and Aiko shared one passionate kiss as teenagers. Now they are both back in their hometown. Summer is trying to save the old school building that was built by her grandma. And Aiko is the project manager tasked with the demolition of said building. The two women are so happy to reconnect and are very attracted to one another. The chemistry between them is really palpable. Yet overcoming their very different opinions on the future of their old neighborhood is a huge hurdle that's not easy to overcome. I loved every second of Can't Resist Her and Mooreghan Martin's fantastic narration of this story!
Related article: How to listen to Audiobooks with Kindle Unlimited
Circling Back to You by Julie Tieu is such a wonderful, fun, light friends-to-lovers Romance! I had a great time listening to co-workers Cadence and Matt becoming friends first, starting to flirt, and then falling in love, while navigating their families and careers. And the narrators were cast perfectly! Natalie Naudus reads Cadence's chapters and Reuben Uy Matt's. These two voice actors made the characters so relatable and really drew me in. A wonderful audiobook!
I stumbled over A Psalm for the Wild-Built by Becky Chambers when I looked for SF/F books with a cozy vibe. And oh, does this hit the mark! A Prayer for the Crown-Shy is the second book in the Monk & Robot series and it was wonderful to be able to continue right away in this world after book 1. At the center of these Science Fiction novellas are Sibling Dax (a tea monk) and Mosscap, the first robot to make contact with a human after robots and humans parted ways. These books are meditative and warm and cuddly and profound and hopeful and very captivating. I adored this, especially read by the wonderful Em Grosland!
Oh boi, was I excited for this audiobook! It felt like everybody was talking about Morning Glory Milking Farm by C.M. Nascosta when it first came out in ebook format. And well, now I know why! This is a very well-written indie Romance about a woman who is struggling after finishing college. When she can't find a job in her field, she accepts a position as a "milking technician" in a facility that "milks" male Minotaurs to produce potency-enhancing medication for human men. Violet is conflicted about the job but soon finds an entirely new community among the supernatural beings. Eva Caine brings Violet to life perfectly. And I adore the new audiobook cover!
Audiobooks I listened to in July
I didn't listen to all that many audiobooks in July: 17 (plus one ebook novella, Written on His Skin, that I read at the beach). July was a rather unusual, interesting month. We've really gotten into renovating our new house. But we also took one week for a nice road trip to the coast with our RV. Renovating doesn't leave a lot of room to spend time with the kids. So it was very important to me to still do the summer trip we had planned, albeit only 1 week instead of 2. And we spent most of that week on playgrounds, at the beach, or doing bike tours. It was a lot of fun!
On our road trip, I finished one audiobook that was absolutely delightful, The Wizard's Butler by Nathan Lowell**. Travis Baldree's Legends & Lattes made me want to look for more audiobooks with a Cozy Fantasy vibe. One I found was the Monk & Robot series which I have talked about above. The other was The Wizard's Butler. The setting would usually make this an Urban Fantasy. But it has incredibly cozy vibes, being set in this wonderful historical mansion. If you enjoy SF/F books that aren't all about saving the world, I think you will enjoy this one, too!
I also finally got around to listening to The Devil Comes Courting by Courtney Milan**. Her books are always so amazing and this one is outstanding! This Historical Romance is set in China. Amelia is Chinese but was adopted by an English missionary. It was very interesting to explore Chinese culture through Amelia's eyes. This culture belongs to her yet it was taken from her and she has to rediscover it for herself. A really worthwhile audiobook!
And I continued with Annette Marie's latest series and listened to The Twice-Scorned Lady of Shadow. I'm such a fan of this author and always have such a good time listening to her Urban Fantasy audiobooks!
Pin this audio book list for later: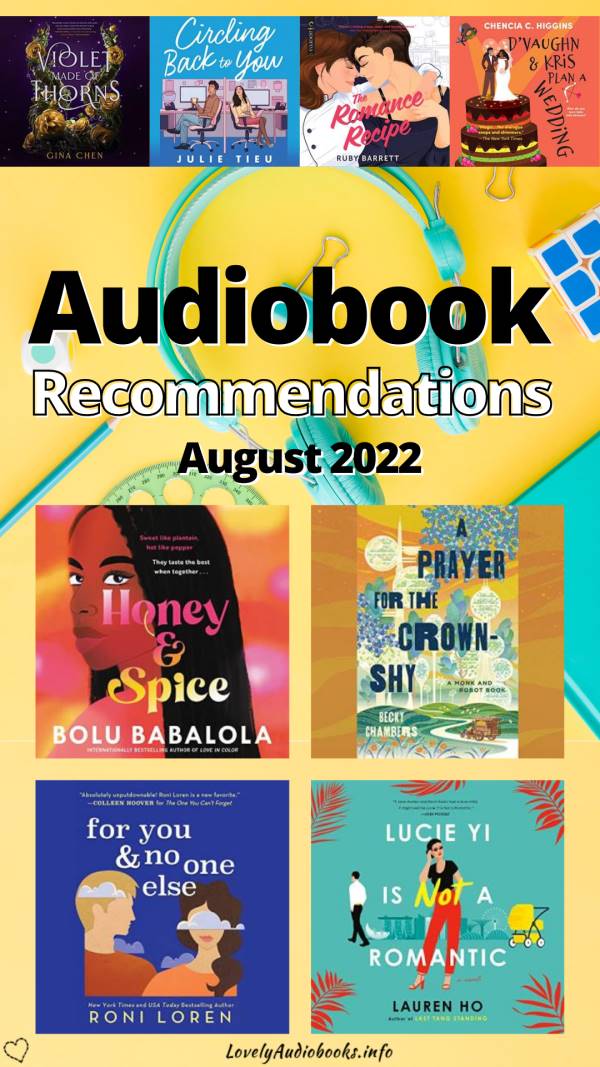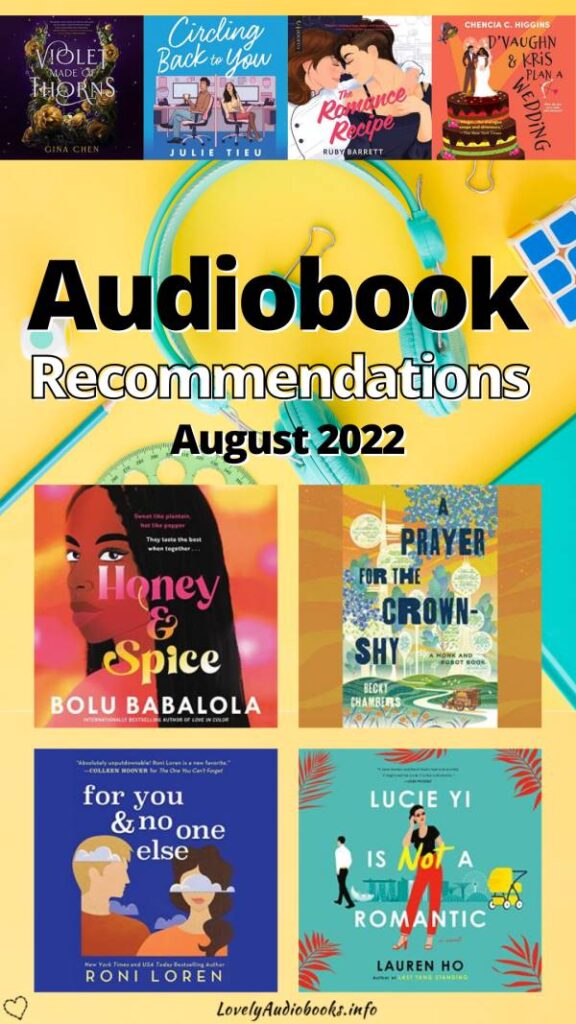 New Audiobooks
/