It's August, what a beautiful month! And you can make it even better with my newest audiobook recommendations.
I have excellent Contemporary Romance books for you, fairytales, an old favorite with a new recording, and soft and fluffy Science Fiction…
**The marked links and book covers on this page are affiliate links. If you use them to purchase something, I earn a fee at no additional cost for you. Disclosure**
Role Playing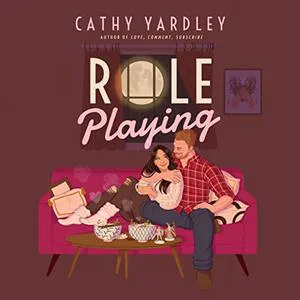 Cathy Yardley (Author), Chris Brinkley (Narrator), Elyse Dinh (Narrator)

Listen for free with Kindle Unlimited**
I was instantly intrigued by the blurb for this book. Two people over the age of 45 who meet in a video game? That's a wonderful premise!
And the story I found inside was even better than what I had hoped for. I don't want to spoil anything, but I know many of you look for this, so let me just say: This book has wonderful queer representation in the main characters!
And I adored both of them so much. Maggie is the kind of grumpy hermit that I admittedly am too. And I appreciated that, even though she is 48, she gets to play video games and use internet slang and memes. Her relationship with her 18-year-old son is also very tender and beautiful.
It was wonderful to see this kind of honest and loving parent-child-relationship in a Romance novel which so often plays on teenage children being very absent and withdrawn (or, if it's a Young Adult Romance, parents being absent and not understanding).
Aiden is such an unexpected and wonderful hero, too. I'm utterly (otter-ly?) in love! Chris Brinkley is the perfect voice for this man. And Elyse Dinh excellently brought Maggie the Bogwitch to life!
While this book is now available in Kindle Unlimited Listen for Free, I have no regrets that I spent an Audible credit on it. Cathy Yardley has become one of my go-to authors!
Related article: The Best Kindle Unlimited Romance Audiobooks
Thief Liar Lady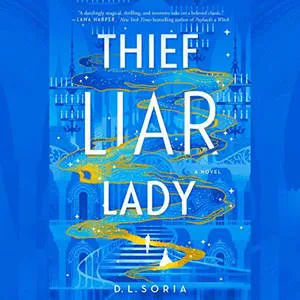 D. L. Soria (Author), Zura Johnson (Narrator)

Get the Audible book**
Or get it on Libro.fm**
Or get it on Audiobooks.com**
I love fairytale retellings, and Thief Lady Liar was an absolute pleasure!
Imagine Cinderella (Ash) was trained by the evil stepmother in the art of schemes and intrigue. They hatched a plan to get the prince to fall in love with the young woman without anyone ever suspecting her of being only after money and power. Yes, the glass slipper was placed on purpose!
But Ash has more planned at court than just securing the future of her stepsisters.
This book is incredibly captivating and entertaining. But I also need to give you a content warning as the wedding night isn't truly consensual.
Ash has several reasons why she goes through with it, but none of them is that she actually wants it. Her suffering during that scene is very vividly described and could be triggering.
The narration by Zura Johnson is excellent and brings out all facets of Ash's personality. I'm very much looking forward to more books by D.L. Soria!
Business or Pleasure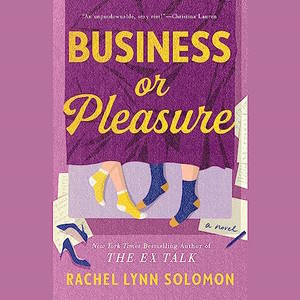 Rachel Lynn Solomon (Author), Hathaway Lee (Narrator)

Get the Audible book**
Or get it on Libro.fm**
Or get it on Audiobooks.com**
I am so excited about Business or Pleasure, Rachel Lynn Solomon's newest novel!
There are very few books where the Romance hero is not good in bed, and the heroine teaches him how to be a better lover (technically, I only know of one other book with this as the story's core theme).
And Rachel Lynn Solomon embedded this theme into a truly touching and romantic story!
Chandler is a ghostwriter and agrees to write an actor's memoir. But it turns out that this actor was her horribly failed one-night-stand!
I rooted so hard for Finn, who is such a sweet guy, and I truly believed how he came to be oblivious about his lack of skills between the sheets.
Hathaway Lee does the audiobook narration, and I adored the voices for both Chandler and Finn and how real these two people felt!
Related article: Unusual Romance Heroes
We Could Be So Good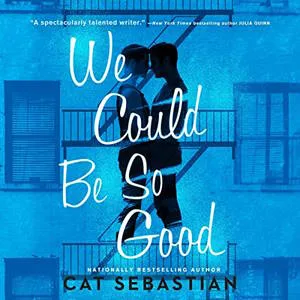 Cat Sebastian (Author), Joel Leslie (Narrator)

Get the Audible book**
Or get it on Libro.fm**
Or get it on Audiobooks.com**
Or listen on Scribd**
A new Cat Sebastian and Joel Leslie audiobook? Yes, please!
The setting is New York in the last 1950s. Being queer was still illegal and not accepted in broader society, although activist voices started demanding more tolerance.
Nick is a journalist and gay. After being arrested once as a young man, he is extremely careful when meeting other queer men.
Andy is Nick's boss's son and is supposed to take over the paper. While working together, Andy and Nick develop a deep friendship and tender feelings for one another.
But Nick is unwilling to be out to anyone at work, and Andy gets engaged to a woman.
I loved how The Charioteer by Mary Renault plays a pivotal role in how both Nick and Andy view their queerness, and there is certainly a message here of what it means to see yourself represented in media and what exactly that representation looks like.
This is a truly wonderful and moving Romance audiobook that I couldn't get enough of and that I highly recommend to you!
(By the way, there is an audio version of The Charioteer, read by Joe Jameson!)
The Wall of Winnipeg and Me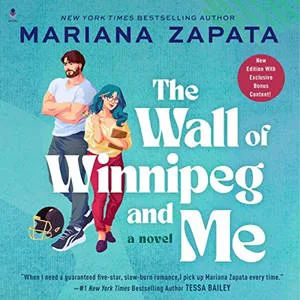 Mariana Zapata (Author), Stephen Dexter (Narrator), Emma Wilder (Narrator)

Get the Audible book**
Or get it on Libro.fm**
Or get it on Audiobooks.com**
Or listen on Scribd**
I loved, loved, loved revisiting this story several years after I listened to the excellent narration by Callie Dalton!
And while I know that many Romance audiobook fans have strong feelings about new recordings in general and this one in particular, I can tell you that Mariana Zapata (and HarperAudio, her new publisher) really know what can win us over:
Duet Narration!!
Emma Wilder reads most of The Wall of Winnipeg and Me and, as always, it's an absolute delight to listen to her. She fills Vanessa with so much life and brings out all her thoughts and emotions perfectly.
Stephen Dexter voices our grumpy Aiden throughout the book and he reads all male dialogue.
This is still a wonderful story and the very definition of a slow burn that pulls you in and won't let you go. The new recording truly does it justice and brings something new to the table.
If you've been unsure whether to get this new The Wall of Winnipeg and Me audiobook – or if you haven't read the book at all yet – I can highly recommend it to you!
A Song of Salvation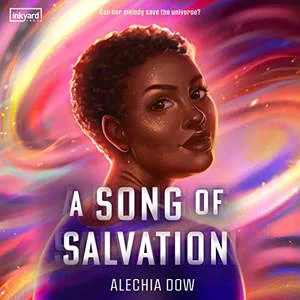 Alechia Dow (Author), Joniece Abbott-Pratt (Narrator), André Santana (Narrator), Logan Rozos (Narrator)

Get the Audible book**
Or get it on Libro.fm**
Or get it on Audiobooks.com**
Or listen on Scribd**
Okay, see, the movie The Fifth Element is one of my cult classic favorites. It has so, so many problems, but I adored it back in the day.
A Song of Salvation has these beautiful nods to The Fifth Element, which I greatly appreciated. There's Rubin, the vivacious podcaster, who feels like an homage to Ruby Rhod.
Then we have Wesley, the quiet, grumpy pilot. And last but not least, Zaira, a reincarnated god.
Mind you, the story is utterly unique and beautiful. It's set in the same universe as The Kindred, and after the events of that book. It's not officially a trilogy and can definitely be read as a stand-alone.
But if you have The Kindred on your To Be Listened To list, you might want to read that one first and then A Song of Salvation.
Rubin, Wesley, and Zaira meet when Wesley is tasked with protecting Rubin from an alien race that wants to take revenge for some not-so-nice things Rubin said on his podcast about their emperor. Wesley is supposed to bring Rubin to Earth, but then Zaira approaches and tells him he is destined to help her save her home planet.
One thing I particularly loved about this book that I want to mention is how much all three protagonists felt like equals. There's a beautiful balance in their relationship with one another.
And yet another thing I loved (yes, there is so, so much to love here!) was the outstanding cast of voices!
Zaira is read by Joniece Abbott-Pratt, who always fills her narration with so much emotion that it takes my breath away.
Then there's André Santana as Wesley. I'm always excited when I see he has a new romance-ish release. He has such a beautiful voice and a fantastic range of voices.
And last but not least, Logan Rozos brings Rubin and his podcast to life in a way that makes you wish there was a real show like that!
With this excellent performance and the wonderful story, A Song of Salvation is absolutely one of my favorite audiobooks of 2023. Highly recommend!
Related article: Must-Listen Soft Science Fiction Audiobooks
Sing Anyway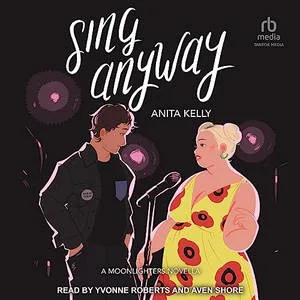 Anita Kelly (Author), Aven Shore (Narrator), Yvonne Roberts (Narrator)

Get the Audible book**
Or get it on Libro.fm**
Or get it on Audiobooks.com**
Or listen on Scribd**
I recently listened to an M/NB audiobook that, in the end, I decided not to recommend here because I didn't feel like the authors did their nonbinary character justice.
While they tried to establish them as nonbinary initially, at some point in the book, the character themself and others only ever referred to them as a man. And while being a nonbinary man is certainly a gender identity people have, I do believe cis authors have to be extremely careful in the way they present nonbinary characters and should avoid giving readers the impression that they are falling back into the binary.
Then I saw that Anita Kelly's Sing Anyway finally got the audio treatment. And, yes, this is it! This is one truly delightful way to present nonbinary characters in a story!
Sing Anyway is an F/NB Contemporary Romance. Sam is nonbinary and was assigned male at birth. They are in their 40s and only recently started referring to themself as nonbinary.
They are still in the process of exploring how they want to dress and what makes them feel comfortable.
Sam is a truly lovable and adorable person. I felt their thoughts about their gender identity on a bone-deep level. And they are the perfect match for Lily.
Lily is fat and feels very comfortable in her body. She knows how to dress herself to feel and look good. And she wants to share this skill with Sam, who seems so lost and unsure.
I found this such a touching love story and a truly special book. Both main characters could bring something out in the other and support each other in being the person they longed to be.
I also thought that the voice casting with Yvonne Roberts and Aven Shore was very well done. Their voices truly do justice to Lily and Sam.
This is such a lovely, lovely audiobook that I hope you'll download right now!
Related article: More Nonbinary Books on Audible
Venom & Vow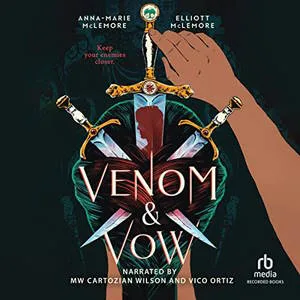 Anna-Marie McLemore (Author), Elliot McLemore (Author), MW Cartozian Wilson (Narrator), Vico Ortiz (Narrator)

Get the Audible book**
Or get it on Libro.fm**
Or get it on Audiobooks.com**
Or listen on Scribd**
Venom & Vow is a beautiful Young Adult Fantasy novel with an Enemies to Lovers storyline by Elliot McLemore and Anna-Marie McLemore, who blew me away last year with Self-Made Boys.
It took me a little while to get fully immersed in this world because I'm not the best at remembering names and needed a while to keep everyone apart (or together, as it were). But once I did… oh boi, I was enchanted!
Two kingdoms are at war. Their royal families, or what remains of them, blame each other for a curse that banished their kings, queens, and generals to an enchantment.
In one kingdom, Cade presents himself as the prince's younger brother. No one else knows that he is transgender or that he often pretends to be Patrick in battles.
In the other kingdom, Valencia is a lady in waiting for the princess. Valencia is bi-gender and is also named Gael, a fighter of some renown who has a history with Cade.
Both main characters have disabilities and use walking aids which is skillfully woven into the entire story, from their fights to their dances.
Venom & Vow is a book that truly deserves a second look. Even if it might not grab you from page 1, stick with it for a while and give this wonderful story a chance to pull you in.
I will probably give it a re-listen so I get to fully enjoy the earlier chapters.
The Honeymoon Crashers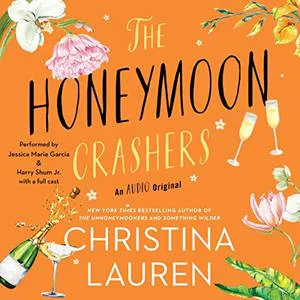 Christina Lauren (Author), Jessica Marie Garcia (Narrator), Harry Shum Jr. (Narrator) and a full cast

Get the Audible book**
Or get it on Libro.fm**
Or get it on Audiobooks.com**
Christina Lauren books sometimes work for me super well. I adored The Soulmate Equation and The True Love Experiment.
But some of their books weren't for me. The Unhoneymooners had a lot going for it, but I really struggled with the way Olive was treated by her family, especially her twin sister.
I found all of that too much and couldn't quite understand why Olive was so accepting of their abuse.
Now, because of my feelings about The Unhoneymooners, I was unsure whether I should give The Honeymoon Crashers a try.
But hey, it's an audio-first with a multi-cast narration. I just had to grab this!
And what can I say? This felt to me like the authors' mea culpa for how horrible Olive's family was in the first book.
The main character here is her twin sister Ami, who is trying hard to make it all up to Olive. I appreciated the nuances in how Ami keeps making sure that what she plans is really what Olive wants, not what Ami wants her to want.
Ami doesn't just plan a wedding for Olive to clear her own conscience. She keeps checking in with Olive to make sure Olive is happy with everything.
I found that really important after the first book, and it gave me happy feelings.
Now, Ami's own love story is adorable! And while she still tends to just run with things and make assumptions, her love story with Brody works well.
The narration is excellent, of course! The book isn't entirely in multi-cast. Ami's longer chapters are read by Jessica Marie Garcia, while chapters with big gatherings are read by several voice actors with added sound effects.
I enjoy this kind of production because you have the intimacy of a single voice when hearing someone's inner monologue in conjunction with what they are experiencing, while also having the captivating effect of an audio play in the shorter chapters in between that make you fully feel part of a Torres family gathering.
This is a very fun audiobook, and I'm very sure that it works as a stand-alone as well.
New Audiobooks, Reviews
/