It's December already? What? Well, it would seem then that this is the last monthly audiobook recommendations post with new releases for 2021! Fortunately, it's a good one. With many of my favorite authors and all the good things!
And as always, the audiobooks I recommend are 100% made by humans! I think I might have to add that line to all of my book lists now, haha. Because apparently, the robots are coming! Or well, you know, AI voices. We have recently discussed this over in my Facebook group. And I have summarized the arguments we listeners have for and against AI audiobook voices in a blog post.
**The marked links and book covers on this page are affiliate links. If you use them to purchase something, I earn a fee at no additional cost for you. Disclosure**
Totally Folked
Penny Reid (Author), Chris Brinkley (Narrator), Cielo Camargo (Narrator)
Get the Audible book**
Jackson finally gets his Happily Ever After in the first book of Penny Reid's new series, Good Folk. The guy who started out as a bit of a villain in Beauty and the Moustache has come a long way throughout the Winston Brothers series and the Jen and Cletus mysteries. As a loyal reader, I could follow how he changed over time and my "history" with him really gave this character a lot of depth. I enjoyed Rae's and Jackson's romance, how Rae is growing throughout the book, and getting to know more of the Green Valley folks outside of the Winston clan (who still make many appearances here, which is very much appreciated). Listening to Chris Brinkley is always a bit like coming home, he has such a warm voice that makes you hear the smile. It's so beautiful! Cielo Camargo was new to me but I hope I will hear her in many more audiobooks to come!
An Eggnog to Die For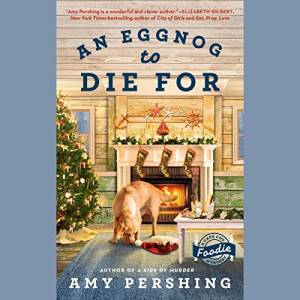 Amy Pershing (Author), Patti Murin (Narrator)
Get the Audible book**
An Eggnog to Die For is the perfect Cozy Mystery for this time of year! I mean, of course, no one likes finding a dead Santa. But when you do, you have to deal with it! And Samantha does it so charmingly well. This is the second book in a series, but it works just fine as a stand-alone. I loved this wintery trip to Cape Cod, the mystery, and the romance. A perfect Cozy Mystery mix! Patti Murin did a fantastic job with the narration.
Related article: Get more Cozy and Romantic Christmas Audiobooks!
On Location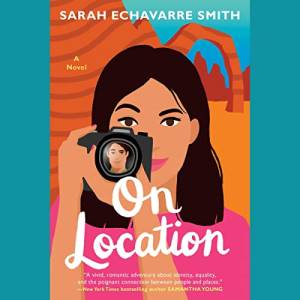 Sarah Echavarre Smith (Author), Donnabella Mortel (Narrator)
Get the Audible book**
On Location is a sexy feel-good Romance about a travel show producer and her crew member. Like in her first book, Faker, Sarah Smith has a focus on feminism, sexism at the workplace, and sexual harassment. Alia stands up for herself and has expectations of Drew. Nevertheless, the overall tone of On Location is fun and sexy with lots of one-on-one time between the two main characters. I loved the descriptions of Utah and Donnabella Mortell's narration was once again completely captivating and wonderful!
Murder Most Actual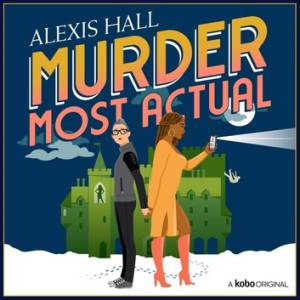 Alexis Hall (Author), Remmie Milner (Narrator)
Get the audiobook on Kobo** (The first audiobook is free!)
I was so excited about this book: Alexis Hall, F/F, Cozy Mystery. Three of my favorite bookish things! And what can I say, the book was everything I had hoped for and so much more!! It's actually for me one of the best audiobooks of 2021! It is funny, it pulled at my heartstrings (Liza and Hannah are seeing their marriage crumble and try to hold on), and I could not for the life of me guess whodunnit until it was revealed. The narration by Remmie Milner was utterly delightful! Murder Most Actual is a Kobo exclusive production. I don't usually use Kobo but it was quick and pain-free to sign up, buy the audiobook, and install the app. And so, so worth it!!
Related article: Why you should try Kobo if you love Audiobook Creators
Her Big City Neighbor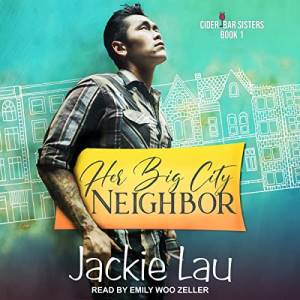 Jackie Lau (Author), Emily Woo Zeller (Narrator)
Get the Audible book in a deal**
Her Big City Neighbor was the perfect book for me during particularly bad days last month. This is a wonderful feel-good Romance with lots of food, sexy times, and gentle feelings. The titular big city neighbor is a huge grumpy grump who had suffered loss, while the heroine is total sunshine, including bouncy polka dot dresses with matching umbrellas and teacups. If you are feeling down or if you just want a beautiful, fun book this one is it! And Emily Woo Zeller did such a wonderful narration.
Related article: How to get Audiobooks cheaper with Amazon Whispersync
Tryst Six Venom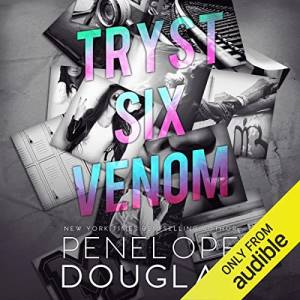 Penelope Douglas (Author), Desireé Ketchum (Narrator), Valentina Ortiz (Narrator)
Get the Audible book in a super cheap deal**
How does an F/F version of Punk 57 sound to you? To me, it sounded very exciting indeed! And I was not disappointed by Penelope Douglas' new book. Similar to Punk 57, the bully is not really in control and her victim lands quite a few painful hits as well. This is a fairly long book because Clay and Olivia have to come a long way to trust each other. Especially Clay, coming from a rich, conservative family, struggles with her feelings and sexuality. This is an angsty high school Romance and you have to be in the right mood for it. But when you are, it's amazing! The audiobook is narrated by Desireé Ketchum and Valentina Ortiz who have very different sounding voices, which I enjoyed very much for this dual PoV book. And both did a fantastic job!
Two Houses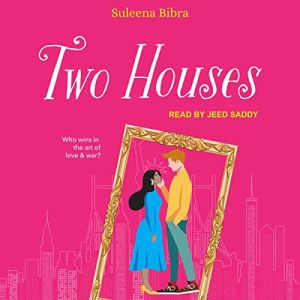 Suleena Bibra (Author), Jeed Saddy (Narrator)
Get the Audible book**
Two Houses was my surprise hit this month and it's one of the best enemies to lovers books I have listened to in a long time! It made me laugh out loud a lot and the two main characters really have a big rivalry going (with some hits under the belt). I also loved listening to a Romance set in the world of art auctions. That was super interesting and it was so nice how they both appreciated art and history. The narration was fantastic and really brought out what a badass Priya is!
Related article: The Best Romance Audiobooks of 2021
Love Flushed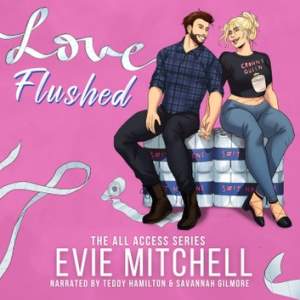 Evie Mitchell (Author), Teddy Hamilton (Narrator), Savannah Gilmore (Narrator)
Get the audiobook on Kobo**
Love Flushed is an extremely charming Romance set in the world of toilet paper! Nope, not kidding! This is a second chance love story between two people who were high school sweethearts and are now more or less successful businesspeople. Annie has Crohn's disease and has a toilet paper subscription service. Linc just took over his family's struggling paper mill. This is the second book in the All Access series about a group of friends who all have a disability. It's a very fun, very sexy series of novellas, read by some of our favorite narrators, and right now, Love Flushed is my favorite! It is currently not available (yet) on Audible. But you can get it from other audiobook services.
Subtle Blood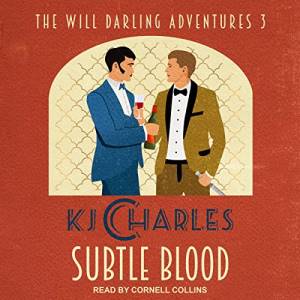 KJ Charles (Author), Cornell Collins (Narrator)
Get the Audible book in a cheap deal**
Finally! The finale of the Will Darling trilogy is here and I am thrilled! This series is so very KJ Charles. A fantastic mix of intrigue, murder, British-ness, super sexy sexy-times, and looove! Ah, so good. And now you can jump in and binge the whole thing. Cornell Collins is once again on top of his game as well!
Sponsor for the December audiobook recommendations: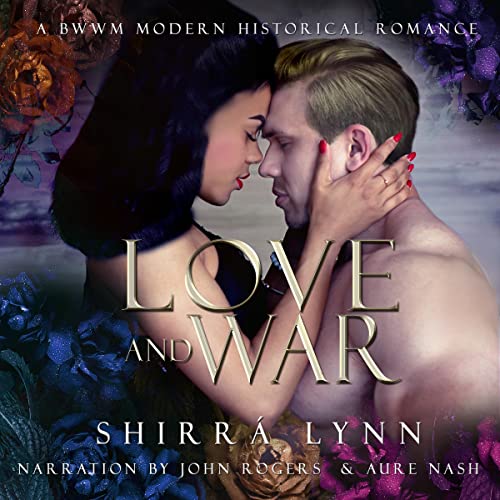 Shirrá Lynn (Author), John Rogers (Narrator), Aure Nash (Narrator)
She's a singer posing as a maid. He's a surgeon forced to serve the Reich. For both of them, deception is the only way to survive the war.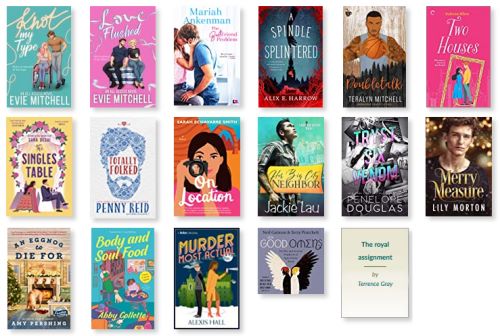 I also listened to the brand-new unabridged version of Good Omens last month, recorded with a full cast and many of the actors from the Amazon show! You can read more about the different Good Omens audiobook versions here.
Which books do you recommend this month?
Please tell us in a comment below about the books and audiobooks you've enjoyed (or didn't) lately!
If you have a book blog you can also add a link to your book reviews directly in the InLinkz tool below.
The book blogger link-up is not limited to audiobooks! You can share any type of book review, be it negative or positive, for print books, ebooks, or audiobooks, a list of mini-reviews for several books, or a discussion of one book, with spoilers or without, Romance, Horror, Non-Fiction, or anything in-between! If it's a book review, you can share your link with us through the tool so we can all visit your blog.
You can also check out this Introduction to the Monthly Link-Up.
Book Review Linky December
New Audiobooks
/