Where did the year go? How is it December already? Time flies when you have good audiobooks!
In my Audiobook Recommendations for December, I get to tell you about four of my most anticipated books of the year that have just (finally) been released. And I'm so thrilled that they all exceeded my expectations!
There was also a bit of an interesting theme to my listening in November, it was "Lesbians, Christmas, and British Dragons". And while that might not make sense to you at first glance, it actually does come down to super cozy vibes!
So, prepare for a lot of that – and some books that are very much the opposite to keep things interesting…
**The marked links and book covers on this page are affiliate links. If you use them to purchase something, I earn a fee at no additional cost for you. Disclosure**
Kiss Her Once For Me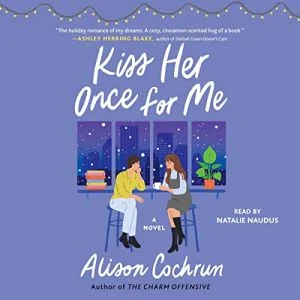 Alison Cochrun (Author), Natalie Naudus (Narrator)

Get the Audible book**
Or listen on Scribd**
While it might look like your (almost) typical love triangle at first glance, that's actually not at all what's happening in this beautiful Romance!
Ellie is still very hung up on a one-night stand she had a year ago. When she is offered a marriage of convenience with a good-looking, sweet guy, she feels she has to take this chance and move on. After all, she has to be attracted to him, right? He's perfect!
But then it turns out that her lost love – the woman she had that one memorable night with – is actually the sister of the guy Ellie is fake-engaged to! And the guy might also be hung up on someone else…
Kiss Her Once for Me is a perfect December listen and so, so wonderful! I absolutely adore this book and Natalie Naudus' narration!
Related article: My favorite Christmas Romance Audiobooks
How to Excavate a Heart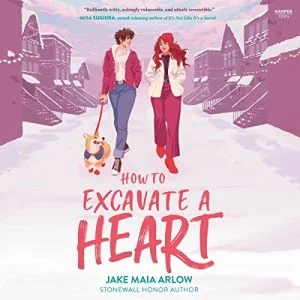 Jake Maia Arlow (Author), Hope Newhouse (Narrator)

Get the Audible book**
Or listen on Scribd**
I was so looking forward to How to Excavate a Heart and had such a great time listening to this sweet and tender YA Romance!
May and Shani start out as enemies (frankly, May has every reason to dislike Shani). But slowly, they grow closer and form a beautiful friendship. May and Shani both struggle with the place they are at in their lives. And both are still coming to terms with their sexuality.
This is such an adorable, queer, feel-good Romance and Hope Newhouse brought it to life perfectly!
Related article: Is Scribd free? And if not, is it worth it?
You're a Mean One, Matthew Prince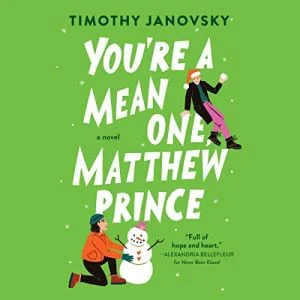 Timothy Janovsky (Author), Mark Sanderlin (Narrator)

Get the Audible book**
Or listen on Scribd**
Matthew Prince is a bit of a brat. And at first, I wasn't sure whether I wanted to pick up this audiobook at all (I felt like I might not have the patience for a brat). But I'm so glad I did!
You're a Mean One Matthew Prince is absolutely delightful! Matthew might have expensive tastes but he's such a sweet guy and really not a brat at all. He is simply looking for connection and a little bit of happiness. And Hector is the perfect counterpart.
Both boys are so utterly lovable and Mark Sanderlin is simply the perfect voice for Matthew!
Astrid Parker Doesn't Fail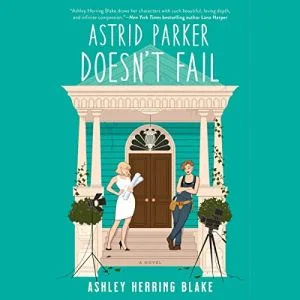 Ashley Herring Blake (Author), Kristen DiMercurio (Narrator)

Get the Audible book**
Or get it on Libro.fm**
Astrid Parker Doesn't Fail was one of my most anticipated books of the year. I loved Delilah Green Doesn't Care and was wondering how things would turn out for Delilah's stepsister…
Astrid is fancy. She's definitely not spoiled, her mother is way too critical for that. But she's elegant and poised. And also straight, she thought. But then she literally stumbles into Jordan who is rougher around the edges and also instantly dislikes Astrid. Both have quite a lot of feelings about it when they find out that they have to work on a big, important project together!
I loved the enemies to lovers set up here, it's so well done! And you can really feel that these two women have a deep connection because they keep making each other tear up. Kristen DiMercurio did the narration and made the chemistry between Astrid and Jordan palpable!
Related article: The Best Audible Alternatives
Better than Fiction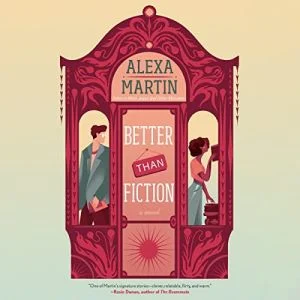 Alexa Martin (Author), Nicole Lewis (Narrator)

Get the Audible book**
Or get it on Libro.fm**
You might know that I love books about books. Better Than Fiction is kind of that, but the heroine actually hates books! Drew is very anti-reading. She also just inherited a bookstore from her beloved grandma. So, those are some issues right there.
Jasper is a popular Romance author who was invited to the bookstore for an event. And somehow, fate (or someone) keeps throwing Drew and Jasper together. The two feel an instant attraction but Drew cannot believe that her life should turn into a Romance novel and that a nice, handsome, thoroughly good guy just shows up like that and is interested in her.
Nicole Lewis brought out all of Drew's worries and emotions, as well as the beautiful and happy moments of this wonderful Romantic Comedy!
Ship Wrecked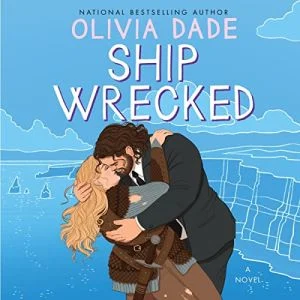 Olivia Dade (Author), Kelsey Navarro (Narrator)

Get the Audible book**
Or listen on Scribd**
I love, love, love Olivia Dade's Gods of the Gates world. Spoiler Alert was one of my favorite audiobooks of 2020, All the Feels was one of my favorites of 2021, and Ship Wrecked is now for me one of the best Romance audiobooks of 2022!
Maria is such an amazing heroine. She is so confident. She has principles and she doesn't let others make her feel small. Honestly, she's my hero!
What touched me most in this book was the conversation she had with Peter about how to balance work and their relationship, that it's important for her to be his priority and that work can't always come first. I personally feel the same, but I know not everyone agrees, and I can't remember having seen it discussed in a Romance novel before. The billionaires who work day and night always just magically have enough time to please their love interests, haha.
Olivia Dade has this gift of writing incredibly real, relatable people in incredibly real, relatable relationships that still manage to be utterly romantic. I loved every second of this wonderful story and Kelsey Navarro's perfect narration!
Bloodmarked
Tracy Deonn (Author), Joniece Abbott-Pratt (Narrator)

Get the Audible book**
Or listen on Scribd**
I absolutely adored Legendborn, so Bloodmarked was one of my most anticipated books of the year. And phew, what a ride! This second book felt even more intense than the first.
So much comes to light. It's a dark book and you might want to refer to the content warnings. Since it's a continuation I don't want to go into the storyline here. Please check out my review of Legendborn if you are new to the Legendborn Cycle series! I highly recommend these amazing Fantasy audiobooks!
And if you have already read the first book, well, I can say that I'm sure you will be absolutely enthralled by the second!
Heart of the Sun Warrior
Sue Lynn Tan (Author), Natalie Naudus (Narrator)

Get the Audible book**
Or listen on Scribd**
Heart of the Sun Warrior is the second part in the Celestial Kingdom duology. I loved Daughter of the Moon Goddess and this book is the perfect continuation and conclusion of Xingyin's journey.
The writing is beautiful and I found it wonderful how the story flows, how we move with Xingyin through adventures and quests.
If you already listened to the first book, I'm sure you'll love this second part, too. If you haven't yet started with the Celestial Kingdom, I highly recommend it to you!
The Kraken's Sacrifice
Katee Robert (Author), Lessa Lamb (Narrator), Jack Calihan (Narrator)

Get the Audible book in a deal**
Or listen on Scribd**
I adored The Dragon's Bride and was thrilled to see the Deal with a Demon series continued. In this second book, Catalina is paired off with a kraken after making her bargain with the demon. She's in it purely for the money because she believes that she will always be too much and, at the same time, never enough for anyone. So money should buy her companionship!
Thane lost his husband and is not interested in finding another mate. Catalina seems like an utter nuisance to him. He only wants to keep her safe for the 7 years until he can get rid of her, for the sake of peace between the realms. But of course, the two soon find that they enjoy each other's company more than they expected!
Lessa Lamb voiced an utterly delightful and heartbreaking Catalina and Jack Calihan is a wonderful Thane. A fantastic book for anyone who loves monster romance!
The Obsession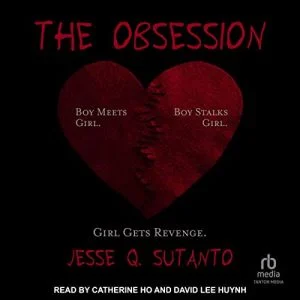 Jesse Q. Sutanto (Author), Catherine Ho (Narrator), David Lee Huynh (Narrator)

Get the Audible book**
Or listen on Scribd**
At the beginning of this blog post, I mentioned the cozy vibes of my listening lately. But hey, we all need variety. And The Obsession did just that!
It's written by one of my favorite Cozy Mystery authors, but this leans a bit more towards Thriller than Cozy because this is a book about teenagers with ISSUES!
Logan seems to be this super dreamy boy, but he's actually a very disturbed stalker and extremely creepy. He did not expect how much Delilah, his new obsession, would be out of his league though. She might have been scared at first, but she is fed up with everyone pushing her down and nothing can stop her on her path to freeing herself from toxic influences.
Catherine Ho and David Lee Huynh did such an excellent job bringing these two very imperfect protagonists to life! (Hah, the wording made me laugh 😉 You'll see why in the book!)
The Light We Carry
Michelle Obama (Author, Narrator)

Get the Audible book**
Or get it on Libro.fm**
Michelle Obama is incredible! The Light We Carry is such a touching book. It's like she manages to see us readers and pull into the light the very core of what it means to be a person.
Even though she touches on a lot of difficult topics, this book feels like a warm hug, as if, with Michelle by your side, everything will turn out just fine. And I honestly believe, if she has any say in it, then it will turn out just fine for all of us! What a remarkable woman and what a remarkable audiobook!
Audiobooks I listened to in November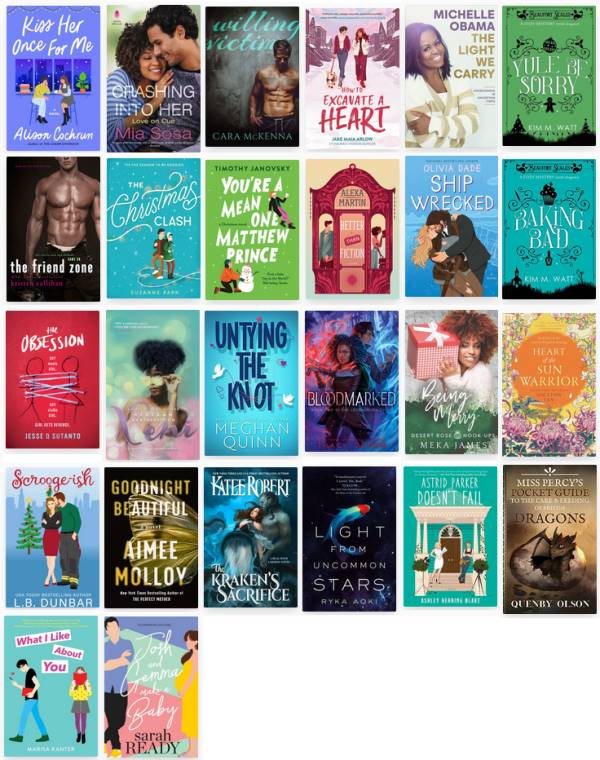 So, you've made it here and wonder: "But where are the dragons?" Yes! Let's get to the dragons…
I listened to the extremely adorable Cozy Fantasy / Paranormal Cozy Mystery Beaufort Scales Mystery series about a group of women from a little village and their two dragon friends.
In the first book, Baking Bad (I love that title), they solve the case of the deceased vicar. In the second one, they investigate the disappearance of several mail delivery people. With the second book set around Christmas time, it's a perfect December listen!
But there were more dragons! Miss Percy's Pocket Guide to the Care and Feeding of British Dragons is a Cozy Fantasy with a historical feel. Mildred Percy is a spinster and looks after her sister's children. Then she unexpectedly inherits a dragon egg!
I loved this book. It's so, so fun and cozy. Miss Percy voiced by Zara Ramm is adorable and I cannot wait for the audio version of the second book to be released!
After The Obsession, which I mentioned above, I was open to listening to another thriller. Incidentally (I love when backlist books come along at the perfect time), I stumbled over a recommendation of Goodnight Beautiful which is narrated by one of my absolute favorite voice actors under a pseudonym.
At first, the book is very confusing, but towards the end, everything falls into place perfectly. I had such a good time with this audiobook, and honestly, if all thrillers were like this, I would listen to more!!
Now, the last book I need to talk about is Light from Uncommon Stars. The storyline is absolutely wild with aliens and demons and violins and it's possibly the end of the galaxy but there are also really good donuts! The author keeps focussing on the very personal, on the three main characters and their daily lives. This is an unbelievably beautiful book!
The author Ryka Aoki is a trans woman and one of the three main characters is a trans girl. Transphobia and internalized transphobia are central topics of this book and at times, it gets very dark and sad. Yet somehow, the author managed to keep the overall tone of the book relatively light and so very hopeful.
I highly, highly recommend this book! Life sometimes sucks and this book gives you a hug, pats you on the head and tells you that everything will get better.
And with that, I wish you a wonderful month of December and Happy Holidays!
Happy listening 💕
New Audiobooks
/