So, this thing happened! In December, I was like "I won't do the monthly recs anymore in 2022, I should do other things", but then I got really sad about it. And here we are, after a break in January, back with audiobook recommendations for February 2022! 🙂
Also, new things happened! While I was tracking my books with GoodReads for the last years and used that to screenshot what I have listened to, in 2022 I moved over to The StoryGraph. I'm not generally anti-Amazon. I appreciate what they do for us. But when I have a chance to support small businesses, I go for it. And that means, goodbye Amazon's GoodReads and hello The StoryGraph!
I'd be thrilled if you joined me there and added me as a friend. The StoryGraph has the option to set a yearly reading goal just like GoodReads. And they have a much nicer, more nuanced rating system. They also have very tailored recommendations and a not-broken search function LOL
If you only use GoodReads to track your reading and get book recommendations, I highly recommend that you move over to StoryGraph. If you use a lot of groups and community functions of GoodReads it might be a bit trickier to replace that.
**The marked links and book covers on this page are affiliate links. If you use them to purchase something, I earn a fee at no additional cost for you. Disclosure**
The Siren of Sussex
Mimi Matthews (Author), Vidish Athavale (Narrator), Lydia Hanman (Narrator)
Get the Audible book**
Or get it on Libro.fm**
The Historical Romance novel The Siren of Sussex calls you in and won't let you go! This is such a tender, epic love story. Evelyn comes to London for her first season and puts a lot of pressure on herself to quickly find a good match so her younger sisters will be in a better position. So, it's a blessing and a curse that Evelyn gets along really, really well with her dressmaker, Ahmad. I was thrilled to see two new narrators performing this book, Vidish Athavale and Lydia Hanman! They bring this very emotional book to life so wonderfully, and I have been a bit worried about chances for new narrators lately, with the way AI voices for audiobooks are being pushed. So, that was an extra bonus for me.
Under One Roof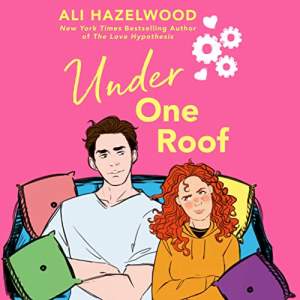 Ali Hazelwood (Author), Emma Wilder (Narrator)
Get the Audible book**
Or get it on Libro.fm**
Release: Feb. 8th
Under One Roof is such an adorable enemies to lovers / forced proximity novella! I enjoy Ali Hazelwood's writing and her wonderful STEM heroines. Emma Wilder's narration makes Mara even more lovable. Liam has somewhat freakishly large hands lol. But the way Emma Wilder has him say "Mara" got me every single time! Before this book, I had been listening to a bunch of darker titles and this was such a fun, heartwarming escape that made me laugh out loud many times.
Weather Girl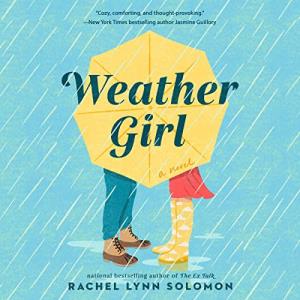 Rachel Lynn Solomon (Author), Sarah Mollo-Christensen (Narrator)
Get the Audible book**
Or get it on Libro.fm**
Weather Girl gave me so many feelings! Ari has depression and doesn't think someone can love the real her. She believes she constantly has to wear a cheerful mask to be palatable for partners. Russell is a single dad with a dad bod and doesn't think he is a good catch for any woman. The two keep being thrown together and their friendship and attraction keep growing. The romance between Ari and Russell unfolds slowly and it feels incredibly real and relatable. It's steamy and tender, at the same time! Ari and Russell both show their vulnerable sides and it's just so incredibly sweet! Sarah Mollo-Christensen did a wonderful narration with such amazing voices for all characters.
Daughter of the Moon Goddess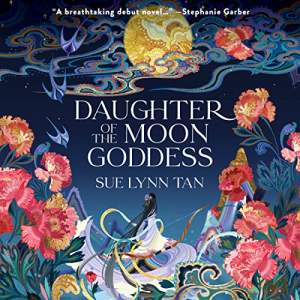 Sue Lynn Tan (Author), Natalie Naudus (Narrator)
Get the Audible book**
Or get it on Libro.fm**
The daughter of the moon goddess is forced to leave her mother and her home to keep them all safe. Now she has to make a life for herself in the Celestial kingdom. And what a life it is! Xingyin's quests are adventurous and suspenseful and the worldbuilding is so vivid. Daughter of the Moon Goddess is the first part in a Fantasy duology with some romantic elements. And I absolutely CANNOT wait to continue! This is such an amazing world and I enjoyed this book incredibly much. It's narrated by the wonderful Natalie Naudus who did such a beautiful job here. The story played like a movie in my head. Also, isn't that cover breathtaking?!
Love & Other Disasters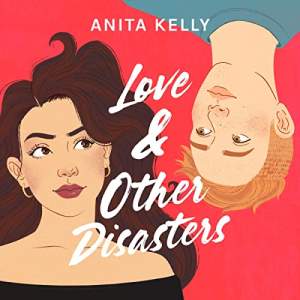 Anita Kelly (Author), Lindsey Dorcus (Narrator)
Get the Audible book**
Or get it on Libro.fm**
Anita Kelly's book was one of the most anticipated Romance books of January 2022 and it absolutely lived up to my expectations. Love and Other Disasters is such a tender f/nb romance and I enjoyed the steamy scenes very much as well! Dahlia and London are so, so adorable together! The two are both contestants in a cooking show and have to deal with the pressure of being on national television, the competition itself with the worry of one or the other leaving early, and the messy situations in their normal lives. Lindsey Dorcus did a wonderful narration of this must-listen audiobook!
Anchored Hearts
Priscilla Oliveras (Author), Raquel Beattie (Narrator)
Get the Audible book**
Or get it on Libro.fm**
I was so thrilled to see that Anchored Hearts by Priscilla Oliveras has finally been released on audio! I loved the previous book in the series, Island Affair, and Anchored Hearts lived up to my expectations. Both books have disturbingly low-ish ratings on GoodReads but I think they work really, really well as audiobooks. The narrator Raquel Beattie was new to me but I loved she brought the characters to life. She definitely made Alejandro a sympathetic character for me. And Anamaría is the bomb anyway! Anchored Hearts is a very emotional second chance romance.
Something Fabulous
Alexis Hall (Author), Nicholas Boulton (Narrator)
Listen for free with Kindle Unlimited**
Oh yes, a new Alexis Hall! Something Fabulous is not only fabulous (obviously), but it's also really funny (the Sunday child thing cracked me up to no end and my older daughter looked at me a bit funny for – seemingly – randomly bursting out laughing many times). Nicholas Boulton did such a fantastic job with the narration! He was also the voice actor for Glitterland and he was so very perfectly cast for Val-EN-tine and Bonny. So good, SO GOOD!! Also, entirely fabulously, Something Fabulous is included in Kindle Unlimited. Subscribers can read and listen for free! Of course, you can also buy it. Which I did. No regrets!!
Related article: How to listen to audiobooks with Kindle Unlimited
The Runaway Duchess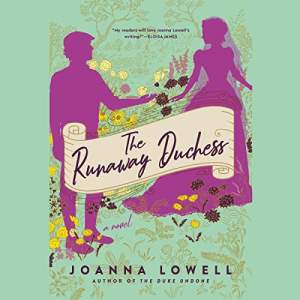 Joanna Lowell (Author), Mary Jane Wells (Narrator)
Get the Audible book**
Or get it on Libro.fm**
Joanna Lowell and Mary Jane Wells make such a fantastic Historical Romance audiobook team! I adored The Duke Undone and was thrilled to get my hands on The Runaway Duchess now. Overall, it's a bit less lighthearted-funny than The Duke Undone. But it was so great! The Runaway Duchess is about Lavinia who was the fiance of Anthony from The Duke Undone. But Anthony basically destroyed her family (which they deserved) and now she is forced to marry a very, very disgusting man. Then, an unexpected situation arises that allows her to flee and take on the identity of another woman. Lavinia and Neal are both such sweet people and I was thrilled to see Lavinia get her happy ending!
Audiobooks I listened to in January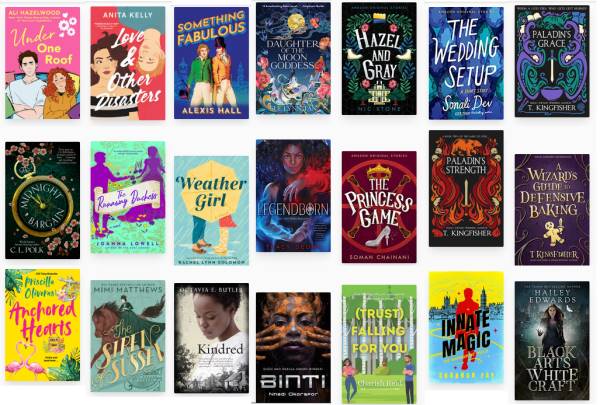 So, apart from the new releases I recommended to you above, I also listened to some wonderful older audiobooks. First and foremost, I have to mention that I finally listened to Kindred by Octavia E. Butler and it was an intense experience! The audiobook is older but, sheesh, Kim Staunton was already an amazing audiobook narrator in 1999!
I also had a wonderful time with T. Kingfisher books. The Saint of Steel series is so good, I'm very much looking forward to the third book coming out on audio. Highly recommend!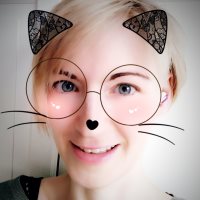 Eline Blackman (pronouns: she/they) fell in love with books as a child – with being read to and reading herself. 10 years ago, she bought her first Audible book. It was love at first listen! An average of 250 audiobooks per year has become the new normal and you will rarely see Eline without a wireless earbud. Romance and Fantasy are the go-to genres for this audiobook fan.
New Audiobooks
/