February is the month of love, so it's the perfect time to add new Romance audiobooks to your library! In this month's audiobook recommendations, I have Fantasy Romance, Contemporary Romance, and Romantic Comedy books for you.
**The marked links and book covers on this page are affiliate links. If you use them to purchase something, I earn a fee at no additional cost for you. Disclosure**
Emily Wilde's Encyclopaedia of Faeries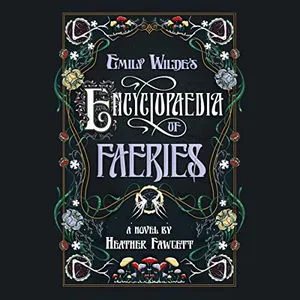 Heather Fawcett (Author), Ell Potter (Narrator), Michael Dodds (Narrator)

Get the Audible book**
Or get it on Libro.fm**
Are you in the market for a grumpy heroine and a sunshine hero? And a heartwrenching moment of "the grumpy one is soft for the sunshine one after the sunshine one got hurt"?
Yes, Emily Wilde's Encyclopaedia of Faeries is absolutely delightful!
And it's honestly remarkable how this book manages to feel so very cozy, with the cute little rural hut and the academia and general book wormery, while also sporting several axe injuries and things like bloodied hand prints on a window, observed from the outside.
I suppose the atmosphere of this book gives back perfectly the way faeries are portrayed in stories: Often beautiful and fun, gliding through luscious gardens, hosting feasts with all kinds of candy, while they can also be villains, cat-like in the way they play with and torture their prey.
The narration by Ell Potter and Michel Dodds was wonderfull and really fleshed out for me how I pictured Emily and Bambleby while listening. This is an immensely enjoyable Fantasy with a slow-burn Romance.
Exes and O's
Amy Lea (Author), Natalie Naudus (Narrator)

Get the Audible book**
Or get it on Libro.fm**
Amy Lea has a new Romantic Comedy out, and it is so much fun! I love the heroine and the celebration of all things romance!
This is a slow-burn Friends to Lovers "roommance" with a bit of a dating coach thing going on as well. It's trope-tastic!
Trevor and Tara are both adorable! At the beginning, I really wondered how things would work out for Tara though since she is looking for long-term commitment, but her exes call her clingy and really make her unsure of herself.
There was also a bit of meta-commentary in there. Romance readers often complain about miscommunication in books. And Tara actually has a conversation with her grandmother complaining about misunderstandings in romance novels. Her grandmother replies that in real life one conversation is rarely enough to solve every issue. Wise words!
Natalie Naudus is one of my favorite voice actors so the narration of Exes and O's by Amy Lea is fantastic!
The Fraud Squad
Kyla Zhao (Author), Siho Ellsmore (Narrator)

Get the Audible book**
Or get it on Libro.fm**
The Fraud Squad is a super fun Fiction novel about a woman who works in PR but would love to be part of the Singapore's socialite scene one day. By coincidence, she finds two new friends who are both rich and happy to help her reach her goal.
Samantha wasn't as calculating as I had expected after reading the blurb. But at times, I wish she would have valued her friendships higher and had just trusted in her friends enough to be honest with them. Regardless of that, I loved the storyline and Samantha!
The narration by Siho Ellsmore was outstanding and added a lot of emotional depth to the main character. I felt the narrator excelled in making her and her decisions more relatable.
Highly Suspicious and Unfairly Cute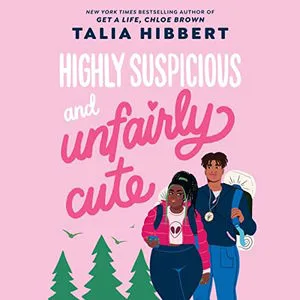 Talia Hibbert (Author), Amina Koroma (Narrator), Jonathan Andrew Hume (Narrator)

Get the Audible book**
Or get it on Libro.fm**
I usually avoid talking in extremes, but Talia Hibbert truly never disappoints. I absolutely adored Highly Suspicious and Unfairly Cute! The characters are so utterly lovable, and the storyline is fun and captivating.
Celine and Bradley used to be friends, but then he dropped her to hang out with "the cool kids". She could never forgive him for that, so they've been rivals ever since.
Celine and Bradley are both such wonderfully fleshed out characters and it's just so much fun to hear their thoughts about each other.
The narration by Amina Koroma and Jonathan Andrew Hume is fantastic and turns this into an immensely entertaining YA Romance audiobook!
The Friendship Equation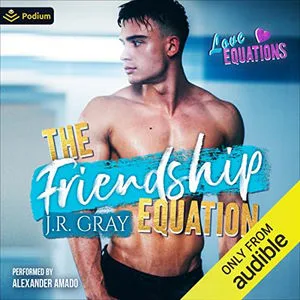 J.R. Gray (Author), Alexander Amado (Narrator)

Get the Audible book in a deal**
I was excited to find a new audiobook by J.R. Gray! The Friendship Equation is a wonderful New Adult Sports Romance.
I just loved these two boys so much! And the story of them exploring their feelings and sexual attraction toward one another was very emotional and beautifully done.
This is a perfect Friends to Lovers Romance for me with the two main characters always being a team together while the world throws obstacles at them.
Alexander Amado did a great narration!
Monstrous Intent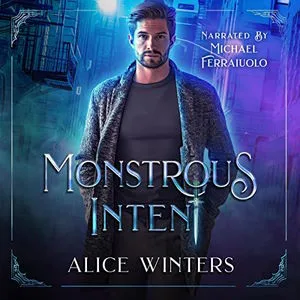 Alice Winters (Author), Michael Ferraiuolo (Narrator)

Get the Audible book in a deal**
Monstrous Intent is so utterly epic! I love Urban Fantasy, and this one is just so perfectly done!
I truly appreciated that it's a bit longer too. I could really get lost in the world Alice Winters has created here, and I liked how it wasn't one straightforward adventure but different quests that have to be overcome. There is a lot of intrigue going on here!
Michael Ferraiolo is absolutely outstanding, as always, and gave both men such distinct voices. I also loved the extra effects on the monster speech! This is a fantastic audiobook!
Crashing Into Her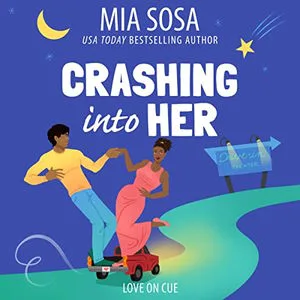 Mia Sosa (Author), Marissa Hampton (Narrator), Noah B. Perez (Narrator)

Get the Audible book**
Anthony and Eva are both so relationship-averse! And their one night stand was good fun and all either is interested in.
But somehow, when they run into each other again, they can't quite shake the pull between them. Anthony teaches a course for stunt people, and Eva wants to learn and turn her abilities into a new career path.
I loved these two people so much. Both are wonderful, three-dimensional people with strengths and weaknesses. And their relationship journey is so, so touching. Anthony is voiced by my new voice crush, Noah B. Perez, and Eva is perfectly brought to life by Marissa Hampton. Huge recommendation!
Catch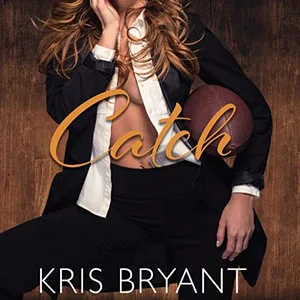 Kris Bryant (Author), Melissa Sternenberg (Narrator)

Get the Audible book**
I was craving an angsty read, and when I read the blurb for Catch by Kris Bryant I was so, so hooked! The book did not disappoint at all, and actually, the direction it takes is probably a bit better and healthier than what I had expected, haha.
Sutton was a female quarterback in high school and is now an NFL coach. Her team's newest quarterback was kind of her nemesis back in the day – and he married the girl Sutton was head over heels in love with when they were teenagers. If that sounds like trouble to you, well, it sure is!
I need more Kris Bryant books in my life! And Melissa Sternenberg voiced this one absolutely perfectly. I adore Sutton!
Backlist Recommendations
Project Hail Mary
Andy Weir (Author), Ray Porter (Narrator)
Get the Audible book**
Yeah, given the title and the "astronaut alone in space" cover, I normally never would have picked up this book. But then I saw someone recommend it as a "cozy" read. I had questions!
It so happened that I had picked up the audiobook during a daily deal for my partner. And I figured, if I have it sitting here in my Audible library anyway, I might as well see why someone would call it cozy…
And yeah, for someone like me, who finds the idea of being alone in space so utterly terrifying that it makes my chest tight, this was not an entirely cozy listen. HOWEVER… long stretches of this book as well as the ending, are absolutely wholesome, relaxing, fun, and cozy!
I didn't expect it after the rather dark start of the book. But here we are! So yeah, if you saw this book around but didn't think it was for you, well, maybe reconsider 🙂
The narration by Ray Porter and the entire audio production are great with a few special effects that add so much to fleshing out this world!
The Goblin Emperor
Katherine Addison (Author), Kyle McCarley (Narrator)
Get the Audible book in a deal**
Whoop, there's a theme! This book I also picked up because someone called it cozy. And it's true! This feels like very High Fantasy although it's actually almost zero magic.
But we're in a royal court where the new emperor is settling in. Or trying to. After the sudden death of his father and all his brothers, Maia has to find his way around an environment that only cares about the superficial. He wasn't trained for it, never even lived at the royal court.
Overall, it's a fairly low-stakes book and is mainly about Maia trying to navigate this new life. I loved the pace, the narration, and the fancy fantasy words!
Fifteen Hundred Miles from the Sun
Jonny Garza Villa (Author), Avi Roque (Narrator)
Listen for free with Kindle Unlimited**
I'm a huge, huge fan of voice actor Avi Roque and when browsing their catalog on Audible, I stumbled over this little gem, Fifteen Hundred Miles from the Sun, that is included in Kindle Unlimited Listen for Free!
It's a beautiful Young Adult Romance and Coming of Age novel that manages a perfect balance between the hate Jules experiences in his Texan hometown and the pure queer joy that he finds with his friends, his sister, and his boyfriend. The narration is, of course, outstanding!
I always plan to listen to more nonfiction audiobooks that I can recommend to you. But, here we are. However, why don't you hop on over to More Than Main Street and check out their fantastic recommendations for 10 of the best self discovery books for 2023?!
New Audiobooks
/