Happy New Year to my lovely readers and fellow audiobook fans! Of course, I have a bunch of wonderful new audiobooks for you to start 2023 with.
**The marked links and book covers on this page are affiliate links. If you use them to purchase something, I earn a fee at no additional cost for you. Disclosure**
Two Wrongs Make a Right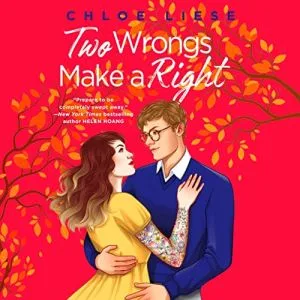 Chloe Liese (Author), Charlotte North (Narrator), Stephen Dexter (Narrator)
Get the Audible book**
Or get it on Audiobooks.com** (The first one is free!)
A new Chloe Liese audiobook! Yay!! And what can I say, this author time and time again exceeds my expectations. Two Wrongs Make a Right is a wonderful Enemies to Lovers Contemporary Romance about two people who want to get back at their meddling friends.
Jamie and Bea have the same circle of friends but don't like each other very much. Their friends, however, are convinced the two would make a perfect couple. The two hope if they fake a relationship and break up, their friends will give up and leave each of them in peace. But when they anonymously start to text, they actually do find that they get along extremely well. But it's not easy to leave the real-life animosity and hurt feelings behind…
Charlotte North and Stephen Dexter brought Jamie and Bea to life perfectly! I loved these two characters the way they were portrayed. I believe this is a must-listen for Romance audiobook fans!
Related article: The Best Audible Alternatives to try out now!
Witcha Gonna Do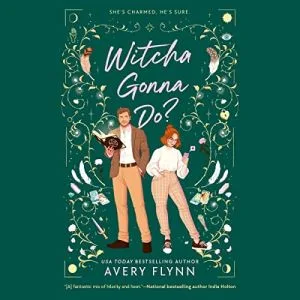 Avery Flynn (Author), Sarah Pesek (Narrator), Adam Gold (Narrator)
Get the Audible book**
Or get it on Libro.fm**
There's a certain kind of book cover that will instantly catch my attention. And this one most certainly did! Then I saw that Witcha Gonna Do is written by Avery Flynn whose books I have enjoyed in the past.
And well, I'm not gonna lie, this Enemies to Lovers Paranormal Romance novel took a bit of a different turn than I expected. But that most certainly wasn't a bad thing! It's honestly a delightful book that's immensely entertaining!
A powerless witch keeps getting set up on blind dates with the same guy she can't stand. Little does she know that this is all a huge conspiracy and that she doesn't have the faintest clue of what is actually going on in her magical community.
The narrators are Sarah Pesek and Adam Gold. I wasn't familiar with either of them but their narration is perfect, making this an utterly delightful Romance audiobook to listen to this month!
Never Ever Getting Back Together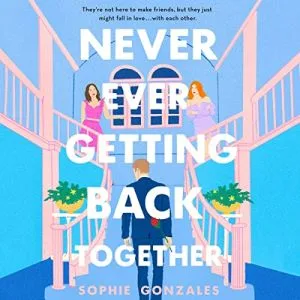 Sophie Gonzales (Author), Barrie Kreinik (Narrator), Natalie Naudus (Narrator)
Get the Audible book**
Or listen on Scribd**
If this cover makes you think of a love triangle or cheating, I can assure you that that's absolutely not what's happening. Never Ever Getting Back Together is an adorable Young Adult Romance between two bisexual girls who meet on a reality show.
And that reality show is… phew! Imagine The Bachelor, but it's actually all of the guy's ex-girlfriends and hookups. Maya never ever ever wants to see her ex-boyfriend Jordy again. But when he begs her to star on this show with him, she gives in – hoping this would give her a chance to take revenge for the way he left her and for cheating on her.
But she gets rather worried about her plans when she's supposed to stay in the same room with Skye, the girl Jordie cheated with.
I loved loved loved the ending of this book and the entire way the relationship between Maya and Skye develops! This is a book you can get entirely lost in, which is also thanks to the fantastic narration by Barrie Kreinik and Natalie Naudus. I'm a huge fan of Natalie Naudus, but Barrie Kreinik's Skye was absolutely killing me in the best possible way!
If you want to start the year with an outstanding Sapphic Romance audiobook, then Never Ever Getting Back Together by Sophie Gonzales is just the thing you need!
The Missus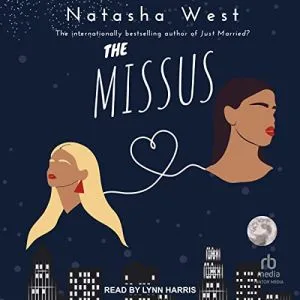 Natasha West (Author), Lynn Harris (Narrator)
Get the Audible book in a deal**
Or listen on Scribd**
The Missus by Natasha West is a super fun Neighbors to Lovers Sapphic Romance book. Keira is a bit of a player and very much relationship-averse. One woman after the other enters and leaves her apartment.
When a one night stand doesn't want to leave the next morning and keeps insisting that Keira should give her a chance, Keira's neighbor Alanna steps in and acts as Keira's jealous partner.
With Keira being emotionally unavailable and Alanna being engaged to a very special guy, the two have quite some things to overcome to get to their Happily Ever After.
Lynn Harris did a wonderful narration for both women and if you love British Romance audiobooks as much as I do, you should absolutely grab The Missus by Natasha West!
Related article: How to get Audible books cheaper with Amazon Whispersync Deals
Acting the Part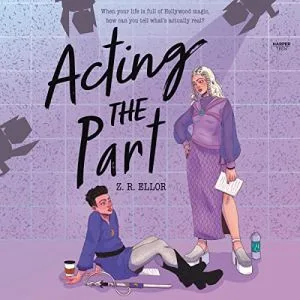 Z.R. Ellor (Author), Vico Ortiz (Narrator)
Get the Audible book**
Or listen on Scribd**
On my quest to listen to more books with nonbinary characters, I absolutely had to grab Acting the Part by Z.R. Ellor! And apart from this being a very enjoyable Young Adult love story, I liked how the author wasn't afraid of pushing Lily right into a feminist dilemma.
Lily has so far referred to themself as a lesbian and has become somewhat of a queer icon in their role as Morgantha, a female warrior in a TV show for teens, who is shipped with the character of Ashley, their co-star. Ashley has not come out herself and also doesn't seem to want to be friends with Lily.
Lily finds it important that queer girls see themselves represented in this TV show but feels this responsibility lies solely with them while it gets more and more difficult for Lily to feel like they can authentically represent this group.
Vico Ortiz is a wonderful nonbinary voice actor and brought Lily to life perfectly! I actually found this book while looking through their catalog on Audible.
Related article: Is Scribd free?
There is also a Dog
Kayley Loring (Author), Erin Mallon (Narrator), Connor Crais (Narrator)
Get the Audible book in a deal**
Yes, I know I know, you are done with Christmas now. But There is also a Dog is such a fun Romantic Comedy novella and I don't think you should wait until next Christmas to give this a listen!
Jillian needs to get out of New York for the holidays. Through friends, she gets a deal on a cute cabin. When some repairs are required, she gets to know the cabin's owner, Mitchell, and his adorable dog, Agnes.
It's love at first sight for Jillian and Agnes! Mitchell, on the other hand, isn't much of a people person.
Erin Mallon is absolutely delightful as Jillian and Connor Crais makes for a perfect Mitchell. Even after Christmas, this is still a super fun, quick and sexy listen!
The Bandit Queens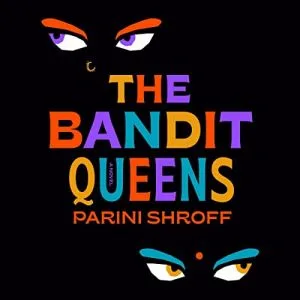 Parini Shroff (Author), Soneela Nankani (Narrator)
Get the Audible book**
Or get it on Libro.fm**
The Bandit Queens by Parini Shroff is a darkly funny, feminist Fiction novel set in rural India about a group of women who can really best be described as widow-makers!
Geeta's husband disappeared one day and since then the rumor has stuck in her conservative hometown that she killed him. That reputation actually benefits Geeta until one of the women from her friend group asks her for help to make her own abusive husband disappear in the "for good" way. Geeta wants to do the right thing and help her friend but there aren't many options. From there, things just keep spiraling.
I love Soneela Nankani's narration of this sprawling and wild story!
The Unbreakable Bladesong Druid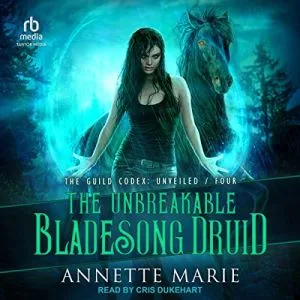 Annette Marie (Author), Cris Dukehart (Narrator)
Get the Audible book in a deal**
Or listen on Scribd**
I have waited for you, my precious! With The Unbreakable Bladesong Druid Annette Marie has finished the fourth series in her Guild Codex universe.
It was a bittersweet ending. Sweet in the sense that it was wonderful to see Saber and Zac get their well-deserved happy ending. Bitter because I would have loved even more stories and adventures about these two.
The Guild Codex: Unveiled series is overall a bit darker than the other Urban Fantasy books set in this universe. But I love how each series has its own flavor, so this is definitely a good thing. And it makes sense given what a tragic figure Zac has been from the beginning (badass and immensely hot, yes, but also really tragic). And this is even more the case for Saber (also immensely hot and badass, but even more tragic).
Cris Dukehart absolutely nailed the narration once more. It's remarkable to see her fill each of the Guild Codex heroines with life and giving them all such distinct voices. If you enjoy Fantasy, I can wholeheartedly recommend the Guild Codex series to you!
The Red Scholar's Wake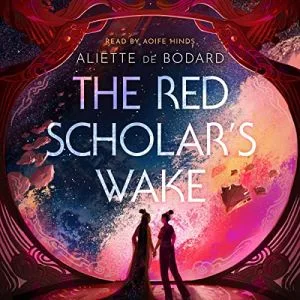 Aliette de Bodard (Author), Aoife Hinds (Narrator)
If you want to start the year with one of the best SciFi audiobooks, grab yourself The Red Scholar's Wake by Aliette de Bodard!
While this satisfies fans of the fake dating trope (plus, lesbian pirates in space), it's also a wonderful universe. While The Red Scholar's Wake is a stand-alone, it's part of a bigger universe the author has created. I found it extremely intriguing and am looking forward to more!
The audiobook is narrated by Aoife Hinds who was brilliant in Derry Girls but is apparently also a fantastic voice actor!
Backlist Recommendations
Here are three of the older audiobooks I have listened to recently that I want to highly recommend to you!
Tanked
Mia Hopkins (Author), Valentina Ortiz (Narrator), Noah B. Perez (Narrator)
Get the Audible book in a deal**
You know how during 2020 and 2021 we constantly felt this background level of dread? Tanked by Mia Hopkins is a Contemporary Romance set during the Covid pandemic and it reflects this feeling extremely well.
Nothing extremely bad happens here, although there is some suspense element. And the characters actually have a beautiful relationship with one another. Yet this still FEELS like an angsty read. Because we all felt a lot of angst during this time.
I know this isn't for everyone, but I enjoyed listening to Deanna and Angel navigate our pandemic reality, how they dealt with the additional hurdles and unexpected problems it has brought us. "Enjoy" is a weird word for that, but one thing I have always particularly appreciated and loved about Contemporary Romance books is how they reflect our reality closely while painting it in a hopeful light.
And since Covid, there has been a bit of a disconnect because significant aspects of our daily lives weren't reflected anymore in these books, even if it's only grabbing your mask and disinfectant before leaving the house.
So, Tanked by Mia Hopkins was an immensely satisfying listen and I can wholeheartedly recommend this audiobook to you, especially because it is read by my new favorite Noah B. Perez and the fantastic Valentina Ortiz!
Just Ash
Sol Santana (Author), Avi Roque (Narrator)
Listen on Scribd**
I stumbled over Just Ash when I was checking out the backlist of a few of my favorite nonbinary and trans voice actors, in this case Avi Roque. This is an own voices book written by Sol Santana. And it is such an intensely moving novel that is very, very much worth reading!
Ash is intersex but has been brought up as a boy. When he gets his period at age 16, everything crumbles. His deeply religious mother is obsessed with turning him into a girl and his abusive father doesn't really want anything to do with him anymore at all.
Ash is a protagonist I so badly wanted to save and I'm so glad that he found a happy ending. The book has a lot of valuable information about intersex people and makes room for different personalities and how each of them experiences being intersex. But it also delves deeply into Ash's thoughts and feelings and Avi Roque's narration brought this out perfectly.
Nettle & Bone
T. Kingfisher (Author), Amara Jasper (Narrator)
Listen on Scribd**
I love fairytales, or rather, I used to. These days I prefer books that look at fairytales through a feminist lens. And that pretty much sums up what T. Kingfisher does in Nettle & Bones!
A young woman marries a prince. Then she dies. So the prince marries the younger sister. The youngest sister, Marra, however, grows increasingly worried as she never hears from her two sisters after the weddings.
This isn't a book about a young girl, mind. We start in Marra's childhood. But as she grows up, she tries to find the tools she needs to save her remaining sister from the fate that befell their oldest sister.
This is an incredibly good adventure story! The audiobook is narrated by Amara Jasper who is fantastic and this is such an outstanding Fantasy book I highly recommend!
It would have been one of my favorite audiobooks of 2022 but I already had a book by T. Kingfisher on that list and I couldn't quite make it a "my favorite T. Kingfisher books of 2022" blog post. But now I could tell you about it here, so all is good 😉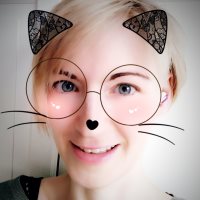 Eline Blackman (pronouns: she/they) fell in love with books as a child – with being read to and reading herself. 10 years ago, she bought her first Audible book. It was love at first listen! An average of 250 audiobooks per year has become the new normal and you will rarely see Eline without a wireless earbud. Romance and Fantasy are the go-to genres for this audiobook fan.
New Audiobooks
/