Oh, I think you will love the audiobook recommendations for July! So many fantastic books! It's vacation time for many of us. And the audiobooks below are perfect for your next road trip or as a beach listen.
You can read this post in your browser or listen to it in my podcast here or wherever you listen to podcasts: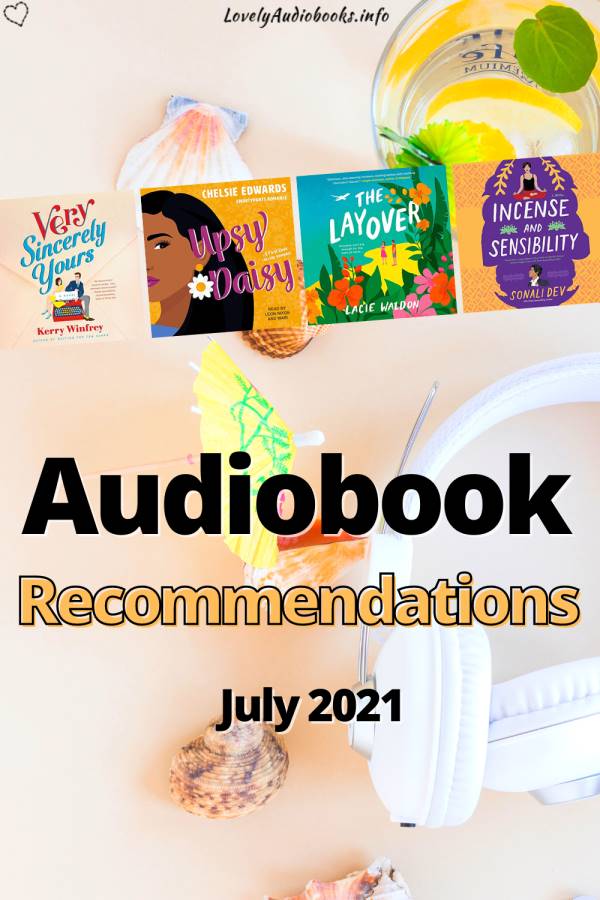 **The marked links and book covers on this page are affiliate links. If you use them to purchase something, I earn a fee at no additional cost for you. Disclosure**
The Best Audiobooks in July 2021
The Layover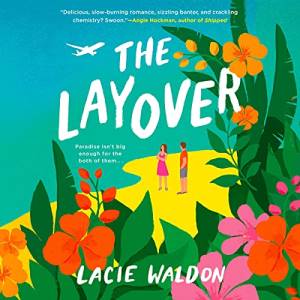 Lacie Waldon (Author), Jorjeana Marie (Narrator)
Get the Audible book**
The Layover by Lacie Waldon is just about the perfect summer vacation read! This is an Enemies to Lovers Romance between two flight attendants, set mostly in Belize. I enjoyed Ava's journey of figuring out what she really wants and needs. And I absolutely adored Jack who is so different from what I had expected.
Marriage and Murder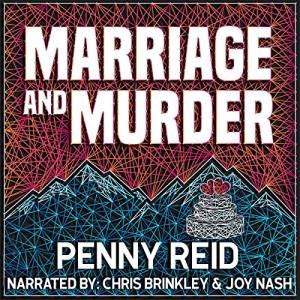 Penny Reid (Author), Chris Brinkley (Narrator), Joy Nash (Narrator)
Get the Audible book**
Cletus' and Jen's adventures continue! Our favorite couple from Beard Science is finally preparing to tie the knot, but things happen, people die, someone goes to prison. Crazyness! Marriage and Murder is the second part in Penny Reid's cozy mystery series Solving for Pie, starring the adorable couple from the Winston Brothers series. I had so much fun with this!
Sunset Springs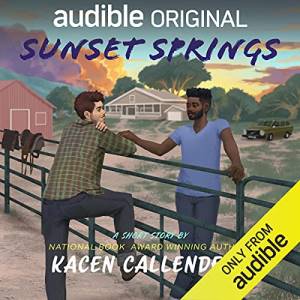 Kacen Callender (Author), Commarrah J. Yochanan (Narrator)
Listen for free with Audible Plus**
I have already recommended Sunset Springs in my list of LGBT audiobooks, but I just want to make sure that no one misses this beautiful Adult Trans M/M novella by the author of Felix Ever After! It's in Audible Plus and a quick listen. But still so completely captivating and emotional and wonderfully narrated!
Incense and Sensibility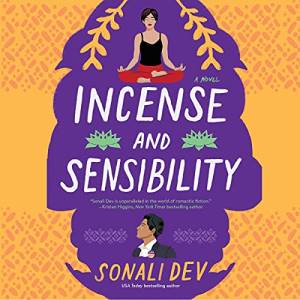 Sonali Dev (Author), Soneela Nankani (Narrator)
Get the Audible book**
Let me start by saying, India was so inspiring! Incense and Sensibility is the story of high-strung politician Yash who needs yoga teacher India's help after surviving a traumatic event. But the two have history and there are a lot of pitfalls to navigate between that, their families, and Yash's campaign. I enjoyed this audiobook very much and always love listening to Soneela Nankani.
Release date: 07-06-21
The Hellion's Waltz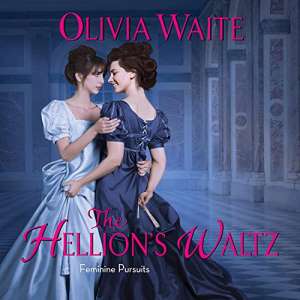 Olivia Waite (Author), Morag Sims (Narrator)
Get the Audible book**
The third book in the Female Pursuits series by Olivia Waite is finally out! All three books are stand-alone though, so don't worry about the order in which you listen to them. The Hellion's Waltz audiobook is a bit shorter and feels a bit more fast-paced than the other two books and I found it absolutely wonderful! Maddie and Sophie are such great protagonists and I loved their chemistry and relationship. And the heist story is absolutely crazy and wonderful!
The Checklist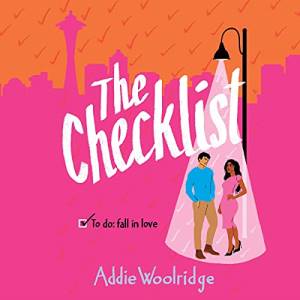 Addie Woolridge (Author), Adenrele Ojo (Narrator)
Listen for free with Kindle Unlimited**
I picked The Checklist by Addie Woolridge up when I posted the latest Kindle Unlimited audiobooks list and I had a great time with it! This is a bit more Women's Fiction with the focus on Dylan's job, but it's also a very satisfying Romance with a Happy Ending. Adenrele Ojo is always such a pleasure to listen to!
The Wisteria Society of Lady Scoundrels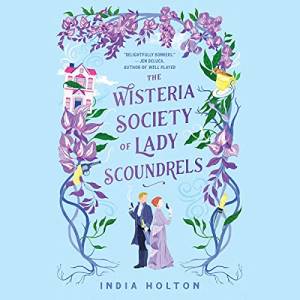 India Holton (Author), Elizabeth Knowelden (Narrator)
Get the Audible book**
Lady pirates in flying houses? Yes, please! This… Fantasy? Steampunk? Paranormal? Historical Adventure Romance is absolutely delightful. Fantastic banter, witty writing, an all-around fun setting and story. I wholeheartedly recommend The Wisteria Society of Lady Scoundrels audiobook and I'm looking forward to more books in this series!
Very Sincerely Yours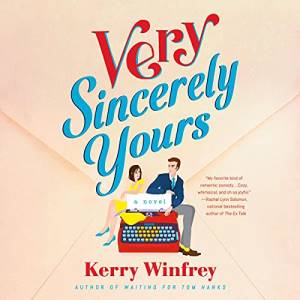 Kerry Winfrey (Author), Patti Murin (Narrator)
Get the Audible book**
I had an absolute blast with the Very Sincerely Yours audiobook! Teddy is disarmingly charming and Everett is the perfect partner for her. I'm generally hesitant with doormat heroines, but Very Sincerely Yours is the perfect example of how they can work, become empowered, and find a partner with whom I can believe their Happily Ever After. A perfect Summer listen!
Upsy Daisy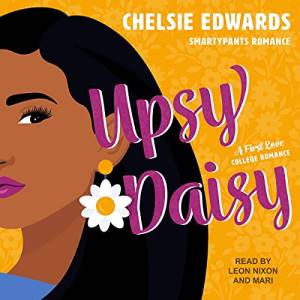 Smartypants Romance (Author), Chelsie Edwards (Author), Mari (Narrator), Leon Nixon (Narrator)
Get the Audible book in a deal**
Upsy Daisy is a first love College Romance set in 1976. It has a beautiful flow and the narration by Mari and Leon Nixon makes this a very emotional listen. Upsy Daisy is part of Penny Reid's Green Valley universe and this is the origin story of the famous Daisy Peyton from Daisy's Nut House.
Related article: How to get Audiobooks cheaper with Amazon Whispersync
These Walls Can Talk 2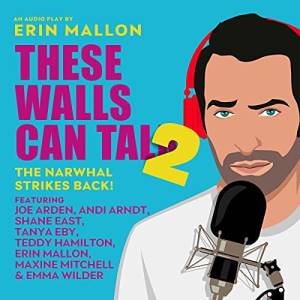 Erin Mallon (Author, Narrator), Joe Arden (Narrator) and a Full Cast
Get the Audible book**
I loved Erin Mallon's These Walls Can Talk, and book 2, The Narwhal Strikes Back, is the laugh-out-loud funny, entertaining, yet thoughtful audio play we all needed! Erin Mallon really knows what's going on in the world of Romance audiobooks and this story as well as the full cast narration was simply perfection.
Devil in Winter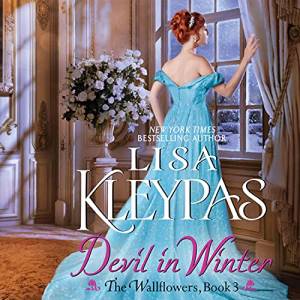 Lisa Kleypas (Author), Mary Jane Wells (Narrator)
Get the Audible book**
The iconic Devil in Winter has a brand-new audio version, narrated by the absolutely wonderful, amazing, entertaining Mary Jane Wells! She brings new life into the story of Sebastian and Evie. The book was first published 12 years ago but it is still absolutely delightful!
Audiobooks I've listened to in June 2021
In June, I finished 24 audiobooks, some a bit shorter, some a bit longer.
I listened to the first two books in the Blood and Ash series by Jennifer L. Armentrout. I absolutely loved the first book, From Blood and Ash. It was so good and so intense! But I have to admit that I struggled with the second book, A Kingdom of Flesh and Fire. I had to push myself to finish it and took a long break inbetween. However, after the huge cliffhanger at the end I am quite tempted to buy the next book. I do want to know what's happening!
Since June was Pride Month, I also listened to some wonderful Bisexual Women / Lesbian Romance. Hideaway by Rachel Lacey is a Lesbian Romance in the Vino & Veritas series that's set in Sarina Bowen's World of True North. It's a very sweet, emotional second chance / childhood friend to lovers story.
I also discovered an indie gem, The Kitchen Sink Sutra by Patty Murphy. It is now on the list of my favorite Bisexual and Lesbian Romance Audiobooks and I'm looking forward to the second book in the series.
Romancing the Inventor was my first Gail Carriger book and it was fantastic! And lastly, That Could Be Enough by Alyssa Cole. I love her audiobooks with Karen Chilton and this Historical WlW Romance is such a good story!
I also listened to some wonderful M/M Romance books. I stumbled over In Memoriam by 'Nathan Burgoine after seeing this author mentioned on reddit. Someone linked his discussion of M/M Romance which made me very curious about his books. It was such a thoughtful blog post. In Memoriam is the only audiobook I could find. That's such a shame because I loved it so much! It became part of the update to my list of favorite MM Romance books on Audible, together with The Mysterious and Amazing Blue Billings by Lily Morton.
As I mentioned above, I also updated the list of my favorite LGBT Romance audiobooks, among others with Sweethand by N.G. Peltier which I listened to in June. This was such a breathtakingly good book with a wonderful narration!
In the last Audible sale, I picked up Marriage Game by Sara Desai and had a great time with it. I loved the chemistry and back-and-forth between Sam and Layla.
I also listened to The Perfect Play by G.S. Carr and Pause by Kylie Scott in Audible Plus. Both are very fun books that I can only recommend to any Audible Plus subscriber!
After finishing These Walls Can Talk 2 which I mentioned above, I also picked up The Bromantic Comedies by Erin Mallon. This is a hilarious anthology of short plays about "fellas".
And lastly (which was actually the first book I finished in June), Catch Me If You Can by Christina C. Jones! This is the first book in a Romantic Suspense trilogy. It is SO GOOD! I have already downloaded the second part and am waiting for the finale now.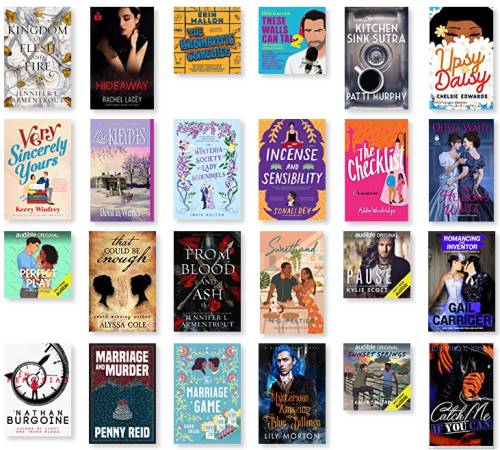 Which books do you recommend this month?
Please tell us in a comment below about the books and audiobooks you've enjoyed (or didn't) lately!
If you have a book blog you can also add a link to your book reviews directly in the InLinkz tool below.
This is not limited to audiobooks! You can share any type of book review, be it negative or positive, for print books, ebooks, or audiobooks, a list of mini-reviews for several books, or a discussion of one book, with spoilers or without, Romance, Horror, Non-Fiction, or anything in-between! If it's a book review, you can share your link with us through the tool so we can all visit your blog.
You can also check out this Introduction to the Monthly Link-Up.
Giveaway
This giveaway is over, but you can sign up to my newsletter so you won't miss the next one!
New Audiobooks
/