It's summertime and that means lots of time spent outside, going on trips or on a nice long holiday. And what's better to keep you entertained during road trips or a relaxing sunbath than audiobooks?! Check out my audiobook recommendations for July 2022, put on some headphones, and get ready for a hot, hot summer!
**The marked links and book covers on this page are affiliate links. If you use them to purchase something, I earn a fee at no additional cost for you. Disclosure**
The Perfect Crimes of Marian Hayes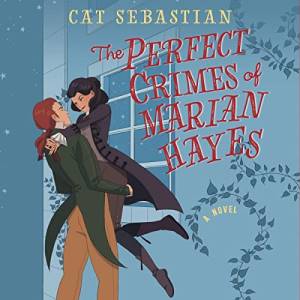 Cat Sebastian (Author), Joel Leslie (Narrator)
Get the Audible book**
Or listen on Scribd**
I cannot put in adequate words how much fun I had with Cat Sebastian's newest Historical Romance, The Perfect Crimes of Marian Hayes! Marian and Rob are such a perfect match and are both so wildly lovable. Even though Marian talks a lot about how she's perceived as distant and cold, I had nothing but empathy and love for her and found her very admirable. Joel Leslie did a fantastic narration for these two people who seem so different on paper, yet are so alike. And I adored the beginning of the book in epistolary form! Who says blackmail can't turn into more, right?!
Everything For You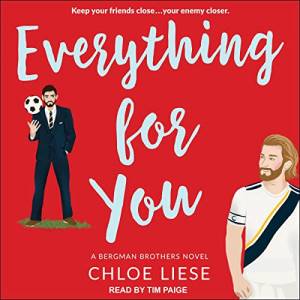 Chloe Liese (Author), Tim Paige (Narrator)
Get the Audible book in a deal**
Or listen on Scribd**
Chloe Liese's new Bergman Brothers book, Everything For You, has such wholesome Ted Lasso vibes! It's a really lovely M/M Romance novel about two rival soccer players who secretly pine for one another but hide it behind annoying cheerfulness on the one side, and grumpy remarks on the other. Tim Paige did a great narration for both Oliver and Gavin!
Related article: How to get Audible books cheaper with Whispersync
Paladin's Hope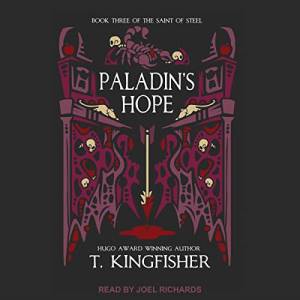 T. Kingfisher (Author), Joel Richards (Narrator)
Get the Audible book in a deal**
Or listen on Scribd**
I adore the world of the White Rat so very, very much and I was literally squealing when I saw that Paladin's Hope, the third book in T. Kingfishers The Saint of Steel series, was out! This is an M/M Fantasy Romance and can be read as a stand-alone (although I absolutely recommend starting the series at the beginning, it's delightful!). Piper works as a pathologist (a lich doctor) and he has magic which he keeps secret. He is working on a case of mysterious murders with Galen, a berserker paladin affiliated with the church of the White Rat but whose god had died. The audiobook is narrated by Joel Richards who has a wonderfully deep and growly voice!
The Professor Next Door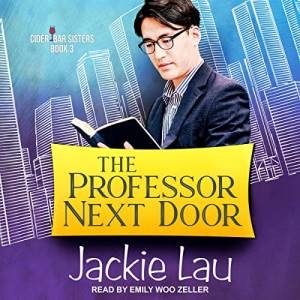 Jackie Lau (Author), Emily Woo Zeller (Narrator)
Get the Audible book in a deal**
Or listen on Scribd**
If you regularly read my audiobook recommendations, you might have noticed that I love Jackie Lau's books! Her newest audio, The Professor Next Door, has a trope I particularly enjoy: A heroine who only wants One Night Stands and a hero who is looking for commitment (a reversed version of the classical player trope). This is a pretty kinky, very spicy novella that's a lot of fun and it is narrated by the amazing Emily Woo Zeller!
One Fell Sweep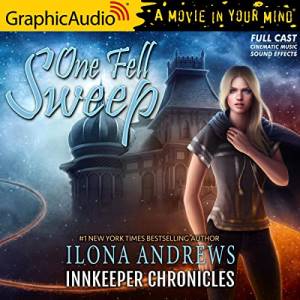 Ilona Andrews (Author), Karen Novack (Narrator) and a full cast
Get the Audible book**
Or listen on Scribd**
GraphicAudio's dramatized version of the Inkeeper Chronicles by Ilona Andrews continues and I so hope you are listening along with me! One Fell Sweep has again a very cool multicast production with sound effects. The stakes are ever-growing and in this third book of the series, Dina has to rescue a family member, while still searching for her parents. And she takes in a guest in need but her actions threaten the very existence of her inn!
A Mirror Mended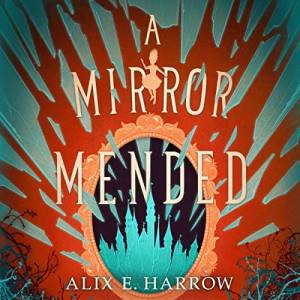 Alix E. Harrow (Author), Amy Landon (Narrator)
Get the Audible book**
Or listen on Scribd**
The second part in the Fractured Fabels duology is out on audio! If you have held out because you were waiting for the conclusion to be released, now is your time to pick up A Spindle Splintered and A Mirror Mended by Alix E. Harrow and listen to both in one go! In this second book, Zinnia continues on her quest from the end of the first book and I don't want to have any spoilers in here for anyone who hasn't listened to the first book yet. So let me just say this, while the first book left the romance to Zinnia's best friend, in this second part, she herself develops some pretty strong feelings for someone. Even though these two books are only novella-length, they are so rich and paint these fantastic worlds. I can highly recommend the Fractured Fables duology to anyone enjoying fairytale retellings, Fantasy, and Fantasy Romance! Amy Landon brought it to life so well, too.
A Proposal They Can't Refuse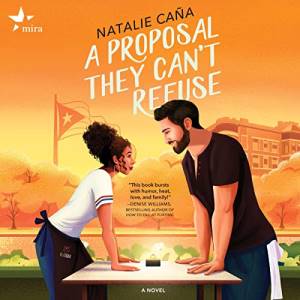 Natalie Caña (Author), Valentina Ortiz (Narrator)
Get the Audible book**
Or listen on Scribd**
You might know that I'm a total sucker for a pretty cover. So, there was no way I would pass on listening to A Proposal They Can't Refuse by Natalie Caña! I mean, just look at that art!! And I'm happy to say that the book behind the cover can absolutely keep up with this beauty. Kamilah is a wonderful heroine who has to do a lot of soul-searching. What particularly resonated with me was a conflict she got into about how you might do things with the best of intentions for others – that also benefit yourself – and you will have to face allegations that you did it all for your own gain. I loved grumpy Liam as well and their childhood friends to enemies to lovers journey was so very, very sweet! This is such a wonderful, captivating Romantic Comedy and Valentina Ortiz is a fantastic narrator with an amazing range of voices!
And They Lived Happily Ever After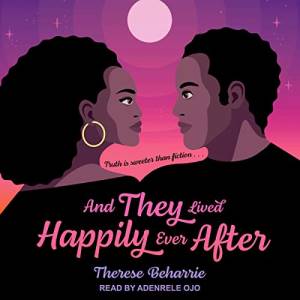 Therese Beharrie (Author), Adenrele Ojo (Narrator)
Get the Audible book in a deal**
Or listen on Scribd**
And They Lived Happily Ever After by Therese Beharrie is such an enchanting story! South-African author Gaia somehow has a little bit of magic: She dreams love stories and in the morning, they are all written down, ready to be published. One evening, she meets a cute guy at a party, Jacob, but dismisses him because he's her best friend's younger brother. However, the following night, he shows up in her dreams! And he's himself!! He keeps starring in her dreams as the Romance hero. While Gaia and Jacob have to decide how to handle this, they can't keep pushing away their attraction to one another. Adenrele Ojo, one of my absolute favorite narrators, reads this wonderful Romantic Comedy!
Counterfeit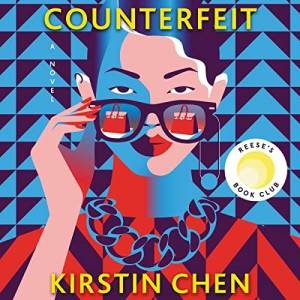 Kirstin Chen (Author), Catherine Ho (Narrator)
Get the Audible book**
Or get it on Libro.fm**
Oh, I was so enthralled by Counterfeit by Kirstin Chen, I could not stop listening! I'm not entirely sure what genre this is. I suppose it's simply Fiction, but there's also a whole lot of fast-paced crime going on here. Ava is not exactly the most lovable heroine. And she is most certainly not a reliable narrator! The story of her friendship with Winnie and their counterfeit scheme unfolds in unexpected ways while we as readers also get an insight into Ava's thoughts and feelings as a former career woman who is now a stay-at-home mom. This is such a fascinating story and in a way, I do definitely like Ava, even though she has ISSUES!
Related article: My favorite Audible Alternatives
TJ Powar Has Something To Prove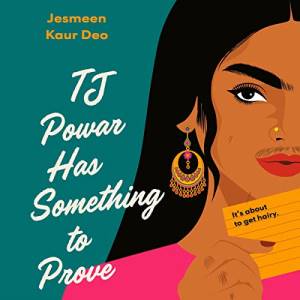 Jesmeen Kaur Deo (Author), Mayuri Bhandari (Narrator)
Get the Audible book**
Or get it on Libro.fm**
If you have ever struggled with facial hair where none should be, or body hair that's a whole lot darker and thicker than is considered "acceptable", you need TJ Powar Has Something To Prove by Jesmeen Kaur Deo, just like I did! TJ is popular and pretty. She never misses a waxing appointment and knows how to style herself just so. When her cousin and TJ are the center of a meme and people make fun of her cousin's facial hair, TJ – who is a passionate debate club member – decides to experience for herself how it feels to be her natural (hairy) self. People make a lot of mean comments, but there's also a heartwarmingly wonderful romance in this book, and – most importantly – it's really worth it to read TJ's exploration, observations, and insights about beauty and how we perceive one another. Mayuri Bhandari brought it all to life so well!
Flip the Script
Lyla Lee (Author), Greta Jung (Narrator)
Get the Audible book**
Or listen on Scribd**
Flip the Script by Lyla Lee is such a sweet Young Adult Romance! Hana is 16 and has scored the role of the leading lady in a new K-drama. To increase the buzz, the studio tells her to fake-date her co-star, Bryan, who turns out to be a much better friend than Hana had expected. But then they create a new role, a second love interest, and cast Hana's high school crush for it, Minjee! Flip the Script deals with homophobia in the industry, but balances this out with Hana's very sweet, supportive family, and the utterly lovable main characters. So, overall, this is a wholesome, fun YA sapphic audiobook. Greta Jung did a great narration!
Change of Heart
Clare Lydon (Author), Hayley Munro (Narrator)
Get the Audible book**
Or listen on Scribd**
If you share my obsession with British accents, you will love this wonderful Lesbian Romance! Erin hires an actress to play her girlfriend at an upcoming family event, something she isn't exactly proud of. She is a successful businesswoman and has a loving family. And yet, things at home are somehow "off", and she doesn't feel up to yet again hearing comments about how she's single. Actress Steph is the perfect fake girlfriend and the job is particularly intriguing for her as the event is set in the Scottish Highlands. But Erin and Steph have a huge hurdle to overcome that neither of them saw coming. I absolutely adored Hayley Munro's narration of the Scottish and English heroine!
Audiobooks I listened to in June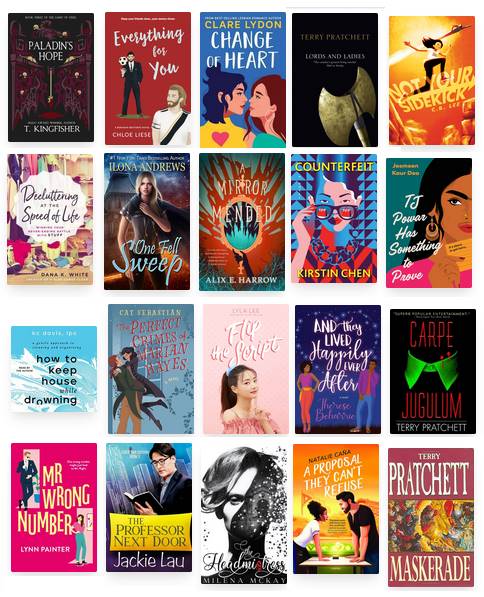 I finished 20 audiobooks last month. And they were all truly fantastic books!
Now, I've already highlighted my favorite new releases above. But I also want to mention a few older audiobooks that I listened to in June.
I continued (and finished) the Discworld Witches series. As I mentioned back in May, Penguin Audio is in the process of recording all Terry Pratchett audiobooks again. They have amazing narrators and are creating something really special here. Bill Nighy reads Terry Pratchett's footnotes throughout the entire 41 book series, and Peter Serafinowicz is always the voice of Death. Indira Varma reads the six Witches book with Granny Weatherwax, Nanny Ogg, Magrat Garlick, and Agnes Nitt.
I also just finished Not Your Sidekick by C.B. Lee, narrated by the wonderful Emily Woo Zeller. This is such a delightful Science Fantasy book! Somehow, this book manages to be a mix of The Boys, The Extraordinaries by TJ Klune, and Heartstopper, but make it sapphic. It has a similar approach to superheroes as The Boys and The Extraordinaries, but with a very sweet F/F love story and many of the cozy vibes of Heartstopper. Highly recommend! We can binge the first two books in the Sidekick Squad Series on Scribd**
And last month I listened to two nonfiction books about decluttering. Since my family and I are in the process of moving, it seemed like a good idea to get some useful tips on how to declutter while packing, and how to better organize our new house. How to Keep House while Drowning was absolutely amazing with a big focus on learning how to prioritize chores and organize your house in a way that works for YOU. Not necessarily in an Instagram-ready way, but in a livable way. I loved that and took a lot with me from that book! It is very accessible, also for neurodivergent people. The second one was Decluttering at the Speed of Life which also delivers exactly what the title promises and has a very workable, accessible approach to decluttering. I listened to both books on Scribd and if you could use some help in this area, I can highly recommend these!
Pin this audio book list for later: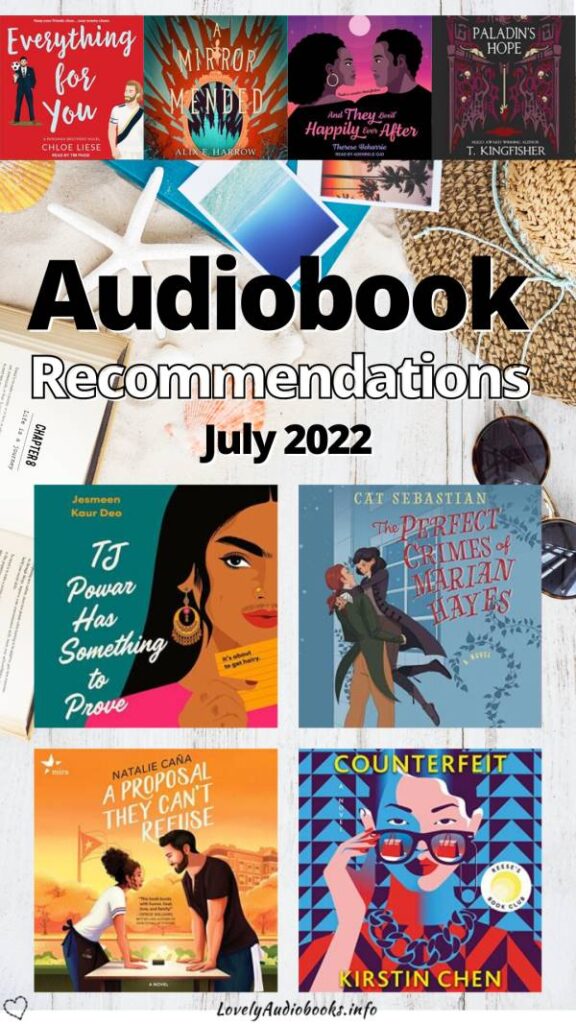 New Audiobooks
/