It's July, the second half of the year has started, and I have audiobook recommendations for you to take to the beach or enjoy at home, away from the sun, as some of us bookworms are prone to do.
And while Pride month is officially over, it really is always Pride month here at Lovely Audiobooks, and I have several excellent trans audiobooks for you!
**The marked links and book covers on this page are affiliate links. If you use them to purchase something, I earn a fee at no additional cost for you. Disclosure**
Love, Theoretically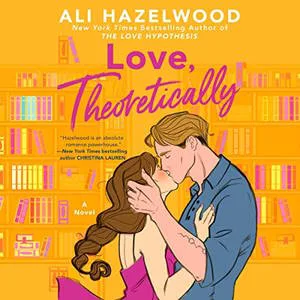 Ali Hazelwood (Author), Thérèse Plummer (Narrator)

Get the Audible book**
Or get it on Libro.fm**
Or get it on Audiobooks.com**
Elsie is an adjunct professor, which sounds fancy, but actually doesn't pay the bills. At all. So, she also works for an agency where people can book a fake girlfriend for events.
But then she accidentally runs into the older brother of one of her regular clients at a job interview for a tenure position. He knows her as Elsie, the librarian, not as Elsie, the theoretical physicist.
To make matters even worse, he is an experimental physicist. And not just any, but the one who started a horrible war between theoretical and experimental physics.
So, Elsie is in quite the situation. And it doesn't help that she is extremely attracted to the guy. While he thinks she is his little brother's girlfriend.
Thérèse Plummer did an extremely charming narration of this wonderful story, and I loved every second of Love Theoretically! Definitely one of the must-listen audiobooks of 2023!
Mortal Follies
Alexis Hall (Author), Nneka Okoye (Narrator)

Get the Audible book**
Or get it on Libro.fm**
Or get it on Audiobooks.com**
Behold! A new Alexis Hall book! Yay!
I want to draw some parallels here to The Affair of the Mysterious Letter. Because Mortal Follies is wild!
Just like The Affair is loosely based on the Sherlock Holmes stories, Mortal Follies is inspired by A Midsummer Night's Dream.
Puck is the narrator of this story, but at its center is Miss Mitchelmore. The young lady seems to have caught the attention of someone with magical powers who is playing pranks on her that get exceedingly more threatening.
To her aid comes "the Duke of Annadale", who is actually named Lady Georgiana Landrake and very alluring to young Miss Mitchelmore.
Nneka Okoye wonderfully brought out all the aspects of this story, from Miss Mitchelmore's naivety and Puck's mischievousness to Lady Georgiana's grumpiness.
The Mortal Follies audiobook is a true delight that I cannot recommend enough to you!
Lose You to Find Me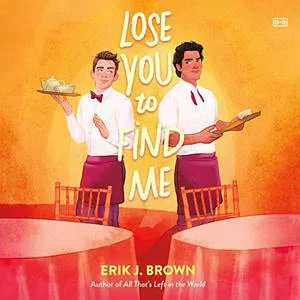 Erik J. Brown (Author), Kirt Graves (Narrator)

Get the Audible book**
Or get it on Libro.fm**
Or get it on Audiobooks.com**
Or listen on Scribd**
I know so much about restaurants now, no joke! But Lose You to Find Me has so much more to offer.
This is a beautiful Young Adult M/M Romance set – of all places – in the upscale restaurant of a very fancy retirement home. Tommy has been working there for quite a while. But the newest hire is his childhood crush Gabe, who doesn't recognize Tommy.
Of course, Tommy is heartbroken. He had really hoped for a second chance with Gabe. But instead, he just gets to show him how to take orders and seat people correctly.
I always enjoy Kirt Graves audiobooks so much. He has a wonderful voice and a true gift for filling each character with so much life and feeling.
Famous for a Living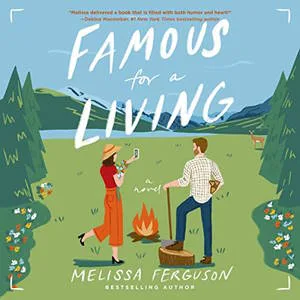 Melissa Ferguson (Author), Talon David (Narrator)

Get the Audible book**
Or get it on Libro.fm**
Or get it on Audiobooks.com**
Or listen on Scribd**
Cat is a really good and very successful influencer. But when she is implicated in a serious financial crime, she has to disappear for a while. That's how she ends up in the tiny town where her uncle works in a national park.
Cat takes over promotional work for the park to get more people interested and to help secure the future of the beautiful area. And then, of course, there is a ruggedly handsome ranger who doesn't even own a smartphone…
Famous for a Living is a really fun Contemporary Romance audiobook that I enjoyed immensely. Talon David was new to me as a narrator and did a fantastic job bringing out Cat's personality, thoughts, and feelings!
Good As Gold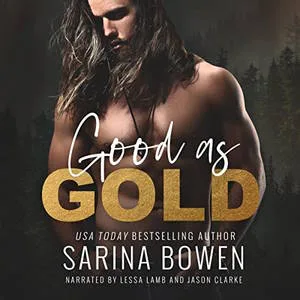 Sarina Bowen (Author), Jason Clarke (Narrator), Lessa Lamb (Narrator)

Get the Audible book**
Planned pregnancy Romance and the baby bargain trope is one of my favorites. But it's a very specific one, so I'm always extremely excited when I stumble over a book that has this theme.
And I was so thrilled with Good As Gold! Sarina Bowen is an author I always enjoy, and her baby bargain book is absolutely perfect.
Leila has just divorced her husband, who kept telling her that they weren't ready for kids yet, to just wait a bit longer.
Now she's 35 and decides to make this dream come true for herself. However, she is very shocked when she finds out about the cost involved in making a baby on her own.
Matteo has been in love with Leila since they were kids. When she chose their other best friend as her husband, he couldn't come back home for many, many years.
He didn't know about her divorce, but incidentally, this is the exact moment when he finally comes back to town to support his family.
Jason Clarke and Lessa Lamb turned this story into a wonderful, swoon-worthy audiobook that I couldn't turn off!
Chef's Choice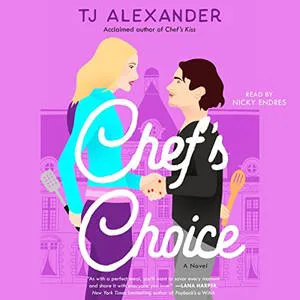 TJ Alexander (Author), Nicky Endres (Narrator)

Get the Audible book**
Or get it on Libro.fm**
Or get it on Audiobooks.com**
Or listen on Scribd**
Chef's Choice was so, so good! I actually liked this book even more than Chef's Kiss.
The main character Luna is a trans woman and the best friend and roommate of Simone from the first book. Luna finds herself in a bit of a pickle after losing her job unexpectedly… just to end up in a fake dating situation with an extremely rich French trans man.
Jean-Pierre needs to succeed in a cooking competition to secure his inheritance. But neither he nor Luna can actually cook.
This storyline is wild and such immense fun! Luna is extremely lovable, and while Jean-Pierre can be a bit exasperating, I couldn't help but root for him, if only so Luna would get the happy end she deserved.
I truly loved this book and the excellent narration by Nicky Endres, and I can't recommend this audiobook enough to you!
Related article: The Best LGBT Romance Books on Audible
Discworld – City Watch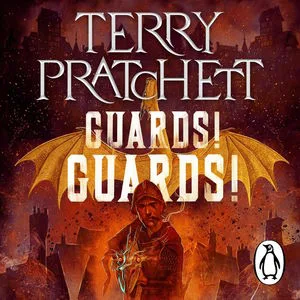 Terry Pratchett (Author), Jon Culshaw (Narrator), Peter Serafinowicz (Narrator), Bill Nighy (Narrator)

Get the Audible book**
Or get it on Libro.fm**
I binged all eight City Watch books, and they were so, so good!
The new Discworld recordings are lovingly produced, with so much attention to detail. And the voice casting for Vimes and the guards is once again excellent.
There were a few characters here and there that I would have liked to sound different. But that's to be expected when you have books you loved, that you first read with your eyes, and later hear in audio.
It didn't take anything away from my immense enjoyment of revisiting these books I love so much. And I'm thrilled that the City Watch has these wonderful new audiobooks now!
Related article: New Terry Pratchett Audiobooks
More Me with You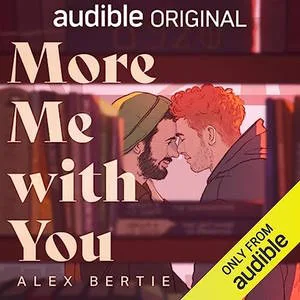 Alex Bertie (Author), Harrison Knights (Narrator)

Get the Audible book** (Included in Audible Plus)
More Me with You is a really cute Trans M/M Romance novella, and if you have an Audible subscription, you should absolutely grab it! It's included for free through Audible Plus.
I do enjoy my short audiobooks, but I wouldn't have minded if the ending had been longer. I loved listening to the narrator and really liked the main character. So I wouldn't have minded to stay a bit longer.
But hey, all good audiobooks should leave you with that feeling, right?!
Transmogrify!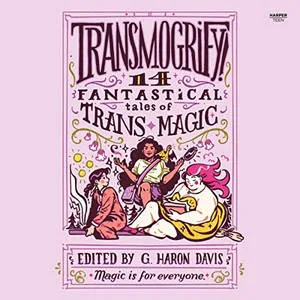 g. haron davis (Author), Qamar Yochanan (Narrator), Nicky Endres (Narrator), Vico Ortiz (Narrator), Avi Roque (Narrator)

Get the Audible book**
Or get it on Libro.fm**
Or get it on Audiobooks.com**
Or listen on Scribd**
Transmogrify! is a very captivating anthology of Fantasy short stories with trans and nonbinary main characters. From magical school to flying broom sports, there is so much here!
And trans kids in these stories don't all have to be good, either. I particularly enjoyed the story about a high schooler taking revenge on all the adults in their life that force their own ideas and beliefs on young trans kids.
The audio version is superbly narrated by some of my favorites: Qamar Yochanan, Nicky Endres, Avi Roque, and Vico Ortiz!
Related article: The Best Nonbinary Books on Audible
Pageboy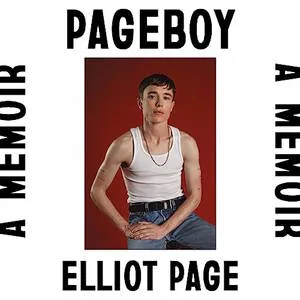 Elliot Page (Author, Narrator)

Get the Audible book**
Or get it on Libro.fm**
Or get it on Audiobooks.com**
Or listen on Scribd**
I have a nonfiction audiobook to share with you this month: Elliot Page's excellent memoir!
It's read by the author himself, which makes this an even more intimate look into his thoughts and feelings, from the intense struggles he went through before his transition to the joy of getting gender-affirming care.
This is a very moving, personal, and raw book. Tidbits have been covered on various news sites. But there, they stand as isolated events, while in the book, they become a part of the person Elliot Page is allowing us to get to know.
If you enjoy memoirs and/or if you are interested in the experiences of trans people, I can't recommend this audiobook enough to you!

Happy listening! 💕
New Audiobooks, Reviews
/