June is audiobook month and Pride month! It's my favorite time of the year here on Lovely Audiobooks because we can celebrate all things Queer Romance audiobooks.
In the coming weeks, you will find many new LGBTQ+ audio recommendations here on the blog. And we start with a very queer edition of this month's new releases! Some of my favorite authors have released books recently, like the amazing Cat Sebastian with her Kit Webb, or Alexis Hall and his Rosaline Palmer…
**The marked links and book covers on this page are affiliate links. If you use them to purchase something, I earn a fee at no additional cost for you. Disclosure**
Flipcup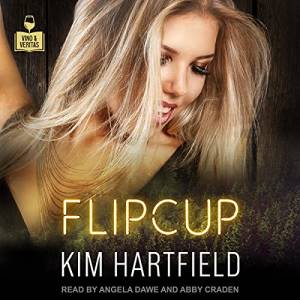 Kim Hartfield (Author), Abby Craden (Narrator), Angela Dawe (Narrator)
Get the Audible book in a deal**
I adored this audiobook! The narration was incredible! Angela Dawe and Abby Craden did such a beautiful job copying the other narrator's voice during dialogue scenes. This was an immense pleasure to listen to. The story is adorable and fun with a bisexual party girl, who falls for a woman for the first time, and an androgynous bookstore employee.
The Queer Principles of Kit Webb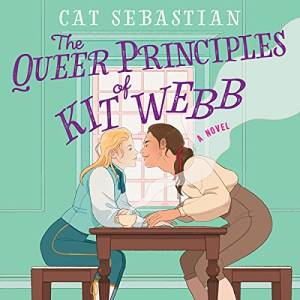 Cat Sebastian (Author), Joel Leslie (Narrator)
Get the Audible book** (Release 06/08)
Kit Webb is a withdrawn former highwayman with high standards. Percy is an aristocratic son of a very questionable character. And when the two meet, THINGS HAPPEN!! I can't put this book into words without feeling like I'm spoilering all over the place. These men were simply not what I expected and everything was just so fantastic and intriguing. And Joel Leslie narrates it!! This is M/M Historical perfection.
Related article: The Best Romance Audiobooks of 2021 (So far…)
The Love Project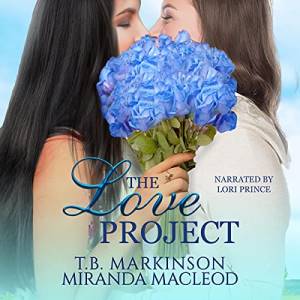 T.B. Markinson (Author), Miranda MacLeod (Author), Lori Prince (Narrator)
Get the Audible book in a deal**
The Love Project is a fun web show Romance with a lesbian and a demisexual woman. I stumbled over this in a Friday deals post and had such a wonderful time with this audiobook. It is a wonderful, emotional slow-burn about two women who think they should give up on love.
Booklover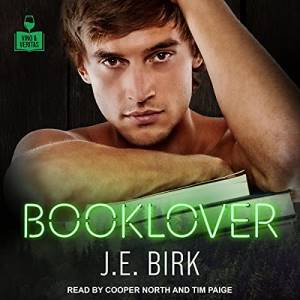 J.E. Birk (Author), Cooper North (Narrator), Tim Paige (Narrator)
Get the Audible book in a deal**
You might know that I have an obsession with books about books. And Booklover was simply everything I could have hoped for! A Romance book obsessed soon-to-be-librarian who is also a farmer, and a bookstore employee who organizes a Romance book club where the two get to know each other… It was swoon-worthy! This is a MUST if you love M/M Romance!
How to Find a Princess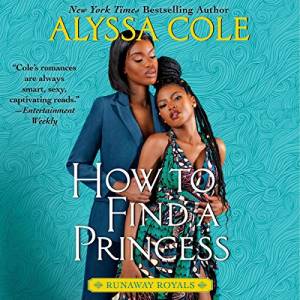 Alyssa Cole (Author), Karen Chilton (Narrator)
Get the Audible book**
A hot, androgynous saviour of damsels in distress and a maybe-princess who doesn't think she's a princess and also doesn't want to be a princess… but might very well be a damsel in distress! The whole thing is mostly happening on a cargo ship. And it is absolutely delightful with lots of pining and chemistry.
One Last Stop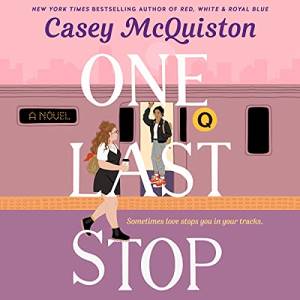 Casey McQuiston (Author), Natalie Naudus (Narrator)
Get the Audible book**
One Last Stop reads kind of like a Contemporary, but it is actually a Time Travel story. This is such a gentle love story between a bisexual and a lesbian girl who meet in the subway. It is the new book by the author of Red White and Royal Blue and narrated by the wonderful Natalie Naudus.
Hang the Moon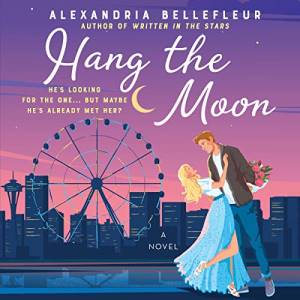 Alexandria Bellefleur (Author), Lauren Sweet (Narrator)
Get the Audible book**
Hang The Moon is a cute M/F Rom-Com with a bisexual heroine. It follows the brother of Darcy from Written in the Stars who meets his childhood crush (Darcy's best friend) again after many years. And while he is a complete romantic, she thinks big gestures are the worst and love doesn't really work anyway.
Rosaline Palmer Takes the Cake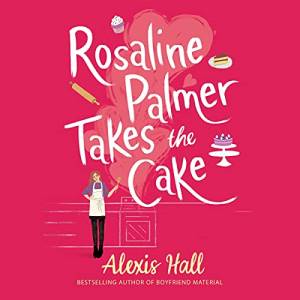 Alexis Hall (Author), Fiona Hardingham (Narrator)
Get the Audible book**
Alexis Hall has given us the bisexual single mom in a love triangle and on a baking show that we all wanted and needed! Rosaline is adorable and her daughter even more so. And just as in Glitterland, I loved how this book questions classism, elitism, and preconceived notions of how certain people must be, based on their job and education. This one is also on my list of fantastic LGBT Romance books!
People We Meet on Vacation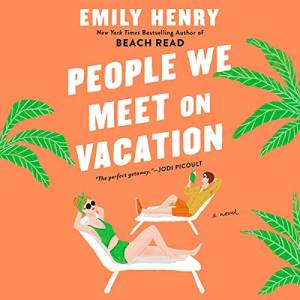 Emily Henry (Author), Julia Whelan (Narrator)
Get the Audible book**
People We Meet on Vacation is a kind of somber Friends to Lovers book about two people who want very different things in life. The two have built a deep friendship instead of becoming lovers. But they have to ask themselves whether that is really enough in the long run. While many people recommend this book, you can read my thoughts about it in my blog post on why People We Meet on Vacation is not one of my favorite Romance audiobooks of 2021.
Meet Cute Diary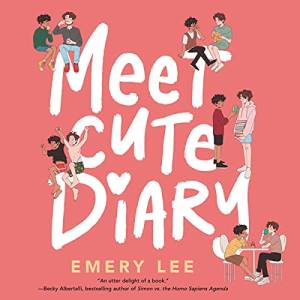 Emery Lee (Author), Logan Rozos (Narrator)
Get the Audible book**
Meet Cute Diary is a cute Young Adult Trans Rom-Com that celebrates romance. I loved the narration by Logan Rozos and if you are looking for diverse and incredibly entertaining Romance books to read or listen to during Pride Month, this one is a perfect choice!
The Soulmate Equation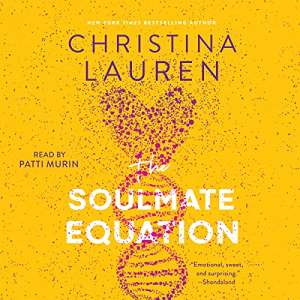 Christina Lauren (Author), Patti Murin (Narrator)
Get the Audible book**
This book perfectly transported the fated mates trope into a Contemporary Romance! A new dating service finds your perfect partner based on DNA matching. A single mom and the scientist behind the app turn out to be soulmates, at least according to their DNA. It's just a shame that the two can't stand one another… If you are looking for a fun Rom-Com to escape into, you will enjoy The Soulmate Equation!
Hex After Forty
M.J. Caan (Author), Traci Odom (Narrator)
Get the Audible book in a deal**
I have been very curious about Paranormal Women's Fiction so I picked up Hex After Forty last month. It is about a woman who, after being left by her husband, moves to a small town just to find out that witches, vampires, and all those things are real. And that she might very well become a witch herself! This book is a great choice to get started on the genre.
Audiobooks I've listened to in May 2021
I listened to several Historical Romance novels last month and enjoyed To Love and to Loathe by Martha Waters, A Lady Awakened by Cecilia Grant, and Rebel by Beverly Jenkins very much!
My book list with Planned Pregnancies got an update with Pipe Dreams by Sarina Bowen and Hot Cop by Laurelin Paige and Sierra Simone.
I also mixed things up with a few novellas and short stories again. Jeaniene Frost's Pack, The Very First Damned Thing by Jodi Taylor, and Inside Jobs are all in Audible Plus. The first story in Inside Jobs is super funny!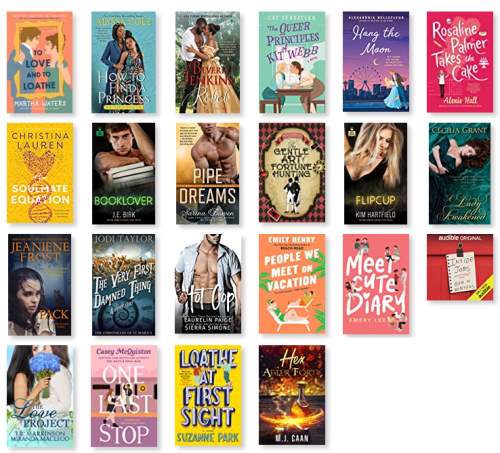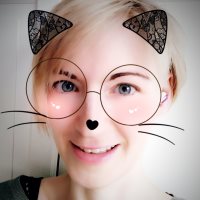 Eline Blackman (pronouns: she/they) fell in love with books as a child – with being read to and reading herself. 10 years ago, she bought her first Audible book. It was love at first listen! An average of 250 audiobooks per year has become the new normal and you will rarely see Eline without a wireless earbud. Romance and Fantasy are the go-to genres for this audiobook fan.
New Audiobooks
/