Grab your headphones and check out excellent new audiobook releases with me!
June brings a treasure trove of captivating stories. I have extraordinary Fantasy, Mystery, Fiction, and Romance audiobooks for you that will whisk you away to new realms filled with love, magic, and unforgettable adventures.
Get ready to be swept off your feet by mesmerizing narrators who bring these tales to life, infusing them with emotion and captivating performances. From epic quests to swoon-worthy love stories, I have the perfect escape for my fellow audiobook enthusiasts!
**The marked links and book covers on this page are affiliate links. If you use them to purchase something, I earn a fee at no additional cost for you. Disclosure**
Yellowface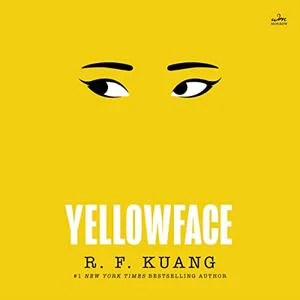 R. F. Kuang (Author), Helen Laser (Narrator)

Get the Audible book**
Or get it on Libro.fm**
Or get it on Audiobooks.com**
Or listen on Scribd**
This book is so incredibly captivating, for an entire day, I did nothing else but sit somewhere, stare at the wall, and listen to Helen Laser bringing June to life.
This book is written in such an intimate way that I kept trying to empathize with June. Under all her ugliness, I could see this person ping-ponging between narcissism and debilitating anxiety and insecurities.
A lot of horrible things had happened to June that, as the first person narrator, she only mentions in passing, especially things relating to her pretty dire mental health after at least two traumatic life events.
But I suppose that's what makes this book so compelling. While transporting a clear message regarding racism and gatekeeping in the publishing industry, June is – in her own pathetic and pitiful way – complex and layered, and I found myself fully invested in her journey, even though I couldn't quite decide which outcome I would have wished for her.
This is marketed as satire, but honestly, as far as I can tell as a book blogger who only experiences the publishing industry on the fringes, the way June's career was handled, the yellowface, the Twitter scandals that changed nothing, it all seemed pretty accurate and, unfortunately, not really exaggerated.
Yellowface is on my list of the best audiobooks of 2023!
The True Love Experiment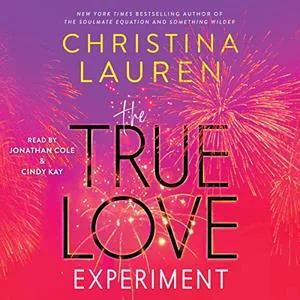 Christina Lauren (Author), Jonathan Cole (Narrator), Cindy Kay (Narrator)

Get the Audible book**
Or get it on Libro.fm**
Or get it on Audiobooks.com**
Or listen on Scribd**
I adored The Soulmate Equation and was delighted to see a new book in the series released!
The True Love Experiment is about Fizzy, Jess' best friend and the reason why Jess tried out GeneticAlly in The Soulmate Equation.
Fizzy is a Romance author and unabashed serial dater. But she can't quite bring herself to believe in love anymore, which gives her major writer's block.
Connor is a single dad and the polar opposite of a serial dater (oooh, how I love this trope!!). When he sees Fizzy for the first time, he is instantly attracted to her. But instead of romancing her, he wants to put her in front of a camera for a new dating show he is working on.
I adored the meta-commentary on Romance novels, readers, and authors in this book, and in particular, the Romance hero archetypes as presented by Fizzy!
This is an incredibly entertaining book that had me laugh out loud many times and gave me all the warm and fuzzy feelings.
Jonathan Cole and Cindy Kay bring Connor and Fizzy to life and make their chemistry and their yearning for each other palpable. Yes, a true must-listen Romance audiobook!
Meet Me at the Lake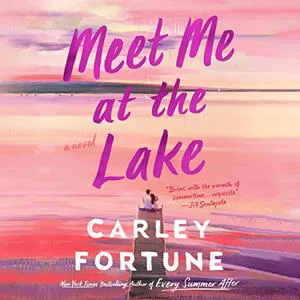 Carley Fortune (Author), A.J. Bridel (Narrator)

Get the Audible book**
Or get it on Libro.fm**
Or get it on Audiobooks.com**
In her early twenties, Fern had one magical day with a man who is probably her soulmate. But then fate hit both of them (unbeknownst to her). And now, ten years later, this man, Will, shows up at the resort Fern has inherited from her mother.
Meet Me at the Lake is such an emotional book! I expected it to be very bittersweet, but honestly, it mostly felt sweet and hopeful to me.
Fern has a lot to deal with as she is forced back to the countryside due to her mother's unexpected death, two very painful things that tie Fern in knots as she doesn't know how to best move forward.
But as Will comes back into her life, there is also this wonderful connection between them.
A.J. Bridel did such an emotional, captivating narration that truly brings Fern to life!
The Nameless Restaurant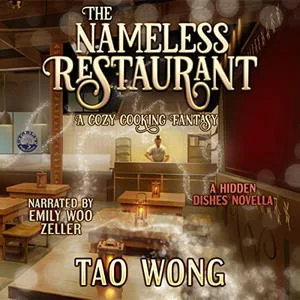 Tao Wong (Author), Emily Woo Zeller (Narrator)

Get the Audible book**
Or get it on Libro.fm**
Or get it on Audiobooks.com**
This short audiobook is a real treat for fans of Cozy Fantasy! The entire story is set in a hidden restaurant. Most patrons are magical beings, and as the story progresses, we find out more about them.
I was completely enchanted by this audiobook. Chapters begin with a description of the dish the owner cooks for his guests, which was truly mouthwatering.
But I was also amazed at how captivated I was by the guests and their stories.
The audiobook is narrated by Emily Woo Zeller, who perfectly brings out the atmosphere of this magical place!
Reforged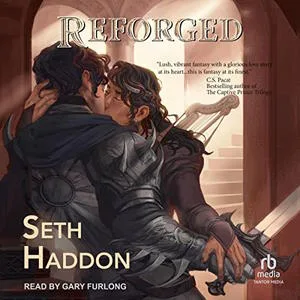 Seth Haddon (Author), Gary Furlong (Narrator)

Get the Audible book**
Or get it on Libro.fm**
Or get it on Audiobooks.com**
Or listen on Scribd**
Ever since listening to T. Kingfisher's Saint of Steel series, I have had a thing for paladins. And I picked up Reforged by Seth Haddon SO FAST!
This is an M/M Fantasy Romance about a king and the paladin sworn to protect him.
It's a story full of unexpected twists and turns as we figure out why all of the royal family died, making the youngest son the new king – the son who was never meant or trained to be a ruler.
It's also about the unfulfilled love between these two men as the new king is supposed to find a wife and produce heirs, while Balen, the paladin, always put his duty above all else – even above his relationship with the prince, who is now king.
You can't ever go wrong with a Gary Furlong audiobook. His narration is so wonderful and emotional, and this is a truly lovely audiobook!
Love Laugh Lich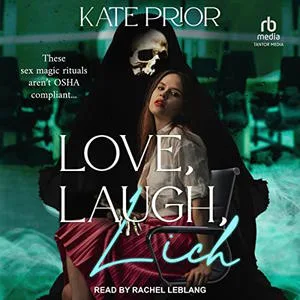 Kate Prior (Author), Rachel Leblang (Narrator)

Get the Audible book in a deal**
Or get it on Libro.fm**
Or get it on Audiobooks.com**
Or listen on Scribd**
Love Laugh Lich is perfect escapism! The setting cracked me up, and I did not expect how the lich would be spun into a desirable Romance hero. Ooh, but is he ever!
I don't want to give anything away about this two-hour-long sweet and spicy treat. But if you are looking for something fun and "fun" (wink wink, nudge nudge), then this Monster Romance is perfect!
Rachel Leblang is excellent as Lily the secretary!
Related article: The Best Monster Romance audiobooks
Bored Gay Werewolf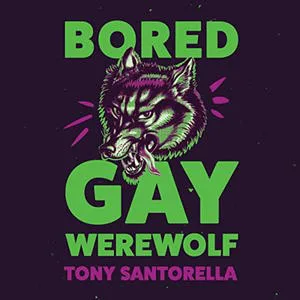 Tony Santorella (Author), Anthony Nyro (Narrator)

Get the Audible book**
Or get it on Libro.fm**
Or get it on Audiobooks.com**
Or listen on Scribd**
Bored Gay Werewolf does give you a very lovable gay werewolf, but this book is far from boring!
Brian accidentally got himself turned into a werewolf, which his parents don't appreciate, especially on top of "the gay thing". So, he finds himself in a small apartment with a restaurant job.
And when he's not working, he gets drunk…. or blacks out, shapeshifts, and does not-so-good things. This book does have a body count!
When Brian makes the acquaintance of another werewolf, Taylor, he's intrigued. Taylor handles the whole shifting thing very differently from Brian and teaches him how to live his life with more purpose.
And while Brian is not entirely sold on what Taylor is trying to sell (a project that comes across a lot like a men's rights scheme), he does appreciate getting more control over his wolf.
I found Brian and his group of human friends so lovable, and beyond the engaging werewolf adventure, this book has layers!
Anthony Nyro is a new-to-me narrator who perfectly brought out Brian's thoughts and feelings, as well as his struggles.
The Isles of the Gods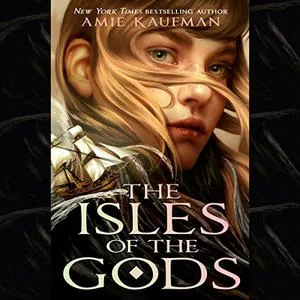 Amie Kaufman (Author), Nikki Patel (Narrator), Homer Todiwala (Narrator), Donnabella Mortel (Narrator), Vidish Athavale (Narrator), Steve West (Narrator)

Get the Audible book**
Or get it on Libro.fm**
Or get it on Audiobooks.com**
This book called to me with its beautiful cover. It's an Epic Fantasy with lots of adventure, magic, and pirates!
Every 25 years, a member of the royal family who has magic has to pay tribute to the gods who left the world… 501 years ago. Whoops!
You know the old fairytale and Fantasy trope. After so and so many years, a certain thing has to happen. And usually, you'd expect that our heroes will make it just in time. But wait!
We're in year 501. The prince is already a year late. He didn't take this calling very seriously and thought, if it was so important, maybe another relative could go.
But now, war looms, and the prince is pushed to make his way to the Isles of the Gods. He ends up on Selly's ship, a girl whose home is the sea but who finds herself lost and unhappy after her father sent her away.
This is a sprawling story, and the audiobook read by five truly excellent voice actors is breathtakingly good!
That Self-Same Metal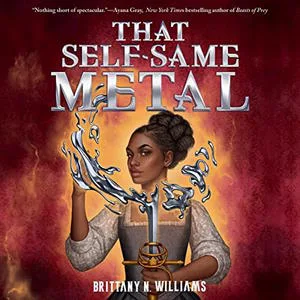 Brittany N. Williams (Author), Patricia Allison (Narrator)

Get the Audible book**
Or get it on Libro.fm**
Or get it on Audiobooks.com**
Or listen on Scribd**
Set in medieval London (but with magic), That Self-Same Metal by Brittany N. Williams was an unexpected hit for me!
Joan can shape metal, but as a child of her time, she knows she won't inherit her father's workshop. It would go to her brother, who rather wants to be an actor and is a member of a theatrical troupe led by The Bard himself, William Shakespeare.
Brittany N. Williams perfectly connects real medieval history with a sword-fighting Black heroine, a fae uprising, and a true love for Shakespeare.
Patricia Allison did a wonderful narration that brought Joan to life and completely drew me into this wonderful story.
Fourth Wing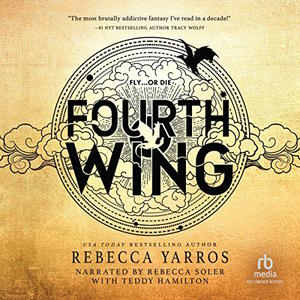 Rebecca Yarros (Author), Rebecca Soler (Narrator), Teddy Hamilton (Narrator)

Get the Audible book**
Or get it on Libro.fm**
Or get it on Audiobooks.com**
Or listen on Scribd**
Fourth Wing is a breathtakingly fast-paced, exciting Romance Fantasy adventure!
Violet is the youngest daughter of a dragon-riding general from a country that has created its entire identity from the war with its neighbors. She is pressured by her mother to join the dragon academy.
As the cover says, "Fly… or die". This book has a truly huge body count. But Rebecca Yaros manages to keep the heroine hopeful and determined. This doesn't feel like a dark book, even though many of its themes are dark.
Rebecca Soler's narration has mixed reviews on Audible. But I enjoyed it and thought she had a very fitting voice for Violet. Teddy Hamilton reads the epilogue.
This is the first book in a series, and many plot lines are tied up – or at least in a good place – in the end. But there is also a major twist!
Killing Me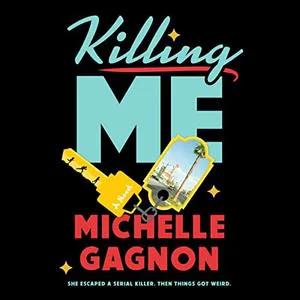 Michelle Gagnon (Author), Jaime Lamchick (Narrator)

Get the Audible book**
Or get it on Libro.fm**
Or get it on Audiobooks.com**
Killing Me is such an incredibly cool book! I devoured it, and it was quite difficult to move on from this wonderful fast pace and the extremely engaging characters.
Amber is kidnapped by a serial killer. She was sure something like this would never happen to someone like her. But here we are. However, at the last moment, she is saved by a weird person in a ski mask. From then on, things spiral quickly for Amber, who has a criminal history of her own and can't afford to be part of an investigation.
I adored Amber and her big mouth! And the author perfectly feeds you one tidbit at a time about Amber's past and the forces at play in her current situation.
This book made me laugh, but it also has a lot of suspense that had me sitting on the edge of my seat. Jaime Lamchick's narration brought out all the facets of Amber, and I cannot recommend this book enough to you!
New Audiobooks, Reviews
/