May is finally here, and that means it's time for a new round of audiobook recommendations! This month, I've got a mix of brand-new Romance and Fantasy titles for you to choose from. Whether you're looking for something light and fun, or something more serious, I got you covered. So grab your headphones and get ready to listen!
**The marked links and book covers on this page are affiliate links. If you use them to purchase something, I earn a fee at no additional cost for you. Disclosure**
Go Hex Yourself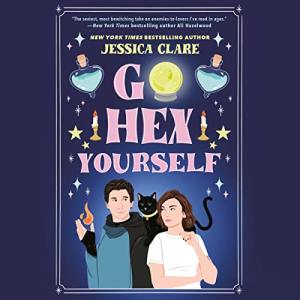 Jessica Clare (Author), Andrew Eiden (Narrator), Holly Linneman (Narrator)
Get the Audible book**
Or get it on Libro.fm**
Go Hex Yourself cured the reading slump I stumbled into at the beginning of the month. It's a witchy paranormal romance about a woman who believes she is applying for a job at the company that creates her favorite card game. Then it turns out that she actually just got hired as a real witch's familiar! And then there's the witch's nephew… The book is narrated by the awesome Andrew Eiden and Holly Linneman who I both love. This is really fun escapism!
Related article: LibroFM vs Audible
The Wedding Crasher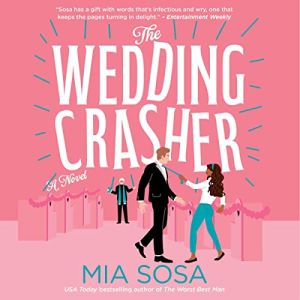 Mia Sosa (Author), Rebecca Mozo (Narrator), Alastair Haynesbridge (Narrator)
Get the Audible book**
Or get it on Libro.fm**
Or listen on Scribd**
Mia Sosa's new book is absolutely delightful! Solange – more or less by accident – blows up Dean's fancy wedding. She didn't know that Dean was planning a marriage of convenience. Now that fell through and since Solange feels she kinda owes Dean one, he asks her to play his fake girlfriend to help his career. The Wedding Crasher is the perfect Romantic Comedy and absolutely delightful from beginning to end! I love the main characters who are both so likable and have amazing chemistry. And their family and friends are wonderful. Rebecca Mozo and Alastair Haynesbridge did a great narration!
Related article: My favorite Fake Relationship Books
The Romantic Agenda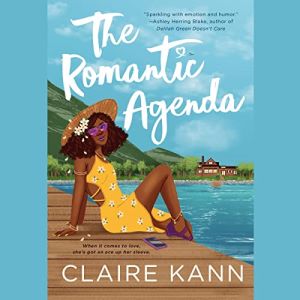 Claire Kann (Author), Adrienne Walker (Narrator)
Get the Audible book**
Or get it on Libro.fm**
This book! Oh boy. The Romantic Agenda is absolutely charming and captivating! Joy is indeed a pure Joy and such a lovable heroine! She is asexual and has to deal with many prejudices both from outside and inside the ace community. Joy loves her best friend, Malcolm, who is also ace but has always had an active dating life – with everyone but Joy. When Joy meets Fox, she finds herself in a bit of a love triangle. She can't let go of Malcolm but notices how her feelings for Fox keep growing. The Romantic Agenda is so well written and the characters so wonderful. Fox is gruff but such a sweetheart. And Malcolm, for all his shortcomings, has this deep connection with Joy that I found very moving. And then there's Summer who is also thoroughly likable even when you think she wouldn't be. I could not put down my earbuds while listening to Adrienne Walker's fantastic narration of this amazing book!
Going Public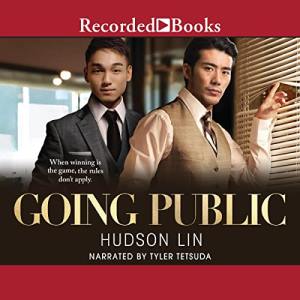 Hudson Lin (Author), Tyler Tetsuda (Narrator)
Get the Audible book**
Or get it on Libro.fm**
Or listen on Scribd**
Going Public is a wonderful, slightly suspenseful MM Romance between a millionaire who's a bit of a player and his demisexual virgin assistant. I love how these tropes were handled here, how the two men treat each other, their experiences, their wishes. They know each other so well and are very considerate and careful with each other. It's intensely romantic! That together with the additional suspenseful plot made this an all-around entertaining story. And I absolutely adored the narrator!
Sweep in Peace
Ilona Andrews (Author), Christopher Walker (Narrator), Jonathan Lee Taylor (Narrator), Karen Novack (Narrator) and a full cast
Get the Audible book**
Or get it on Libro.fm**
Or listen on Scribd**
I must admit, I didn't pay all that much attention to GraphicAudio in the past. But that is changing now! They have recently started adapting Ilona Andrew's Innkeeper Chronicles series (which is one of my absolute favorites) with a full cast of voice actors and sound effects. And it is absolutely glorious! In the first book, Clean Sweep, we meet Dina who runs a rather mysterious B&B with only one guest. Then there's a werewolf and a vampire and it is absolutely glorious! The first book reads a lot like Urban Fantasy, but turns more into Science Fiction in the second book, Sweep in Peace, since the nonhuman creatures actually come from different planets. This adaption is so wonderful and I highly recommend it both to people who haven't read these books before as well as fans of the series who want to revisit it!
Part of Your World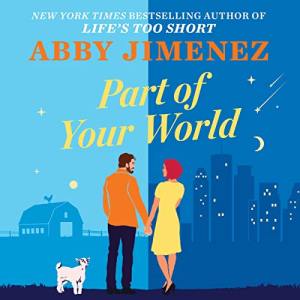 Abby Jimenez (Author), Julia Whelan (Narrator), Zachary Webber (Narrator)
Get the Audible book**
Or get it on Libro.fm**
I will never not immediately buy a new Abby Jimenez book! I have loved every one of her books so incredibly much and her newest might well be the best one yet! Part of Your World is incredibly romantic, it deals with heavy topics and yet manages to balance that out with warm, laugh-out-loud funny humor. This range of emotions is everything I want in a Contemporary Romance novel! And the older woman, younger man pairing in a small-town setting is wonderful. Both characters are so lovable and utterly perfect together. The love between them is palpable! Julia Whelan and Zachary Webber did a fantastic narration and really brought out all these emotions. Part of Your World is without a doubt one of my favorite audiobooks of 2022!
No Rings Attached
Rachel Lacey (Author), Zara Hampton-Brown (Narrator)
Listen for free with Kindle Unlimited**
I picked up No Rings Attached from Kindle Unlimited "Listen for Free" and it was wonderful! A cute, fun, steamy fake relationship love story between two women who just can't let go of one another. They haven't met before due to living on different continents but Grace agrees to be Lia's fake girlfriend for a family wedding in London for the sake of their shared best friend, Rosie. Grace has suffered many losses and isn't willing to give love a chance. But Lia manages to pull her out of her shell like no one else. The two make such a perfect match and I loved their journey! The audiobook is narrated by Zara Hampton-Brown who really brought out Grace's struggles and Lia's openness.
Book Boyfriend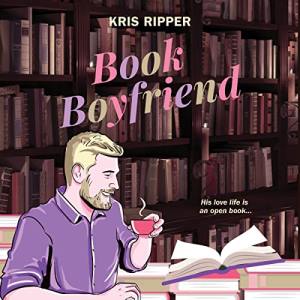 Kris Ripper (Author), Pete Cross (Narrator)
Get the Audible book**
Or get it on Libro.fm**
Or listen on Scribd**
I'm not entirely sure I would call PK my new book boyfriend. He sure is… a lot! But that's the thing, he is absolutely, disarmingly himself! And I adored Book Boyfriend, this meta Romance about a guy who can't tell his best friends that he's in love with him, so instead writes a Romance novel about a guy who is in love with his best friend. Pete Cross brought it all to life so charmingly! I'm a big fan of Kris Ripper and zir adorable queer rom-coms. They never fail to make me happy!
The Long-Forgotten Winter King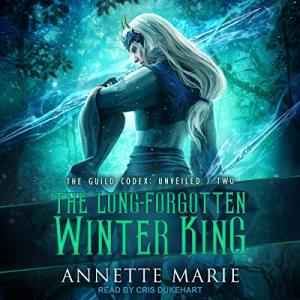 Annette Marie (Author), Cris Dukehart (Narrator)
Get the Audible book in a deal**
Or get it on Libro.fm**
Or listen on Scribd**
The Guild Codex is one of my favorite Urban Fantasy series and I love how Annette Marie sets these different limited series in the same world with lots of character overlap, so new readers and listeners can come in with a fresh series or pick one that's already completed. With The Long-Forgotten Winter King, we get the second part in Saber's and Zak's story and it was once again everything I had hoped for! The Guild Codex: Unveiled focuses on witches, druids, and the fae. Zak once again absolutely guts me in this book. I've wanted nothing more than for him to find his happily ever after ever since I first heard about him. Saber is growing a lot in this book and, just like Zak, she has many things to figure out still. But as always in the Guild Codex world, there is a lot of action and adventure at the center of the story! Cris Dukeheart is a fantastic narrator for these stories and I very much enjoyed this audiobook!
Wyrd Sisters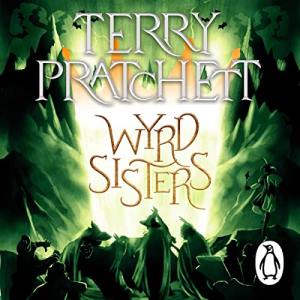 Terry Pratchett (Author), Indira Varma (Narrator), Peter Serafinowicz (Narrator), Bill Nighy (Narrator)
Terry Pratchett was, is, and will always be one of my favorite authors. No one manages to blend so seamlessly warm humanity, scathing societal critique, and utter entertaining ridiculousness. So, I was absolutely thrilled to see that all of the Discworld books are getting brand-new audio recordings with fantastic voice actors! While you might have seen announcements for Small Gods, narrated by Andy Serkis, I am even more delighted that I could get my hands on the new versions of the Discworld: Witches series. Indira Varma did such an outstanding job bringing Granny Weatherwax and Nanny Ogg to life! And yes, I've bought a lot of extra Audible credits for this. No regrets!
Related article: Which Good Omens audiobook is the best?
Audiobooks I listened to in April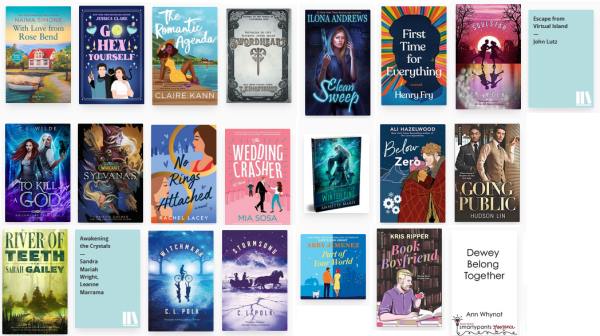 In April, I listened to 22 very enjoyable audiobooks (and started a whole bunch that I didn't finish and didn't track in Storygraph because most of the time, it's not the book's fault that it isn't working out, it's me). Anyway…
One of the highlights was definitely Swordheart by T. Kingfisher. I adore this author and this world! I cannot recommend it enough to anyone who loves Fantasy Romance. I particularly love Zale and hope they will get their own book at some point! Swordheart is on Scribd**
I also have to mention the new Sylvanas book! She has always been one of my favorite World of Warcraft characters. I've never read a WoW novel before and didn't think that was my thing, but she is such a great character so I wanted to give it a try. The book pulled me in right away and it was great hearing it narrated by the original voice actor from the game! There were some minor narrating mistakes like using the wrong voice for a character in dialogue, but it was still such an intense, captivating audiobook. I've already given it to my partner who I used to play WoW with and would recommend it to anyone who likes this WoW character!
Which books do you recommend this month?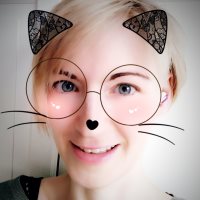 Eline Blackman (pronouns: she/they) fell in love with books as a child – with being read to and reading herself. 10 years ago, she bought her first Audible book. It was love at first listen! An average of 250 audiobooks per year has become the new normal and you will rarely see Eline without a wireless earbud. Romance and Fantasy are the go-to genres for this audiobook fan.
New Audiobooks
/