It's November, that odd stepchild of a month that feels so disappointing after all the fun of Halloween, and seems to drag on forever while we're waiting for the joy of December. Fortunately, I have some absolutely fantastic audiobook recommendations for you that will make November almost as good as Halloween or Christmas, haha!
(Almost. No, November, I'm not your fan, you're my least favorite month.)
**The marked links and book covers on this page are affiliate links. If you use them to purchase something, I earn a fee at no additional cost for you. Disclosure**
10 Things That Never Happened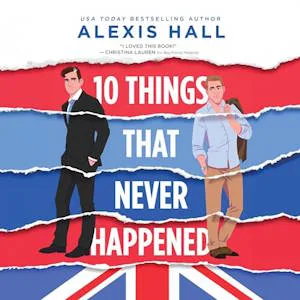 Alexis Hall (Author), Will Watt (Narrator)

Get the Audible book**
Or get it on Libro.fm**
Or get it on Audiobooks.com**
Or listen on Scribd**
Oooh this book… This book gave me all the fluttery feelings I also had with Boyfriend Material.
We have a wild set-up here! Sam is a store manager. When his boss, the owner of the chain, threatens to fire him and his entire team, Sam uses an opportunity and fakes amnesia!
Whut??
Sam believes that, if his boss Jonathan gets to know him better, he will accept Sam's "management style" (which includes keeping people on because they need the job even though they are actively horrible at it).
As Jonathan feels very guilty for Sam's accident and the resulting head wound, he offers to care for him at his house until Sam is fine again.
Between Jonathan's family and Sam's team, we get to know a very lovable cast of side characters here. That's something I also loved very much about Boyfriend Material, and it makes the story feel so vivid. Plus, these people just crack me up!
Will Watt did such a delightful narration of this incredibly entertaining RomCom that I cannot recommend enough to you!
Stars in Your Eyes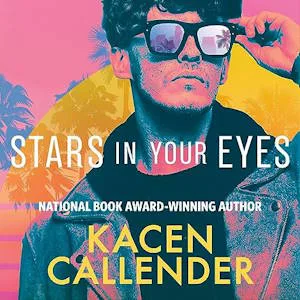 Kacen Callender (Author), André Santana (Narrator), AJ Beckles (Narrator), Dani Martineck (Narrator), Hannah Church (Narrator), Avi Roque (Narrator), George Newbern (Narrator), Patryce Williams (Narrator), Sarah Mollo-Christensen (Narrator), VyVy Nguyen (Narrator)

Get the Audible book**
Or get it on Libro.fm**
Or get it on Audiobooks.com**
This audiobook is such a treat! Kacen Callender's new novel is very emotional and touching. And the excellent audiobook production turns Stars in Your Eyes into one of the best audiobooks of 2023.
The two main characters in this Romance, Logan and Mattie, are read by André Santana and AJ Beckles, who are both perfectly cast. They are supported by a full cast with Dani Martineck, Hannah Church, Avi Roque, George Newbern, Patryce Williams, Sarah Mollo-Christensen, and VyVy Nguyen.
There are also some light sound effects included in the audio production of Stars in Your Eyes, which I found very enjoyable.
Logan and Mattie are both actors who meet on the set of a queer RomCom. Logan was a child star and deals with severe and untreated PTSD.
Mattie has a lot of shame surrounding his sexuality. These two have a whole lot to overcome to build a healthy relationship.
This is a very tender (but also steamy) love story, and the outstanding audio version makes this a must-listen!
Iris Kelly Doesn't Date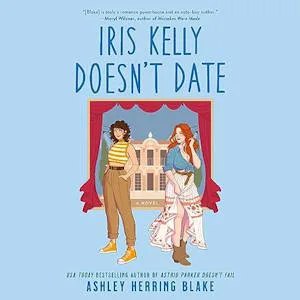 Ashley Herring Blake (Author), Kristen DiMercurio (Narrator)

Get the Audible book**
Or get it on Libro.fm**
Or get it on Audiobooks.com**
I enjoyed the first two books in Ashley Herring Blake's Bright Falls series a lot, but Iris and Stevie might be my favorite!
Iris Kelly Doesn't Date has a beautiful mix of all our favorite tropes. We go from a one-night stand gone wrong to fake dating to a love coach thing. And it all works seamlessly!
I adored the setting at a queer community theatre where Stevie is the star who is torn about pursuing a bigger acting career. Then Iris enters the scene.
The author took such great care with the complexities of these two characters. Stevie has generalized anxiety disorder and throughout the book, she tries to find a way so that other people will see her as her, not as her anxiety.
At the same time, the book stays very real in how anxiety is not something you can just shake off.
Iris, on the other hand, seems like a very confident, self-assured woman. But she, too, has a comfort zone that she is scared to leave. Unlike Stevie, she isn't even aware of it, though.
Kristen DiMercurio did an excellent narration for both women that did them justice.
The Ex-Mas Holidays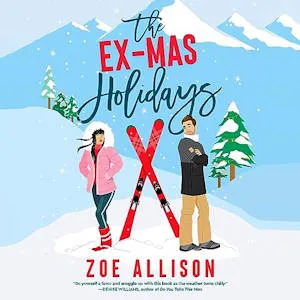 Zoe Allison (Author), Nikki Massoud (Narrator)

Get the Audible book**
Or get it on Libro.fm**
Or get it on Audiobooks.com**
The Ex-Mas Holidays is such a wholesome (but also steamy, no worries) Christmas romance.
Maya returns home after losing her boyfriend and her job. But she notices quickly that she doesn't miss either. She hated her career and did not truly love this guy.
Back in her hometown, she quickly realizes that she only wanted to make her father happy with her past life choices and that, what she really wants, is to get back to skiing.
This, however, means she has to face her teenage crush, Sam. They had one scorching kiss, and she thought they were in love. But then she saw him kissing her best friend.
That's not something you can come back from.
Or can you?
I know many romance readers don't love misunderstandings. And this book is all about that. But in a different way… I definitely found it to be a very captivating love story with two cute leads.
And Nikki Massoud and her super charming accent made this a very fun listen!
The Takedown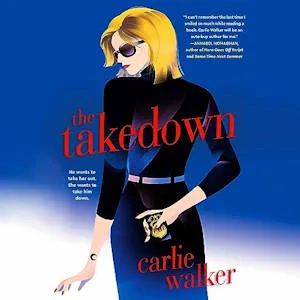 Carlie Walker (Author), Sarah Naughton (Narrator)

Get the Audible book**
Or get it on Libro.fm**
Or get it on Audiobooks.com**
The Takedown is a fun Romantic Suspense about an agent who is sent to attend her sister's wedding – to a suspected crimelord!
I liked how we were in Sydney's head while she was figuring out the case and getting to know the crimelord's very sweet bodyguard, Nick, who Sydney can't make sense of.
Is he a good guy, or is he just manipulating her? Who is seducing who here?
Sarah Naughton's narration is wonderful, with a great range of voices for the many more and less lovable characters in this fast-paced story.
Starling House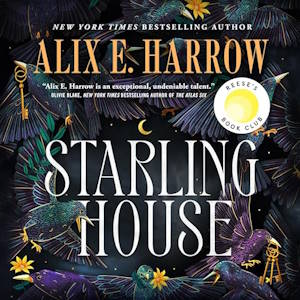 Alix E. Harrow (Author), Natalie Naudus (Narrator)

Get the Audible book**
Or get it on Libro.fm**
Or get it on Audiobooks.com**
Or listen on Scribd**
I loved the Fractured Fables duology so I was really looking forward to Alix E. Harrow's new novel, Starling House, one of my most anticipated books of the year.
And what can I say, this book blew me away! I expected a gothic-y haunted house story. But it feels almost unfair to call Starling house haunted. It's a very special place.
This story has so many layers. Yes, it's gothic and creepy at times, it's also romantic and almost tender. Opal and Arthur are for sure not your average Romance couple. Their love story is weird yet so so romantic.
Natalie Naudus is perfect at bringing out Opal's rage, her desperation, as well as all the many beautiful and soft moments of this story.
Even though Halloween is over, Starling House is a must-listen!
Slayers: A Buffyverse Story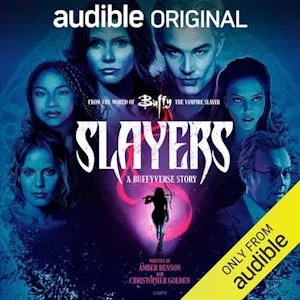 Christopher Golden (Author), Amber Benson (Author, Narrator), Charisma Carpenter (Narrator), James Charles Leary (Narrator), Emma Caulfield Ford (Narrator), Juno Dawson (Narrator), Laya DeLeon Hayes (Narrator), Anthony Head (Narrator), Juliet Landau (Narrator), James Marsters (Narrator), Danny Strong (Narrator)

Get the Audible book**
Was I counting down the hours for Slayers to be released? Why, yes, of course I was!
I used to be a huge Buffy fan, and it made me so angry when it came out what type of a person Joss Whedon is.
So, it meant a lot to me and was particularly great to see the beloved Buffy cast in the trustworthy hands of none other than Amber Benson. She is the co-author of Slayers.
Her character's fate in the TV show had left me sad and annoyed, but now we get a new twist on Tara.
It is a delightful development, seeing Tara back! In addition, of course, to revisiting Spike, Cordy, Rupert, and Clem, who I always kinda loved with his squishy face 😀
The production of this Audible Original is everything you'd hope for. Great sound effects, seamless dialogue scenes, great sound quality. You are listening to a movie!
I also truly appreciated that this wasn't the usual 2- or 3-hour audio special, but a full 8-hour audiobook length, allowing for a lot of story depth and character development.
Third Eye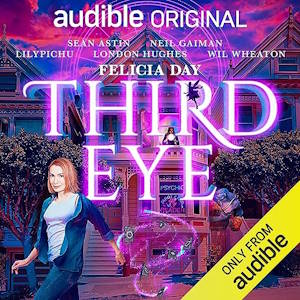 Felicia Day (Author, Narrator), Sean Astin (Narrator), Neil Gaiman (Narrator), LilyPichu (Narrator), London Hughes (Narrator), Wil Wheaton (Narrator), and a full cast

Get the Audible book**
Third Eye is a fun and unexpected Urban Fantasy story by Felicia Day. The author herself reads Laurel, a woman who was supposed to be the Chosen One and beat the evil sorcerer.
But she failed. And now, no one gets to use magic anymore freely. Everyone is pretty angry at her still, and she is basically an outcast.
Then a young girl finds her. Kate seems to be just a normal human, but she knows way too much. Could Laurel get a second chance to turn things right in the world of magic?
The cast of side characters is wonderful, as is the amazing group of voice actors, including Neil Gaiman as narrator.
This audio production is a pure pleasure to listen to for Fantasy fans!
Three Holidays and a Wedding
Uzma Jalaluddin (Author), Marissa Stapley (Author), Ulka Simone Mohanty (Narrator)

Get the Audible book**
Or get it on Libro.fm**
Or get it on Audiobooks.com**
This book is an absolute must-listen for anyone who loves Holiday Romance books! It's so charming and fun with a wonderful setting.
Anna and Maryam both have big plans for the holidays. Maryam's sister wants to marry, and Anna is supposed to spend the holidays with her boyfriend's family.
Their plans are derailed when a snowstorm forces the plane to land. Now they are stuck in Snow Falls, a town like in a Hallmark movie.
But the two women can't quite enjoy their unexpected vacation. Anna is trying to sort out the mess with her boss and her boyfriend. Maryam needs to make her sister's wedding happen. And both bond over the crushing responsibilities.
This is such a fun and captivating story, though, that pulls you right in with its wonderful group of people and the picture-perfect small-town setting.
Ulka Simone Mohanty did an excellent narration that brings it all to life!
Related article: The Best Christmas Audiobooks
Dragged to the Wedding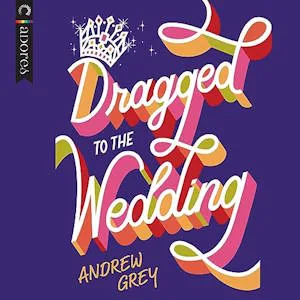 Andrew Grey (Author), Joel Leslie (Narrator)

Get the Audible book**
Or get it on Libro.fm**
Or get it on Audiobooks.com**
James is living his best gay life in Chicago. But when he has to visit his very conservative family in Montana to celebrate his sister's wedding, he has a problem.
He is not out to his family.
Fortunately, a friend introduces James to stunning Daniela, who agrees to be James' fake date for the duration of the visit.
However, Daniela is actually Daniel, aka Lala Traviata, a star drag queen!
Daniel's skills with make-up and clothing are exactly what the disastrous wedding needs, and soon, everyone – James and James' family included – is in love with "Daniela".
Dragged to the Wedding is a fun M/M Romance with lots of depth. And it is narrated by Joel Leslie, which, in itself, already makes this a must-listen audiobook!
Time to Shine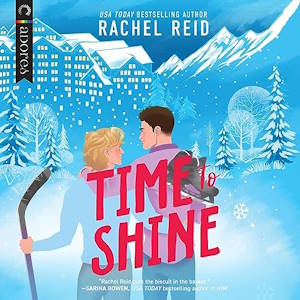 Rachel Reid (Author), Cooper North (Narrator)

Get the Audible book**
Or get it on Libro.fm**
Or get it on Audiobooks.com**
Landon gets to do what he loves most: He is a professional ice hockey player! But then, he is called up from his small-time team to play in the big leagues as a backup goalie.
He tries to keep a low profile around all the superstar players he gets to know now. Only, super chatty Casey just won't leave him alone.
It doesn't take long for Landon to find himself as Casey's roomie. And not much longer, and talks are had about one's sexuality…
Time to Shine is such a sweet Christmas Hockey Romance that gave me all the warm and fuzzies. The audiobook is narrated by Cooper North, who always does such wonderful things with Rachel Reid's moving stories.
The Woman In Me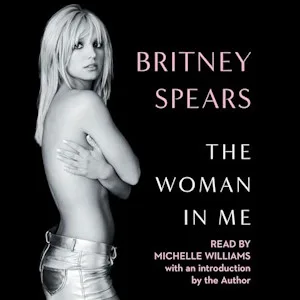 Britney Spears (Author), Michelle Williams (Narrator), Britney Spears (Introduction)

Get the Audible book**
Or get it on Libro.fm**
Or get it on Audiobooks.com**
Or listen on Scribd**
When I first heard about Britney Spears' upcoming audiobook, I instantly dismissed it because "she doesn't even read it herself". Yes, I'm a Judgy McJudgeface. I'm sorry!
When I found out WHY she couldn't read the audio version herself, I instantly pre-ordered the book and listened to it all the way through on release day.
This is an incredibly moving book that made me see Britney in a new light. Find my full review here: The Woman In Me by Britney Spears.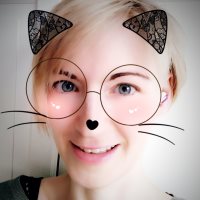 Eline Blackman (pronouns: she/they) fell in love with books as a child – with being read to and reading herself. 10 years ago, she bought her first Audible book. It was love at first listen! An average of 250 audiobooks per year has become the new normal and you will rarely see Eline without a wireless earbud. Romance and Fantasy are the go-to genres for this audiobook fan.
New Audiobooks, Reviews
/