The leaves are changing, the air is crisp, and all I want to do is cuddle up with a blanket, a hot cup of tea, and a great audiobook. Whether you are like me or need something to listen to while being out and about (or both), I'm sure my audiobook recommendations for October will keep you entertained throughout the month! From steamy Romance to fascinating Thriller, from spooky Young Adult to captivating Nonfiction, there's something for every mood.
Denise Williams is one of my favorite authors and her newest release, Do You Take This Man, is wonderful! RJ is a divorce attorney / wedding officiant which is an interesting mix in itself. And she's not thrilled about this dudebro who is the new wedding planner she has to work with. The two are so friggin adorable together!
I loved their banter and the voices of the amazing January LaVoy and Teddy Hamilton made this such a captivating audiobook. Huge recommendation!
Related article: My favorite Audible Alternatives!
I am SO IN LOVE with the Mead Mishaps series by Kimberly Lemming! It's such a cool fantasy world she has created here and That Time I Got Drunk and Yeeted a Love Potion at a Werewolf is a ton of fun. Brie is a very lovable heroine and Felix is the werewolf of my dreams really (yes, even though he is lactose-intolerant).
I love the balance of romance and quest in this book as much as in the first Mead Mishaps story. Hazel Addison did a wonderful narration that brought out the humor as well as the emotions and the adventure.
Related article: My favorite Monster Romance Audiobooks
The Kiss Curse by Erin Sterling is such a fantastic audiobook for fall and Halloween! I liked this second book in The Ex Hex series even more than the first and had an absolutely wonderful time listening to it. Shannon McManus' narration is so good and Graves Glen is a fun town with lots of Halloween vibes.
I really loved the chemistry between Wells and Gwyn and how both of them grow and change throughout the book.
Ravenfall by Kalyn Josephson drew me in right away. It's a Middle-Grade book with pretty creepy vibes, set in a wonderful magical town. I loved the descriptions of the inn and the stores, and how people with magic hide in plain sight from normal tourists here.
The heroine Annabella is 13 and like most people in her family, she's psychic. However, her gift is that she can see the deaths other people have observed. She finally gets the opportunity to put her ability to good use when a boy comes to her family's inn whose parents were murdered. And Annabella had recently touched someone who had seen these deaths! Now she wants to help the boy find his parents' killers. Keylor Leigh and Michael Crouch brought this story to life so well and have very fitting voices for the kids. A great listen for October!
I'm such a fan of John Scalzi's Audible-exclusive The Dispatcher series! I love that they're short and fast-paced, narrated by Zachary Quinto and his amazing voice, and how weird the set-up for this series is.
People do not die anymore when they're killed. Or rather, 999 in 1000 murder victims pop up alive and well in their home after the deed. Dispatchers help patients trying a risky procedure and victims of accidents by… well… killing them so that their bodies will be reset to a few hours prior. In this third book in the series, we see how dispatching is getting used in and after the pandemic. And of course, Tony also once again gets drawn into a weird case when one of his shadier colleagues appears to have tried to kill himself.
Related article: Spooky Audiobooks for Halloween
First, let me say that I have never actually read The Great Gatsby or even watched the movie. But that most certainly didn't impact my intense enjoyment of The Great Gatsby remix, Self-Made Boys by Anna-Marie McLemore! (Actually, I would probably be disappointed by the original now.) This book is at least as beautiful as its cover! It's at the same time raw and gentle while exploring what it meant to be trans and to have brown skin in the 1920s.
Nicolás, a trans boy, moves to New York where his cousin Daisy seems to be living a glamorous life! And that's where he falls for the mysterious Jay Gatsby. Avi Roque, who I adore, reads Nicolás' chapters, and Kyla Garcia reads Daisy's. This is such a beautiful, bright story that completely drew me in with its lovable characters. And the author manages to perfectly balance the impact that racism, homophobia, and transphobia (external and internalized) have, with the joyfulness of accepting spaces and finding people who understand you. One of my favorite audiobooks of 2022!
Drunk on Love is Jasmine Guillory's newest Romantic Comedy and it's incredibly enjoyable! Margot is adjusting to small-town life but when she meets a very attractive stranger in the local bar, she gives in to a night of fun. The next morning, it turns out that this very man is her newest employee, hired by her brother with whom she runs a winery. Margot feels horrible about it, not only because she's the guy's boss, but also because things with her brother are strained and she is worried what he would think if he found out.
I love the tropes in this book (ONS, boss / employee, younger man / "older" woman), but also Margot's and Luke's struggles with building their lives personally and professionally in a way that feels satisfying and sustainable. The narration by Heidi Franklin and Ryan Vincent Anderson is wonderful and really brought out all the emotions in this book!
Freya has often used the fact that she looks a lot like a famous actress to score some freebies, be invited into an exclusive nightclub, or get a table in a restaurant. Things get rather iffy when she runs into the other woman's fiance. And is photographed with him. Now Freya is being blackmailed by that very actress: Take over her duties for a while, move in with the fiance, or else. Freya never meant any harm and living with a man she finds secretly extremely attractive seems rather problematic.
I enjoyed Lillie Vale's new book so much! The forced proximity, the struggling writer heroine, the fanfiction… And I adored Taft Bamber! Imani Jade Powers and Andrew Eiden did a wonderful narration. A wonderful Romantic Comedy!
Mere Mortals was an unexpected hit for me. It's a Young Adult vampire story about two siblings who, after an "accident" with a human, are "sentenced to life". They are turned back into normal human teenagers and have to deal with everything that comes along with that age, from zits to high school issues. Of course, their entire focus is taken up by trying to get their sentence revoked and being turned vampire again. But some distracting boys enter the picture.
I adored Charlie's growth throughout the book, how she's starting as a vapid fashionista and then gains more insight into who she is and what matters to her and her brother. A very captivating story and I loved Jesse Vilinsky's narration!
The Rivals of Casper Road by Roan Parrish is the perfect cozy Fall Romance! All about Halloween decorations and small-town celebration, this is such a wholesome listen. It made me feel all warm about the coming colder season!
Bram is new in town and wants to befriend his neighbor Zachary. But Zachary is very concerned that Bram might endanger his own win in the annual Halloween decoration competition. The two start a prank war while also building up a friendship – and more. The audiobook is narrated by Greg Boudreaux. He has come to be one of my favorite male Romance narrators. Such a beautiful voice and great narration style!
This Paranormal Romance anthology is perfection! Chef's kiss! It's a beautiful mix of diverse and unique stories with monsters and supernatural beings you don't often encounter. I loved every single short story here and they were all narrated so well, too, with many different voice actors. I recommend this so much!
The authors are Kalynn Bayron, Kendare Blake, Kat Cho, Melissa de la Cruz, Hafsah Faizal, Sarah Gailey, Chloe Gong, Alexis Henderson, Adib Khorram, Anna-Marie McLemore, Casey McQuiston, Sandhya Menon, Akshaya Raman, Marie Rutkoski, and Julian Winters.
The narrators are Katie Koster, Catherine Ho, André Santana, Elena Rey, Keylor Leigh, Amin El Gamal, Carlotta Brentan, Mehr Dudeja, Reena Dutt, James Fouhey, Jesse Vilinsky, Annie Q, and Victoria Villarreal.
Before We Were Trans is wonderful! This is a nonfiction book about historical trans and gender nonconforming people. Dr. Kit Heyam has a very engaging writing and narration style that kept me glued to my headphones.
We learn, among others, about Egyptian and African historical figures, how gender roles worked in different cultures, and how people described themselves before the word "trans" emerged. The writing style is very lively and ties in with the author's own experiences and current themes. I highly recommend this audiobook!
Audiobooks I listened to in September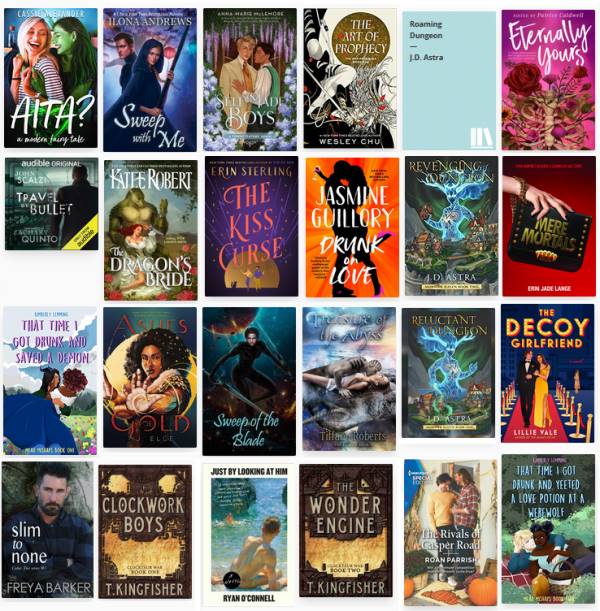 Things have not exactly calmed down in my personal life in September because apart from having to fix up our new house (which is an old house that needed some updates), we also had to spruce up our old apartment so we'd get back our deposit (which we will, hooray). And in all this stress, I figured out that it helped me immensely to increase my audiobook narration speed!
I've mostly listened at 1.2x in the past. That was my feel-good speed for a long time. But now that I'm so extremely busy all day, have so many things on my mind, and had two months where I couldn't manage a lot of audiobook listening, I figured out that increasing the speed to 1.8 really helped me to turn on my audiobooks again and get drawn into the story quickly!
The higher speed just matches my personal higher speed currently, haha.
I do hope that my life will slow down a bit again now. We still have a lot to do in the house, but at least we are entirely done with the move and the old apartment.
So yeah, in September, I finally listened to the Clocktaur War by T. Kingfisher. I've read all other books set in this world, but hadn't actually picked up the original duology yet, hah! No idea how that happened. Either way, I enjoyed Clockwork Boys and The Wonder Engine so much! I love the world, the characters, and the slow-burn romance mixed with some serious adventuring.
I also finally picked up The Art of Prophecy by Wesley Chu. And it was absolutely delightful! It's such a cool exploration of how prophecies are used in Fantasy… and what would happen if something went wrong!
Then I also listened to some very cool Paranormal and Fantasy love stories which you can check out in my brand-new Monster Romance book list! And I continued with the delightful Innkeeper Chronicles series in the GraphicAudio version and the Wings of Ebony series.
Lastly, I want to mention Just by Looking at Him which is such a captivating story! Ryan O'Connell reads the audio version himself and it feels so personal, this exploration of what you are looking for in life, in your relationship, and what it means to be disabled while living a life and having relationships. I found this such a compelling book!
Pin this Audio Book List for later: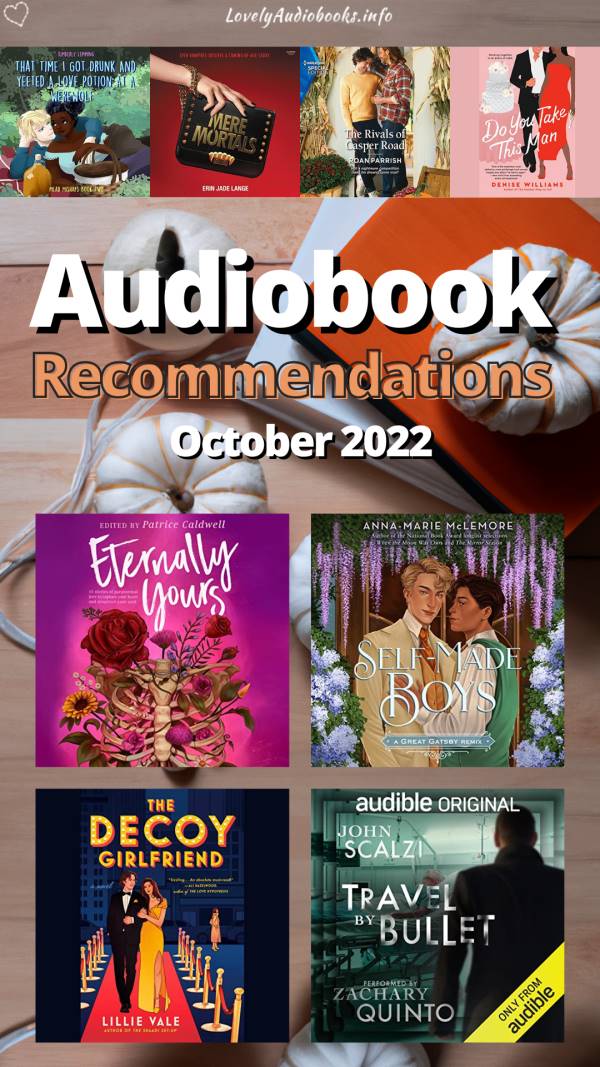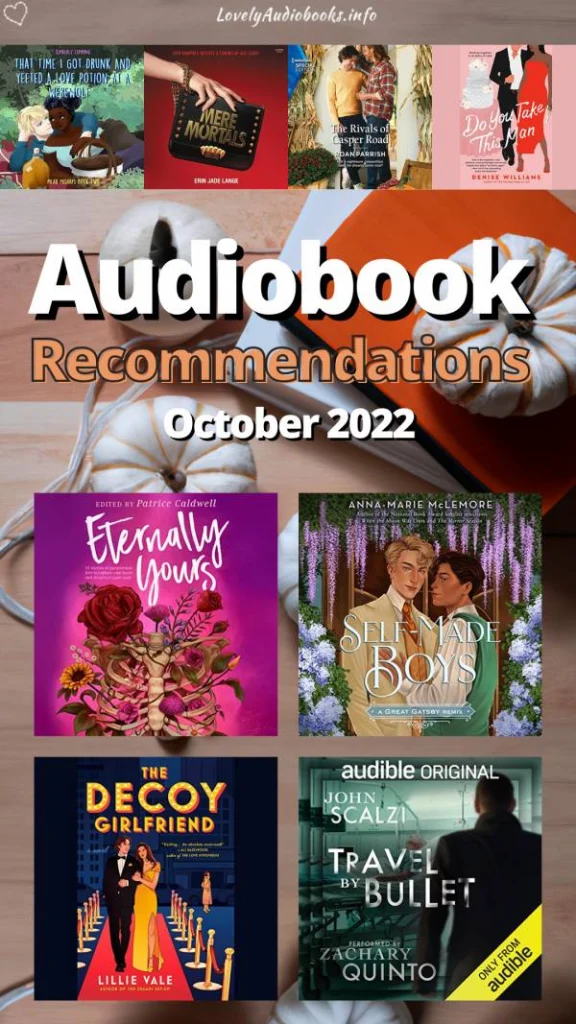 New Audiobooks
/