October has arrived, bringing with it a magical blend of crimson leaves, pumpkin spice, and a hint of mystery in the air.
For the October audiobook recommendations, I have for you a very mysterious thriller, a board game shop full of secrets, a potion witch, a smuggler, a beverage wench who can't remember anything, and two badass cats!
**The marked links and book covers on this page are affiliate links. If you use them to purchase something, I earn a fee at no additional cost for you. Disclosure**
Perfectly Nice Neighbors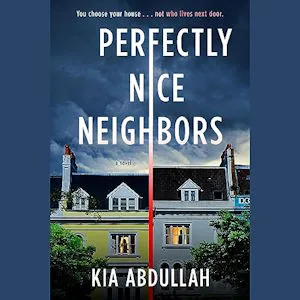 Kia Abdullah (Author), Tania Rodrigues (Narrator)

Get the Audible book**
Or get it on Libro.fm**
Or get it on Audiobooks.com**
I went on a Kia Abdullah binge after listening to her newest release, Perfectly Nice Neighbors (the title is Those People Next Door in the UK).
This author writes absolutely addictive Thrillers that force you to think about uncomfortable things and won't let you jump to easy and convenient conclusions.
In Perfectly Nice Neighbors, a husband, wife, and their son from Bangladesh move into a nice, polished English suburb. But soon, they notice little acts of aggression around their house, and the wife, Salma, is convinced that the next-door neighbor is to blame.
Things spiral completely out of control until someone gets seriously hurt!
The book moves from a domestic Thriller to a legal Thriller as things come to light bit by bit.
Tania Rodrigues did a breathtakingly good narration of Salma and everything she's going through. I can't recommend this audiobook enough to you!
Related article: The Best Audiobook Apps
A Nobleman's Guide to Seducing a Scoundrel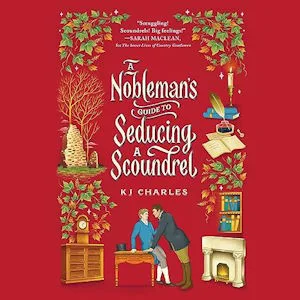 KJ Charles (Author), Martyn Swain (Narrator)

Get the Audible book**
Or get it on Libro.fm**
Or get it on Audiobooks.com**
The second book in The Doomsdays Books series is out, and I'm thrilled to report that it turned out fantastic!
Like a number of other listeners, I had a few issues with Martyn Swain's narration in book 1, and I truly appreciated that he seemed to have taken the listener feedback to heart. The narration of book 2 flows really nicely, and his wonderful voice shines here!
As for the story, we are quite a few years after the events of book 1, and the little boy Luke is grown up now. Frankly, he's a bit of a dirtbag, though, and gets himself involved in drama surrounding the new Earl of Oxney's right to his title.
But there's also a growing attraction between Luke and the Earl, Rufus, which only further complicates Luke's schemes.
This is a truly fun and entertaining audiobook that also works as a stand-alone.
This Spells Disaster
Tori Anne Martin (Author), Jeremy Carlisle Parker (Narrator)

Get the Audible book**
Or get it on Libro.fm**
Or get it on Audiobooks.com**
This Spells Disaster by Tori Anne Martin is a wonderful sapphic audiobook for October!
Morgan is a pretty average potion witch with a huge crush on the famous competition witch Rory. Morgan is sure that she could never catch Rory's eye.
But things happen, and Morgan ends up offering herself as a fake girlfriend to Rory to help her with her demanding family.
Fake dating doesn't make a crush any easier to handle. And just when Rory starts to show some attraction to Morgan, it turns out that Morgan accidentally gave Rory a love potion instead of a relaxation potion!
There's a lot going on for our heroine in this fun and captivating Romance. And Jeremy Carlisle Parker brought it all out so well in the audio version!
Related article: Spooky Audiobooks for Halloween that aren't Horror
Drinks and Sinkholes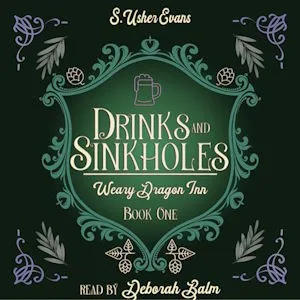 S. Usher Evans (Author), Deborah Balm (Narrator)

Get the Audible book**
Or get it on Libro.fm**
Or get it on Audiobooks.com**
Or listen on Scribd**
This one's for my fellow Cozy Fantasy fans!
Bev (which is short for beverage wench) runs the Weary Dragon Inn in a cute little village set in a medieval-ish fantasy world. Magic exists but is forbidden by law.
One day, a sinkhole appears. The first one is outside the village, but every day there's a new one. And they keep coming closer. Bev feels that she has to fix this and save her town!
S. Usher Evans' Drinks and Sinkholes perfectly manages to keep you invested in its characters and their quest while giving you all the cozy goodness of the Weary Dragon Inn and its famous food.
The audiobook is narrated by Deborah Balm, who wonderfully brings Bev to life.
Baby Bank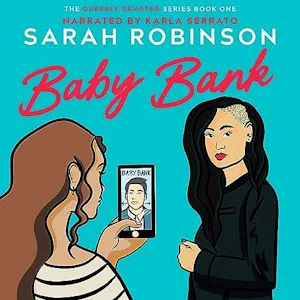 Sarah Robinson (Author), Karla Serrato (Narrator)

Get the Audible book**
I'm a huge fan of planned pregnancy Romance, and it was so much fun to listen to a sapphic love story with this theme.
Mila is 34 and decides that she doesn't want to wait any longer to have a child. She uses an app called Baby Bank to look for a sperm donor.
She finds a wonderful guy who is happy to help. But then it turns out that he is the brother of Mila's crush, Ari.
However, Ari makes it clear very early on that she has absolutely no interest in getting serious with an expecting mother.
Baby Bank is a book with a lot of depth that covers quite a few difficult topics. At the same time, Mila and Ari's story is incredibly charming and sweet.
I enjoyed this book and Karla Serrato's excellent narration a lot!
Starter Villain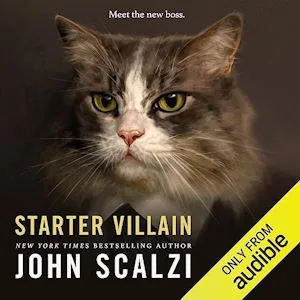 John Scalzi (Author), Wil Wheaton (Narrator)

Get the Audible book**
I'm a bit of a John Scalzi fan. I love the unexpected twists and weird settings of his novels. And Starter Villain, with its talking animals and fun approach to the whole "villain organization" thing, was really entertaining and did not disappoint!
Charlie isn't particularly successful in life, but then he inherits his uncle's business. Turns out, that business wasn't actually about parking spaces but is a global supervillain thing.
Now Charlie is supposed to take over the whole operation. Leading one of the biggest supervillain companies brings quite a few concerns and enemies with it.
Wil Wheaton did the audiobook narration, and while I wish he would use more different voices during dialogue scenes, I did enjoy how he brought out the dry humor of this fun book.
You, Again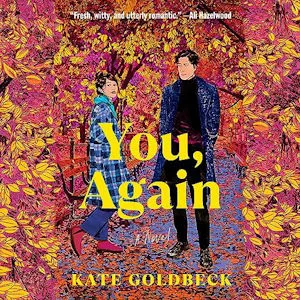 Kate Goldbeck (Author), Kristen DiMercurio (Narrator)

Get the Audible book**
Or get it on Libro.fm**
Or get it on Audiobooks.com**
Oh boy, this book was a ride!
You see, Ari and Josh are not likable people. Both of them have a ton of issues, and they are honestly a bit stupid. But their story was so captivating (not to mention scorchingly hot). And I got really, really invested in their relationship.
We accompany the two over the span of 9 or so years. Their first occasional meetings go very badly. They hate each other. Of course, it doesn't help that the first time they meet, they are both into the same woman.
Just that Josh believes she is his soul mate, while Ari just wants a good time.
And that's their issue going forward. Josh is looking for the one. And Ari… is not. For reasons that change over the years.
This is a very well-written book with characters that I couldn't get enough of, despite – or maybe because of – their flaws.
I love Kristen DiMercurio's voice, and it fits this story so, so well. A must-listen for Nora Ephron fans!
The Eye of the Bedlam Bride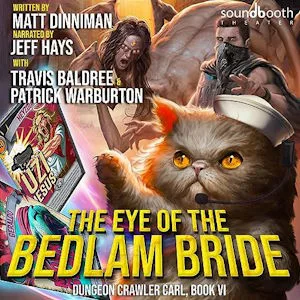 Matt Dinniman (Author), Jeff Hays (Narrator), Patrick Warburton (Narrator), Travis Baldree (Narrator), Annie Ellicott (Narrator)

Get the Audible book**
Oh yes, you all, book 6 of Dungeon Crawler Carl is out!
If you know, you know.
You might think that you have no interest in GameLit or LitRPG. But the thing is, Jeff Hays is an absolutely incredible audiobook narrator! And I have yet to meet someone who didn't fall head over heels in love with this series when listening to it.
So yeah, book 6 is out. It's as intense and compelling as the previous books. Princess Donut is once again an absolute star. And she gets autotune now!
Also, Jeff Hays once said in a video that he was going for a Patrick Warburton voice for Carl. So… seeing Patrick Warburton as a narrator for this book is a true treat!
I laughed, I cried, I absolutely adore these books because these characters grab you and won't let you go.
If you are not yet addicted to Dungeon Crawler Carl (or, actually, even if you are), you can start listening to the first chapters of the first book for free in a brand-new full-cast recording on the Soundbooth Theater website.
(And no worries, fellow fans, Jeff Hays still reads Carl and Princess Donut in this new version, the full cast is only for the side characters!)
Board to Death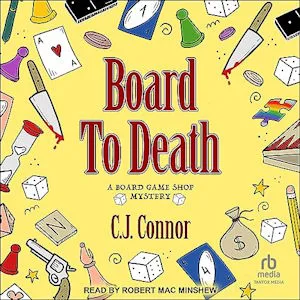 C.J. Connor (Author), Robert Mac Minshew (Narrator)

Get the Audible book**
Or get it on Libro.fm**
Or get it on Audiobooks.com**
Or listen on Scribd**
This is such a fun and wholesome queer Cozy Mystery!
Board to Death is about Ben, a divorced professor who returns to his hometown to take over his father's board game shop.
A customer offers him an old and rare game edition. Ben declines, but shortly after, the customer turns up dead. And the game is lying at Ben's door…
Now he tries to find out what happens, and he gets unexpected support from Ezra, the very friendly, very cute flower shop owner from next door.
Related article: Cozy Mystery Audiobooks
Ryan and Avery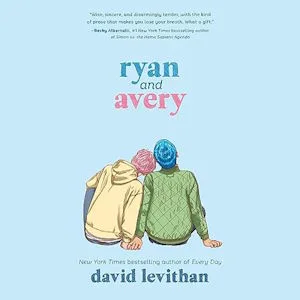 David Levithan (Author), Jamie K. Brown (Narrator)

Get the Audible book**
Or get it on Libro.fm**
Or get it on Audiobooks.com**
Ryan and Avery is such a beautiful, quiet book.
Ryan is a gay boy with very difficult parents. Avery is a trans boy with parents who always try to do right by him.
The two meet at a queer prom and instantly feel a connection. In the book, we get to accompany them on their first 10 dates while they navigate their lives at home and in school and figure out their feelings for one another.
I enjoyed this book so very much! It's tender and precious, and you can't help but feel deeply for these two kids.
Jamie K. Brown was a new-to-me narrator and did a wonderful narration that perfectly fit the characters and the tone of this book.
Cleat Cute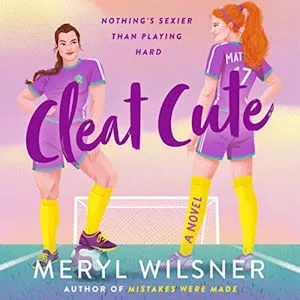 Meryl Wilsner (Author), Dana Varden (Narrator), Zim Avaltrades (Narrator)

Get the Audible book**
Or get it on Libro.fm**
Or get it on Audiobooks.com**
Phoebe is an up-and-coming soccer player. She's over the moon when she gets to join the team of her hero, Grace Henderson.
And it doesn't take long for the two to become friends with benefits. But as they are polar opposites – Phoebe the bouncy sunshine, and Grace the quiet grump – it's difficult for them to move forward.
Cleat Cute is a great Sports Romance that pulls you in with its fascinating characters. This is quite different from Meryl Wilsner's previous two books. And yet, with the excellent writing and story flow, it also isn't.
Both Something To Talk About and Mistakes Were Made have outside conflicts, while Cleat Cute focuses entirely on how Phoebe and Grace have to overcome their personal issues to find their way to one another.
I enjoyed the narration by Dana Varden and Zim Avaltrades very much!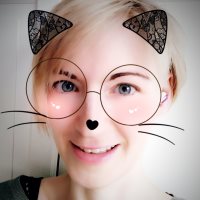 Eline Blackman (pronouns: she/they) fell in love with books as a child – with being read to and reading herself. 10 years ago, she bought her first Audible book. It was love at first listen! An average of 250 audiobooks per year has become the new normal and you will rarely see Eline without a wireless earbud. Romance and Fantasy are the go-to genres for this audiobook fan.
New Audiobooks, Reviews
/