My audiobook recommendations for September are a fun mix of Contemporary and Historical Romance, Urban Fantasy, and Nonfiction!
If we have a theme for this month's favorites, it's probably "people getting to know each other slowly and thoroughly". It's definitely one of my favorite things in Romance books at the moment: People opening up and really getting to know, appreciate, and like the other person before they enter coupledom.
You can read my audiobook recommendations below or listen to me chat about the books and play some hand-picked, exclusive excerpts in the podcast: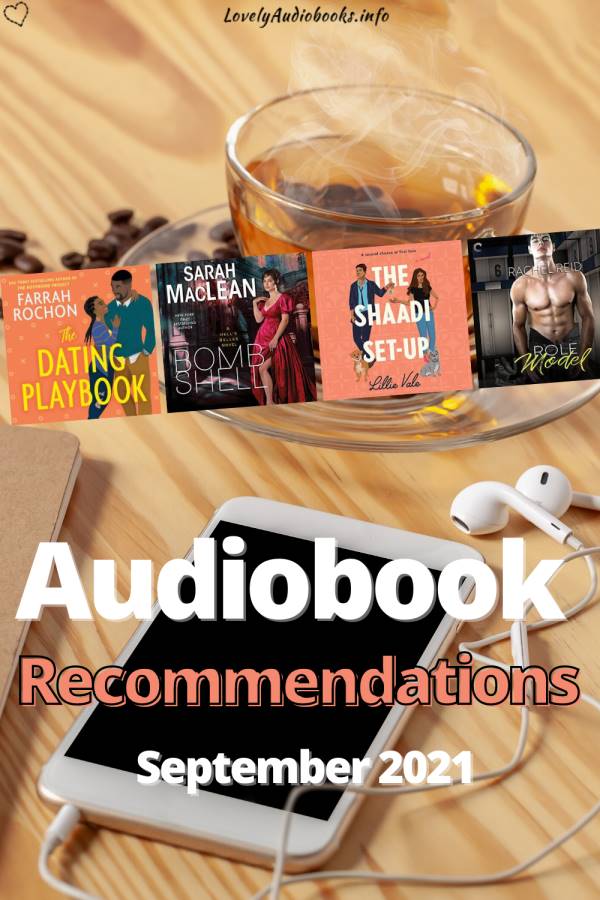 **The marked links and book covers on this page are affiliate links. If you use them to purchase something, I earn a fee at no additional cost for you. Disclosure**
My Favorite Audiobooks in September 2021
Wait For It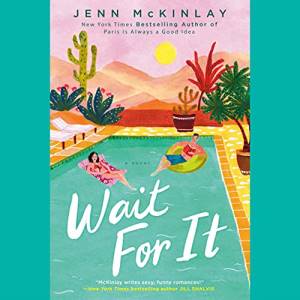 Jenn McKinlay (Author), Eileen Stevens (Narrator), Andrew Eiden (Narrator)
Get the Audible book**
Get it on LibroFM** (The first audiobook is free!)
Annabelle is a free spirit. She's an artist and a great friend with incredible people skills. She is sunshine! Her new landlord, however, is grumpy. Nick had a stroke at a very young age, something he tries to keep secret by staying at home. And he deals with illness-induced PTSD. From where I'm standing, the representation was very spot-on (oh, do I wish I couldn't judge that). I loved how everything comes together here for both Nick and Annabelle. Annabelle is genius at drawing Nick out and pushing his buttons. These two have the perfect grumpy/sunshine dynamic and I loved their talks. Wait For It is such a pleasure to listen to! Andrew Eiden is one of my voice crushes and Eileen Stevens was simply brilliant as Annabelle.
Related article: Why LibroFM is my favorite Audible alternative
Role Model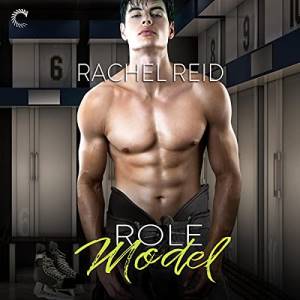 Rachel Reid (Author), Cooper North (Narrator)
Get the Audible book**
Get it on LibroFM**
Troy is a Hockey player who chose to stay in the closet. The homophobic slurs he encounters in games put him off any thoughts of coming out. But Harris, the out-and-proud social media manager of his new team, is too fascinating. So, Troy keeps seeking Harris' company. This book made me tear up because it was so insanely sweet! I loved how the two guys talked with each other. How carefully Troy approached Harris. So adorable, so emotional! Their relationship journey is insanely sweet and moving. Troy is the kind of tortured hero I just can't help but love. He comes so far in this book! And as I said in the introduction, it's so wonderful and romantic to see these two getting to know each other slowly and thoroughly. Cooper North is a wonderful narrator and the perfect fit for this audiobook!
Bombshell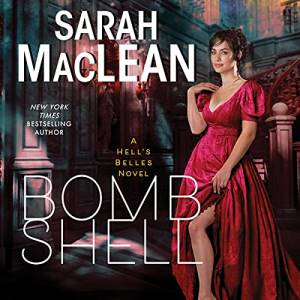 Sarah MacLean (Author), Mary Jane Wells (Narrator)
Get the Audible book**
Get it on LibroFM**
Bombshell is the first book in a new Historical Romance series, written by the amazing Sarah MacLean and narrated by my most favorite female Historicals narrator, Mary Jane Wells! This is a spin-off and if you have met the Soiled S's before, you'll be particularly thrilled about this. Sesily has built a scandalous reputation for herself which she uses strategically to take down bad men, together with her crazy gang of women who have skills and a taste for vengeance. When someone has a secret they will find it, and use it – if necessary. When Sesily encounters Caleb, she needs leverage over him, even though she is so very attracted to him. This was such a thrilling story! I love the girl gang theme and women helping women in need.
The Dating Playbook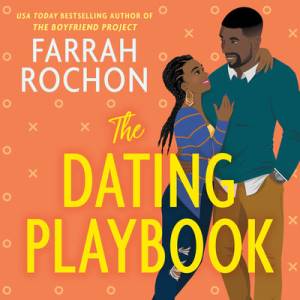 Farrah Rochon (Author), Rebecca Lee (Narrator)
Get the Audible book**
Get it on LibroFM**
Taylor is building her fitness business, but things aren't exactly going smoothly. When former football star Jamar offers her a position as his personal trainer, it sounds like the perfect way to boost her career. And it's such a shame when her great plan is screwed up by the rumor that Taylor and Jamar are a couple. While the two have insane chemistry, Taylor wanted to keep her distance and stay professional. But hey, everybody knows that a fake relationship will solve all your issues, right? Right! I love Farrah Rochon's voice and writing. She has such likable and relatable heroines! And the narration by Rebecca Lee was absolutely amazing. This Sports Romance is so wonderful and completely captivating!
Related article: Farrah Rochon's The Boyfriend Project is one of my favorite Office Romance books
Bad Witch Burning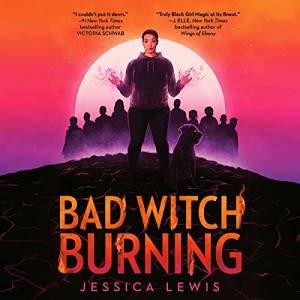 Jessica Lewis (Author), Kamali Minter (Narrator)
Get the Audible book**
Get it on LibroFM**
Katrell can talk to ghosts, an ability she uses to make some money. Her mom is unemployed and rather spends her time with her boyfriend than be a parent. Katrell works a full-time job in addition to going to school, so she can pay rent and buy food. When her abilities change and she finds out that she can bring back the dead, she hopes that all her problems are finally solved. Now she can make some real money! But it turns out that undead people aren't entirely unproblematic. Bad Witch Burning is at the same time a gripping Urban Fantasy and a deeply moving, all too realistic story about a teen who has to take on responsibilities because of a neglectful parent. Kamali Minter is the perfect voice for Katrell. This is an insanely captivating audiobook that I binged in a day. I couldn't turn it off!
Related article: 13 Spooky Audiobooks for Halloween that aren't Horror
Miss Lattimore's Letter
Suzanne Allain (Author), Elizabeth Knowelden (Narrator)
Get the Audible book**
Get it on LibroFM**
Sophronia (yeah, it's an unfortunate name, poor thing) has embraced her role as "poor relations" and companion for her cousin. But then, two men enter her life, one who wants to marry her, and one she wants to marry. This is a short and fluffy Historical Romance novel with an interesting setting (Bath instead of London) and many lovable characters. It's not just one couple who finds their HEA here. Since Sophie becomes a matchmaker with quite a reputation, we see more people fall for each other or work out the issues in their relationship. I really enjoyed this aspect of the story, as well as Sophie's relationship with her remaining family. Elizabeth Knowelden is a wonderful British narrator and this is a very fun audiobook to listen to!
The Shaadi Set-Up
Lillie Vale (Author), Rukhmani K. Desai (Narrator)
Release: Sept. 07
Get the Audible book**
Get it on LibroFM**
After an awful break-up, Rita is done with serious relationships. She has a boyfriend for some bedroom action and she doesn't want more. But then her mother brings her ex-boyfriend, the one who caused all her heartache, back into her life. And Rita gives in and agrees to work with him on a project. The Shaadi Set-Up is the book equivalent of a cozy, upcycled cottagecore blanket! It's an emotional second chance romance with a wonderful couple and a beautiful setting. I enjoyed Rukhmani K. Desai's narration, although I would have wished that the voices during dialog scenes would have been a bit more easily distinguishable.
Against White Feminism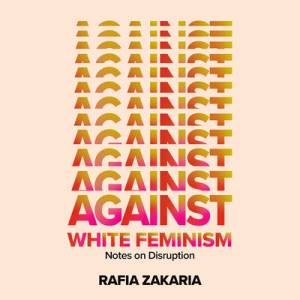 Rafia Zakaria (Author), Ulka Simone Mohanty (Narrator)
Get the Audible book**
Get it on LibroFM**
I like to listen to at least one Nonfiction book per month and this month's choice left a huge impression and answered so many questions for me. Against White Feminism connects Anti-Racism and feminism. Rafia Zakaria discusses how mainstream feminism in its current form has been shaped by upper middle class white women without regard or respect for Women of Color, their feminism, and their cultures. She shares her experiences with the tiny mold white feminists have created to decide who's a feminist and who can't be, and how much of the white feminist activism we see today is a direct continuation of colonialization. I found this book very eye-opening! It is an incredibly sad read, but it's an important and very well-written one. And it is definitely worth it to pick it up in the audiobook version and listen to it read by Ulka Simone Mohanty!
Between Cases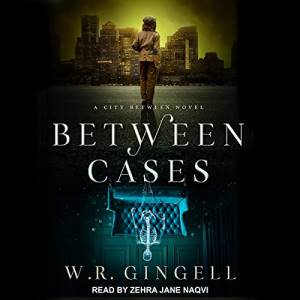 W.R. Gingell (Author), Zehra Jane Naqvi (Narrator)
Get the Audible book in a deal**
This is at the same time my backlist recommendation and a new release! Between Cases is book 7 in The City Between series, an Urban Fantasy that completely drew me in from the first minute on. I basically spent half of August devouring these books. I even read two companion stories with my eyes on Kindle Unlimited!! Me!!! An ebook!!! If you can see yourself falling for a heroine who herself doesn't instantly fawn all over the fae and vampire, if you can appreciate great world-building, if you want to read an Urban Fantasy set in New Zealand instead of "the usual places", there's a pretty good chance you will binge this as I did. I couldn't get enough of Pet! And Zehra Jane Naqvi was absolute perfection! This is an ongoing series that should be read in order. All ebooks are included in Kindle Unlimited and the audiobooks have a Whispersync deal. Please start with Between Jobs**!
Sponsors
In September, we have two sponsors with their newly released audiobooks:
Damaged Hearts – an M/M Contemporary Romance, written by Jan St. Marcus and narrated by Toby James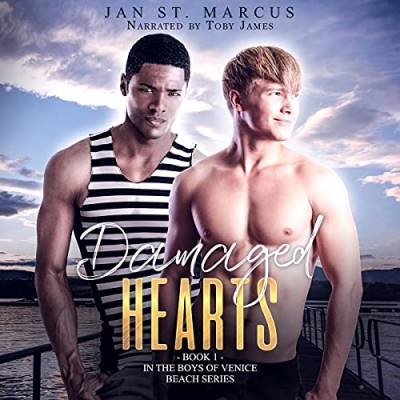 The Summer Breeze – a Women's Fiction with a sweet Romance, written by Shail Rajan and narrated by Leslie Gray
Thank you, Jan St. Marcus and Shail Rajan!
Both audiobooks have Whispersync deals.
Backlist Recommendation
This month, I also have one more backlist audiobook recommendation for you:
Unforgivable by Joanna Chambers
This is a must-read Historical Romance and I'm so glad I finally got around to listening to it! After a bad illness, Rose looks very unattractive. But her father manages to secure her a match that would have seemed entirely out of her reach, an Earl. Unthinkable for a commoner like her, even though they are rich. Rose just didn't think they were that rich. I absolutely adored Rose, such a smart heroine! There was a lot of back and forth between Rose and Gil, but the two are very clearly meant for each other. It's a very romantic story and I enjoyed the narration by Lucy Rayner very much. I listened to the audiobook on Scribd.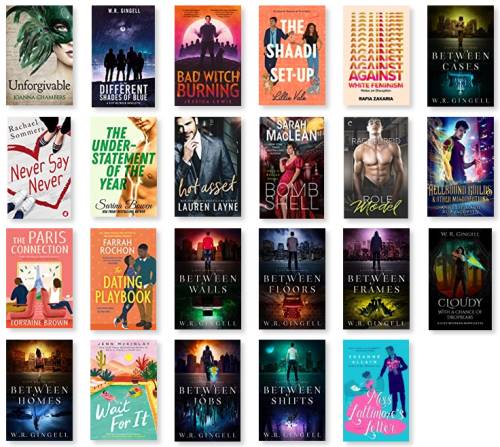 Which books do you recommend this month?
Please tell us in a comment below about the books and audiobooks you've enjoyed (or didn't) lately!
If you have a book blog you can also add a link to your book reviews directly in the InLinkz tool below.
This is not limited to audiobooks! You can share any type of book review, be it negative or positive, for print books, ebooks, or audiobooks, a list of mini-reviews for several books, or a discussion of one book, with spoilers or without, Romance, Horror, Non-Fiction, or anything in-between! If it's a book review, you can share your link with us through the tool so we can all visit your blog.
You can also check out this Introduction to the Monthly Link-Up.
New Audiobooks
/