Fall is in the air and with it comes a new batch of audiobooks I want to recommend to you! I have some very fun Romantic Comedies for you, but also superheroes, werewolves, and witches for those who are already preparing their pumpkins. So curl up with a blanket, get your scented candles out, and get ready for some listening fun!
I was worried about listening to Husband Material. Does that make sense? Boyfriend Material is one of my absolute favorite comfort reads ever. And I was honestly a tiny bit worried if Husband Material could keep up with my immense love for Boyfriend Material. Well, what can I say, the audiobook had me laughing out loud in the first 5 minutes! And it was not only wonderful to be back with the gang and meet these delightful characters again. But this story also stands absolutely on its own and was the perfect continuation of Boyfriend Material!
I loved every minute of this book and savored it like my favorite chocolate. Joe Jameson once again did a perfect job of bringing these people to life. One of my favorite audiobooks of 2022!!
Related article: My favorite Audible Alternatives in 2022
A Joel Leslie narration and werewolves? Well, I was in the moment I saw Pack of Lies by Charlie Adhara! This M/M Romance has a central mystery and a bit of a creepy feeling. It's a perfect listen for this time of year!
Eli and Julien both have a lot of secrets and it takes time for them to grow closer. Especially because they are quite busy with the weird things that keep happening in Maudit Falls. It was fascinating to discover the supernatural world with Julien and I was so captivated by this book! It has a great cast of characters in an awesome manor house mystery setting.
Adelaide might seem like a lady, but she's also a gifted and well-trained pickpocket. She excels at becoming invisible by artfully wielding wallflower-dom. So, when the Duke of Clayborn surprises her during a heist, he really screws up her perfectly laid plans of staying entirely undetected.
Heartbreaker by Sarah MacLean is a super fun, fast-paced Historical Romance with a cross-country carriage chase that also makes room for a really sweet (and steamy) love story. The audiobook is narrated by Mary Jane Wells. Need I say more?! She is such a gifted narrator and I loved every second of it!
The setting for How to Date a Superhero (And not Die Trying) by Cristina Fernandez is a bit similar to The Extraordinaries by TJ Klune, but it's a very, very different book! Astrid is so in love with Max and that doesn't change when Max tells her that he is a superhero. It does, however, explain his weird absences. Astrid is pre-med and she works HARD. Her entire focus in life is to succeed academically.
Which maybe made the tone of this book sound so very depressed to me. I adored Astrid but I felt that I recognized her and her emotions a bit too well. She is burning herself out. Every minute of every day is meticulously planned, even her panic attacks. And all I wished was for her to find a happy ending.
This isn't a book for every mood, but when you are in the right mood it is wonderful and deeply captivating. Chloe Dolandis was new to me and did a fantastic narration of this story, Astrid, and the overall atmosphere of how it feels to be a normal person with a normal life in a world with supers.
Would You Rather by Allison Ashley has a marriage of convenience and a chronically ill heroine, two themes that I love in Romance novels! I struggled a little bit with Mia's view of herself and her illness as a burden to everyone around her. That hit rather close to home and is an issue with me and not with the book. I loved Noah and Mia together, the way they talked and joked, their wonderful friendship…
I also particularly enjoyed how their marriage of convenience started and "ended" (for lack of a better word, you'll probably know what I mean when you listen to the book). Courtney Patterson did a fantastic narration with a great set of voices for the different characters!
The Very Secret Society of Irregular Witches is a cozy found-family story with a heartwarming romance and three very explosive witch children! I instantly fell in love with thoughtful, lonely Mika Moon and the wonderful people from Nowhere House.
This is a heartwarming, captivating story about finding a place to belong – even if you're a witch. And Samara MacLaren brought it to life beautifully!
Related article: My favorite weird and spooky Audiobooks for Halloween
The Witches of Moonshyne Manor is so entertaining! Such a fun cast of characters and a wonderful, fast-paced story. The five octogenarian witches who live in Moonshyne Manor think up a wild plan to save their home and business. And they get unexpected help on the way.
I loved how short interludes with the women's spells were mixed into the story. And Amy Landon is always such a pleasure to listen to!
How could I resist an audiobook read by Keylor Leigh and Joe Arden? Obviously, I couldn't! Stirring Up Love is a tasty culinary small-town Romance. Simone is a chef who returns to her hometown to take over her grandfather's barbecue restaurant. There she meets Finn who is trying to sell his own barbecue sauce. The two turn into rivals at their local farmer's market. But this only gets worse when they compete for a start-up budget on reality TV. This is a very fun Enemies to Lovers story with a fantastic narration!
I love The Boyfriend Project series! The first book set up the series with such a fun premise of three women becoming friends after they figure out that they are all dating the same guy. And now each of these wonderful women has found their real soulmate! The Hookup Plan is about London who is incredibly ambitious but also so warm and caring. Well, she's a pediatric surgeon and that's really the perfect job for her. Drew was a former high school friend, turned One-Night-Stand, turned "the guy who gets to decide what happens with the hospital where London works".
So, there is a whole lot to work out for those two here! Marissa Hampton did a wonderful narration and I can highly recommend this audiobook to my fellow Contemporary Romance fans!
Last year, I had a wonderful time with The Love Hypothesis by Ali Hazelwood. And I liked Love on the Brain even more! This book has a wonderful, satisfying Rom-Com atmosphere. It made me feel the warm and fuzzies, it's (mostly) light and happy, but there's also a little bit of science-y intrigue and SO. MUCH. PINING! I'm a sucker for pining. And this book does it absolutely perfectly!
I love the NASA setting and having a STEM heroine again. And yeah, Enemies to Lovers that is really unrequited love? Agh, this book really got to me! Brooke Bloomingdale did a wonderful narration for the audio version of Love on the Brain.
Ooh, did I adore Ben and Beatriz! My heart broke so much for Beatriz who carries a lot of trauma with her. And I loved getting to know Ben with her, the immensely rich white cishet dude who queer dark-skinned Beatriz hates with a burning passion.
There are a lot of sex, drama, and rich people problems here. But there's also a beautiful romance and an ending that warmed my heart and that I loved so much for these two people who I grew to care about so very much throughout the book. James Fouhey and Aida Reluzco were new narrators to me and they were wonderful to listen to and fully embodied Ben and Beatriz!
Audiobooks I listened to in August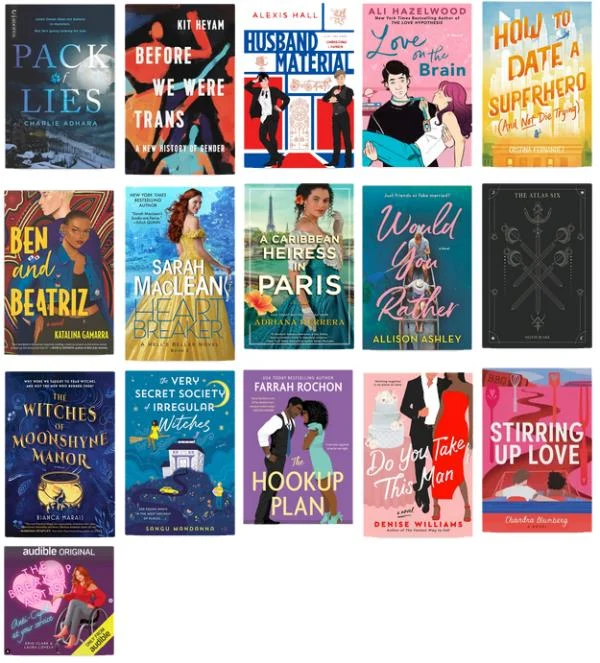 August was… an interesting month over here. I went into a bit more detail in my last newsletter. There was a bunch of good stuff, and also some bad stuff. But for now, everything is going well, so yay 🙂 I didn't get my usual audiobook listening time in though, so I only finished 16 audiobooks in August.
Aside from the newer releases that I recommended above, I also want to mention A Caribbean Heiress in Paris by Adriana Herrera. It's such a beautiful Historical Romance and I can highly recommend it!
I also listened to The Atlas Six. I couldn't fully connect to the actual story, but it was still worth it to listen to the audiobook because the production is wonderful with six very skilled voice actors. Good times were had!
Two books from the screenshot above were early listening copies and I will talk more about them in the October audiobook recommendations. So stay tuned for that 🙂
Pin these Audiobook Recommendations for later: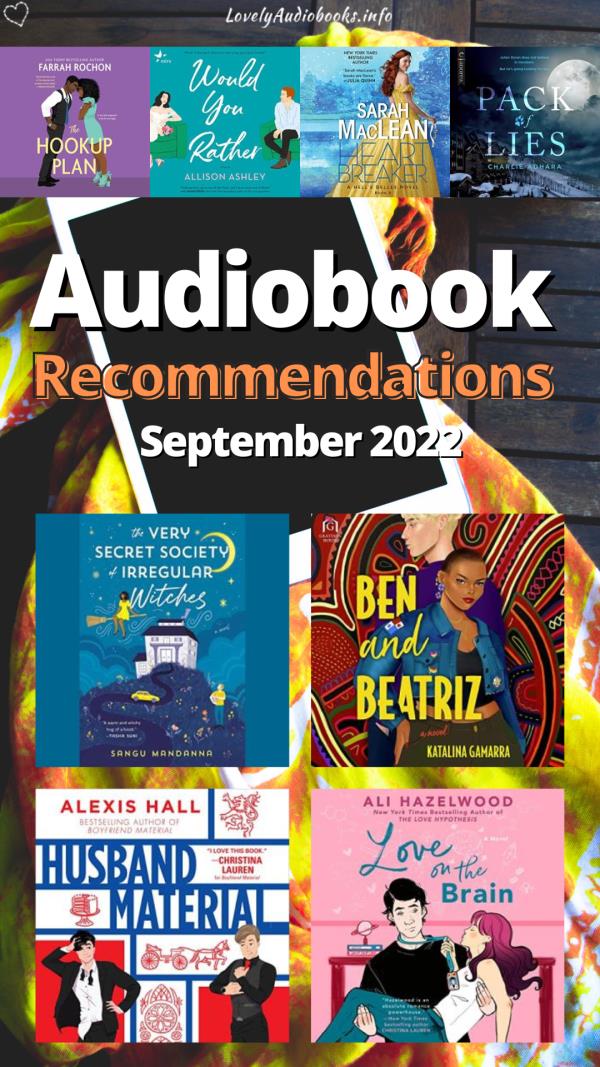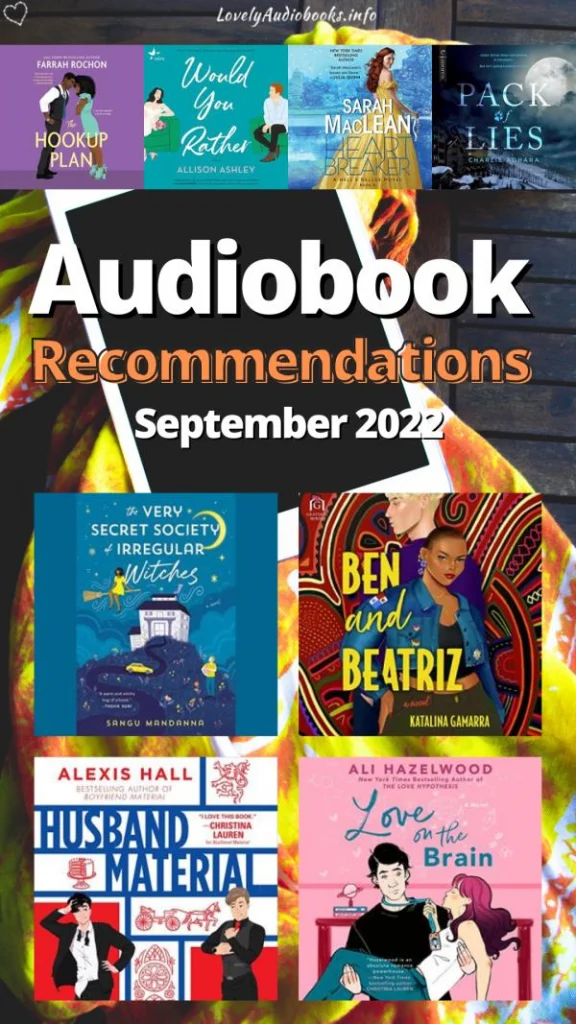 New Audiobooks
/