I'm just gonna say it: Summer was too short! I know, I know, you probably live in an area with actual "cute sweater weather" where Fall is a lovely time of year. But you see, most of my Summer was rainy, and now I'm not thrilled to move into the time of year when it's not only rainy but also cold. Only sweaters indoors for me.
Nevertheless, some of my audiobook recommendations for September are Fall-themed!
We have a wonderfully creepy Thriller, witches, and a toad girl for those who can't wait to get into that Halloween mood. There's also a bit of Romantic Suspense to get your chill on. And, of course, sweet, sweet Romance to cozy up with and enjoy a cuddly blanket and a cup of tea
**The marked links and book covers on this page are affiliate links. If you use them to purchase something, I earn a fee at no additional cost for you. Disclosure**
I'm Not Done with You Yet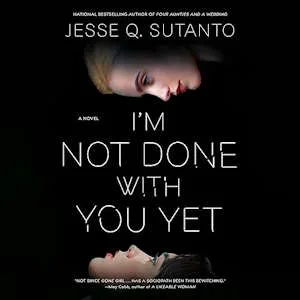 Jesse Q. Sutanto (Author), Yu-Li Alice Shen (Narrator), Saskia Maarleveld (Narrator), Leiana Bertrand (Narrator), Eunice Wong (Narrator)

Get the Audible book**
Or get it on Libro.fm**
Or get it on Audiobooks.com**
Or listen on Scribd**
I'm such a fan of Jesse Q. Sutanto! And while I'm not much of a Thriller reader usually, I would follow her into any genre.
I'm Not Done with You Yet had me hooked for the entire duration. Jane cracked me up several times, and I loved the narration by Eunice Wong. I adore her voice, and she so dryly presented Jane's rather violent thoughts.
Jane is a fairly unsuccessful midlist LitFic author. She has a publisher, but her books don't earn out, and her advances make her writing more of a hobby than an actual occupation.
She hates her husband and their life together, and Jane is really, really angry. All the time. She also believes that she is a sociopath.
Then she has the opportunity to meet with the woman who was her best friend in grad school – a woman Jane was utterly and completely obsessed with!
While Jane herself kept me hooked quite well, I did not see the twists and turns coming. There are quite a few revelations coming your way later on in the book. And the ending was a whole thing of its own!
I'm not a particularly practiced Thriller reviewer because I'm sure Thriller fans quite expect a fair share of twists and turns, haha. With four narrators, this audiobook is excellently produced, so much fun, and, for me, one of the best audiobooks of 2023!
New Adult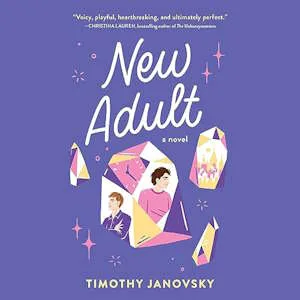 Timothy Janovsky (Author), Mark Sanderlin (Narrator)

Get the Audible book**
Or get it on Libro.fm**
Or get it on Audiobooks.com**
Or listen on Scribd**
New Adult, the latest book by Timothy Janovsky, really lends itself to book club discussions because, for long stretches there, I was really unsure which outcome I wanted or hoped for!
I suppose, in that sense, this is first and foremost a Fiction novel and less so a Romance novel since we do have the HEA, but, at least for me, the inner conflict of the main character and his journey were at the center of this story.
I will put my thoughts behind a spoiler tag, but technically, everything I discuss here about the story is already included in the blurb.
With Love, From Cold World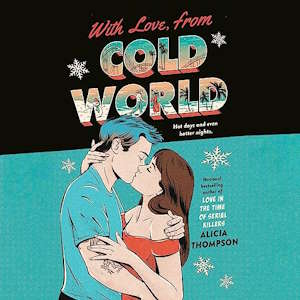 Alicia Thompson (Author), Lindsey Dorcus (Narrator)

Get the Audible book**
Or get it on Libro.fm**
Or get it on Audiobooks.com**
With Love from Cold World by Alicia Thompson completely charmed me! I adored the way the chemistry between Lauren and Asa builds up.
The two start out as annoyed co-workers, enemies if you will, but the attraction is undeniably there.
Asa is bisexual, and the author took such wonderful care in portraying him! Asa's sexuality is not abused as an accessory to make him "edgy" or whatever, like I've encountered in other books. It is an integral part of who he is, how he interacts with Lauren, and also what he does with Lauren once the two get more intimate with one another.
With Love, From Cold World takes the enemies-to-lovers trope and puts it in a wonderful, fresh packaging with two main characters that feel relatable and real.
This is a truly, truly great book and one of my favorite Romance audiobooks of the year!
Thornhedge
T. Kingfisher (Author), Jennifer Blom (Narrator)

Get the Audible book**
Or get it on Libro.fm**
Or get it on Audiobooks.com**
Or listen on Scribd**
Thornhedge is an enchanting Briarrose retelling with an entirely different angle!
At times, this is a sad and contemplative book. It's about how everything isn't always as it seems, how stories like to follow a certain narrative even if it doesn't match with reality.
Toadling is the heroine of this story, though. She lives in a swamp near a castle surrounded by brambles. And one day, a knight disturbs her peace and quiet. He has heard about a princess sleeping in a tower. And he sat out to rescue her.
But Toadling and the knight talk…
Thornhedge is, of course, a must-listen for all my fellow T. Kingfisher fans. But you should also grab this if you enjoy fairytales and the fae!
Knockout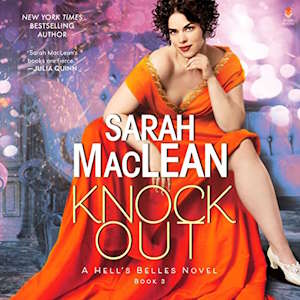 Sarah MacLean (Author), Mary Jane Wells (Narrator)

Get the Audible book**
Or get it on Libro.fm**
Or get it on Audiobooks.com**
Or listen on Scribd**
Yay, Sarah MacLean's newest Hell's Belles novel is finally here! And it's delightful!!
We finally get to know Imogen better, the lady who likes to blow things up and always carries a huge carpet bag full of secret things with her.
Mary Jane Wells is once again an absolute blast to listen to as she brings Imogen to life. This narrator never fails to crack me up.
The noble lady is very drawn to the strapping Scotland Yard detective who is first and foremost concerned with what Imogen will blow up next, and if he can save her from any collapsing buildings she's traipsing through.
Like the previous Hell's Belles books, this isn't only a funny romp though. Imogen and her friends take their calling very seriously and make a difference for many women. And the good detective will have to choose which side he is on!
To Have and To Heist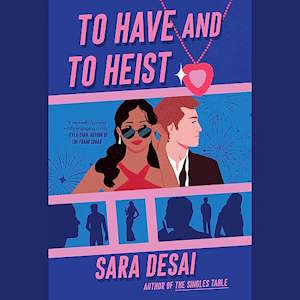 Sara Desai (Author), Soneela Nankani (Narrator)

Get the Audible book**
Or get it on Libro.fm**
Or get it on Audiobooks.com**
On the one hand, I had a few issues with this book. On the other hand, To Have and to Heist was so wildly entertaining with a big cast of absolutely lovable people that I still want to recommend it to you!
The issues I had were mostly with my personal preferences and with me questioning why I even have them. Let me put the specifics behind a spoiler tag…
That brings us to Simi. At times, I found her a bit annoying and oblivious. However, that did work out with her journey of personal growth (for some people, apparently, planning a heist is part of that, haha).
I adored Simi's team, especially the elderly lady and the geek, as well as the best friend! Overall, I felt that the whole heist storyline and all of these different people coming together with different motivations worked out really well.
If you're looking for a fun and wild story that will make you laugh at times but that also offers sexy times and some suspense, this is a great audiobook to get!
The Blonde Identity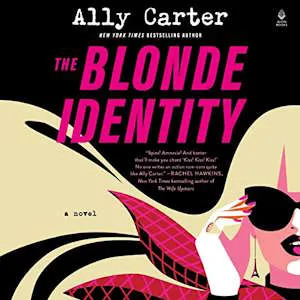 Ally Carter (Author), Emily Ellet (Narrator), Andrew Eiden (Narrator)

Get the Audible book**
Or get it on Libro.fm**
Or get it on Audiobooks.com**
Or listen on Scribd**
At the beginning of The Blonde Identity, our heroine wakes up in the snow, in Paris, with amnesia. She doesn't know who she is and how she ended up there. But she certainly notices that a lot of people are after her. Scary!
Fortunately, she meets Sawyer, who promises her that he is absolutely one of the good guys, an agent, and that he will protect her. Yay!
This book is a wild ride! It's a super fun spy Romantic Comedy with lots of action, some suspense, jumping off bridges, people being shoved out of trains, and all these kinds of things. Also, lots of snow angels!
Emily Ellet did a wonderful job filling our unnamed heroine with life and keeping me wondering throughout what was actually going on. Andrew Eiden is always a pleasure to listen to and makes an excellent secret agent!
Stolen Sorcery & Other Misadventures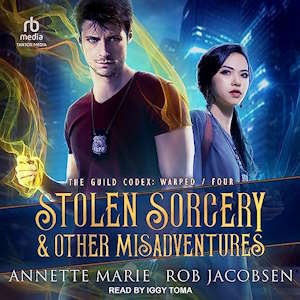 Annette Marie (Author), Rob Jacobsen (Author), Iggy Toma (Narrator)

Get the Audible book**
Or get it on Libro.fm**
Or get it on Audiobooks.com**
Or listen on Scribd**
If you regularly check out my monthly audiobook recommendations, you know I adore Annette Marie's Guild Codex series – and you probably do, too. So, I'm happy to report that there's a new book to enjoy!
Stolen Sorcery & Other Misadventures is book 4 in what I believe will be a six-book series. There's a lot of action here, which I loved, and Kit and Lienna are even almost talking about their feelings, finally, haha.
The entire MPD is being twisted and turned, and Kit and Lienna have to disappear. They also get help from Robin and Zylas, which is simply excellent!
If you have no idea what I'm even talking about but are curious, simply start at book 1 in the Guild Codex: Warped series. Annette Marie's wonderful Urban Fantasy universe has more series, but each can be read on its own and is excellently narrated.
Related Article: The Best Urban Fantasy Audiobooks
The Book of Witches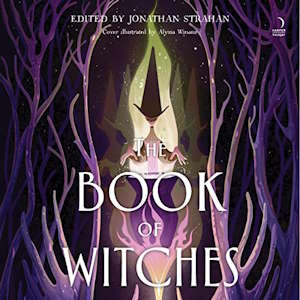 Jonathan Strahan (Author), Vikas Adam (Narrator), Anniwaa Buachie (Narrator), Rainy Fields (Narrator), Eva Kaminsky (Narrator), Johnathan McClain (Narrator), Vyvy Nguyen (Narrator), Deryn Oliver (Narrator), Logan Rozos (Narrator), Bahni Turpin (Narrator)

Get the Audible book**
Or get it on Libro.fm**
Or get it on Audiobooks.com**
Or listen on Scribd**
If you enjoy anthology audiobooks as much as I do, I can warmly recommend to you The Book of Witches!
You can find stories and poems here from around the world as well as from a variety of different backgrounds. Some of them are more Urban Fantasy, while others create elaborate Fantasy worlds with just a few words.
The group of voice actors was incredibly well chosen, making this a wonderful listening experience and a great audiobook to start your Halloween-themed listening!
Related Article: The Best Halloween Audiobooks that aren't Horror
Easy Money: Cryptocurrency, Casino Capitalism, and the Golden Age of Fraud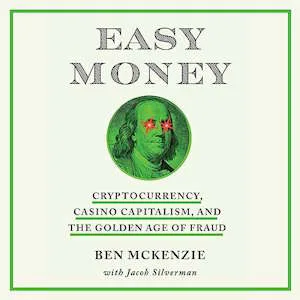 Ben McKenzie (Author, Narrator), Jacob Silverman – contributor (Author)

Get the Audible book**
Or get it on Libro.fm**
Or get it on Audiobooks.com**
Or listen on Scribd**
This month, I also have a nonfiction recommendation for you! I stumbled over an article about Ben McKenzie recently, who you might remember from The OC or Gotham.
Apparently, the actor has become a well-known crypto skeptic!
This will sound weird, but ever since I read about BitCoin in Penny Reid's Neanderthal Seeks Human, I did kind of regret that I didn't buy some at that time.
However, when BitCoin went through the roof and NFTs entered the scene, I became rather skeptical about the whole thing. Especially NFTs seemed very sketchy.
So, given my interest in the topic and my curiosity about a book on it written by Ben McKenzie, I quickly picked this up. And I can tell you that it is not only a pleasure to listen to this man read his own book, I also found the content itself very captivating!
It's entertainingly written while also giving back a lot of developments in the cryptocurrency scene that I hadn't been aware of.
If you have a bit of an interest in this topic, do grab this excellent audiobook!
New Audiobooks, Reviews
/