Are you looking for the best audiobook subscription services that are really worth it? You have come to the right place!
Audiobooks have become a very popular form of entertainment for busy people. Thanks to audiobooks, it's much easier to find the time to enjoy a book. But with so many audiobook subscription services available online, it can be hard to decide which one is right for you.
In this blog post, I will compare the best audiobook subscription services with a flat monthly fee, discuss the differences, and help you choose the one that is perfect for your needs!
**The marked links and book covers on this page are affiliate links. If you use them to purchase something, I earn a fee at no additional cost for you. Disclosure**
What to consider when choosing an Audiobook Subscription
There are a few things you should consider when looking for the best audiobook subscription.
How often do you listen?
First, think about how often you want to listen to audiobooks. If you're an occasional listener, you might look for a very specific title that needs to be available in your audiobook subscription.
However, if you are an avid listener, you might be happy to give new authors a chance as long as you get affordable access to many audiobooks.
Buying vs Borrowing Audiobooks
Second, consider how you feel about owning your books. Do you rather borrow them, or is it important to you to build your own library? If it's the latter, how important is it for you to actually own DRM-free MP3s that you can play on any device?
Audiobook Apps
Third, take a look at the audiobooks app each service offers. While some basic functions are common, there are differences in usability and features.
Now that you know what to look for in an audiobook subscription, let's take a closer look at some of the best options out there!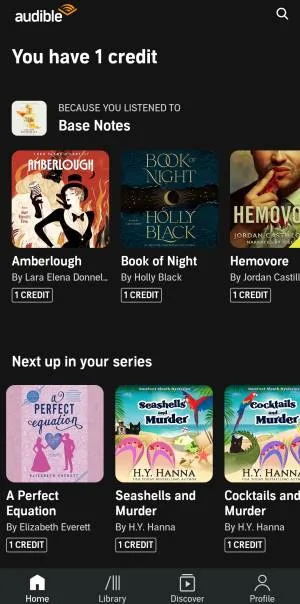 Audible
Audible is one of the most popular audiobook subscription services, and for a good reason!
They offer a great selection of books. If a book has an audiobook, it is almost certain that you will be able to get it here. You can also find exclusive content on Audible that you won't find anywhere else.
One thing to keep in mind is that Audible audiobooks are only available in the Audible app. So if you prefer to use another audiobook player, this might not be the service for you.
That being said, the Audible app is very stable across platforms. And with a standard Audible subscription (Audible Premium Plus), you get the best of both worlds: Access to a catalog for unlimited listening, as well as an Audible credit for a premium title.
Audible belongs to Amazon, which allows them to offer great customer service and benefits. But Audible's generous return policy is mostly paid for by authors, not by Amazon! Just so you know…
Try out Audible in a 30 day free trial**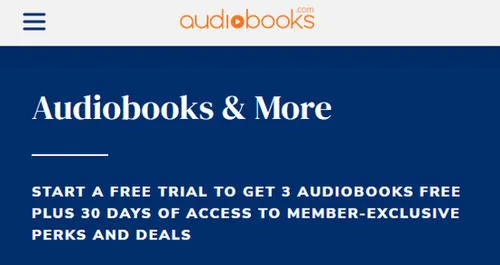 Audiobooks.com
Audiobooks.com is one of the biggest competitors to Audible. They often get less attention even though this audiobook subscription has a lot to offer!
For your monthly fee, you can buy one premium audiobook. And you can borrow one bestseller from a curated list.
The strength of this audiobook service are the many deals and sales events that you have access to even if you are not a subscriber! Audiobooks.com also has one of the largest selections of audiobooks, with over 300,000 titles to choose from.
Audiobooks.com was recently acquired by Storytel, a popular unlimited audiobooks service from Sweden. So, who knows, maybe they will offer something similar to Audible Plus in the future.
You can already use your monthly credit to join an Audiobooks Club and borrow all available titles!
Try out Audiobooks in a 30 day free trial**
Read more about Audiobooks.com vs Audible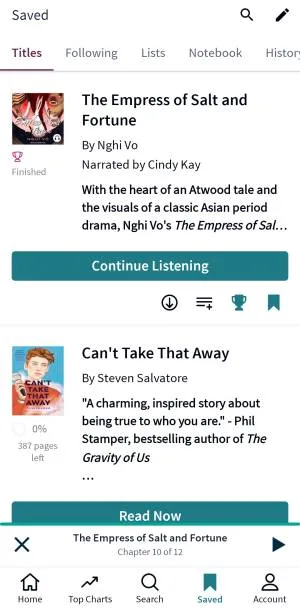 Scribd
If you want to listen to many audiobooks every month, Scribd is a wonderful choice!
Scribd is a digital library service. So, for your fee, you can borrow audiobooks and ebooks. You can find many popular new releases on Scribd from HarperCollins, Simon & Schuster, or audiobook publisher Tantor, as well as Scribd exclusive productions.
You can not borrow an unlimited number of audiobooks, though. Some titles might become unavailable until the next billing cycle.
But you always have access to some audiobooks, just not always to premium titles (e.g., bestsellers or TikTok hits). And most listeners will always be able to find something interesting.
The Scribd app doesn't have the best track record. It's a bit less stable than the previously mentioned ones and might be more likely to act up.
But it is such a great service for avid listeners that has a lot to offer, so it is still one of the best audiobook subscription services, in my opinion!
Try out Scribd in a 30 day free trial**
Read more about Scribd vs Audible

Downpour
Downpour is a really interesting platform because they offer a wide variety of purchasing and listening options. You can borrow audiobooks for a small fee, you can buy them DRM-free as MP3s, or you can even purchase a CD.
DRM-free means that you actually own the audiobook independently of the platform. With Audible or Audiobooks.com, you can only access your audiobooks as long as the service is offered and the audiobook is available through that service.
With Downpour, you can save the audiobook on a hard drive, and you can listen to it on any device and with any audiobook player you want.
Downpour is the storefront of audiobook publisher and producer Blackstone Audio.
Get your first month free on Downpour**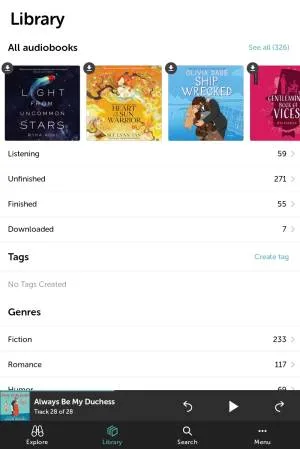 Libro.fm
Libro.fm is a great audiobook subscription for book lovers who want to support their local bookstore!
When you sign up for Libro.fm, you get to choose which independent bookstore should benefit from your purchases. This is a great way to get digital audiobooks while also supporting your community.
All Libro.fm audiobooks are DRM-free, so they are truly yours! You can save them on your computer and play them on any device. But the LibroFM app is very nice as well, and I can recommend it even if you save your audiobooks as MP3s on a hard drive.
Libro.fm has the same monthly fee as Audible but fewer benefits. Nevertheless, if you can afford to pay a little bit more for a service that really supports small businesses, this one is absolutely worth it!
Libro.fm has an excellent sales section with many titles for as little as $5, so it's still affordable to listen to more than one audiobook per month here.
Get 2 Audiobooks of your choice in your first month**
Read more about Libro.fm vs Audible
The Best Audiobook Subscription Services
So, what's the best audiobook subscription service for you? Well, it really depends on your personal preferences and needs!
All of the services listed above offer great value and have something unique to offer. Most of them give you a free 30 day trial. So, take some time to try out a few and see which one is the best fit for you!
You can also dive in-depth with my comparison of audiobook services based on how many audiobooks you listen to.
If these aren't quite right for you, though, check out how to get audiobooks for free!
Audiobook Subscriptions
/