It's only July and yet, there are already so many fantastic books out that deserve to be called the best audiobooks of 2022! Take a look with me at my favorites of the year so far. Fiction, Mystery, Historical, and Fantasy novels with outstanding narrations!
I'm also a huge fan of Romance audiobooks. That's why I have an additional list specifically for the best Romance audiobooks of 2022 (so far).
One For All was one of my most anticipated books of the year and it indeed turned out so fantastic!
This is a musketeers retelling with four girls taking up arms, being spies, saving France, and being all-around awesome. Tania has learned to fence from her father who always believed in her and helped her find ways to fight despite her chronic illness, POTS.
The audiobook is narrated by Mara Wilson who was so great to listen to! An all-around fun, entertaining, fast-paced Young Adult Historical that is for me one of the best audiobooks of 2022!
Related article: The Best Audible Alternatives to try in 2022
The Verifiers is a mystery novel about a crime-fiction-loving woman who gets hired by an investigative agency.
People who use online dating apps can get help here. A professional will look into the person's match and check if they have been honest: Are they really not married, do they cheat, is that their real job, those kinds of things.
This is such a fun concept and it was done so well! I love me an amateur sleuth and I adored Claudia, especially voiced by Eunice Wong who is an amazing audiobook narrator! The story itself is funny, witty, and full of intrigue and conspiracy. I had an absolute blast with this audiobook and was absolutely captivated!
Demons, you say? I cannot move past a book that has demons in it. What can I say, they are my favorites. The ones in A Thousand Steps into Night are based on Japanese mythology and the story is absolutely compelling!
This is a deeply feminist book about a girl from a small village who could never do anything on her own because society would frown upon it. Then she catches a demonic curse and turns into a demon who can kill by touch. That's where her adventures start!
Grace Rolek did a great narration for Miuko who always thinks that she is too loud and too much, as well as for all the many fantastic creatures and people she meets. This captivating Fantasy novel is one of the best audiobooks of 2022!
Terry Pratchett was, is, and will always be one of my favorite authors. No one manages to blend so seamlessly warm humanity, scathing societal critique, and utter entertaining ridiculousness. So, I was absolutely thrilled to see that all of the Discworld books are getting brand-new audio recordings with fantastic voice actors!
One of the first sub-series to get released in a new version is Discworld: Witches. Indira Varma did such an outstanding job bringing Granny Weatherwax and Nanny Ogg to life! All six Witches books are out so you can binge them one after the other.
And while the novels themselves are older, these new recordings make them the best audiobooks of 2022!
Legends & Lattes is a Cozy Fantasy – which is really what you imagine when you hear about this new genre!
It's audiobook narrator Travis Baldree's debut book about an orc warrior who retires from fighting and opens her own coffee shop together with a succubus and a ratkin. Yes, this book is as adorable and escapist and cozy as it sounds!
The narration for his own characters and story is absolutely wonderful and I loved loved loved every second of this book! So much so, I have already listened to it twice. Even though the stakes are low in this slice-of-live Fantasy, this is a captivating, wonderful, enchanting story that will pull you into a fantastical world without all the darkness and the world-saving and the everyone-is-taking-themselves-so-serious that so often comes with the genre.
For me one of the best audiobooks of 2022 and a must-listen for anyone who likes Fantasy!
With the release of The Fae Keeper, H.E. Edgmon's The Witch King Duology is completed!
I absolutely adore this gritty Fantasy about a trans guy who had managed to dodge his fated mate for several years, before being pulled back into the fae world. It's such a profound, beautiful story of second chances that moved me deeply but was also really good fun and super entertaining.
The Fae Keeper is an epic conclusion to The Witch King and I was completely blown away by this story! Dani Martineck is one of my favorite narrators and The Fae Keeper is one of the best audiobooks of 2022.
The Fractured Fabels duology is complete! If you have held out because you were waiting for the conclusion to be released, now is your time to pick up A Spindle Splintered and A Mirror Mended by Alix E. Harrow and listen to both in one go.
In this second book, Zinnia continues on her quest from the end of the first book which makes for an epic conclusion with high stakes! And even though these two books are only novella-length, they are so rich and paint these fantastic worlds. I can highly recommend the Fractured Fables duology to anyone enjoying fairytale retellings, Fantasy, and Fantasy Romance! Amy Landon brought this story to life so well.
T. Kingfisher's world of the White Rat is one of my favorite Fantasy worlds. Paladin's Hope is the third book in The Saint of Steel series but it can be read as a stand-alone (although I absolutely recommend starting the series at the beginning, it's delightful!).
Piper works as a pathologist (a lich doctor) and he has magic which he keeps secret. He is working on a case of mysterious murders with Galen, a berserker paladin affiliated with the church of the White Rat. The audiobook is narrated by Joel Richards whose deep voice adds so much atmosphere to this story!
Homicide and Halo-Halo is the second book in the Tita Rosie's Kitchen cozy mystery series. I adored the first book and the second one was just as wonderful!
The food is absolutely mouth-watering (even more so in this book than in the first, if you love anything sweet and dessert, as I do). Lila is pulled into organizing her hometown's annual beauty pageant after a judge has been murdered. She wants to make sure that the event is safe for everyone. But things get muddled up quickly!
I was extremely hooked and the book was over way too fast. Danice Cabanela was once again fantastic as the narrator of this story. All characters came to life so beautifully! This book works as a stand-alone and is one of the best audiobooks of 2022 and a must-listen for Cozy Mystery fans!
The daughter of the moon goddess is forced to leave her mother and her home to keep her family all safe. Now she has to make a life for herself in the Celestial kingdom. And what a life it is! Xingyin's quests are adventurous and suspenseful and the worldbuilding is so vivid.
Daughter of the Moon Goddess is the first part in a Fantasy duology with some romantic elements. And I absolutely CANNOT wait to continue! This is such an amazing world and I enjoyed this book incredibly much.
It's narrated by the wonderful Natalie Naudus who did such a beautiful job here. The story played like a movie in my head. This is one of the best audiobooks of 2022!
Pin this list of the Best Audiobooks of 2022 for later: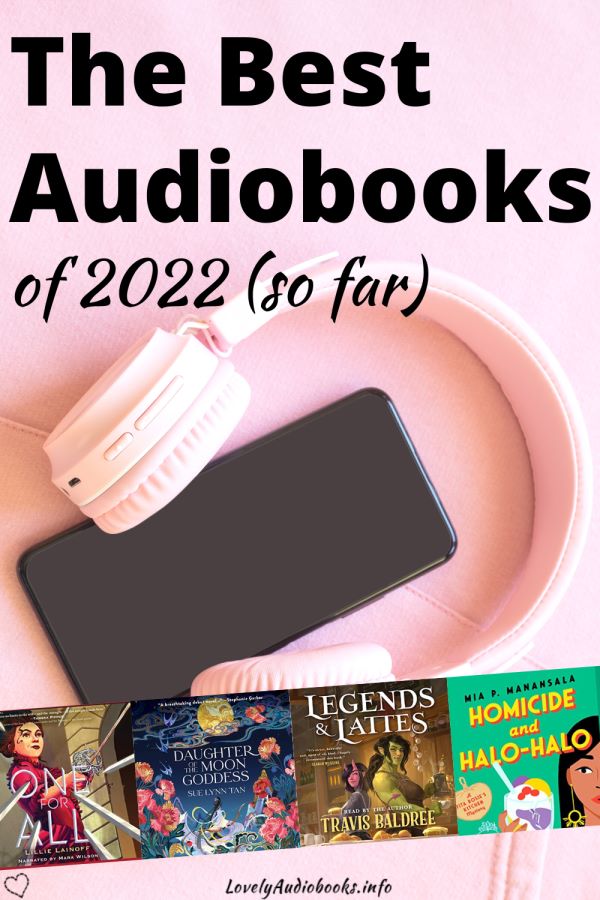 Booklist, Review
/