Time flies when you're listening to good books! And it's time to round up the – for me – best Romance audiobooks of 2022. Let's shine a spotlight on these utterly delightful stories that are brought to life by fantastic narrators!
Be ready for a mix of Contemporary, Historical, and Fantasy Romance that you really need to listen to!
**The marked links and book covers on this page are affiliate links. If you use them to purchase something, I earn a fee at no additional cost for you. Disclosure**
The Perfect Crimes of Marian Hayes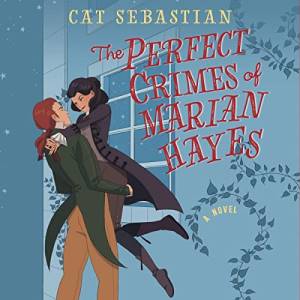 Cat Sebastian (Author), Joel Leslie (Narrator)

Get the Audible book**
Or listen on Scribd**
I cannot put in adequate words how much fun I had with Cat Sebastian's latest Historical Romance, The Perfect Crimes of Marian Hayes! Marian and Rob are such a perfect match and are both so wildly lovable.
Even though Marian talks a lot about how she's perceived as distant and cold, I had nothing but empathy and love for her and found her very admirable.
Joel Leslie did a fantastic narration for these two people who seem so different on paper, yet are so alike. And I adored the beginning of the book in epistolary form! Who says blackmail can't turn into more, right?!
Related article: My favorite Audible Alternatives and why you need to check them out!
You Made a Fool of Death with Your Beauty
Akwaeke Emezi (Author), Bahni Turpin (Narrator)

Get the Audible book**
Or listen on Scribd**
This book… This BOOK!! Is this title intriguing, or what?! Feyi is a party-going introvert – which made her for me as intriguing a character as the book's title. She's an artist who keeps her pain, and her heart, behind walls. And I loved her even more for it!
The story is about her way back into the dating pool and evolves into a forbidden older man / younger woman Romance with a bisexual heroine and hero. Bahni Turpin did the narration which is, as you would expect, absolutely amazing!
I find the cover and title both breathtaking and they really give you an idea of how beautifully written this book is! No doubt that this is one of the best Romance audiobooks of 2022.
A Lady for a Duke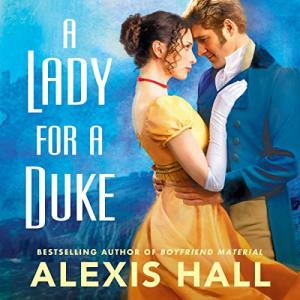 Alexis Hall (Author), Kay Eluvian (Narrator)

Get the Audible book**
Or get it on Libro.fm**
Alexis Hall is one of my favorite authors and it's no surprise that A Lady for a Duke has been getting a lot of attention. This is a beautiful love story!
In the past, Viola was a soldier who everyone believed fell in Waterloo. She used this situation to transition and live as a woman. Her sister-in-law takes her on as a companion. But when her best friend, who Viola believed would be better off assuming her dead, continues to struggle badly, even two years later, she gives in and visits him.
A Lady for a Duke is a sprawling, enthralling Historical Romance with a wonderful cast of characters and a very lovable hero and heroine. Kay Eluvian is an amazing narrator who truly understands how to bring the characters to life! Her narration made this an extremely enjoyable audiobook and one of my favorite Romance audiobooks of 2022!
Chef's Kiss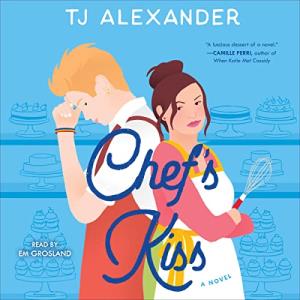 TJ Alexander (Author), Em Grosland (Narrator)

Get the Audible book**
Or listen on Scribd**
Chef's Kiss is a captivating slow-burn F/NB Romance! The book is entirely from Simone's point of view. And to be very honest, Simone is not exactly the most lovable of heroines initially. She is very high-strung, a bit self-centered, and all in all, the grumpy to Ray's sunshine.
This is very much enemies to lovers from Simone's side, but at the same time, Simone wants nothing else than to be close to Ray who is a literal ray of sunshine. And it is so romantic to see them make their way to one another!
I absolutely adored Ray and it's so great that they get to be such a happy-go-lucky character. I haven't seen such a cheerful nonbinary love interest like Ray before. And the narration was wonderful! I love Em Grosland's voice!
Seducing the Sorcerer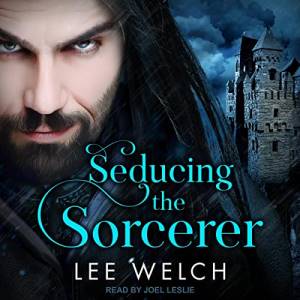 Lee Welch (Author), Joel Leslie (Narrator)

Get the Audible book in a deal**
Or listen on Scribd**
Seducing the Sorcerer is the latest Fantasy Romance audiobook by Lee Welch. It's a weird and wonderful story about a down-on-his-luck groom who happens to get himself a magical horse. A magical flying horse! Made of sack! A magical flying horse made of sack that takes him straight to the country's magician in his dark tower!!
Ooh, did I have fun with this book! The story is wonderful and absurd and unexpected and so raw, and I never saw that resolution coming but it made me so happy! (I feel like I'm maybe using too many exclamation points here, but… I don't know how else to express how this book made me feel!)
It's also seriously steamy, I might even call it dirrrty! There's a lot of rough smexy times here (smack-sy times? haha) And it's narrated by Joel Leslie who brought Fenn and Morgrim to live so perfectly. He's one of my all-time favorite narrators and so absolutely amazing!
Related article: How to get Audible books A LOT cheaper with Whispersync
Part of Your World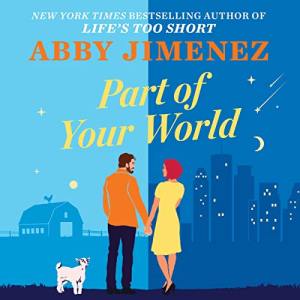 Abby Jimenez (Author), Julia Whelan (Narrator), Zachary Webber (Narrator)

Get the Audible book**
Or get it on Libro.fm**
I will never not immediately buy a new Abby Jimenez book! I have loved every one of her books so incredibly much and her newest might well be the best one yet!
Part of Your World is incredibly romantic, it deals with heavy topics and yet manages to balance that out with warm, laugh-out-loud funny humor. This range of emotions is everything I want in a Contemporary Romance novel!
The older woman, younger man pairing in a small-town setting is wonderful. Both characters are so lovable and utterly perfect together. The love between them is palpable! Julia Whelan and Zachary Webber did a fantastic narration and really brought out all these emotions. I'm absolutely sure that Part of Your World is one of the best Romance audiobooks of 2022!
The Romantic Agenda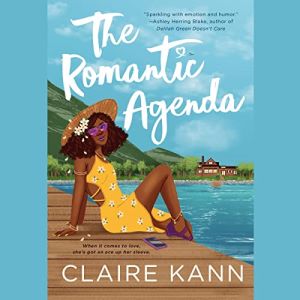 Claire Kann (Author), Adrienne Walker (Narrator)

Get the Audible book**
Or get it on Libro.fm**
The Romantic Agenda is absolutely charming and captivating, just like its heroine! Joy is indeed a pure Joy and so lovable!
She is asexual and has to deal with many prejudices both from outside and inside the ace community. Joy loves her best friend, Malcolm, who is also ace but has always had an active dating life – with everyone but Joy. When Joy meets Fox, she finds herself in a bit of a love triangle. She can't let go of Malcolm but notices how her feelings for Fox keep growing.
The Romantic Agenda is so well written and the characters so wonderful! Fox is gruff but such a sweetheart. And Malcolm, for all his shortcomings, has this deep connection with Joy that I found very moving. And then there's Summer who is also thoroughly likable even when you think she wouldn't be. I could not put down my earbuds while listening to Adrienne Walker's fantastic narration of this amazing book!
Related article: The Best Audiobook Apps to try in 2022
Delilah Green Doesn't Care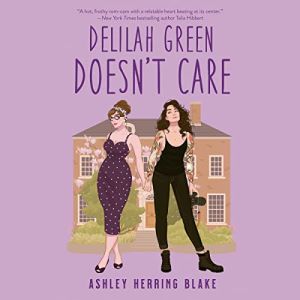 Ashley Herring Blake (Author), Kristen DiMercurio (Narrator)

Get the Audible book**
Or get it on Libro.fm**
I crushed hard on Delilah! Delilah Green has been through a lot and has built up a very badass, tough outer shell to hide her soft, mushy, artist soul center.
Both her love story with Claire, the girl she had been pining for since they were kids, and the journey she takes with her step-sister are heart-wrenching!
All characters in this story are so lovable and I enjoyed the build-up very much. In the first chapter from Delilah's point of view, we hear about her terrible step-sister and her awful friends. Just to jump to Claire's point of view, the step-sister's best friend!
While not every dysfunctional family is only based on misunderstandings, it worked so well here and I loved to see an all-around happy ending for Delilah. Kristen DiMercurio was new to me and absolutely fantastic to listen to!
Weather Girl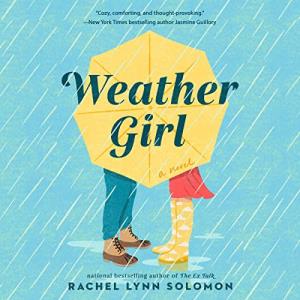 Rachel Lynn Solomon (Author), Sarah Mollo-Christensen (Narrator)

Get the Audible book**
Or get it on Libro.fm**
Weather Girl gave me so many feelings! Ari has depression and doesn't think someone can love the real her. She believes she constantly has to wear a cheerful mask to be palatable for partners.
Russell is a single dad with a dad bod and doesn't think he is a good catch for any woman. The two keep being thrown together and their friendship and attraction keep growing.
The romance between Ari and Russell unfolds slowly and it feels incredibly real and relatable. It's steamy and tender, at the same time! Ari and Russell both show their vulnerable sides and it's just so incredibly sweet! Sarah Mollo-Christensen did a wonderful narration with such amazing voices for all characters.
Seatmate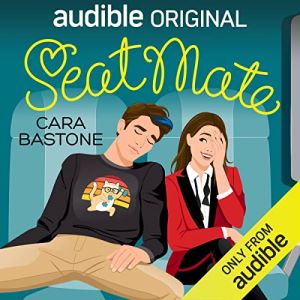 Cara Bastone (Author), Amanda Ronconi (Narrator), Zachary Webber (Narrator) and a full cast

Listen for free with Audible Plus**
Cara Bastone writes romantic comedies like few others! And I love how Audible turns them into these fantastic audiobook productions. Seatmate is RomCom perfection and for me one of the best Romance audiobooks of 2022!
The characters are so lovable and fun and adorable. The heroine is this very cool yet approachable woman. The hero is a total cinnamon roll. And I love the flow of the story, accompanying them almost in real-time while they get to know each other, become friends, and find out things about the other person few people know.
It's insanely romantic and Zachary Webber and Amanda Ronconi did such a wonderful narration. And they're supported by a full cast, turning this audiobook into a super fun experience!
D'Vaughn and Kris Plan a Wedding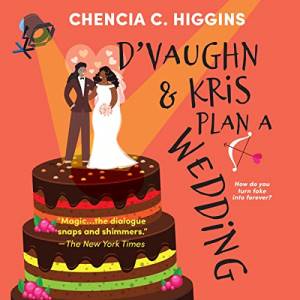 Chencia C. Higgins (Author), Rebecca Lee (Narrator)

Get the Audible book**
Or listen on Scribd**
I heard so many good things about this book when it first came out in ebook format. So, I was delighted that D'Vaughn and Kris Plan a Wedding by Chencia C. Higgins also got the audio treatment in 2022!
And I was even more delighted when I listened to it because this book is FANTASTIC! It's one of my absolute favorite F/F love stories of the year!
D'Vaughn and Kris take part in a reality show. They don't know each other but should make their families and friends believe they are getting married. If they succeed with the ruse and end up in front of the altar, they will win a lot of money. And their mutual attraction can only be helpful to make this plan work.
This is a wonderful fake dating story with insane chemistry and I enjoyed Rebecca Lee's narration so much!
Honey & Spice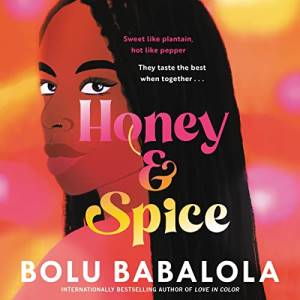 Bolu Babalola (Author), Weruche Opia (Narrator)

Get the Audible book**
Or listen on Scribd**
Honey & Spice by Bolu Babalola is the best College Romance audiobook of 2022! Kiki is such a lovable heroine and I rooted so hard for her!
She's navigating college life and I found her so relatable. Socially, she tries to stay somewhat on the outside while still being in good standing with everyone. She is worried of messing up any friendships and she doesn't want a romantic relationship.
Kiki hosts a radio show for her fellow Black college girls in which she talks about guys who are abusive or take advantage. But then super swoon-worthy Malakai enters the scene! Kiki feels drawn to him even though she's sure he must be a player.
This is such a fantastic book that takes you through all the emotions, making you laugh, cry, and fan yourself, haha. Weruche Opia did an absolutely outstanding narration, with the radio show parts and some of the inner monologue sounding like Spoken Word, and I loved the different English accents! This is a beautiful book and for me one of the best Romance audiobooks of 2022!
For You & No One Else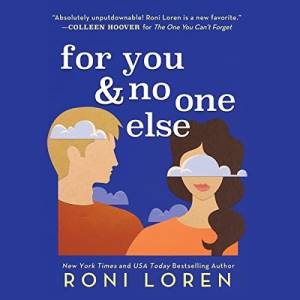 Roni Loren (Author), Desiree Ketchum (Narrator)

Get the Audible book**
Or listen on Scribd**
I adored Roni Loren's new book For You & No One Else and I loved, loved, loved the ending!
Eliza is a therapist with a well-running practice and very successful Social Media channels. She comes to befriend Beck, an internet security expert who challenges her to spend more time offline and look for a partner in real life instead of dating apps.
And while Beck doesn't make a secret of his attraction to Eliza, he's also very clear about being interested only in a friends-with-benefits arrangement. While Eliza is looking for a husband and "the whole package".
Roni Loren writes such wonderful, relatable, warm characters with insane chemistry. I can recommend the entire Say Everything series! These books are so romantic and sexy and emotional and funny and wonderful! And Desiree Ketchum did a wonderful narration!
Heartbreaker
Sarah MacLean (Author), Mary Jane Wells (Narrator)

Get the Audible book**
Or listen on Scribd**
Adelaide might seem like a lady, but she's also a gifted and well-trained pickpocket. She excels at becoming invisible by artfully wielding wallflower-dom. So, when the Duke of Clayborn surprises her during a heist, he really screws up her perfectly laid plans of staying entirely undetected.
Heartbreaker by Sarah MacLean is a super fun, fast-paced Historical Romance with a cross-country carriage chase that also makes room for a really sweet (and steamy) love story.
The audiobook is narrated by Mary Jane Wells. Need I say more?! She is such a gifted narrator and I loved every second of it! For me, one of the best Historical Romance audiobooks of 2022!
The Holiday Trap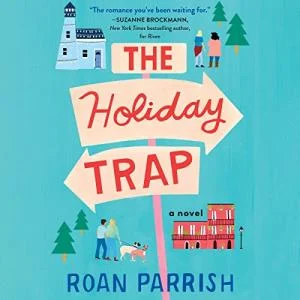 Roan Parrish (Author), Natalie Duke (Narrator), Pete Cross (Narrator), Hillary Huber (Narrator)

Get the Audible book**
Or listen on Scribd**
I loved The Holiday Trap so, so much! I enjoy the "swapping lives" trope in general. And this audiobook production is particularly well done with three different voice actors, Natalie Duke, Pete Cross, and Hillary Huber, sometimes taking turns for text message exchanges.
Truman and Ash's storyline was heartachingly sweet. And it was great to have this contrast to Greta and Claris' storyline which I found so fun, but which also made me contemplate the way we communicate – and how easily unfortunate dynamics develop.
I loved how Greta was growing and finding out things about herself throughout the book. And Claris is so dreamy! It was wonderful to get to know and come to understand her through Greta's eyes. An absolutely delightful queer romance that's not only great for the holidays!
Mistakes Were Made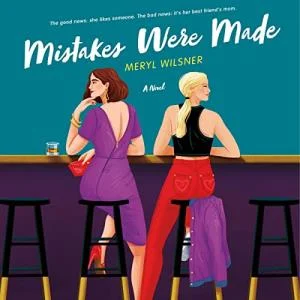 Meryl Wilsner (Author), Quinn Riley (Narrator), Stephanie Németh-Parker (Narrator)

Get the Audible book**
Or listen on Scribd**
Mistakes Were Made by Meryl Wilsner has been one of my most anticipated books of 2022 and, oh my, did it exceed my expectation!
After a One Night Stand, Erin finds out that the woman she slept with is actually one of her daughter's best friends. Erin and Cassie want to keep it a secret and leave their little thing in the past. But they keep crossing paths and can't keep their hands off one another.
This book is SO HOT! And I loved that it wasn't as extremely angsty as you might expect with this premise. There is definitely some drama and some worrying. But it isn't over the top. It's such a beautiful love story, perfectly balanced, very emotional, and so… inevitable!
The narration by Quinn Riley and Stephanie Németh-Parker let these women come alive and this is absolutely one of my favorite Romance audiobooks of 2022!
The Stand-Up Groomsman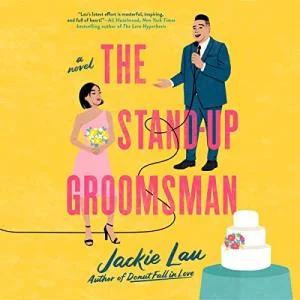 Jackie Lau (Author), James Sie (Narrator), Eunice Wong (Narrator)

Get the Audible book**
Or get it on Libro.fm**
I love Jackie Lau's writing so much and The Stand-Up Groomsman is Contemporary Romance perfection!
This is such an enjoyable story with a heroine who finds it difficult to trust others and be emotional, and a hero who doesn't look like the typical Romance hero. It is so utterly charming, funny, lovable, and sexy!
The narration by James Sie and Eunice Wong is absolutely outstanding and it's so much fun to listen to them bring these two people to life. If you are looking for a great Romantic Comedy and one of the best Romance audiobooks of 2022, pick up The Stand-Up Groomsman!
A Cosmic Kind of Love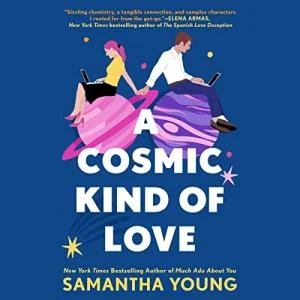 Samantha Young (Author), Andi Arndt (Narrator), Noah B. Perez (Narrator)

Get the Audible book**
Or get it on Libro.fm**
I cannot walk past a Romance that starts with emails. And I'm so glad I picked up A Cosmic Kind of Love!
Hallie accidentally gets hold of the private videos that an astronaut sent his ex-girlfriend from space. She can't stop watching and then decides to come clean in an email to him. Christopher has been back on Earth for a while but he is in a bad place mentally and emotionally and doesn't care for such weird fan mail. But then Hallie keeps emailing him, and he keeps reading…
This story is so, so sweet and beautiful. I found it extremely enjoyable! But what truly makes this one of the best Romance audiobooks of 2022 for me is the incredibly fantastic narration by the queen of Romance audiobooks, Andi Arndt, who brought out all of Hallie's emotions so perfectly, and Noah B. Perez, who is somewhat new to the scene but a fantastic and outstanding voice actor with an incredible voice. I had a hard time taking my earbuds out because this was such an immense pleasure to listen to!
Kiss Her Once For Me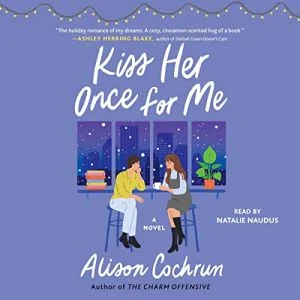 Alison Cochrun (Author), Natalie Naudus (Narrator)

Get the Audible book**
Or listen on Scribd**
While it might look like your (almost) typical love triangle at first glance, that's actually not at all what's happening in Kiss Her Once for Me by Alison Cochrun!
Ellie is still very hung up on a one-night stand she had a year ago. When she is offered a marriage of convenience with a good-looking, sweet guy, she feels she has to take this chance and move on. After all, she has to be attracted to him, right? He's perfect!
But then it turns out that her lost love – the woman she had that one memorable night with – is actually the sister of the guy Ellie is fake-engaged to! And the guy might also be hung up on someone else…
I absolutely adore this book and Natalie Naudus' narration and this is so very, very much one of the best Romance audiobooks of 2022!
Ship Wrecked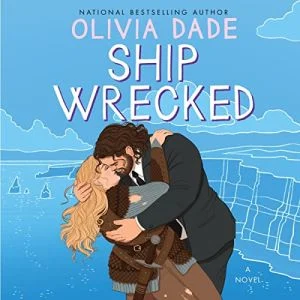 Olivia Dade (Author), Kelsey Navarro (Narrator)

Get the Audible book**
Or listen on Scribd**
I love, love, love Olivia Dade's Gods of the Gates world. Spoiler Alert was one of my favorite audiobooks of 2020, All the Feels was one of my favorites of 2021, and Ship Wrecked is now for me one of the best Romance audiobooks of 2022!
Maria is such an amazing heroine. She is so confident. She has principles and she doesn't let others make her feel small. Honestly, she's my hero!
What touched me most in this book was the conversation she had with Peter about how to balance work and their relationship, that it's important for her to be his priority and that work can't always come first. I personally feel the same, but I know not everyone agrees, and I can't remember having seen it discussed in a Romance novel before. The billionaires who work day and night always just magically have enough time to please their love interests, haha.
Olivia Dade has this gift of writing incredibly real, relatable people in incredibly real, relatable relationships that still manage to be utterly romantic. I loved every second of this wonderful story and Kelsey Navarro's perfect narration!
If you listen to other genres as well, check out my favorite audiobooks of 2022 that aren't Romance!
And if you need more outstanding love stories to listen to, check out my list of the best Romance audiobooks of all time!
Romance Books
/