Black Friday and Cyber Monday always have some nice deals and special sales for us audiobook fans! Let's check out what our favorite audiobook services have to offer…
Audible US
Audible US is currently offering a membership discount which they have rarely done for Black Friday. If you sign up for 4 months Audible Premium Plus, you only pay $5.95 per month**. Make sure you click on the banner above the usual sign-up window!
You can cancel at any time. If you continue your subscription, it will be $14.95 after those 4 months.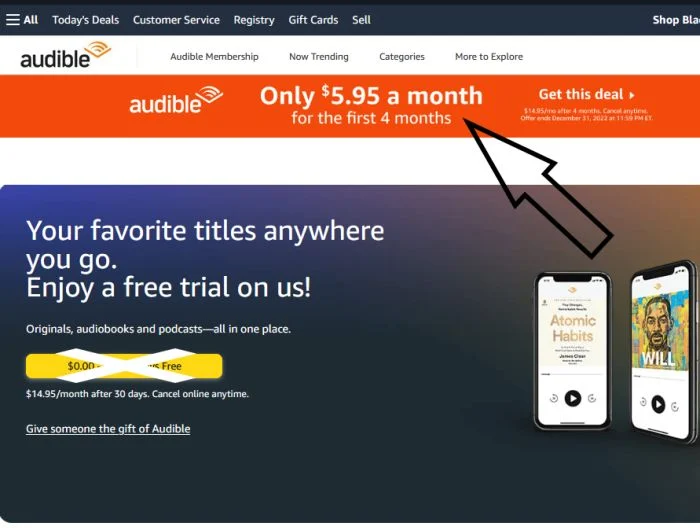 And Audible US has a Black Friday sale going, with tons of titles for just $4.99! Some of these audiobooks are also included for free in KU though, so please check that if you use both services.
Audible UK
Audible UK has an even nicer deal to offer and no matter where you live, you can get this simply by signing in with the same username and password you always use for Amazon and Audible!
4 months Audible UK for just £2.99 per month plus a £20 voucher!** (That's about $3.60 per month and in turn, you get a voucher worth $24.)
After these 4 months, the subscription renews for the usual price. But you can cancel at any point during or at the end of these 4 months.
If you are unsure how to use other Audible marketplaces, you might find this guide helpful. This is a real steal and I highly recommend it! Audible UK has mostly the same catalog as Audible US and also includes the Plus audiobooks for additional free listening.
Audible UK also has a Black Friday sale** with each audiobook being only £2.99. Of course, you can use the £20 voucher for these books as well, so you can really load up that UK library!
Audiobooks.com
Audiobooks.com has a Black Friday sale for their 3, 6, or 12 months gift memberships**. You can get these for someone else or use them yourself to get a discounted membership.
Related article: Audiobooks.com vs Audible
Chirp
Chirp is running a Black Friday and Cyber Monday sale** with many popular bestselling audiobooks available for just a few dollars. They say it's the biggest sale they've ever had! So this is definitely worth a look too.
You can use my special Lovely Audiobooks code to get an extra 30%** off for your first purchase.
Libro.fm
Libro.fm is such a wonderful audiobook service and I'm thrilled to report that they also offer a deal this year. Get a 10% discount on all Libro.fm gift cards**! You can either use these yourself or give them away to someone else.
I have gifted these on several occasions and feel they make such a fantastic gift since audiobooks from Libro.fm are DRM-free and the recipient feels like they are truly given this book that they can listen to in whichever way they want without being forced into one specific app.
So yeah, this is a wonderful opportunity to do good by supporting your community and getting an amazing gift while saving money!