Wondering which books to read (or listen to) in March? Here are my audiobook recommendations for the coming weeks! And we will also take a look at what my fellow book bloggers have been reading.
This month, one of my most highly anticipated Romance novels of 2021 is being released and I'm thrilled to finally feature it here!
My Audiobook Recommendations for March 2021
Act Your Age, Eve Brown
Talia Hibbert (Author), Ione Butler (Narrator)
Pre-order the Audible book** (Release date: 03/09/21)
Only one more week and Eve Brown is here! I had the immense (really immense) pleasure of receiving an early listening copy from HarperAudio and… Well, it's best you read my full spoiler-free review of Act Your Age Eve Brown, but let me just say this: It was everything I had hoped for! I absolutely loved Chloe and Dani Brown, and the youngest Brown sister is even more lovable! You can listen to this even if you haven't read the other two Brown Sisters books (yet).
Women and Other Monsters
Jess Zimmerman (Author), Vanessa Moyen (Narrator)
Pre-order the Audible book** (Release date: 03/09/21)
This is the first time I'm including a non-fiction book in my monthly recommendations. I usually listen to fiction, but I have a voice crush on Vanessa Moyen. So, I started this book and it just drew me in! Jess Zimmerman engagingly discusses various female mythological creatures and draws parallels to the way many people – and women in particular – doubt their own self-worth. This is a really, really fascinating audiobook that I wholeheartedly recommend!
The Set Up
Falguni Kothari (Author), Soneela Nankani (Narrator), Vikas Adam (Narrator)
Listen for free with Audible Plus**
The Set Up is a super enjoyable new Audible Plus novella. I absolutely love Soneela Nankani and Vikas Adam. And the story had a few turns I didn't expect which added a lot to how utterly romantic and fun this audiobook was!
Lovebug
Erin Mallon (Author, Narrator)
Get the Audible book in a deal**
Lovebug is a very cute Romantic Comedy written and narrated by one of my favorites, the insanely talented Erin Mallon! This is the story of a young entomologist figuring out her life. It's a beautiful connection of Women's Fiction and Romance with a lovable hero who can be both grumpy and funny, and a wonderful all-around HEA. I had a ton of fun listening to this audiobook!
Smoke & Ashes
(Kate Kane, Paranormal Investigator Series, Book 4)
Alexis Hall (Author), Henrietta Meire (Narrator)
Pre-order the Audible book** (Release date: 03/16/21)
Kate Kane is the lesbian half-fae detective I needed after October Daye and Harry Dresden! This is a thrilling, funny, dirty Urban Fantasy series by the very amazing Alexis Hall. The narrator change after book 3 is a bit of a thing if you want to binge the audiobooks. A little break between book 3 and book 4 might be a good idea. But I loved Henrietta Meire's narration as much as Cat Gould's!
The Dating Plan
Sara Desai (Author), Soneela Nankani (Narrator)
Pre-order the Audible book** (Release date: 03/16/21)
I've been meaning to pick up a Sara Desai Romance but never actually got around to it. This month will finally be the time! Not only because I love Soneela Nankani's voice, but also because this is a fake relationship story. Sold! I'm very much looking forward to this!
Rewritten (Unscripted book 2)
J.R. Gray (Author), Joel Leslie (Narrator), John Solo (Narrator)
Pre-order the Audible book** (Release date: 03/16/21)
Unscripted by J.R. Gray was one of my favorite Romance audiobooks of 2020 and I'm looking forward to book 2 in the Unscripted series. Rewritten follows the same couple and is a continuation, not a stand-alone. And trust me, you'll be so happy about that once you listened to Unscripted! It is SO GOOD! And the narration by Joel Leslie and John Solo is intense and absolutely perfect!
Audiobooks I've listened to in February 2021
My January book slump kind of turned into a February book slump. So, I dragged my feet a bit with starting a new book every time I finished one. To make matters worse, several titles I was looking forward to left me underwhelmed. "It's not you, it's me." Maybe I just wasn't in the right kind of mood…
That leaves the list of highlights rather short. My favorite audiobooks in February – apart from the ones I've already mentioned above – were:
The Care and Feeding of Waspish Widows! I'm not sure what took me so long with listening to an Olivia Waite audiobook. Cause that was GOOD! And I already bought The Lady's Guide to Celestial Mechanics.
Heads Will Roll! I got this after the Best Audiobooks collab project. And at first, I thought this was a bit too weird for me. But there's actually a lot of really interesting plot there, especially the bird girl. So, if you haven't yet, listen to it in Audible Plus!
Discount Armageddon! I love Seanan McGuire's October Daye and Indexing books. So, it was time to try out another of her series. I didn't feel quite as hooked by Incryptid as I did with the other two, but as soon as I don't have so many books on my To Be Listened To list anymore, I will continue with this one.
I also want to shortly talk about Kraken by China Miéville. What a weeeeiiiird book! It was super fast paced and it left me feeling a little bit ditzy cause it seemed like I had missed some considerable chunks of the plot ("Where did this talking tattoo come from?!?") even though I religiously returned to my bookmarks to make sure I didn't. I have no regrets though. This book had been on my radar for quite a while and the best comparison I could draw would be Neverwhere by Neil Gaiman. I mean, Kraken is entirely different, but it feels like it would be the same subgenre of whatever genre you would put these in!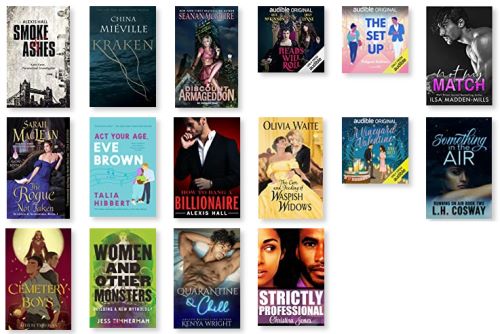 The March 2021 Book Review Link-Up
The monthly book review link-up is a place for book bloggers to share their recent book reviews with fellow bloggers and interested readers looking for recommendations (or warnings about books that might not be worth their time).
Whether it's a negative or positive review, for print books, ebooks, or audiobooks, a list of mini-reviews for several books, or a discussion of one book, with spoilers or without, horror, non-fiction, or anything in-between, add it to the tool below so we can all check it out!
If you're new to the linky and want to take part, take a look at the Introduction to the Monthly Link-Up first. Please don't forget to add a backlink to your review so more people will find the link-up. And if you have a few extra minutes, pop by some of your fellow linker-uppers, and maybe even share or comment on their posts. Everybody loves engagement 🙂
You can also use the hashtag #ReviewotM (for your Review Of The Month) on Twitter for ANY of your book reviews – not only the ones you add to the linky. And I'll be happy to give it a retweet!
Have fun!
Blogging, New Audiobooks
/