Boyfriend Material by Alexis Hall is a must-read for Rom-Com fans! It's laugh-out-loud funny with characters you just can't help but root for.
This is a fake relationship Contemporary M/M Romance between two men who – for different reasons – believe themselves unable of having a healthy relationship. However, their fake relationship is going awfully well…
**The marked links and book covers on this page are affiliate links. If you use them to purchase something, I earn a fee at no additional cost for you. Disclosure**
Boyfriend Material
written by Alexis Hall
narrated by Joe Jameson
Luc O'Donnell is tangentially – and reluctantly – famous. His rock-star parents split when he was young, and the father he's never met spent the next 20 years cruising in and out of rehab. Now that his dad's making a comeback, Luc's back in the public eye, and one compromising photo is enough to ruin everything.

To clean up his image, Luc has to find a nice normal relationship…and Oliver Blackwood is as nice and normal as they come. He's a barrister, an ethical vegetarian, and someone who has never inspired a moment of scandal in his life. In other words, he's perfect boyfriend material. Unfortunately, apart from being gay, single, and really really in need of a date for a big event, Luc and Oliver have nothing in common. So they strike a deal to be publicity-friendly (fake) boyfriends until the dust settles. Then they can go their separate ways and pretend it never happened.

But the thing about fake-dating is that it can feel a lot like real-dating. And that's when you get used to someone…start falling for them…don't ever want to let them go.
Boyfriend Material by Alexis Hall was the perfect kind of Rom-Com for me! I laughed out loud so, so many times (and really, who doesn't need a good laugh in 2020). But I also genuinely rooted for these two characters who both had to overcome so much.
And even though this isn't a particularly sexual Romance, the chemistry between Luc and Oliver was crazy! I felt so strongly that these two were soulmates and all I wanted was for them to find a way towards each other.
This audiobook is over 13 hours long, but it still felt way too short. I was dreading the ending because I had such an insanely good time. Alexis Hall is a fantastic author and I got so addicted to this book that I looked up his backlist right away and am now listening to Iron & Velvet which is a bit less laugh-out-loud funny but just as witty and snarky (definitely recommending that one to my fellow Urban Fantasy fans!).
For me, one of the most outstanding aspects of Boyfriend Material by Alexis Hall were the characters themselves. For one, we have side characters that are really total caricatures and yet still feel real and believable (and insanely funny). Alex, Miffy, as well as Luc's and Oliver's friends completely cracked me up! And for a moment early on (I hadn't read the blurb before going in), I was wondering whether Alex would be the love interest… A thought that didn't sit quite right but was oddly intriguing! 😀
As for the main character… The entire book is told from Luc's point of view and I feel confident in stating here that he's not really a good guy. I mean, in a way he is, but he's also a total twat. And yet, you just can't help but root for him! He deserves good things because his life is awfully complicated and definitely not something I'd envy him for.
And while Luc is more the disillusioned kind of grumpy, Oliver is the stand-offish kind of grumpy. And then, while listening, you get to the point where Oliver does one of these tiny things that show you how deeply he cares for Luc which is so ridiculously romantic, that at one point I actually burst out with an "aaaawwwww" and my husband looked at me really funny because I was wearing my headphones. Fortunately, I had already used any audiobook break to tell him jokes from the book so he caught up quickly as to what was going on 😀
Joe Jameson's Narration
This was my first Joe Jameson audiobook but it won't be my last. His delivery was spot-on, the voices fit the characters perfectly, and were easy to differentiate. And he was simply an all-around pleasure to listen to!
And if you have a thing for British accents (don't we all?!) you absolutely can't miss out on this anyway!
Recommending Boyfriend Material by Alexis Hall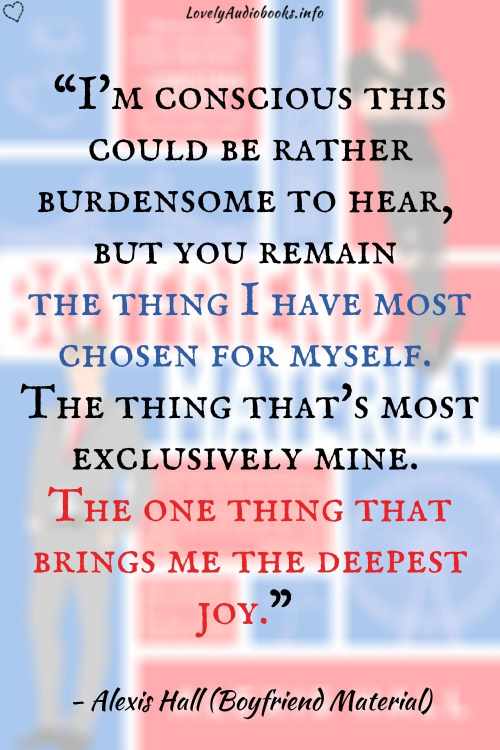 This is an audiobook you should absolutely treat yourself to! Boyfriend Material is so funny, cute, and romantic. I'm sure it'll make you happy. It's my favorite audiobook of 2020!
Or Get it on Libro.fm** (The first audiobook is free!)
Thank you, Libro.fm and Dreamscape for providing me with a free copy of this audiobook. It was my decision to write a review! Read more about Libro.fm in my guide.
Reviews
/