How to get a pretty, self-hosted blog that can support itself!
In this post I want to tell you a bit about how to start your own self-hosted blog with cheap hosting and what you can do so your blog will earn back what it costs you.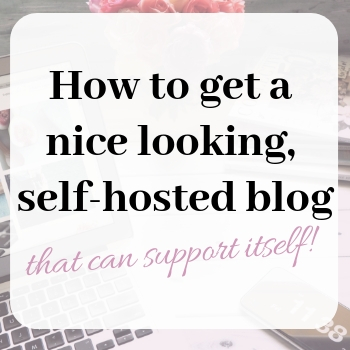 But first, a bit about me…
I'm frugal. This is a very basic personality trait of mine that I apply to pretty much every aspect of my life (except for my health).
Blogging became a thing for me because I love audiobooks. I love talking about them, I love recommending them, I love finding deals for them. And I wanted to write.
But I also hoped that one day my blog would earn a little something on the side, maybe to cover my audiobook subscriptions.
Now, to be honest with you, I'm not there yet. But my blog is covering its own cost and a small part of my audiobook subscriptions which makes me very happy indeed.
No Affiliate Links
I've decided NOT to use any affiliate links in this post. While I believe we all recommend things we believe in – no matter if we get paid for it or not – it just felt like the right thing to do, because I know for many people there's lingering doubt and I want this guide to be more than just "someone who promotes yet another hosting provider".
If you want to support my blog, please use any of the Amazon links in my other posts and share my articles. Thank you!
If you choose another hosting company than the one I mention later and know of a blogger with an affiliate link, support them please! We're all working hard.
Frugal Blogging

When I first had the idea to write a post like this, I asked on Twitter what kept people from going self-hosted with their free blogs. Over 80% said it was the money, and only 20% said it was the technical side.
So, here's me sharing with you which decisions I made so my blog (that's definitely still a hobby and not a career) supports itself.
How quickly a blog can support itself also depends on how much you invest!
The big promises of making quick and easy money with blogging
If you've looked into self-hosting or starting a blog before, you've probably seen those blog posts and pins: "How I made $123456 in the first two weeks of blogging".
Now, I'm not saying this is never happening!
But for most of us, especially those who view it as a hobby with only some hope for more, getting our blog even to a point where it supports itself takes quite some time and a lot of planning and work.
Let me tell you my angle: Whether my blog is able to cover its cost depends very much on how much I pay for it.
So that's where we need to start. Then we'll also take a look at monetization. I hope what you can get out of this guide is a realistic idea how to go about starting a self-hosted blog that you can afford now and that has a good chance of supporting itself later on.

Spend as little as possible but as much as necessary!
Hosting
I've had hobby websites and supported professional websites for over 15 years. In that time, I learned a bit about the technical side and gathered experience with several different hosting companies.

Siteground

The host I see recommended in guides most often is Siteground. I have been with Siteground and it is indeed a good hosting company.
However, Siteground is very expensive. The starting prices for Siteground hosting are quite attractive. The problem is that after the first year, the cost jumps up to 3 times what it was before. For the StartUp plan that's $3.95/month in the first year, but $11.95 for every month after that. That's some pretty steep hosting costs to cover!
It's not a good idea to plan a move to a different host after that first year because this always means disruption, extra work, and stress.
In my personal experience, Siteground didn't offer anything more than other hosts. I never had trouble reaching support with other companies and they were always friendly and supportive as well.
So, let's find a host you can stick with for the long haul….
Choose your host for the long run, not just for one year!
What to consider when looking for cheap blog hosting
When you pick your hosting company, it's very important that you choose a Shared Hosting plan. That makes it a truly self-hosted blog. While some hosts, including Siteground, Bluehost and Namecheap, offer cheaper Managed WordPress plans as well, these come with a bunch of limitations that are really not worth the small price difference, considering we want free hand over our blog and the chance to grow and monetize it.

Making frugal decisions always means to only pay what you actually need. Many bloggers are happy with reaching around 100 visitors a day. That means server load is not an issue.
Bigger web space does not increase the quality of your website. Without going into too much detail here: Some aspects of hosting do influence your SEO (Search Engine Optimization -> your Google ranking), most importantly how fast pages load. But when you go for a shared hosting plan, the cheapest plan and the most expensive one are usually on the same servers. So they are equal in regard to speed.
You can upgrade your hosting plan at any point if you're outgrowing it. But if you only use a fraction of the hosting plan you pay for, you lose a whole lot of money that you worked hard for.
So, what we're looking for in a webhost is a super cheap plan with decent support.
Choose a reliable host with good support and get the smallest hosting plan.
My choice is Namecheap
I decided to go with Namecheap (this is neither an affiliate nor a sponsored post, I just want to tell you what I use). For around $30 a year including the domain I get an SSL certificate (you want that for SEO reasons later on), cPanel and of course all the amenities of a self-hosted blog, like choosing my WordPress theme and plug-ins freely and monetizing my blog.
Namecheap offers a lot of tutorials that actually worked really nicely for me. I've been rather impressed with how smoothly everything was set up and that I didn't need technical support for anything, not even when setting up SSL which I had never done before.
Don't get me wrong, I'm not telling you to pick Namecheap as your host. The internet is full of websites with comparisons of cheap blog hosting plans and you might find something better and cheaper. Feel free to share your recommendations in the comments!
I simply want to tell you that there are other high-quality hosting companies out there that are a lot cheaper and have more transparent pricing than Bluehost and Siteground.
If you have a free blog right now and want to go self-hosted, check out Jenniely's guide on how to move your free blog to a paid hosting plan.
The content of your website matters most! Even free templates can present your content in the right light.
Design
Since the actual look of your website is a big aspect in most guides and also important for monetization, I'd like to shortly go into this as well.
What's important to note is this: While there's a lot of free stuff on the internet, quality still costs money. You get what you pay for. And a free template or a logo you made yourself might not be up to par with what you could get if you pay for it.
But you can still create a relatively professional looking website for free.
Headers and Logos
If you're talented, you can make your own header, e.g. in Canva. What's also a great way to go about it, is finding a starting designer on Twitter or Facebook who's happy to create a logo for you for free in exchange for a testimonial.
I see these kinds of offers regularly, so you could consider starting without a logo and keeping an eye out for posts from graphic designers.
WordPress Themes
Free WordPress templates will never offer the all-around worry-free experience that you can get with a paid one. You'll likely want to do some tweaking and it's advisable to get at least a basic understanding of CSS and HTML.
However, this is actually a very useful skill to have! You want to run your own website so it's certainly not wasted to get a basic understanding of website coding. And it's very easy to google how to, for example, change the color of your links to create the look you want with a free WordPress theme.
What to keep in mind for your website's look'n'feel

Your website should overall be pleasant to the eye and easily usable, but it's the content that matters most. People don't visit your website to stare at your logo for an hour. They come to read what you have to say or look at your photos.
That means, when choosing your WordPress theme, keep in mind that your content should be easy to read and easy to find. Don't stuff your sidebar with useless widgets. But ask yourself: What makes people stay here and check out a second/third/fourth article? Will they easily find other articles they would find interesting? Can they subscribe to the blog quickly without having to search?
Your content should be at the center of your theme choice. The theme should be comfortable to use and to navigate and present your posts in the right light on both desktop PCs and smartphones.
The WordPress Customize function makes it very easy to check how your website looks on small screens. Always keep those in mind, too!

Your checklist for website layout:
What makes people stay on your website longer?
Can they subscribe to your blog quickly without having to search?
Will they easily find other articles they would find interesting?
Monetization

So far we've saved money on our cheap blog hosting plan, but it's still an investment. Let's look into our options to getting it back.
Affiliate programs
The best way to monetize your blog really depends on your niche. But for me as a book blogger, as well as everyone who reviews or recommends products, Amazon and Awin affiliate programs are the best way to start. Both don't have any high requirements.
It is very easy to sign up with Amazon and you can start using your affiliate ID immediately without having to wait for approval. You have to convert a sale in the first 6 months though (the rules differ slightly by local Amazon). But even if that goes wrong, it's not the end of the world. You can sign up again. You will have to change all your affiliate links though.
Personally, I found Awin a bit tricky to sign up to. The process was confusing. But they also don't have any traffic requirements and you can choose from many advertisers, likely covering all blogging niches.
Linking to affiliate products that you reviewed or that otherwise fit into your article is definitely the first choice to monetize a new blog.
The beauty in this way of monetization is this: Even if someone doesn't buy what you wrote about, if they clicked your affiliate link, a cookie is set. And if they buy something in the next 30 days and still have your cookie, you earn money.
That means even if you have only little but high-quality traffic, you can earn money with your blog. High-quality traffic means people, who are really interested in your opinions on products and services, and want to know what you recommend.
Check out this more in-depth guide on affiliate marketing by the Uncorked Librarian.
Ads
Ads are not a very good choice for many bloggers, and definitely not for those just starting out. While Google AdSense doesn't have any specific traffic requirements – like many other, higher converting ad programs – you only earn any notable amount once you get significant amounts of traffic. Most bloggers are already happy when they reach 100 visitors a day. At that point, you likely don't even earn cents through ads.
I'm all for monetizing with ads when it actually works and turns your blog into a career. But you really want to build up your blog and traffic first. Don't put those kind-of-ugly, kind-of-spammy-looking ads on your shiny new blog when it doesn't even benefit you in a meaningful way.
Other ways of monetization
There are actually many more ways to make money with blogging. You might land a sponsored post that pays and doesn't just give you a free product. Or you market yourself and your writing skills.
Take a look at this great post with 7 other ways of earning money with a small blog by Batmom85.
There are many ways to monetize your blog and have it support itself. Find the one that fits you and your audience.
Summary
Don't let the cost scare you away from starting your new blog or going self-hosted with your free blog. You can find hosting for your blog for as little as $3 a month. That's just one less cup of coffee-to-go or whatever your little thing is that you sometimes like to splurge on! And there are so many ways to monetize your blog and the skills you learn from blogging, even if it's a hobby.
If my guide helped you and you made the step, please leave a comment below and use the commentluv function so I can visit your shiny new place on the internet. I'd love to see it!
Thank you for reading my guide to cheap blog hosting! Please share the pin before you leave.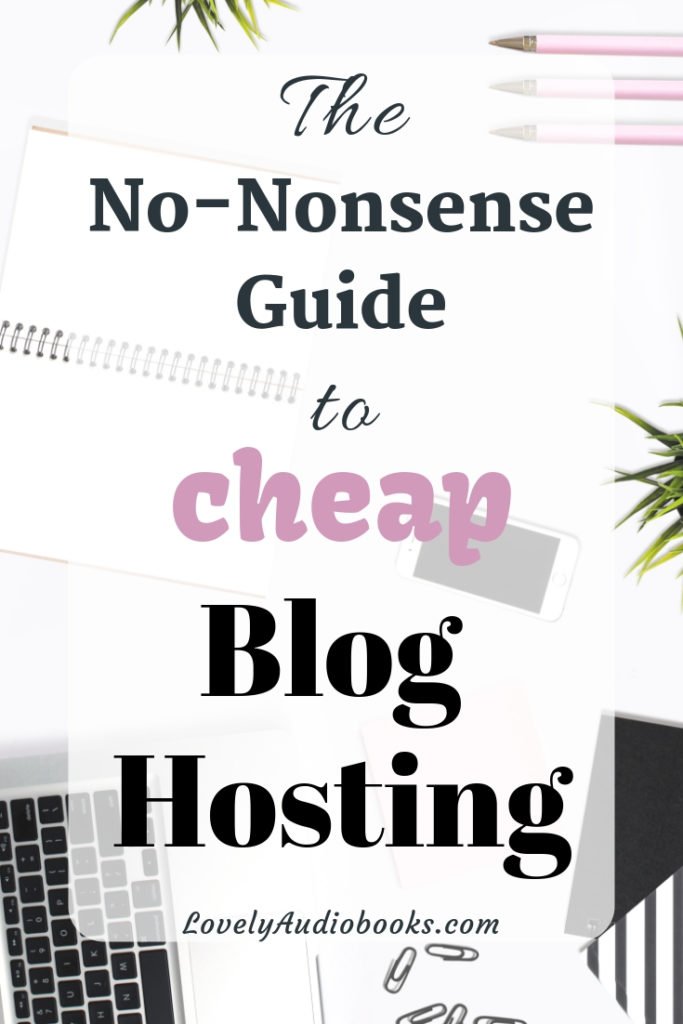 If you blog about books, check out my monthly book review link-up and my Pinterest guide for book bloggers.