Review of Molly Harper's Audible original
Even Tree Nymphs Get the Blues (Mystic Bayou 2.5) is in June's selection of free Audible Originals**. As a member (silver to platinum), you can choose two of the Audible Originals every month, in addition to your free audiobook.
Molly Harper was one of the first authors to add newly released audiobooks to Audible Escape (then Romance Package). Book 1 and 2 in the Mystic Bayou series are available there.
Related article: How to binge on Audiobooks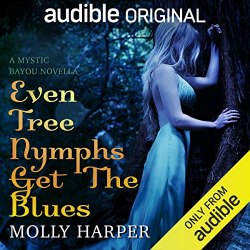 Even Tree Nymphs Get the Blues (Mystic Bayou 2.5)
written by Molly Harper, narrated by Amanda Ronconi and Jonathan Davis
Somehow, even though I always wanted to, I never got around to listen to Molly Harper's series.
But since I'm currently kind of obsessed with short audiobooks, I figured this was the perfect time to find out what it's all about.
Related article: My favorite short audiobooks in Audible Escape
The Story
Even Tree Nymphs get the Blues works just fine as a stand-alone. And for me, it was a great way to find out more about this series and whether I'm interested in the rest of it (spoiler: I totally am!).
The Mystic Bayou is a place where supernatural creatures and humans live openly together. It's like a test project that will be used to calm people down if and when the world finds out about supernaturals.
Ingrid, the tree nymph, arrives there to open an ice cream shop. But she has some serious baggage and it's not easy for her to connect with the people she meets, especially not with the hot scientist.
The Narration
Amanda Ronconi and Jonathan Davis are very experienced narrators. They're an absolute pleasure to listen to! All the voices and intonations are absolutely on point. It's easy to keep everyone apart and I could picture the magical Bayou in my mind. Absolutely captivating.
Recommendation
This is, of course, a must-listen for all Molly Harper fans. But as a Romance or Fantasy reader, you should pick this up, too, and see if you like the Mystic Bayou! You can get this audiobook (and keep it) if you sign up for a free Audible trial**
Download Even Tree Nymphs Get the Blues on Audible
Listen to Mystic Bayou book 1 for free**
Review
/