Amazon is full of free ebooks but it can be a bit tricky to find the best among the hundreds of free Romance novels on there! Below, you'll find 20 very popular, highly rated books that you can buy for $0.00 on Amazon.com.
And these free Romance books all have audiobook versions that you can add to your purchase for less than $7.50! This is a really cool thing that Amazon offers to get more people hooked on audiobooks (like yours truly). Instead of having to pay for an expensive Audible membership, you can simply grab the Audible narration on Amazon. That's actually the exact same audiobook that you'd pay $20 or more for on Audible itself. But thanks to the Amazon Whispersync deal, you can get them for only a few dollars with your free Romance novels and without paying any kind of subscription!
Here's my guide on how to buy Whispersync deals.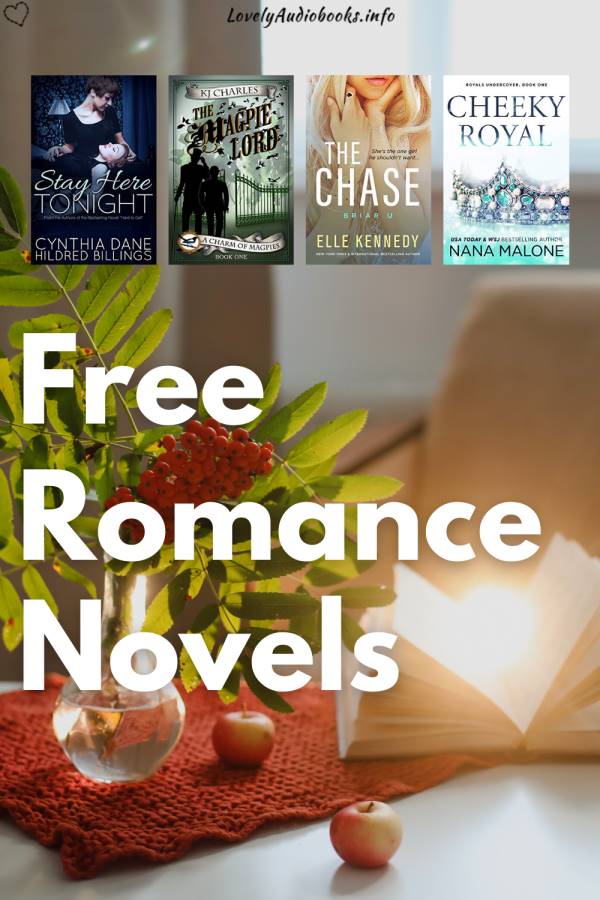 **The marked links and book covers on this page are affiliate links. If you use them to purchase something, I earn a fee at no additional cost for you. Disclosure**
Free Romance Novels on Amazon
The following ebooks were free on Amazon.com on September 22, 2021. While I check this list regularly, prices can change at any time!
You can find Contemporary Romance, Romantic Suspense, Romantic Comedy, Sci-Fi Romance, and Paranormal Romance novels on this list. Most of these books are rather steamy and meant for adult readers!
If you are looking for actually free Romance audiobooks, you can check out this list of my favorite websites for great free audiobooks that are legal and hassle-free.
The Chase
Elle Kennedy (Author), Jacob Morgan (Narrator), CJ Bloom (Narrator)
Get the book**
A sexy standalone novel from New York Times and international bestselling author Elle Kennedy! Everyone says opposites attract. And they must be right, because there's no logical reason why I'm so drawn to Colin Fitzgerald. I don't usually go for tattoo-covered, video-gaming, hockey-playing nerd-jocks who think I'm flighty and superficial. His narrow view of me is the first strike against him. It doesn't help that he's buddy-buddy with my brother.
Tall, Tatted and Tempting
Tammy Falkner (Author), Dara Rosenberg (Narrator)
Get the book**
She's locked up tight. But he might be the key. Logan Reed is tall, tatted and tempting. Kit's a woman with a mean right hook and a secret…
Beyond Shame
Kit Rocha (Author), Lucy Malone (Narrator)
Get the book**
All Noelle Cunningham has ever wanted is a life beyond – beyond the walls of Eden, where only the righteous are allowed to remain, and beyond her stiflingly restrictive existence as a councilman's daughter. But only ruins lie outside the City, remnants of a society destroyed by solar storms decades earlier.
Hot as Puck
Lili Valente (Author), Tyler Donne (Narrator), Summer Roberts (Narrator)
Get the book**
The NHL's biggest bad boy is about to fall for the virgin next door… I am the world's biggest dating failure. We're talking my last date went home with our waitress kind of failure. But I have an ace in the back pocket of my mom jeans—my sexy-as-sin best friend, NHL superstar forward, Justin Cruise. Justin owes me favors dating back to seventh grade, long before he became a hotshot with a world famous…stick. So in return for my undying platonic loyalty, all I want is an easy-peasy crash course on how to be a sex goddess.
Stay Here Tonight
Cynthia Dane (Author), Hildred Billings (Author), Beth Roeg (Narrator)
Get the book**
Lonely Lydia has little to look forward to during her long days working at the local LGBT resource center, except greeting multimillionaire heiress, Maxine Woodward, who drops by every week. But Maxine could barely care who Lydia is. Maxine's a faraway dream, the ultimate fantasy for young lesbian, Lydia.
The Magpie Lord
KJ Charles (Author), Cornell Collins (Narrator)
Get the book**
A lord in danger. A magician in turmoil. A snowball in hell. Exiled to China for 20 years, Lucien Vaudrey never planned to return to England. But with the mysterious deaths of his father and brother, it seems the new Lord Crane has inherited an earldom. He's also inherited his family's enemies. He needs magical assistance, fast. He doesn't expect it to turn up angry.
The Dom Who Loved Me
Lexi Blake (Author), Ryan West (Narrator)
Get the book**
Sean Taggart is hunting a deadly terrorist, and his only lead is the lovely Grace Hawthorne. She's the executive assistant for an employment agency Sean suspects is a front for illegal activities. To get the truth, he is going to have to get very close to Grace, a task he is all too eager to undertake when he discovers her deliciously submissive nature.
Switching Hour
Robyn Peterman (Author), Stephanie Riggio (Narrator)
Get the book**
Released from the magic pokey and paroled with limited power is enough to make any witch grumpy. However, if you throw in a recently resurrected cat, a lime-green Kia, and a sexy egotistical werewolf, it's enough to make a gal fly off the edge. Not to mention a mission…with no freaking directions.
Badd Motherf–ker
Jasinda Wilder (Author), Summer Roberts (Narrator), Tyler Donne (Narrator)
Get the book**
From New York Times bestseller Jasinda Wilder comes a sexy new romantic comedy. Your wedding day is supposed to be the happiest day of your life, right? That's what they say, at least. I went into that day hoping I'd get the happiest day of my life. What I got? The worst. I mean, you really can't get any worse of a day without someone actually dying.
The Pawn
Skye Warren (Author), Kylie Stewart (Narrator)
Get the book**
The price of survival… Gabriel Miller swept into my life like a storm. He tore down my father with cold retribution, leaving him penniless in a hospital bed. I quit my private all-girl's college to take care of the only family I have left. There's one way to save our house, one thing I have left of value.
Cheeky Royal
Nana Malone (Author), Andi Arndt (Narrator), Shane East (Narrator)
Get the book**
I never wanted the throne…. I have a plan: Find my long-lost brother and make him the prince so I don't have to rule. The last thing I have time for is my sexy new neighbor. She's everything I don't want, sassy, funny and…not available. That's okay – I'm amazing best-guy-friend material…. Friends? Sure. Anything more? Definitely not.
Securing Caite: SEAL of Protection: Legacy
Susan Stoker (Author), Savannah Peachwood (Narrator)
Get the book**
Caite McCallan is a Department of Defense admin working in Bahrain when a glitchy elevator, of all things, leads to an unexpected invitation to dinner by a gorgeous Navy SEAL. When he later stands her up, Caite's understandably upset…until she overhears a plot that confirms Rocco didn't blow her off. Instead, he and two fellow SEALs are in danger – and Caite is forced to put her career and her life on the line to save them.
Shopping for a Billionaire
Julia Kent (Author, Publisher), Tanya Eby (Narrator)
Get the book**
When mystery shopper Shannon Jacoby meets billionaire Declan McCormick with her hand down a toilet in the men's room of one of his stores, it's love at first flush in this hilarious new romantic comedy from New York Times best-selling author Julia Kent.
Big Shot
Carly Phillips (Author), Erika Wilde (Author), Sophie Eastlake (Narrator)
Get the book**
Wes Sinclair is a notorious heart-breaker, a hot as sin bad boy with a panty-dropping smile no woman can resist. Except for his prim and proper adversary, Natalie Prescott, who seems immune to his flirtatious charms. While she's become a permanent fixture in his dirtiest, most scandalous fantasies, she wants nothing to do with him, or his seductive promises. Challenge accepted. His goal? To bring her to her knees, make her beg, and show her just how good being bad can be.
Close Liaisons
Anna Zaires (Author), Kathleen Godwin (Narrator)
Get the book**
A dark and edgy romance that will appeal to fans of erotic and turbulent relationships…. In the near future, the Krinar rule the Earth. An advanced race from another galaxy, they are still a mystery to us – and we are completely at their mercy.
Flame
Chelle Bliss (Author), Samantha Brentmoor (Narrator), Jason Clarke (Narrator)
Get the book**
Gigi Gallo's childhood was filled with the roar of a motorcycle and the hum of a tattoo gun. Her dream has always been to work at her family's tattoo shop — Inked. But on her first day of work, she runs into someone from her not-so-innocent past.
Craving
Helen Hardt (Author), Sebastian York (Narrator), Neva Navarre (Narrator)
Get the book**
Your escape into a world of dark mysteries & spicy romance. After being left at the altar, Jade Roberts seeks solace at her best friend's ranch on the Colorado western slope. Her humiliation still ripe, she doesn't expect to be attracted to her friend's reticent brother, but when the gorgeous cowboy kisses her, all bets are off.
Coming Up Roses
Staci Hart (Author), Rock Engle (Narrator), Monica King (Narrator)
Get the book**
Bestselling author Staci Hart is back with a brand new romantic comedy and clever spin on Jane Austen's Pride and Prejudice. Meet the Bennet brothers, get to know Longbourne, and fall in love in this steamy enemies to lovers romcom.
If I Break
Portia Moore (Author), Megan Solesski (Narrator)
Get the book**
This is not your typical happily ever after…. Lauren Brooks wants to do three things: Escape the small town she grew up in, get accepted to her dream school in Chicago, and graduate without drowning in debt. Now she's working her ass off to do just that. With a full course load and a waitressing job at one of the hottest nightclubs in Chicago, she does not have time for distractions; namely ones who only want to get into her pants. She's been burned before.
Mr. Mayfair
Louise Bay (Author, Publisher), Shane East (Narrator), Saskia Maarleveld (Narrator)
Get the book**
My boyfriend is getting married. Okay, technically he's my ex-boyfriend. Two months ago, he decided he wanted a break. I still thought he was my happily ever after. On any other day, knowing he was gone for good would be the worst thing that could possibly happen. But not today. Because not only is my boyfriend getting married, his bride is my best friend. And they've sent me an invitation.
I hope you'll enjoy your free Romance novels and awesome new audiobooks!
If you need more, check out my list of the most popular Kindle Unlimited Romance audiobooks! KU subscribers can listen to all of them for free.
Booklist
/