What can I say… Heidi's Guide to Four Letter Words was… different. You know, interesting 😄
That was a bit of an inside-joke from the book. It really was a bit different though. And a whole lot interesting!
So much so actually, that I fell asleep way, waaayyy too late that evening. I just couldn't stop listening and was utterly captivated by that story.
written by Tara Sivec and Andi Arndt, narrated by Andi Arndt
Oh yes, you saw that correctly! This was actually co-written by everyone's favorite audiobook narrator, Andi Arndt.
Heidi's Guide to Four Letter Words is a story about podcasting and Romance audiobooks, a story about finding yourself and becoming open to love.
To nitpick a bit, I wouldn't quite say this is a Romance. It leans more towards chick lit, I think, because it's so much about Heidi and her journey. It's in the grey area between chick lit and romantic comedy, I guess.
Anyway, as I said, I just couldn't stop listening because you just can't not become invested in Heidi's story.
Heidi, our unlikely heroine
Heidi starts out so repressed that you just gotta wonder where this thing will take you. But (and I'll say this even though she would hate it), she's just so damn cute and lovable. You can't do anything but root for her!
And I really enjoyed that journey with her. Seeing her figure out what she wants and needs. All the while improving her own life and growing a much more understanding relationship with her family. It was truly heart-warming!
Podcast and Structure
I loved the structure of this book. The chapter alternate between Heidi's life and her podcast.
The whole thing was very witty and a little bit meta, with us as her podcast-listeners. (Although I was very bummed out I couldn't enjoy her mom's tater tot hotdish.)
It also gives a good insight into how Heidi actually changes and grows as a person.
Narration
The narration was, of course, everything you'd hope for. Andi Arndt completely became Heidi, including that cute accent.
Recommendation
Heidi's Guide to Four Letter Words is a great pick when you need a cute, light, adorable story to get all wrapped up in.
This audiobook is now available in Audible Escape.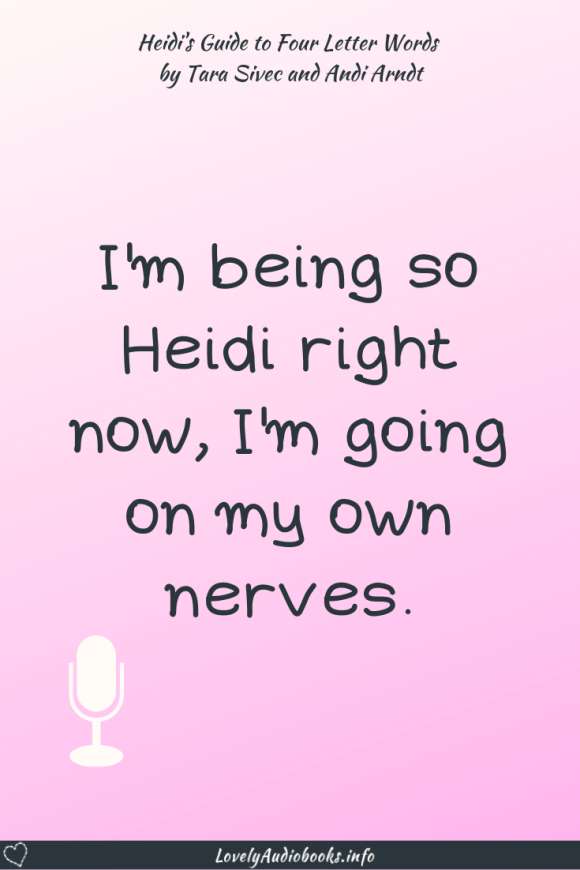 A big thanks to the publisher for giving me a free copy of this wonderful audiobook!
Review
/