I absolutely love online love and hidden identity Romance books! When the characters meet online or because of a text to a wrong number, a friendship forms that turns into more… and then the scary moment when they wonder whether it could be something real and if they would feel the same when meeting face to face!
Meeting your significant other online is pretty common in real life. Yet, in the world of Romance audiobooks, online love is still rare. Between athletes, rock stars, and billionaires, there's not a lot of room for online dating heroes. But hidden identity Romance books with the characters meeting and falling in love online is one of my favorite themes.
It is a very special feeling when you are falling in love with someone while wondering if it can be real at all since you've never even met… Developing this huge crush on someone's personality, having real feelings, hopes and dreams for the future, and at the same time being so scared that it will all turn out to be an illusion when you meet for real…
It's so exciting! So, I want to share with you my favorite Online Love and Hidden Identity Romance books that I have found on Audible and completely fallen in love with…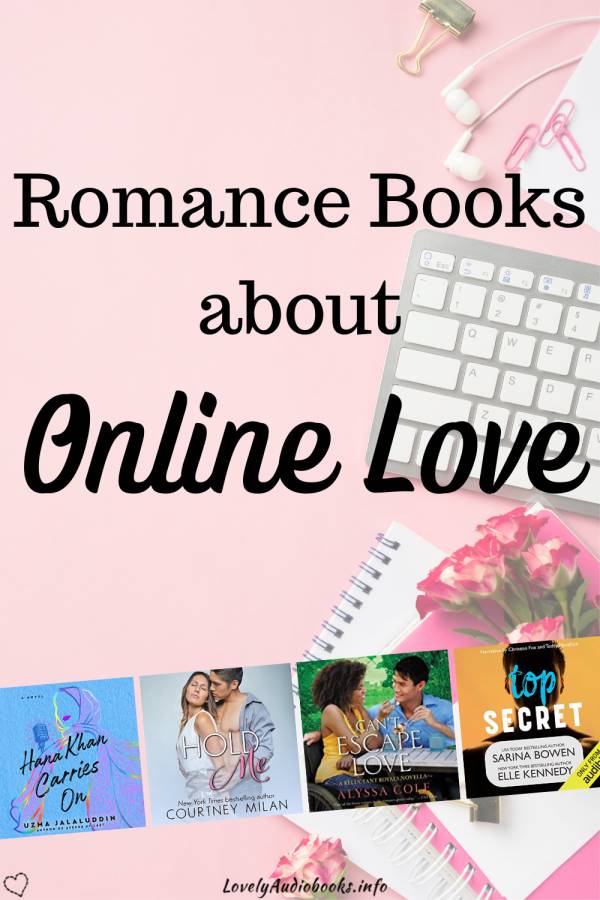 Just My Type
written by Tara Sivec, narrated by James Cavenaugh and CJ Bloom
Get the Audible book in a super cheap deal**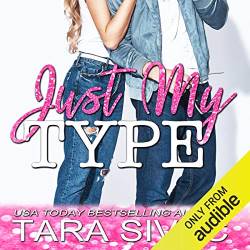 You might find your perfect match in the most unexpected place… on the internet!
Just My Type is an absolutely laugh-out-loud funny Romantic Comedy! Ember writes transcripts online through a platform. Baker is a customer and after a glitch in the system, the two start messaging each other directly.
If you love online Romance books as much as I, this one will melt your heart and crack you up, all at the same time! It is an absolutely adorable, funny, filthy Single Mom Romance. And James Cavenaugh and CJ Bloom had the perfect comedic timing for it.
Related article: How to get Audible audiobooks cheaper with Amazon Whispersync
Hana Khan Carries On
written by Uzma Jalaluddin, narrated by Ulka Simone Mohanty
Get the Audible book**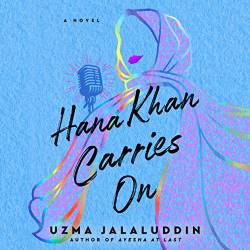 Could your best online friend actually be this person you just met in real life? Nooo, impossible… or is it?
Hana starts a podcast and has one loyal listener who leaves comments after every episode. This friendship means a lot to her while things in real life become difficult.
Hana Khan Carries On is one of my favorite audiobooks of 2021 and it has everything you are looking for in Hidden Identity Romance books. The story is told only from Hana's point of view and Ulka Simone Mohanty is absolutely amazing at bringing Hana and her family and friends to life!
The Happy Ever After Playlist
written by Abby Jimenez, narrated by Zachary Webber and Erin Mallon
Get the Audible book**
Sometimes, one text message might make a dark day brighter…
Sloan is mourning the death of her husband when she is found by a dog. She takes him home, but contacts the number on his collar. The owner claims to be a musician on tour out of the country. But the two (humans) find that they get along quite well…
The Happy Ever After Playlist is absolutely heartbreaking! And wonderful! This is such a beautiful love story about two people meeting through texts, flirting, and falling for one another, before meeting for the first time. Abby Jimenez is an amazing writer and Zachary Webber and Erin Mallon are perfect as always!
Finders Keepers
written by N.R. Walker, narrated by Joel Leslie
Get the Audible book in a deal**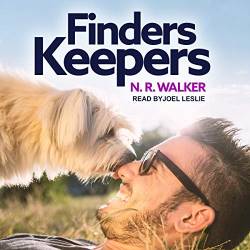 When your fur baby loves this person… and you really enjoy your phone calls and texts… maybe there's something there!
Griffin finds a thing that turns out to be a small and very dirty dog. The owner is absolutely distraught that his fur baby ran away while he was out of town. Griffin feels pity for the guy and starts texting him photos of his adventures with the little dog…
Finders Keepers is a real feel-good M/M Romance narrated by one of my favorites, Joel Leslie. If you are looking for a cute, adorable Romance that starts with texting and phone calls, this one is perfect for you!
Sweet Talk
written by Cara Bastone, narrated by Lidia Dornet and Chris Brinkley
Listen for free with Audible Plus**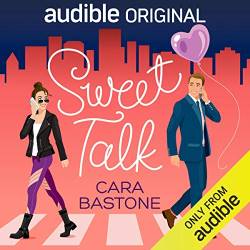 Texting all day and night when you haven't even met face to face is perfectly normal, right? Right!
When you get a voice message from your secret crush but it's obvious that he used the wrong number, what do you do? "JD" decides to go with the flow. And really, I can't blame her. Elliot is just too cute!
Sweet Talk is one of the funniest and sweetest hidden identity Romance books. It even has an on-the-phone club date! It's currently audio-only and the elaborate, duet-style production with Lidia Dornet and Chris Brinkley as narrators is fantastic.
You also absolutely need to check out the first book in this series, Call Me Maybe**. It's in Audible Plus and just as fun!
Related article: What is Audible Plus and is it worth it for you?
Dear Aaron
written by Mariana Zapata, narrated by Callie Dalton and Teddy Hamilton
Get the Audible book in a deal**
When email pen pals turn into more than pals…
Ruby joins a program to email a soldier. Soon, she and Aaron move from email to IM to talk more and more and more. But meeting face to face is scary. And can you even have a future with a soldier who never wants to get married?
Dear Aaron is, of course, a slow burn, after all it's written by Mariana Zapata. The book starts in epistolary format with Ruby and Aaron just passing the time, but their friendship grows more profound with every message. I loved how deep we dive into Ruby's thoughts and feelings, as well as her insecurities and doubts in regard to herself and the chance of a future with Aaron. If you have ever met someone "from the internet", all of this will resonate with you!
The first half of the book is in letter and IM form and narrated in duet style by Callie Dalton and Teddy Hamilton which is a real treat to listen to. The second half is narrated only by Callie Dalton.
Can't Escape Love
written by Alyssa Cole, narrated by Karen Chilton
Get the Audible book**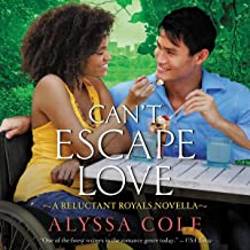 When your online crush shows up on your doorstep…
I absolutely loved how organically the relationship in Can't Escape Love develops from online to offline! Regina used to be the only watcher of Gus' lifestream. She thought they were friends until he disappeared without a word. When she reaches out to him after a long time, they find out that they don't live on opposite sides of the country anymore and meet up right away. That has quite a lot of awkwardness potential!
Can't Escape Love is one of my absolute favorite Romance novellas because of the adorable online love story and the wonderful disability representation! Alyssa Cole and Karen Chilton are a fantastic author/narrator team!
Spoiler Alert
written by Olivia Dade, narrated by Isabelle Ruther
Get the Audible book**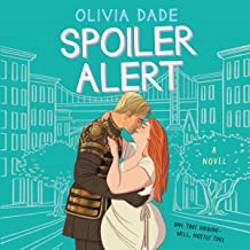 Fandoms sure are a great way to meet people with similar interests. But do you know who that person behind the screen name really is?
Spoiler Alert takes us into the world of fanfiction and the secret identity twist is so much fun! But this is also a very emotional book. Marcus and April have to deal with a lot of serious issues. And it's just so beautiful how their romance develops online and offline.
This is one of the best secret identity Romance books and one of my favorite recent Contemporary releases! Isabelle Ruther did a fantastic job at bringing this story to life.
Top Secret
written by Sarina Bowen and Elle Kennedy, narrated by Teddy Hamilton and Christian Fox
Get the Audible book in a deal**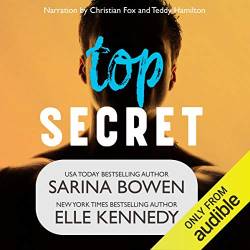 Can you find your soulmate in a hookup dating app?
Top Secret is one of my favorite M/M Romance books and it will have you laugh out loud and swoon and all the things! LobsterShorts and SinnerThree meet in a dating app and hit it off. But in real life, they are very much not friends at all.
I loved the different layers here when the guys figure out that they already knew each other. It's so heartbreaking and friggin romantic. And yeah, add the narration by Teddy Hamilton and Christian Fox to this awesome story and you have a must-listen Romance audiobook!
Hold Me
written by Courtney Milan, narrated by Xe Sands and Sean Crisden
Get the Audible book **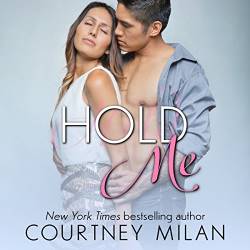 What if you actually know your online love in real life… but he's a total jerk to you?
This story has a special twist. While the protagonists are falling in love online, they're hating each other in real life! So we get all the emotions of an Enemies to Lovers here, as well as all the gooey sweetness of a Friends to Lovers Romance.
Hold Me is one of my favorite Contemporary Romance novels and the audiobook is fantastically brought to life by Xe Sands and Sean Crisden.
For those of you interested in diverse representation, this is an absolute must-read anyway. So credit-worthy!
Let's get Textual
written by Teagan Hunter, narrated by Emma Wilder
Get the Audible book in a deal**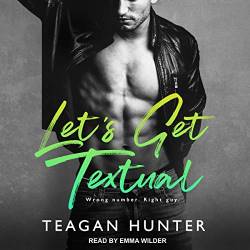 He sounds so nice, like your perfect match, but you've never even seen his face! How can this work out?
In Let's Get Textual, a text to a wrong phone number leads to online chats, leads to phone calls, leads to a real date…
This book is so ridiculously cute and sexy! If you can appreciate a hot nerdy hero, you will absolutely love Zach. He is so funny, and it melted my heart how much he adored Delia!
The narration by Emma Wilder is absolutely fantastic. She has all the voices and totally captivated me!
Lucky Suit
written by Lauren Blakely, narrated by Andi Arndt and Zachary Webber
Listen for free with Audible Plus**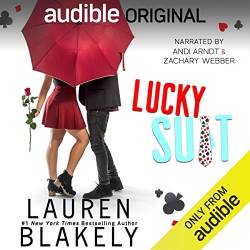 Who is really hiding behind that screen name? And can you give a real guy a chance when you've already met the perfect fantasy online?
Getting to know someone online and developing feelings for them can really stand in the way of developing a relationship in real life. And in this super entertaining novella, there are even more twists and turns to this problem.
The two absolutely amazing narrators Andi Arndt and Zachary Webber make this audiobook novella a real treat. I loved every second of it!
Punk 57
written by Penelope Douglas, narrated by Laurie Catherine Winkel and Matthew Holland
Get the Audible book in a deal**
What if you think you know each other so well just through your writing, but your worst fear comes true and, in real life, it's all different?
Punk 57 is one of the more angsty Hidden Identity Romance books and it deals with the worst possible scenario of getting to know someone online. You develop feelings, but when you meet for real, the person isn't at all what you expected.
This book is epically narrated by Laurie Catherine Winkel and Matthew Holland. And it's on my "You absolutely HAVE TO listen to this one"-list!
Telling Lies Online
written by Miranda MacLeod, narrated by Stephanie Murphy
Get the Audible book in a deal**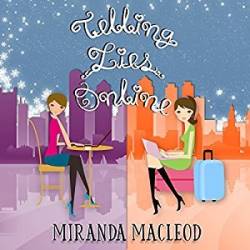 It's so easy to pretty things up online. But what if you just stumble from one lie into the next and it carries over into real life?
You know how people make themselves taller, sexier, smarter on dating sites? It's so easy to pretend you're the perfect partner, but an entirely different thing how you explain that away during a real first date. With no fault of her own (initially), lesbian Jamie falls in love online with a woman who thinks she's talking to Jay, the man.
This story is absolutely adorable and I was wonderfully entertained! This is a wonderful twist on online love and Hidden Identity Romance books!
And I'm in love with the narrator Stephanie Murphy. The way she brought Jamie to life made me all weak in the knees. I could have her in my ears all day!
Cinder & Ella
written by Kelly Oram, narrated by Kirsten Leigh
Get the Audible book in a deal**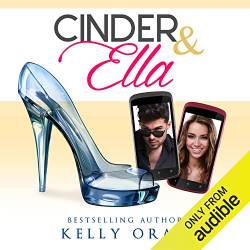 What if the person you talk to online and love to bits is actually a fantasy in real life?
I don't read a lot of Young Adult, but this story is just so wonderful! If you're craving something that makes you go all "aww" swoony and warms your heart, read this modern fairytale.
Kirsten Leigh did a fantastic narration that will absolutely captivate you!
Cinder & Ella is also on my list of wonderful Romance audiobooks with disabled protagonists.
The Hooker and the Hermit
written by L.H. Cosway and Penny Reid, narrated by George Allen and Lucy Rivers
Get the Audible book**
The internet is a special place for us folks who are socially awkward, but does it work out to anonymously flirt with someone online that you know in real life?
From two of my very favorite authors comes this tale of online entanglement. I could very much empathize with Annie who felt she could only be herself with Ronan when they exchanged emails, but not when they met in real life. But deception always means you're just one step away from disaster…
The Hooker and the Hermit is a must-read among Hidden Identity Romance books! And in the audio version, Ronan's Irish accent is done by George Allen and Annie is narrated by the extremely adorable Lucy Rivers.
Romance Books
/