Instructions for Dancing by Nicola Yoon, the author of Everything, Everything, is a romantic Young Adult book. The audiobook is narrated by Bahni Turpin.
This is a guest review by Amanda from Bookish Brews.
**The marked links and book covers on this page are affiliate links. If you use them to purchase something, I earn a fee at no additional cost for you. Disclosure**
Instructions for Dancing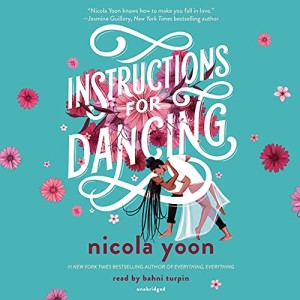 written by Nicola Yoon
narrated by Bahni Turpin
Get the Audible book**
or get it on Libro.fm** (The first audiobook is free!)
A tragic and hopeful story of young love with a splash of magical realism
At a glance: Evie has given up on love after her dad cheats on her mom, and to make matters worse she has started to see everyone's entire relationship flash before her eyes at every couple she sees kiss. She is convinced she can live her life alone until fate draws her toward X and she finds herself in her own cheesy romance.
🌳 Family Focused
💞 Young Love
🌱 Character Growth
🔮 Magical Realism
Read this if… you love magical realism in literature or sweet contemporary love story fiction. Especially if you love fluffy books or easy-to-read books that will make you emotional.
Audiobook Review of Instructions for Dancing by Nicola Yoon
Sweet, insightful, emotional, tragic, hopeful, full of heart
I've heard so many good things about Instructions for Dancing by Nicola Yoon, but I'm often turned away by the hype. But for some reason, this book kept nagging at me. I picked it up because the audiobook is pretty short (7 hrs and 48 mins) and once I got hooked I couldn't stop thinking about it until I finished. This book really made me feel so many things all at once. I couldn't stop reading and finished it all in a little over 24 hours. It pulled me in so deeply that I feel like I had a brief and bright love affair like the romance novels that Evie loves so much.
Quick Summary: Evie was an avid reader of romance books until she caught her dad cheating on her mom and lost faith in love all together. After giving away all of her romance books, Evie starts having visions of couple's entire relationships flash before her eyes from start to finish, further solidifying her disbelief in love. That is, until she meets X and finds herself being swept up in a romance-novel-worthy romance of her own.
At the beginning, this book took me a while to get drawn in. I was only sticking around for the casual chatty vibe of the prose (more on that later). I don't know when it happened, but suddenly I found myself smiling into the book, feeling excited for sweet romantic comments, and laughing out loud at Evie's snarkiness. At one moment I realized I was already in love with this book. Which is incredibly appropriate, because that's how the relationship between Evie and X happens, and the rest is history. It definitely caught my heart in a sneaky way!
Bahni Turpin, the narrator, did such an incredible job with really becoming Evie in a way that a lot of narrators aren't able to do well. The prose was written so perfectly to be listened to as an audiobook, I definitely recommend listening to this one!
My favorite thing about this book was the chatty mood of the prose. It felt like Evie was having a secret conversation with us, as if we were her friends. I loved the casual way that the story was written for us, because it felt so much more personal in every aspect while listening to Evie's story. When Evie was sad it was so much easier to feel sad for her, and for yourself as well, because Evie had become a friend to me while reading this. I thought that it really pounded in the lessons that this book has for us, and the chatty first person narrative was absolutely perfect for this story. She even made jokes only to us! I loved it so much.
Of course, I can't talk about this book without speaking of the moral of the story. It all came together for me so perfectly. There was so much depth to the lessons that are taught to us here. Love is momentous and monumental, and the time that we have is special. And it extends to more than just romantic partners, it also matters between friends, siblings, and parents. I could have guessed literally the entire book, but that's kind of the charm in it. It was exactly what you know that you need to hear. It is the advice that you can give others, but always forget to take for yourself.
Instructions for Dancing is a comfort book if there ever was one. Love is beautiful no matter who it is between, and love is beautiful no matter how it ends. This feels like one of my new comfort reads to pick up whenever I'm sad. Well done Nicola Yoon!
Summing it all up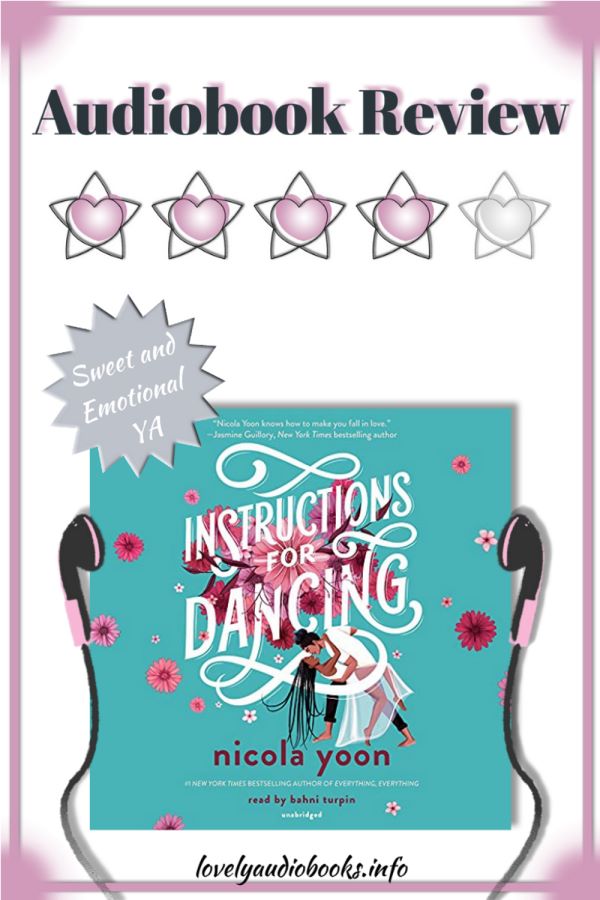 Instructions for Dancing is a wonderfully fluffy story that has easily turned into a new comfort read for me. It is sweet, funny, beautiful, sad, happy, tragic and hopeful. The lessons were so sweet and it made me so very happy!
Get the Audible book**
or get it on Libro.fm** (The first audiobook is free!)
Read more about LibroFM, the audiobook store for indie book shops.
Reviews
/