Review: Longest Days (The Firsts book 3)
by C.L. Quinn
narrated by Natalie Duke
This book is the third part in a series and when I came across it, I shortly considered starting the series at the beginning. But I was simply too intrigued by reading a Paranormal Romance about a female vampire and a human man.
As was to be expected, the third part contains major spoilers for the previous two books. Be aware of that if you want to read it (which you should).
That being said, it does work as a stand-alone. Everything is nicely explained, and doesn't feel like in-your-face exposition. I was a bit confused when a scene swapped over to the point of view of two other vampires. Then I remembered that this is, in fact, a series and that they are part of an overarching storyline. It's pretty easy to catch up on what's going on though.
Now, why was I so intrigued by a female vampire and a human man? Mostly, because this pairing is very rare indeed. Paranormal Romance almost always features human women or two partners of the same… uh… type? Race? Breed? Thingy? Anyway, it usually comes out to the man being physically far superior and, in good PNR, the woman being able to hold her own with words, or maybe weapons.
I love reading about the protective alpha, don't get me wrong. I'm not a particularly big or strong woman myself and having a strong protective male specimen sure is nice. But, as with so many things, there's another side to the super strong alpha. You know that quote, "Men are afraid women will laugh at them, while women are afraid men will kill them". So the hunky Romance hero always requires descriptions that assure us as readers that he would never ever hurt a woman.
It sure was a refreshingly different read with a female protagonist who is not even remotely threatened by the strong (and deadly) man. Eillia is physically and mentally far superior to Daniel. He never comments on that one way or the other. He simply accepts it. But, to give it yet another twist, he is also very done with his life and wouldn't mind dying.
The specific vampire lore of The Firsts series** is creative and works very well. This simply was an all around extremely entertaining story. It is a little angsty, given that both characters have to deal with a lot of personal issues and loss. And I liked the tone and atmosphere. It felt raw and real.
Natalie Duke did a great narration. I tend to be rather critical when a dual PoV book has only one narrator. Though, to be fair, this is only mostly dual, since we also have the chapters from the points of view of the antagonists. Either way, her male voices are so great that it doesn't detract at all from Daniel's chapters. Her different female voices and accents make this a very enjoyable listen and her pace and intonations fit perfectly.
I definitely recommend this book.
By the way, C.L. Quinn is actually a fictional character created by the author T.C. Butts who publishes these vampire books, that Charlie Quinn writes in Last Best Hope**, under this pseudonym. The Firsts currently has 20 parts.
Publisher's summary

Daniel had been a mercenary longer than his soul could take. On that final job, looking down at the face of an angel whose death he'd been responsible for, he knew he was done. And although he hadn't pulled the trigger on the bullets that took her life, he felt like he had. He'd buried her in a hidden grave in the Canadian woods so no one would desecrate her lovely body. From the mission site in Vancouver, he'd headed north to the most inhospitable place he could think of to try to find peace that he knew he didn't deserve. But after a year of dreams, her face was as vivid as it had been that day. There would be no peace for a guilty man.

Eillia had been killed and buried. Buried by someone who did not know she was vampire… that bullets would not kill her forever. But beheading would. Which is how her centuries-long love affair with Hamid ended in an attack a year ago. She didn't know how to pick up the pieces of her life without him. All she wanted was to crawl back in a hole like the one she'd crawled out of that day. And she had. Lost, in pain, she'd gone north and buried herself in the land of the midnight sun until darkness came and she thought that maybe she might be able to think about living her life again.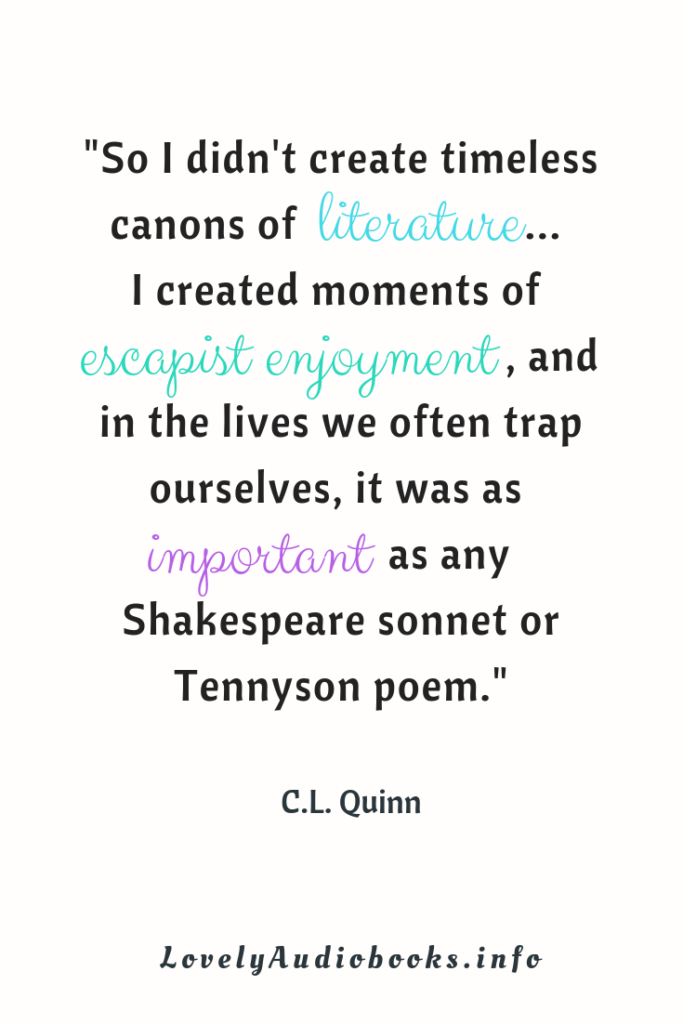 Oooh-Factor:
4 out of 5 fangy stars
It was sexy!
Audio-Factor:
Audiobook > Book
Natalie Duke has a wonderful way of narrating.
Get it here:
Pick up the e-book FOR FREE with your Kindle Unlimited subscription** and get a great deal for the audiobook upgrade: Longest Days**
The first 3 parts of the series are also in the Audible Romance Package**.
Comments:
What do you think about the power dynamics between men and women in Romance novels? Would you pick up a book with a physically superior heroine? Do you have recommendations of books with heroines that are physically stronger than their male partners?
For more on this topic, read my article on the Romance genre: The White Bread of Literature?