Make Me Bad by R.S. Grey was a really fun librarian-turning-bad-girl Romantic Comedy. It's the perfect feel-good audiobook for me.
If you've been here before, you might know that I'm super critical of the virgin trope. The naive, sheltered girl often doesn't work for me as a heroine.
I feel a bit weird starting my review with: "Well, I generally don't like this theme, but this book was different…" And actually, I do like a good virgin romance. Emphasis on good!
The heroine has to have more to offer than just being "innocent" as they like to say. And Make Me Bad is a really well-written Romance with protagonists that are engaging, likable, and 3-dimensional.
written by R.S. Grey, narrated by Jason Clarke and Luci Christian
About Madison and Ben
Make Me Bad totally had me from the start. Madison has grown up sheltered and is a bit of a timid introvert. But she isn't naive. And she's very brave when she decides to change herself.
She's active and in control of her life, not just the wallflower who does whatever the hero tells her.
'I can be bad all on my own. If this were a movie, a sick beat would drop at this exact moment.' Make Me Bad by R.S. Grey
I think that's something I really loved about Make Me Bad. Neither the hero nor the heroine are only their trope. Just like she isn't the naive virgin, he isn't the bad guy player.
It's actually very funny, Ben isn't a bad guy at all! He's a lawyer who has built up his own firm in his hometown. But because he was a bit of a wild child – and rich-, he still has this reputation.
A Town Divided
Make Me Bad is set in Ben's and Madison's hometown which is divided. There's the white-collar rich part where Ben grew up. And then we have the blue-collar poor part of town where Madison's family lives.
However, it doesn't develop into a full-on forbidden love trope. Madison mostly jokes about how she was warned not to befriend Ben. She doesn't take it seriously. And while they do hide from her father for a little while, it wasn't overly dramatic. It felt more like she was going with it for the aspect of doing something "bad" and having fun.
The Narration
I can't say all that much about the narration because I was so pulled in the entire time, I didn't even pay attention to specifics.
The voices of Luci Christian and Jason Clarke fit absolutely perfectly. And everything was so on point – different voices, intonations – that I have nothing more to add here.
Reommendation
I can wholeheartedly recommend Make Me Bad by R.S. Grey. It's a really fun, well-written Romantic Comedy with fantastic protagonists!
I listened to it in Audible Escape.
Related article: What's new in Audible Escape this Summer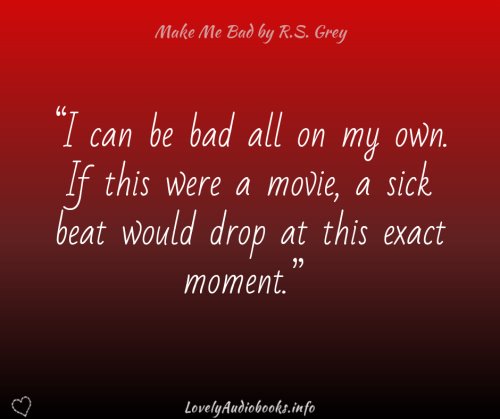 Lastly, I just have to add that the title made me hum Make Me Bad by Korn a lot. This probably dates me but I absolutely loved this version with all my heart and soul. Did I listen to this on repeat while writing this review? Yes, of course, I did! Duh! 😄
Review
/