Whenever I used to say the words "love triangle", someone would say "omg have you read Heartbreak Warfare?!!1". Alas, I hadn't. Because there was no audiobook.
So, believe me, I was really curious what this story was all about! And when I stumbled over this sneaky little Audible release the other week, I got extremely excited!
This is a spoiler-free review in regard to the ending, but I will discuss aspects of the story that are potential triggers.
Heartbreak Warfare
Written by Heather M. Orgeron And Kate Stewart
Narrated by Tracy Marks and Aaron Shedlock
Here we are now, on the other side of me having listened to Heartbreak Warfare.
And yes, there is a before and after!
Because this is an EPIC love story. It's raw and gritty and so stuffed full of emotion, that I'm having a little bit of a book hangover.
Story
The story is told from three points of view. Katy a.k.a. Scottie; Gavin, her husband; and Briggs, the man Katy meets during her deployment.
The story deals heavily with PTSD and how soldiers cope when being back home. I don't usually read Military Romance, but I appreciated how Katy's recovery went, how PTSD in general was presented, and also how her traumatization was handled.
There's a lot of suspense going on in the first few chapters after Katy leaves home. But most of the book is about her figuring out how to go on with her supposedly normal life.
Now, I was definitely in it for the love triangle. What can I say, it's a trope you either love or hate. And I love it! This story brings all the angst, the good and the ugly emotions that you'd expect from this trope. But I also thought the long epilogue was really great. It's a true HEA. Don't you worry!
Related article: Check out my 6 favorite Love Triangle Audiobooks!
Katy
I want to go a bit more into detail about Katy's path.
Firstly, the traumatization. I find rape in entertainment highly problematic. But I can also see why it's part of this storyline. And I appreciated that the situation itself was not given back in a lot of detail.
Secondly, PTSD. Katy is struggling after her experiences in the war. She tries to pick up where she left off. But she goes through the ups and downs of PTSD recovery. She's very active about it, trying different treatment options with more or less success. And while being around Briggs – for good reasons – makes her feel a bit better, he and his love for her are not presented as the cure to her problems.
Narration
This audiobook is narrated by Tracy Marks and Aaron Shedlock. I've listened to a series narrated by Tracy Marks before and I think she's quite different from most other narrators. She has this very special, melodic voice.
When I listened to her the first time, it took me a little while to get used to her style. But then I actually fell in love with it! Her voice is a mix of emotional and defiant that fits the character of Katy perfectly. Not to mention that her male voices are fantastic. She's a really great narrator and she has become one of my favorites now.
Aaron Shedlock narrates both Gavin's and Briggs' chapters. I couldn't hear that much of a difference between the two men so it's good to pay attention to the name at the start of each chapter. While that is a small point of criticism, the narration was really captivating. I could feel the pain of those two men and, honestly, my heart is pretty shattered.
I absolutely loved the narrator choices for this book! The production isn't only perfect, with on-point intonations, but the voices also fit the characters and storyline 100%, making this a very intense listening experience.
Recommendation
While I loved Heartbreak Warfare and it's now definitely one of my favorite Romance audiobooks, I know it's definitely not for everyone. If you dislike love triangles, if you aren't comfortable with cheating or reading about PTSD experiences, or if these are triggers for you, pass on this book!
But, generally speaking, for fans of love triangles and angst-filled Romance, this is an absolute must-read!
You can get the audiobook for 1 Audible credit (and it's definitely worth it) or buy the cheap audio upgrade together with the ebook (it's included in Kindle Unlimited).
Get the Heartbreak Warfare audiobook**
Related article: How to get audiobooks cheaper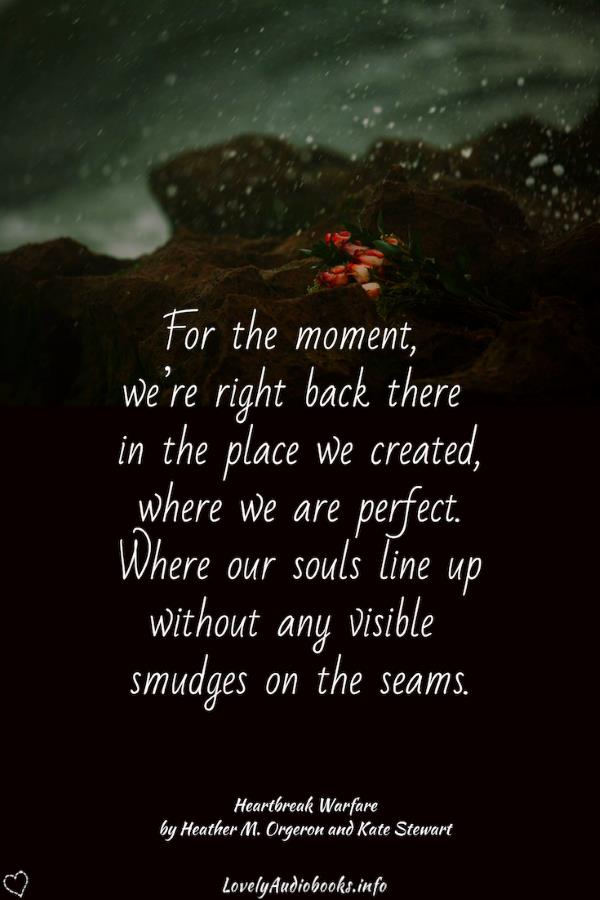 Review
/