Today's mini reviews have absolutely no theme. They are all over the place because I've picked up books all over the place. I again have been listening much faster than I could review so here's another round of mini reviews.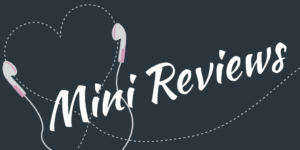 Overall this is an enjoyable and entertaining audiobook. That is mostly down to the amazing Andi Arndt and Joe Arden who are among my favourite narrators. The story itself has many great elements that hit you right in the feels. Yet that makes the bad bits all the more disappointing. This could have been so great. But Kale, the male protagonist, is so wrapped up in himself which isn't particularly attractive, especially when it goes as far as it does in this book. I'm all for angsty New Adult, but in an adult Romance, angst usually just makes the character look immature and unsexy.
This was a random Audible Romance Package pick. It was my first time with this kind of sci-fi-ish fantasy story and I was surprised to find that I really enjoyed it. The main character Freyja and her love interest the Dragonian Prince are very interesting and complex. The concepts of magic and creatures are great and I was intrigued by the world. This still isn't my go-to genre, but I will definitely listen to the second part of this duet. I would already have done so since it ends on a cliffhanger but, sadly, the second part isn't in the Romance Package. I will buy it when I activate my KU subscription again. After part one I would definitely recommend this duet to anyone who likes Fantasy/Paranormal Romance!
This is an absolute must if you have a Kindle Unlimited subscription. It's a "Read and Listen for free" with two fantastic narrators. Christian Fox and Lucy Rivers should be considered heavy-hitters. They both do immensely enjoyable narrations with easily distinguishable voices and a captivating style.
The story is great. There's love, sex and intrigue. But never over the top. It tugs at your heartstrings how this wonderful single dad is so insightful when considering his work-life-balance. Or rather: his kids-work-balance. And on the other side we have the bad-ass woman working in a man's world who struggles with her vulnerability. I found both characters so likeable. Not everything they do is the perfect decision. But both try hard. Their motives make sense and they feel like real people. I missed them a little after finishing the story. I happily would have listened to their HEA for another hour or two.
Comments:
Have you read any of these books? How did you like them? And do you read Science Fiction Romance?