Week 49, 2018
Hello and welcome to the first December deals post! Have you enjoyed some Christmas cookies and treats yet? To be honest, I haven't (there isn't a sad emoji sad enough to give back my heartbroken feelings over this). Because I'm trying to be a good girl with candy. So I need to live vicariously through you. I'm a total candy-junkie really, but health (or rather the lack of it) demands a wholesome diet. And even though I always thought sugar should make up the biggest food group, it sadly doesn't. That means when I crave something sweet to improve my mood, I bake. Wholegrain and very little sugar. There are some surprisingly good recipe! Especially if you add dark chocolate chunks 😀 (Nobody said entirely sugar-free!!!)
New releases
We have two new "Read and Listen for Free" this week and a bunch of great authors and narrators offering deals on their new audiobooks!
Christmas Audiobooks
There are no new offers on Christmas audiobooks today, but I went and found the best choices in our bingy programs for you, my favourite frugal listeners!
The most Romantic Christmas Audiobooks in Kindle Unlimited "Read and Listen for Free": Click here
The best Christmas Audiobooks in the Audible Romance Package: Click here
I've already listened to a whole bunch of these and they are really cute 🙂
What's going on with Lovely Audiobooks
It's been a busy week with the beginning of December, and all of it were highlights for me.
On Monday I posted an interview with the wonderful Effie Kammenou, author of The Gift Saga.  Effie told us about her writing, acting and her food blog. If you want to know what she did in her teens, where she spends her nights and if she prefers cheese or chocolate, read the interview!
I also did a lot of blogger things. On the 1st the new book blogger review link-up went live. I did this the first time in October and have found a lot of awesome new book blogs to follow and support. This time it'll be even bigger and better 🙂 I'm also taking part in a Bookish Blog Hop. We have a lot of fun and odd questions to answer and I really enjoy writing and reading these posts. Maybe some of you feel like answering yesterday's question too!
On Wednesday I posted my review of Black Swan Affair, an angsty adult Romance in the Romance Package that's like dark chocolate for your ears, bittersweet velvet…
Giveaway
This is your last chance to enter the "The Gift Saga" giveaway! You can win an Amazon gift card and isn't this an awesome time to get your hands on one? We also have audiobooks! So, if you haven't yet, go on over, it's quick and easy to put your name in the hat: Giveaway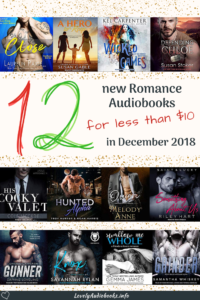 Kindle deals can slightly differ between local Amazon websites. The lists are based on Amazon.com. If you live in Canada or the UK, you will automatically be send to your local Amazon. Please don't be disappointed if your site has slightly different prices. Sometimes, an American free listen might cost a little elsewhere. But some of the "under $10 deals" might in turn be cheaper on your Amazon You can only get Kindle deals on your local Amazon website.
New "Read and Listen for Free" Audiobooks in Kindle Unlimited:
[These are Amazon affiliate links. If you use them to purchase something, I receive a fee at no additional cost for you.]
Ebooks in Kindle Unlimited with Audiobook upgrades under $10:
[These are Amazon affiliate links. If you use them to purchase something, I receive a fee at no additional cost for you.]
Third Time's the Charm (A Morning Glory Novel Book 4)
Liz Talley (Author) and Brittany Pressley (Narrator)
Supercheap Whispersync Deal**

Swallow Me Whole: A Friends to Lovers Romance
Gemma James (Author), Stephanie Rose (Narrator) and Aaron Shedlock (Narrator)
Cheap Whispersync Deal**

Something About Us: Saint & Lucky Series, Book 2
Riley Hart (Author) and Sean Crisden (Narrator)
Cheap Whispersync Deal**

His Cocky Valet: Undue Arrogance Series, Book 1
Cole McCade (Author) and Joel Leslie (Narrator)
Cheap Whispersync Deal**

Wicked Games: Queen of the Damned, Book 2
Kel Carpenter (Author) and Hollie Jackson (Narrator)
Cheap Whispersync Deal**

Grinder: Seattle Sharks Series, Book 1
Samantha Whiskey (Author), Noah Michael Levine (Narrator) and Tatiana Sokolov (Narrator)
Cheap Whispersync Deal**

Gunner: Lords of Carnage MC Series, Book 4
Daphne Loveling (Author), Troy Duran (Narrator) and Jillian Macie (Narrator)
Cheap Whispersync Deal**

Bashful
Lo Brynolf (Author), Vanessa Edwin (Narrator) and Teddy Hamilton (Narrator)
Cheap Whispersync Deal**

Knox: Dead Souls MC Series, Book 1
Savannah Rylan (Author), Melissa Barr (Narrator) and Paul Brion (Narrator)
Cheap Whispersync Deal**

Hard Pressed
Kate Canterbary (Author), Lauren Sweet (Narrator) and Blake Richard (Narrator)
Cheap Whispersync Deal**
This audiobook is also in the Romance Package.

Close: Ryder Brothers, Book 1
Laurelin Paige (Author), Carly Robins (Narrator) and Jacob Morgan (Narrator)
Cheap Whispersync Deal**

Hunted Alpha: A Gay Transgender Romance: Transgender Mates Series, Book 2
Troy Hunter (Author), Noah Harris (Author) and Bryce Chadwell (Narrator)
Cheap Whispersync Deal**
FREE Ebook + Whispersync upgrade under $10 (no Kindle Unlimited):
[These are Amazon affiliate links. If you use them to purchase something, I receive a fee at no additional cost for you.]