Week 8, 2019
Hello hello!
I'm tweaking a few things in the format of the Friday posts. These small changes are really mostly for me and my schedule. You still get the deals and the news!
And you can look forward to improved versions of the monthly lists. There'll be one for everything new in the Romance Package, one for all new "listen for free" audiobooks in Kindle Unlimited (for more genres than just Romance), and one monthly post with my favorite new audio upgrades / Whispersync deals.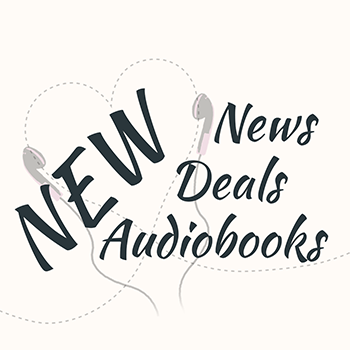 The Week on the Blog
Last weekend, I posted short reviews of my favorite Love Triangle stories in the Romance Package. I hinted at this in last week's Friday post and the audiobook I was listening to then, Sex Love Repeat, really didn't let me down!
The RecomMondaytion was Firestorm by D.B. Sieders. If you're a regular reader, you know how much I'm in love with her Southern Elemental Guardians series and that I was really looking forward to Bruce's story!
And you can now find a list of the most popular new backlist additions to the Romance Package. This is based on the update of the official "new to the Romance Package"-list, which Audible has updated for the first time since November.
It honestly made me very happy how popular this post was with you all. Thanks to everyone who took the time to share it! It truly means the world to me when you do that.
**The marked book links and covers on this page are Amazon affiliate links. If you use them to purchase something, I receive a small fee at no additional cost for you. Thank you for supporting my blog! **
Here are this week's audiobook deals under $6:
Misadventures of a Curvy Girl: Misadventures Series
Sierra Simone (Author), Natalie Eaton (Narrator), Teddy Hamilton (Narrator), William LeRoy (Narrator)
Super chea audiobook
The (Half) Truth
Leddy Harper (Author), Kendall Taylor (Narrator), Brian Pallino (Narrator)
Super cheap audiobook
Forgetting You, Forgetting Me: Memories from Yesterday, Book 1
Monica James (Author), Summer Morton (Narrator)
Super cheap audiobook
Tainted Bastard
Terri Anne Browning (Author), Jillian Macie (Narrator), J.F. Harding (Narrator)
Super cheap audiobook
One Cruel Night: A Cruel Series Prequel: Cruel Series, Book 0.5
K.A. Linde (Author), Stephen Dexter (Narrator), Virginia Rose (Narrator)
Super cheap audiobook
Free Ebook!
For the Hope of a Crow (Red Dead Mayhem Book 1)
S. Joyce (Author), Kathryn Lynhurst (Narrator)
Super cheap audiobook
Book 1-4 have been released, each $1.99 with KU
Folsom (The End of Men Book 1)
Tarryn Fisher (Author), Willow Aster (Author), Alexander Cendese (Narrator), Jennifer Mack (Narrator)
Super cheap audiobook
Book 1 and 2 have been released, each $1.99 with KU
Kindle deals can slightly differ between international Amazon websites. The lists are based on Amazon.com. If you live elsewhere, you might be sent to your local Amazon. Please don't be disappointed if your site has different prices. Sometimes, an American free listen might cost a little elsewhere, while other deals might, in turn, be cheaper on your Amazon. You can only get Kindle deals on your local Amazon website.

I hope you found some nice new audiobook deals.
Happy listening!