Week 13, 2019
Have you noticed people being on edge lately? I thought it was just me. But whenever I've mentioned it online or offline, others said they noticed it too.
Maybe we're just desperately waiting for Spring to finally settle in, shake off the Winter blues and the old coats.
The deal categories are a bit different this week because the deals are a bit different. We have several free additions to the audiobook subscriptions. But they are unusually pricy to buy. So I decided to sort by subscription. There are some fantastic narrators and authors in the mix! And also Jacob Morgan as a cowboy. Yeehaw!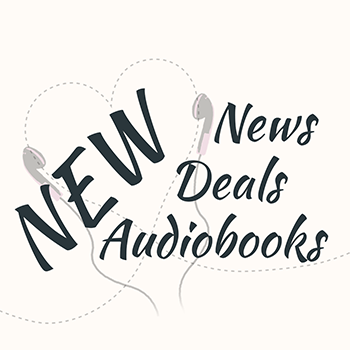 The Week on the Blog
The RecomMondaytion was the recently released last book in one of my favorite Fantasy Reverse Harem series: Pain (Curse of the Gods). I haven't listened to it yet but I'm really looking forward to finishing this series now. It's so good!
Last weekend, I posted an updated version of a book list from last year. It contains a bunch of audiobooks that are in the Audible Romance Package, but not Romance. There are some really awesome options from all kinds of genres!
Wednesday's post was a list of audiobooks that are free with Kindle Unlimited and that you have probably heard about before. The Fellowship of the Ring? Hunger Games? Yep, they're in KU! Crazy, right? Check out these free famous audiobooks!

**The marked book links and covers on this page are Amazon affiliate links. If you use them to purchase something, I receive a small fee at no additional cost for you. Thank you for supporting my blog! **
New Listen for Free in Kindle Unlimited:
Dangerous Beauty: Dangerous Beauty, Book 1
J. T. Geissinger (Author), Aiden Snow (Narrator), Lidia Dornet (Narrator)
Add it to your library**
(Under 7$ without a subscription)
My Little Secret
L.A. Casey (Author), K.C. Sheridan (Narrator), David Gunn (Narrator)
Add it to your library**
Riding Hard: Bennett Boys Ranch, Book 2
Lauren Landish (Author), Melissa Moran (Narrator), Jacob Morgan (Narrator)
Add it to your library**
(Under 6$ without a subscription)
New in The Audible Romance Package:
The Bastard
Lisa Renee Jones (Author), Jason Clarke (Narrator), Erin Mallon (Narrator)
Add it to your library**
(The price to buy this one is likely to go down in a couple of days.)
Happy listening!