Week 14, 2019
Big news this week! Romance Audiobook Binge could welcome its 1000th member!
This is so crazy. I never expected it that this little Facebook group, created in a spur of the moment, would grow into such a wonderful and active place.
Thank you all for being part of it! And thank you to Tammy and Nicole, my co-admins, for being so all around awesome!
I'm looking forward to our celebration tomorrow. We have some great things prepared for you 🙂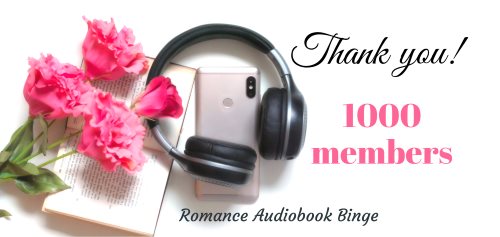 The Week on the Blog
Do you remember my wild rambling post the other week about what I don't want to read in Romance anymore in 2019? I mentioned that it was sparked by audiobooks on a specific topic.
Well, that topic was dogs! And last Sunday, I posted my list of 6 great audiobooks that feature dogs in prominent roles. While I was preparing that post, I DNF'ed (did not finish) two audiobooks because the mix of misogynistic manwhore and doormat heroine made me go ARGH! Which inspired me to write the aforementioned discussion post.
But the 6 audiobooks in that list are true recommendations. They're really awesome and made my dog owner heart feel extra warm and fluffy <3
The books I didn't finish, however, also made me look for role reversal audiobooks. As in love stories with heroines who sleep around, and male protagonists who don't.
Let me tell you, I wasn't as successful looking for that trope as I had expected.
But I found two audiobooks that I would definitely recommend. You can find them and a continuation of my feminist ramblings in my post about the manwhore and the virgin – reversed edition.
And I promise, for the next 2 weeks, I shall not use the word manwhore again!
Also, since it's a new month, there's a fresh book review link-up. Check it out to find some cool book blogs to follow. And if you're a blogger, please join in 🙂
**The marked book links and covers on this page are Amazon affiliate links. If you use them to purchase something, I receive a small fee at no additional cost for you. Thank you for supporting my blog! **
Here are this week's super cheap audiobook deals (under $7 without a subscription):
The Winemaker's Secret: A Starlight Cove Novel
Cynthia Ellingsen (Author), Kate Rudd (Narrator)
Even cheaper with KU**
Second Act: Second Glances, Book 2
Nancy Herkness (Author), Megan Tusing (Narrator)
Even cheaper with KU**
New releases with Whispersync deals under $12 (under $7.50 with KU):
Burning with Lust: The Vegas Men Series, Book 1
Mia Ford (Author), Elizabeth Russell (Narrator), Brandon Utah (Narrator)
Pick it up now**
Until Nox: Hyde Series, Book 3
Layla Frost (Author), Alex Kydd (Narrator), Lauren Sweet (Narrator)
Pick it up now**
For Luca: Chicago Syndicate Series, Book 2
Soraya Naomi (Author), Elizabeth Russell (Narrator), Tor Thom (Narrator)
Pick it up now**
Black: Clashing Colors Series, Book 1
Elin Peer (Author), Noelle Bridges (Narrator), John Masterson (Narrator)
Pick it up now**
desolate: Grace Trilogy Series, Book 1
Autumn Grey (Author), Morae Brehon (Narrator), Teddy Hamilton (Narrator)
Pick it up now**
Bad Situation: The Montgomery Series, Book 1
Brynne Asher (Author), Stephen Dexter (Narrator), Lidia Dornet (Narrator)
Pick it up now**
See you tomorrow on Facebook and check back here for a list of new releases in the Audible Romance Package in March 🙂
Happy Listening!