Week 15, 2019
Hello my lovelies!
We've got lots of awesome new audiobook deals this week and the audiobook giveaway is still running.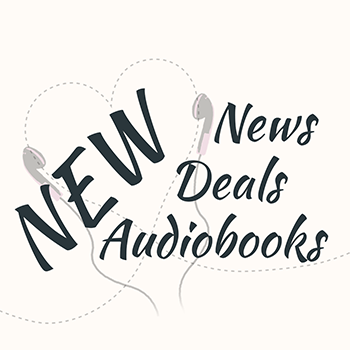 The Week on the Blog
Last Saturday, we had a fantastic celebration in Romance Audiobook Binge with many authors stopping by and doing giveaways. While that's over, you can still join the giveaway for an Audible credit here on my blog. It's part of a post with awesome audiobook recommendations from our group members. Check out the recommendations by Romance Audiobook Binge and enter the giveaway!
On Monday, I posted an ARC review of The Queen's Protectors by Scarlett Snow. The audiobook was only released this week and you can pick it up for $7.49 with Kindle Unlimited. Check out my spoiler-free review here.
And since Tuesday you can find a list of all the new releases and the best new backlist additions in the Audible Romance Package here: New in the Romance Package in March.
What I'm currently listening to
I've started listening to a great Urban Fantasy series that's "Listen for Free" with Kindle Unlimited. It's A Glimmer of Hope** (The Avalon Chronicles book 1) by Steve McHugh. This is a spin-off/continuation of The Hellequin Chronicles which I absolutely loved.
**The marked book links and covers on this page are Amazon affiliate links. If you use them to purchase something, I receive a small fee at no additional cost for you. Thank you for supporting my blog! **
Here are this week's super cheap audiobook deals (under $8 without a subscription):
The Risk (Briar U Book 2)
Elle Kennedy (Author), Teddy Hamilton (Narrator), Virginia Rose (Narrator)
Pick it up now**
Misadventures with My Ex: Misadventures, Book 21
Shayla Black (Author), Emma Wilder (Narrator), Christian Fox (Narrator)
Pick it up now**
Advent: Book 3 of The Summer Omega Series
JK Cooper (Author), Kate Reading (Narrator)
Even cheaper with KU**
The Promise of Us: Sanctuary Sound, Book 2
Jamie Beck (Author), Dara Rosenberg (Narrator)
Even cheaper with KU**

Queen of Diamonds: Aces & Eights, Book 4
Sandra Owens (Author), Amy McFadden (Narrator), Brian Pallino (Narrator)
Even cheaper with KU**
Holiday Havoc
KB Winters (Author), Noel Harrison (Narrator), Jay Crow (Narrator), Lee Samuels (Narrator), James Larceny (Narrator), Mason Lloyd (Narrator), Josh Goodman (Narrator), Alexander Cendese (Narrator), Lazlo Hollyfeld (Narrator)
Even cheaper with KU**
New releases with Whispersync deals under $12 (under $7.50 with KU):
Possession: Perversion Trilogy, Book 2
T. M. Frazier (Author), Aiden Snow (Narrator), Stephanie Wyles (Narrator)
Pick it up now**
Geek Bear: Rescue Bears, Book 6
Scarlett Grove (Author, Publisher), Calvin Murray (Narrator)
Pick it up now**
Crazy, Beautiful Love: Crazy Love Series, Book 4
K.L. Grayson (Author), Kai Kennicott (Narrator), Wen Ross (Narrator)
Pick it up now**
(Duet narration)
I hope you found some great audiobook deals.
Happy listening!