Week 16, 2019
Happy Easter!
Do we say this? Is this a thing?
To be honest, I have not "done" Easter since I was a child. My daughter is 2 now, and I feel I need to brush up on my Easter everything. I think I will take a longer trip to Pinterest and work on my decor and crafting skills!
That being said, I'll spend Easter in my super awesome (very old) RV. We'll be driving around without much of a plan. Just getting away for a bit, enjoying the nice weather in these here parts. And of course, listening to a lot of audiobooks while driving!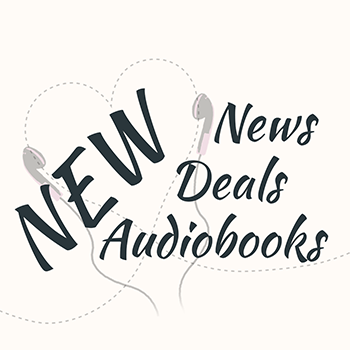 The Week on the Blog
This week, we've got the list of new Kindle Unlimited audiobooks. There are some really amazing choices. I've actually just downloaded Riding Hard. Can't pass up on a Jacob Morgan audio! And I'll get the Cozy Mystery and some of the new Fantasy audiobooks as well.
On Tuesday, I posted somewhat of a discussion post, but with audiobook recommendations. I really enjoy listening to lesbian Romance and it makes me sad that the choices are pretty limited, especially compared to M/M Romance. So, I'm trying to get you all to give it a try 😉 Read this genre and make it more popular! So more authors will write ff and I get new stories! But seriously, if you enjoy venturing outside of M/F, do give ff a try. I promise you'll find some super hot and amazingly emotional love stories!
And Wednesday, I wrote a bit about Search Engine Optimization for my fellow book bloggers. SEO and how to get more visitors from Google is such a beast of a topic. But it's really not so bad once you've broken it down and have your strategies in place.
Also, the audiobook giveaway is still on! You've been sharing like crazy which I appreciate so much, you honestly have no idea. Please keep at it 😉
What I'm currently listening to

Yesterday I finished the Avalon Chronicles** which I definitely recommend. (But only after you listened to the Hellequin series, which you should!) I can't wait for more stories set in this world. I absolutely love it! And the characters are all so awesome, likable, and 3-dimensional.
I want to listen to Mad About Moon next. I haven't read Melissa Foster before. But the audiobook is narrated by Jacob Morgan and Devra Woodward. Both of which are at the very top of my favorite narrator list. If you haven't encountered Devra Woodward** yet, you should change that. She's awesome!
**The marked book links and covers on this page are Amazon affiliate links. If you use them to purchase something, I receive a small fee at no additional cost for you. Thank you for supporting my blog! **
Here are this week's super cheap audiobook deals (under $7 without a subscription):
The Princess
Lisa Renee Jones (Author), Jason Clarke (Narrator), Erin Mallon (Narrator)
Pick it up**

The Perfect Dress
Carolyn Brown (Author), Karissa Vacker (Narrator)
Listen for free with Kindle Unlimited**
Perfectly Good Crime
Dete Meserve (Author), Sarah Naughton (Narrator)
Listen for free with Kindle Unlimited**
The Charm of You
Jennifer Probst (Author), Nelson Hobbs (Narrator), Daphne Dawson (Narrator)
Pick it up**
Songs for Cricket
Terri E. Laine (Author), Teri Schnaubelt (Narrator), Zachary Webber (Narrator)
Pick it up**
New releases with Whispersync deals under $12 (under $7.50 with KU):
Barbarian's Redemption: Ice Planet Barbarians Series, Book 12
Ruby Dixon (Author), Hollie Jackson (Narrator), Mason Lloyd (Narrator)
Pick it up**
Halo: Fallen Angel, Book 1
Ella Frank (Author), Brooke Blaine (Author), Charlie David (Narrator)
Pick it up**
Rule Breaker
Lily Morton (Author, Publisher), Joel Leslie (Narrator)
Pick it up**
Elizabeth and the Call of Dragons: A Reverse Harem Paranormal Romance (RH Fated Alpha, Book 2)
Ava Mason (Author), Angela Dawe (Narrator)
Pick it up**
Alpha's War: A Bad Boy Alpha Romance: Bad Boy Alphas, Book 7
Renee Rose (Author), Lee Savino (Author), Benjamin Sands (Narrator)
Pick it up**
I hope you like this week's new audiobook deals and have a wonderfully sunny, relaxed Easter weekend.
Happy listening!