Week 17, 2019
Firstly, thanks for asking, yes, my trip was absolutely wonderful! 🙂 We had the perfect RV weather, sunny, but not too cold or too warm.
It's incredible what a few days of getting out of the rut can do for you. I feel very refreshed and relaxed.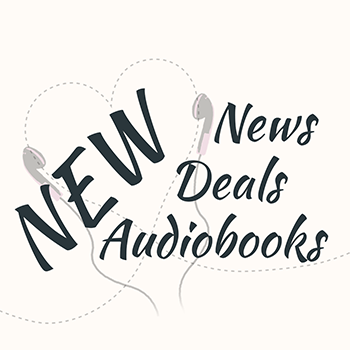 The Week on the Blog
That being said, my posting schedule this week was a bit all over the place. The thing is… I'm not very good at the whole blogging thing. I see all these other bloggers being super organized, scheduling posts for an entire month in advance.
And what do I do? I write, make a graphic, and click publish, because, well… Because I don't have anything else prepared that I could post. And because I have no patience and want to publish *now*. But of course, I also have the weekly and monthly release features which are current posts and can't be prepared. Which is my excuse for also not writing any other posts in advance, haha.
And while we're on the topic of current audiobook news, yesterday I posted a list of the fantastic audiobooks Whitney G., R.S. Grey, Tijan, Sara Ney, and K.A. Linde just added to the Audible Romance Package.
On Wednesday, Erin shared a guest post here on Lovely Audiobooks. She's introducing us to the audiobook store Libro.fm. They offer a subscription similar to Audible and have some pretty unique and neat advantages. Read the article and find out more about this!
Last weekend, I posted short reviews of a collection of Fantasy Romance audiobooks that take you on a trip to the Underworld! I'm really a big fan of mythology in Fantasy and highly recommend these books. (And no, I didn't have that post scheduled. I had mostly prepared it at home. But I actually finished and published it from a McDonald's parking lot, no kidding.)

Audiobook Giveaway
It's the last chance to enter the "1000 Facebook group members" Audiobook Giveaway. Enter now!
**The marked book links and covers on this page are Amazon affiliate links. If you use them to purchase something, I receive a small fee at no additional cost for you. Thank you for supporting my blog! **
Here are this week's super cheap audiobook deals (under $7 without a subscription):
Perfect Pines
Crystal Harper (Author), Maxine Mitchell (Narrator), Greg Tremblay (Narrator)
Even cheaper with KU!**
Runaround
Jay Crownover (Author), Lynn Norris (Narrator), Aiden Snow (Narrator)
Even cheaper with KU!**
Come a Little Closer
Kim Karr (Author), David Benjamin Bliss (Narrator), Kendall Harper (Narrator)
Even cheaper with KU!**
Southern Devotion
Kaylee Ryan (Author), Amy Johnson (Narrator), Joe Arden (Narrator)
Super cheap audio deal!**
Evermore: A Salvation Series Novella – 1001 Dark Nights
Corinne Michaels (Author), Virginia Rose (Narrator), Jason Clarke (Narrator)
Pick it up!**
Angel's Halo: Forever Angel
Terri Anne Browning (Author), Athena Pappas (Narrator), Chelsea Hatfield (Narrator), Emily Cauldwell (Narrator), Jae Delane (Narrator), Alexa McKraken (Narrator), Holden Still (Narrator), Holly Warren (Narrator), Yvonne Syn (Narrator), Patrick Garrett (Narrator), Lance Greenfield (Narrator), Bunny Warren (Narrator)
Pick it up!**
Exciting new releases with Whispersync deals under $12 (under $7.50 with KU):
Rogue Wave: Cake Series, Book 5
J. Bengtsson (Author, Publisher), Andi Arndt (Narrator), Alex Kydd (Narrator)
Pick it up!**
A SEAL's Oath: SEALs of Chance Creek, Book 1
Cora Seton (Author), Noah Michael Levine (Narrator)
Get the audio with a free ebook!**
The Factory Girls of Lark Lane: Lark Lane, Book 1
Pam Howes (Author), Georgia Maguire (Narrator)
Pick it up!**
My Perfect Ex-Boyfriend: Perfect Guy, Book 1
Annabelle Costa (Author), Madeleine Dauer (Narrator)
Pick it up!**
I hope you found a great new audiobook to enjoy this weekend.
Happy listening!